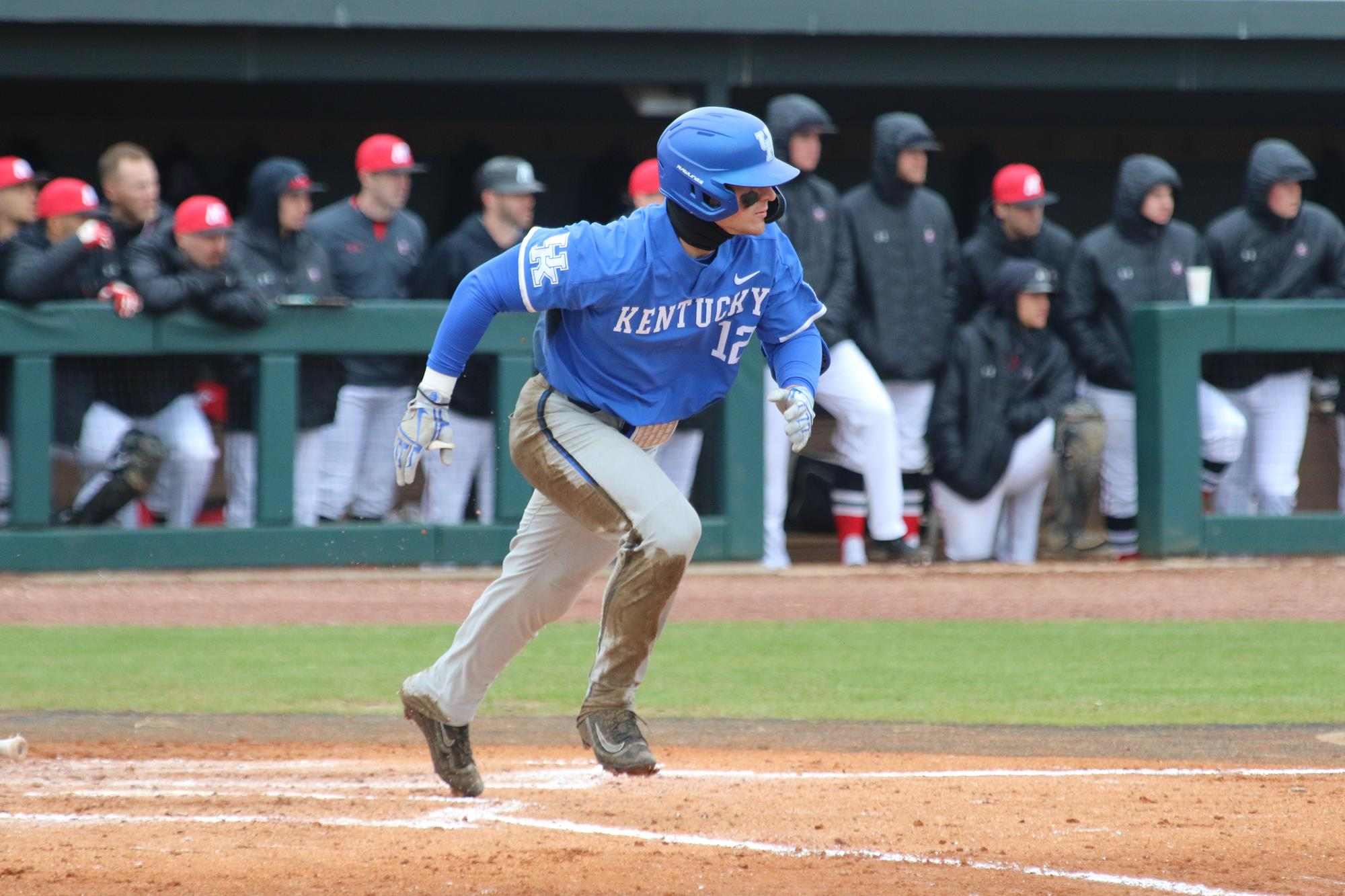 LUBBOCK, Texas – Kentucky outfielder Ryan Shinn continued his torrid start to the season with three more hits – all for extras bases – but it wasn't enough as No. 3 Texas Tech used a big inning for the second straight day to score a 10-7 win at Rip Griffin Park.
 
The Cats (3-2) will send freshman left-hander Dillon Marsh to the mound on Sunday afternoon looking to end their season-opening six-game road trip with a victory. First pitch is at 2 p.m. ET.
 
Shinn reached base in his first seven plate appearances of the series, which included six hits and a hit by pitch. The senior outfielder from Jobstown, New Jersey, counted three doubles and a home run among those six hits, tattooing baseballs all over the yard. His three-run home run on in the fifth inning on Saturday capped a four-run rally and briefly gave the Cats a 5-2 lead. Going back to the final game of the Austin Peay series Shinn reached base 10 consecutive times.
 
Texas Tech responded by seeing its first six hitters in the bottom half of the fifth inning score, the final four on Dylan Neuse's grand slam to centerfield, his second home run of the game. The Cats battled back to within 8-7 after Dalton Reed tripled and scored on a Jaren Shelby groundout, but could get no closer.
 
A pitching duel dominated the early innings, as UK starter Jimmy Ramsey was strong through four innings of work. Sustained winds of 35 miles per hour with gusts of 60 MPH out to centerfield left pitchers for little margin for error but Ramsey managed to avoid major damage outside of Neuse's first home run, a wind-aided fly ball that carried out of the ballpark.
 
 
SCORING
Bottom 1st – Josh Jung reached second on a two-out, two-base error and scored on Brian Klein's single to CF. Texas Tech 1, UK 0.
 
Top 2nd – Ryan Shinn doubled to RF and scored on Alex Rodriguez's infield pop-up that fell in between a pair of Red Raiders. UK 1, Texas Tech 1.
 
Bottom 2nd – Dylan Neuse homered to CF. Texas Tech 2, UK 1.
 
Top 5th – Marshall Gei singled to CF. Breydon Daniel was hit by a pitch and Cam Hill walked to load the bases. T.J. Collett grounded out to 2B, scoring Gei. Shinn homered to CF, scoring Daniel and Hill. UK 5, Texas Tech 2.
 
Bottom 5th – Gabe Holt doubled to LF and scored on Dru Baker's single to CF. Jung doubled to LF and Klein walked to load the bases. Doug Facendo walked to score Baker. Neuse hit a grand slam to CF. Texas Tech 8, UK 5.
 
Top 6th – Rodriguez reached on an error to open the inning and moved to second on Gei's walk. Zeke Lewis doubled into the LF corner, scoring Rodriguez and moving Gei to third. Texas Tech 8, UK 6.
 
Top 7th – Dalton Reed tripled to CF and scored on Jaren Shelby's RBI groundout to 2B. Texas Tech 8, UK 7.
 
Bottom 7th – Facendo doubled to LF and scored on Tanner O'Tremba's single to CF. Texas Tech 9, UK 7.
 
Bottom 8th – Baker singled to RF, advanced to third when the ball got past the right fielder and scored when relay throw skipped past third baseman and into the dugout. Texas Tech 10, UK 7.
 
 
NOTES
Kentucky has scored in 69 consecutive games and 145 of the past 146 dating to the 2016 season. The lone shutout came in a seven-inning game. The current streak is the eighth-longest in school history.
Senior OF Ryan Shinn went 3-for-5 with two runs, three RBI, two doubles and a home run.

It was Shinn's third three-hit game in the first four games of the season.
Shinn now has six multi-hit games in his UK career.
This was Shinn's first multi-RBI game of the season and second career.
Shinn began the series 6-of-6 with a hit by pitch in his first seven plate appearances.
Six of his nine hits on the season have gone for extra bases (five doubles, home run).
Junior 1B/DH T.J. Collett was 0-for-4 with a walk and RBI groundout.

Collett extended his reached base safely streak to 13 games.
His hit streak ended at seven games.
 
ON DECK
Sunday's series finale is at 2 p.m. ET and will air on 98.5 FM Lexington radio and UKathletics.com. The game also will be streamed on Fox Sports Southwest Plus.