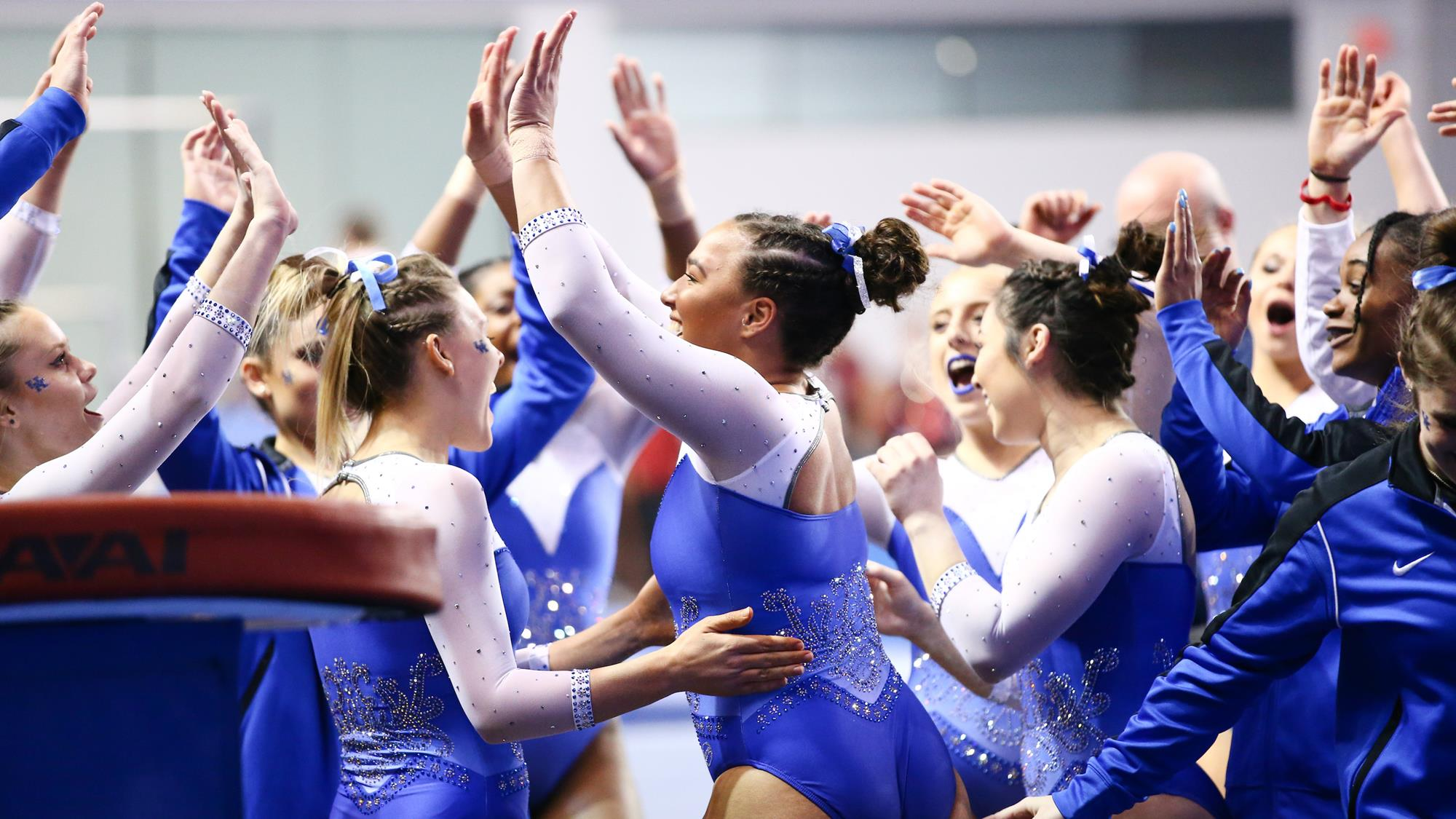 February 22, 2019 - 11:44 PM
Cats Add to String of Historic Performances with Win Over Bama
LEXINGTON, Ky. – Coming off the program's first ever pair of back-to-back 197-point performances, No. 13 Kentucky added to its historic streak with a 197.200-196.800 win over No. 9 Alabama on Friday at Memorial Coliseum.
 
"We talked all along about how we were going to get more and more comfortable, more and more consistent as people came back (from injury), and be able to perform at a higher level," said head coach Tim Garrison. "Three 197s in a row speaks to that. We're pretty happy with the fact that we've been able to hit that mark three times in a row. But, more than that, I think we've been showing consistency across the events. That's what we need to be able to do."
 
Friday's final score trails only last week's finish in a 197.225-197.300 loss at No. 7 Georgia and a 197.475-197.050 win over No. 6 Alabama on Feb. 10, 2017. Prior to the Wildcats' recent string of three straight 197-point outings, Kentucky had only surpassed the benchmark four times in program history, with each instance occurring within the last three seasons.
 
The Cats began the night with a 49.225 on vault, led by scores of 9.875 from event winners Danaea Davis and Katie Stuart. The mark was a new season high for Davis.
 
After totaling 49.300 on bars, Kentucky garnered a 49.275 on beam behind a 9.900 routine from senior Alex Hyland. The Foxborough, Mass. native tied the event's best individual score of the night alongside Alabama's Abby Armbrecht, earning Hyland the 19th beam win of her career.
 
The home team ended the night with its best showing on floor all season, accumulating 49.400 as a unit. A trio of former All-American Cats led the way overall, with Sidney Dukes and Mollie Korth splitting the victory. A 9.925 consensus tied a career high for Dukes and a season high for Korth. Hyland, who placed third individually, tied a career-high output with a 9.900.
 
Hyland was named the competition's all-around champion for the third time this season and the fifth time in her storied career, amassing 39.525 across all four events.
 
Kentucky (5-5, 3-3 Southeastern Conference) will conclude its SEC regular-season slate at No. 19 Missouri (5-9, 1-5 SEC) next Friday at 6 p.m. ET, live on SEC Network.
 
For the latest on the Kentucky gymnastics team, follow @UKGymnastics on Twitter, Facebook, and Instagram, as well as on the web at UKAthletics.com.