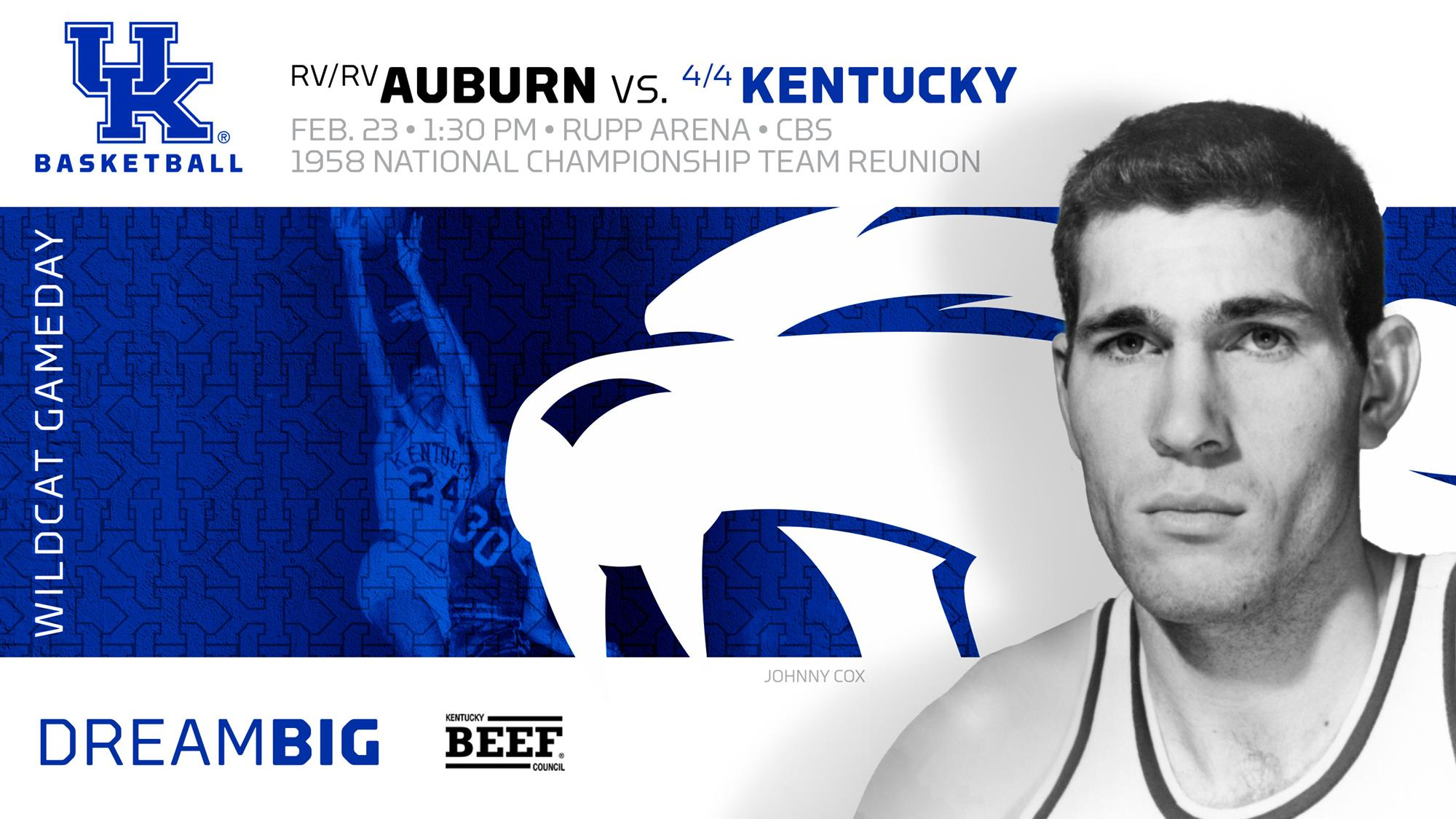 February 22, 2019 - 05:42 PM
UK Ready for First Test without Travis
Talk of Reid Travis's injury has so permeated the Big Blue Nation that his presence – or lack thereof – in a photo of the team leaving Missouri became a social media firestorm earlier this week.
 
But between Nick Richards and EJ Montgomery – the two people who figure to be most affected by Travis's absence – the topic is barely discussed. It doesn't need to be.
 
"We don't even talk about it," Richards said. "It's just a part of the game. It's a misfortune, but it's something that we have to–the whole team has to come together and figure out, what are we going to do? Guys just gotta step up, just not think about themselves. They just gotta think about the whole entire team and how they are going to benefit the team."
 
That's a compelling sentiment, because Richards and Montgomery would seem to be the most likely to benefit from Travis's absence. Instead, they're more worried about their team and their teammate.
 
"It's kind of hard for the team," Richards said. "We lost a major player. It's time for guys to step up to other roles. We wish him a speedy recovery and we know we're always going to look for Reid and see how he's doing."
 
The good news on that front is Travis does not have a long-term injury. Though a weather-induced delay in UK's return from Missouri prolonged uncertainty about the nature of his injury, that uncertainty is now gone. Travis is expected to miss at least two weeks.
 
"So what I said to my team yesterday was this, 'Now I know he's healthy I'm happy,' " Calipari said. " 'He may be out two weeks, you ready, three weeks, four weeks, seven weeks. It doesn't matter. He's going to be OK, so I'm good now. We'll figure out how we play as a team.' I think they got what I was saying. Don't know how long he's going to be out, but whatever it is I'm good."
 
Kentucky vs. Auburn

Sat., Feb. 23 – 1:30 p.m. ET
Rupp Arena
Lexington, Ky.
Game Notes: UK | AU
UK Athletics App Digital Guide

Coverage

TV: CBS
Radio: UK Sports Network
Watch
Listen
Live Stats

UK
2018-19 Stats
AU
22-4
Record
18-8
11-2
Conference Record
7-6
78.2
PPG
81.6
65.3
Opp PPG
67.4
.477
FG%
.454
.406
Opp FG%
.416
38.6
RPG
37.0
.354
3PT FG%
.379
.350
Opp 3PT FG%
.337
.747
FT%
.692
14.0
APG
15.2
6.4
SPG
9.2
4.8
BPG
5.3

Of course, Richards and Montgomery stepping into bigger roles is a given. Travis had played at least 33 minutes in each of the three games before he went down, so the talented sophomore and freshman will get more opportunity.
 
"It's why we coach every kid like they're a starter, because of this reason," Calipari said Tuesday night. "Now all of a sudden, say if he's out a week or two, you know. If anybody has said, 'Well, you should have been playing more.' OK, you're going to play more. Have at it. Let's see how you do now."
 
What they can't afford to do is attempt an impression of Travis, whose strength and experience have no match on the UK roster. That's of particular importance for Richards.
 
"I want him to use his quickness, his length and his ability to go get balls versus getting in mud-wrestling matches," Calipari said. "So when the ball bounces to you, you're not worried about pushing and the ball bounces right there, or a guy drives that you can block the shot, but you're mud-wrestling. Quit it. Stop. You cannot mud-wrestle Jonny David and win. So don't try. Use your quickness, use your length, use what your strengths are."
 
The player who can most closely approximate what Travis had so consistently brought is PJ Washington. The defending Oscar Robertson National Player of the Week had benefited more than anyone from Travis's presence, but now he'll be tasked with filling the void.
 
"He's a little more of the muscle game," Washington said. "He's got to be ready. I told him he's gonna be begging Reid to come back quicker because he's going have to go down there and do stuff that the other two cannot do. But I think he'll be fine. He's played there at times. He's just in the best shape of his life. He's winning every run. He's leading. He's getting guys to stand up. If a guy is on his knees he's telling him 'Let's go.' He's learning to play a full game."
 
Washington and No. 4/4 Kentucky (22-4, 11-2 Southeastern Conference) face an interesting first matchup without Travis in the Auburn Tigers (18-8, 7-6 SEC). The Tigers are among the most perimeter-oriented teams in the country, with 47.7 percent of their field-goal attempts coming from 3-point range and most of their lineups featuring no one taller than 6-foot-8.
 
In response to that, UK could feasibly go to a smaller lineup with someone like Keldon Johnson playing the four spot alongside Washington at the five. Calipari has rarely, if ever, deployed such a lineup this season, but it would certainly have its theoretical advantages.
 
"If you can defend and rebound with it, you get another perimeter scorer," Calipari said. "It spreads their defense. But, he's gotta be able to defend and really he's gotta be able to rebound. Go get balls."
 
That's going to be true regardless of the lineup UK uses Saturday afternoon, but it's also a fact that Auburn has the ability to do damage either way. That fact was proven in the second half of UK's 82-80 win at Auburn on Jan. 19, when a Tiger 3-point barrage nearly overcame a 17-point deficit.
 
"They're going to shoot," Calipari said. "They're shooting 35-40 3s. They'll shoot 35 3s. What if they make 17? Then you lose. So your job is to make sure if they shoot 35, they're hard 35 so they don't make 17. But they may anyway. Are they going to shoot them? Oh yeah. What if you really guard them? Really shoot them. They are shooting them. It's just what they do."
Herro, Washington Lead Wildcats Past Missouri
Three days after knocking off the nation's top-ranked team, Kentucky coach John Calipari just wanted to get out of Missouri with a victory over the struggling Tigers, regardless of how it looked.
The fourth-ranked Wildcats accomplished the victory, beating the Tigers 66-58, but getting out of town proved more difficult.
Much of Kentucky's 18-point halftime lead evaporated late, but that didn't bother Calipari, who told his players during timeouts to milk the shot clock and shorten the game.
"These kids aren't machines, they aren't robots," Calipari said. "We just played Tennessee. It was a hyped-up game. To come on the road against a team that you know plays hard . I knew it was going to be a war."
The Wildcats (22-4, 11-2 Southeastern Conference) had to spend the night, though, because a winter storm rolled into Missouri during the game.
"Every time we come here, it's either an ice storm, rain storm or snow storm," Calipari said. "I don't know if we're right outside of Anchorage or where we are."
PJ Washington and Tyler Herro scored 18 points each, and Ashton Hagans added 12 for Kentucky. Ronnie Suggs led Missouri (12-13, 3-10 SEC)
with 13 points, and Jordan Geist finished with 11.
Forward Reid Travis was limited to 13 minutes after suffering a right knee sprain during the second half.
Nick Richards, a 6-foot-11 sophomore forward, looked sharp off the bench, finishing with seven points and four rebounds in 13 minutes.
With his 297th victory in 10 years at Kentucky, Calipari tied Joe B. Hall for second place in wins at the school. Calipari has some work to do to catch the man at the top of the list — Adolph Rupp, who won 876 games in 42 years leading the Wildcats.
• It was UK's seventh straight road victory, the program's longest road winning streak since the 2014-15 season that saw the Wildcats win its first 38 games overall
• Kentucky is now 240-40 vs. Associated Press unranked competition under Calipari
• UK held Missouri to 58 points and 37.3-percent shooting. The Wildcats improved to 176-16 under Calipari when holding the opponent to less than 40-percent shooting, including 12-0 this season
• Kentucky is 167-7 when limiting the opponent to 63 points or less under Calipari.
• The Wildcats continue to put opponents away when they get up by double figures. UK moved to 255-5 all-time under Calipari when leading by at least 10 points in the contest
• Washington had a game-high 18 points, snapping a streak of four games with 20 or more. He's scored in double figures in each of the last 11 games
• Herro matched Washington's scoring output. He's averaging 16.1 points per game on the road and has scored at least 12 points in each of UK's eight true road games
• Richards scored seven points in 12 minutes. UK is 10-0 this season when Richards scores at least four points
• Hagans had 12 points with a career-high two 3-pointers for his seventh double-figure effort of the season and first since Jan. 26 against Kansas
UK Welcomes 1958 Championship Team for Reunion
The 1958 Kentucky men's basketball national championship team will be honored this weekend, including at Saturday's home game vs. Auburn, as UK continues to honor elite teams of the past.
The team will watch practice of the current team this week, take a tour of UK's facilities, enjoy a Saturday brunch and then watch Saturday's game in Rupp Arena. The team will be introduced at pregame.
The 1958 team is one of 10 teams across three programs being honored during the 2018-19 athletics season, as selected by UK's reunion committee. UK earlier honored the 1993 Final Four team in December in conjunction with the Utah game.
UK Athletics established a reunion committee as a way to honor great Kentucky teams of the past. The committee was formed to define official parameters of recognition, identify and select deserving teams, and coordinate dates and arrangements with the specific programs. Input from current head coaches and administrators was taken into account when setting the criteria.
Standards for selecting teams each year will include but is not limited to final records, conference championships and postseason finishes. The committee will place emphasis on honoring teams that coincide with yearly markers (for example, a 25th anniversary of a team's championship), although other factors will be taken into consideration.
UK honored Adolph Rupp's first three national championship teams (1948, '49 and '51) at Big Blue Madness.
The 1958 team, led by the Fiddlin' Five of Vernon Hatton, Johnny Cox, John Crigler, Adrian Smith and Ed Beck, lifted the Cats to their fourth title by an 84-72 score over Seattle in Louisville, Kentucky. Hatton had 30 games in the title game and Cox added 24.
After finishing the 1956-57 season with a second-round tournament loss on their home court, the Wildcats lost two of their final five games in 1957-58 and appeared an unlikely contender for a tournament run for the second consecutive year. The Cats were led by Hatton's 17.1 points per game and Cox's 14.9 points per game.
Hatton proved his effectiveness as a clutch player by sinking a 47-foot shot at the end of regulation to send UK into overtime against Temple in one of the regular season's most memorable wins. During the NCAA Tournament, UK breezed past the first two rounds on its home floor before topping the Owls in another closer affair by a 61-60 decision. The Wildcats then defeated Seattle in an anti-climatic title game, which became the fourth and final championship for legendary coach Adolph Rupp.
Calipari Ties Hall for Second-Most Wins as UK's Head Coach
A 66-58 win on the road at Missouri may have seemed like business as usual for the Wildcats, but it served as a major coaching milestone for head coach John Calipari. The win signified No. 297 as UK's head coach, which ties him with Joe B. Hall for the second most by a Kentucky head coach. Now, only Adolph Rupp owns more victories as UK head coach than Calipari.
Having coached 365 games to date with the Wildcats, he's within striking distance of becoming one of the five fastest coaches to 300 wins at one program in NCAA history. Bill Self at Kansas won his 300th game in the fastest time span of 358 games. Rupp owns the mark at Kentucky. He achieved win No. 300 in just 366 career games.