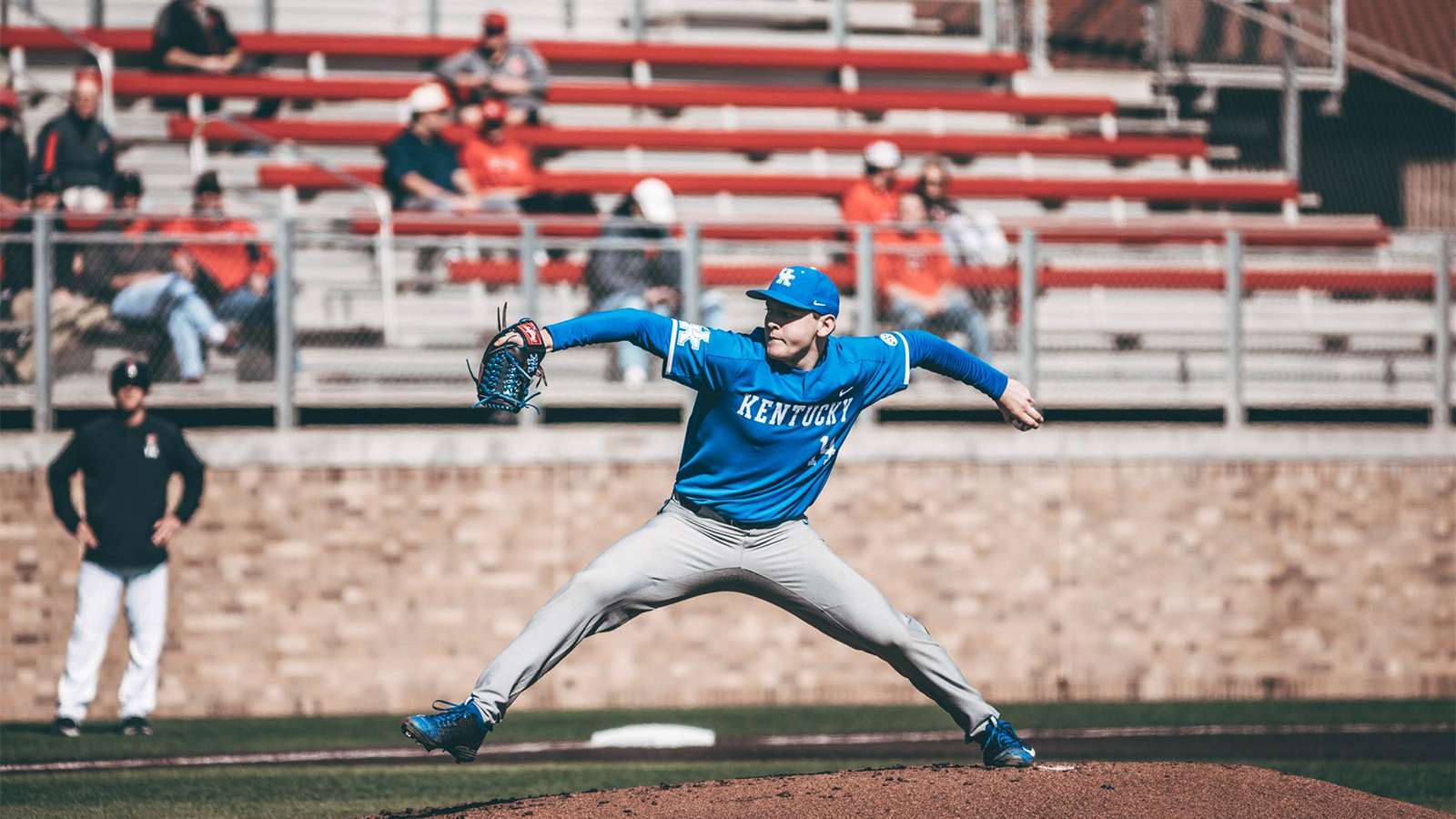 LUBBOCK, Texas – Ryan Shinn shined with three hits and a diving catch worthy of a spot of SportsCenter's Top 10 but Kentucky fell victim to one tough-luck inning in a 7-4 series-opening loss to No. 3 Texas Tech at Rip Griffin Park.
 
The Red Raiders (3-1) scored six runs in the sixth inning – all with two outs – to erase a 4-1 deficit and send the Wildcats (3-1) to their first loss of the season. The rally was fueled by a pair of soft singles to centerfield and a ground ball that hit the third base bag and ricocheted into left field before a bases-clearing double gave Tech its first lead of the game.
 
Shinn shined from the outset, racing into the left-centerfield gap for a full-extension diving grab of All-American Josh Jung's line drive in the first inning. He pounded out three hits, including his third double of the season, swiped a pair of bases and raced home from first on Alex Rodriguez's double. It was the senior outfielder's second three-hit game already this season.
 
UK starter Zack Thompson was dominant for much of the game despite not getting a decision. He struck out eight and allowed just four hits in 5.2 innings before leaving the game with a 4-2 lead. The junior left-hander has struck out 17 batters and allowed only five hits in 9.2 innings in his two starts.
 
The defeat was UK's first under coach Nick Mingione is the state of Texas, as the Cats had been 6-0 the past two seasons in the Lone Star State. UK swept Texas A&M in College Station in 2017 and knocked off two ranked foes as part of a three-game sweep in the Shriners Hospitals for Children College Classic in Houston a year ago.
 
 
SCORING
Top 2nd – T.J. Collett and Ryan Shinn singled to RF. Alex Rodriguez grounded out to the pitcher, moving both runners up. Marshall Gei grounded a ball through the infield to score both Collett and Shinn. UK 2, Texas Tech 0.
 
Bottom 3rd – Braxton Fulford singled with two outs and advanced to second on Gabe Holt's walk. Dru Baker singled to CF, scoring Fulford. UK 2, Texas Tech 1.
 
Top 4th – Alex Rodriguez walked and moved to second on Gei's fielder's choice. Zeke Lewis reached on a throwing error by the SS, scoring Rodriguez from second. UK 3, Texas Tech 1.
 
Top 6th – Shinn hit by a pitch with two outs. Rodriguez doubled to LCF, scoring Shinn from first. UK 4, Texas Tech 1.
 
Bottom 6th – Holt walked and moved to third on Brian Klein's two-out single. Doug Facendo singled to CF, scoring Holt. Dylan Neuse doubled off the third base bag, scoring Klein from second. Tanner O'Tremba walked to load the bases. Cameron Warren doubled into the LF corner to clear the bases. Fulford blooped a single to CF, scoring Warren. Texas Tech 7, UK 4.
 
 
NOTES
Kentucky has scored in 68 consecutive games and 144 of the past 145 dating to the 2016 season. The lone shutout came in a seven-inning game. The current streak is the eighth-longest in school history.
Junior LHP Zack Thompson pitched 5.2 innings, giving up four hits, four runs, two walks and striking out eight.

Thompson has struck out 17 hitters in 9.2 innings this season.
He has allowed just five hits this season.

Senior OF Ryan Shinn went 3-for-3 with two runs, a double and two steals.

It was Shinn's second three-hit game in the first four games of the season.
Shinn now has five multi-hit games in his UK career.
Junior 1B/DH T.J. Collett was 1-for-4 with a run scored.

Collett extended his reached base safely streak to 12 games.
He currently has a seven-game hit streak. His career long is 13 games.
 
ON DECK
The middle game of the three-game series will start at 3 p.m. ET on Saturday and will air on 98.5 FM Lexington radio and UKathletics.com. The game also will be streamed on Texas Tech TV via TexasTech.com.