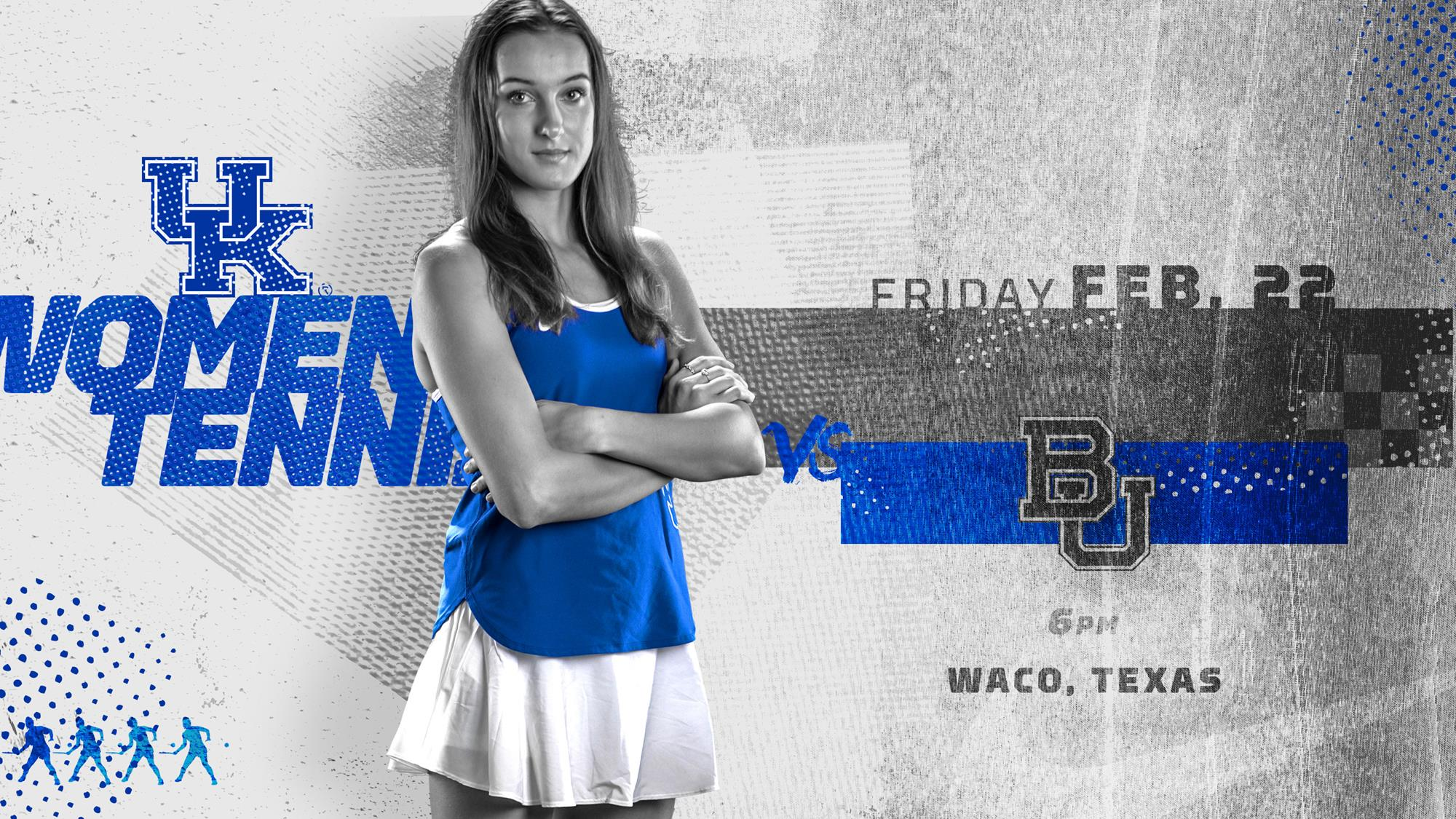 February 21, 2019 - 03:52 PM
Kentucky Travels to Texas for First True Road Match
WACO, Texas – The Kentucky women's tennis team will compete in their first true road match of the season Friday against Baylor in Waco, Texas. The first serve is slated for 6 p.m.
 
The Wildcats have put together an 8-1 season, forming an unbeaten mark in seven home matches and a 1-1 record at a neutral site. One week ahead of the conference opener, UK is tied with Missouri for fifth in the league standings.
 
Senior Justina Mikulskyte has crafted a noteworthy season thus far. The native of Lithuania is the 46th-best singles player in NCAA Division I, announced by ITA Wednesday. She improved 48 spots to claim No. 46. She is unbeaten in six singles matches, each win rewarded on court one.
 
Last Friday against South Florida, Mikulskyte defeated No. 36 Ana Roman Dominguez on a 3-6, 6-2, 6-2 decision. Dominguez, who just three weeks prior to last Friday defeated the No. 2 player in the nation, was undefeated in singles before falling to Mikulksyte.
 
In addition to her singles ranking, Mikulksyte and redshirt-junior Akvile Paražinskaite, also from Lithuania, earned their first national doubles ranking, checking in at No. 50. The pair is 3-2 on court one, including a win over then-No. 14 Sophia Graver and Taylor Russo of Auburn, which helped the Wildcats advance to the ITA Kick-Off Weekend Championship Match in January.
 
While not reflected in the polls, rookie Tiphanie Fiquet has arguably put together the most impressive season given her inexperience. Fiquet is undefeated in both the singles and doubles discipline, winning seven times on each court this season.
 
Last weekend, the newcomer from Nice, France, won three singles matches and three doubles matches, while also recording her second victory in singles on court two. Her performances were noted by the league office Wednesday when she was named SEC Freshman of the Week for the second time.
 
Kentucky and Baylor have only met three times in school history, while the Bears lead in all-time meetings, 2-1. The programs met just last year when Kentucky earned the victory at home, 4-1.
 
The Bears are 5-7 this season, while allowing a six-match losing streak. However, four of their last six matches have been against top 25 opponents.
 
Prior to the first serve, Baylor will decide if the teams will compete indoors or outdoors. Live stream will be available in both cases.
 
Following the Wildcats' dual match Friday, the team will travel 100 miles north to compete against SMU Sunday. The program will return home for their conference opener against Arkansas on March 1.
For more on Kentucky women's tennis, follow @UKWomensTennis on Twitter and Instagram, Kentucky Women's Tennis on Facebook, or on the web at UKathletics.com.