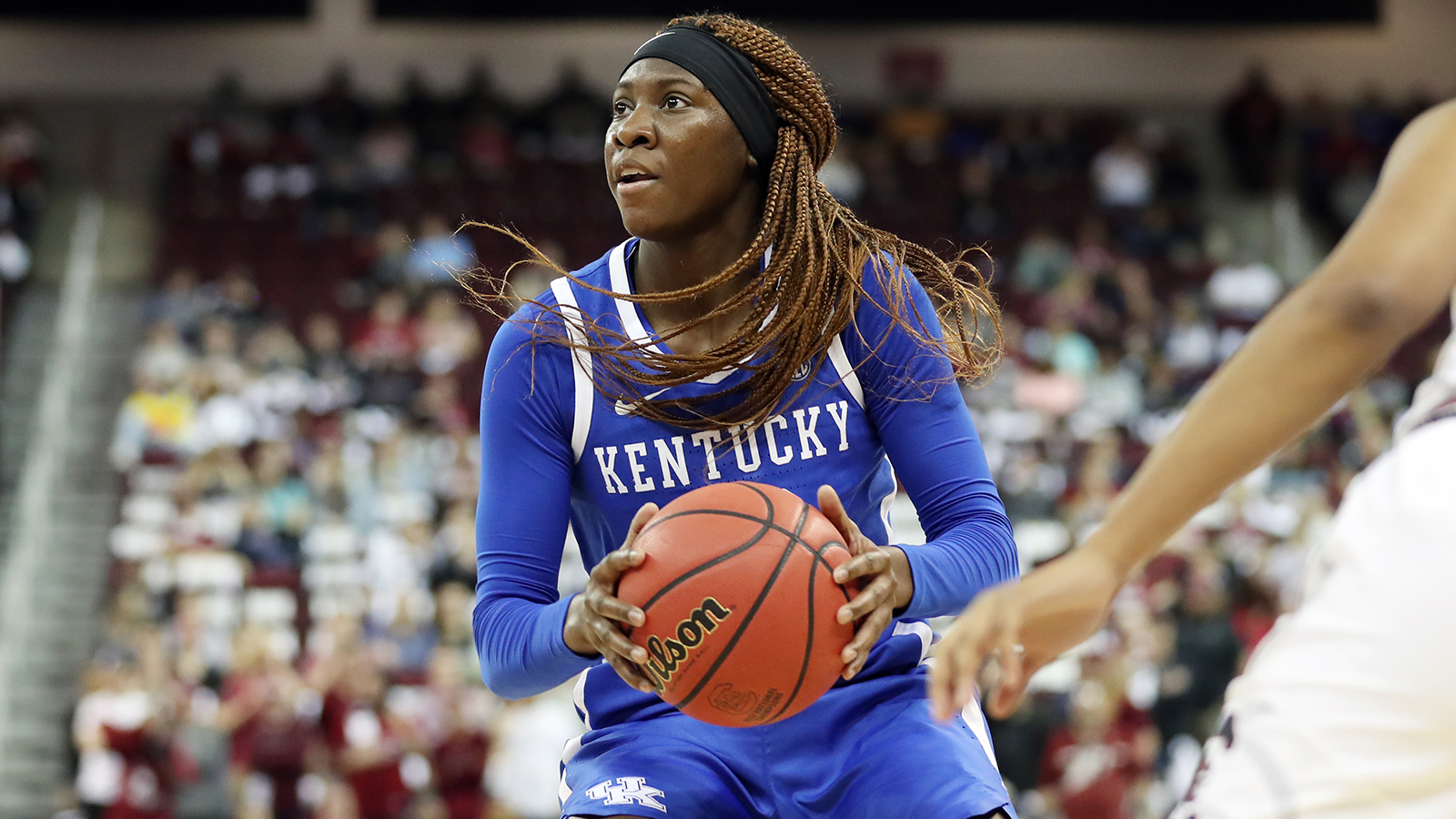 February 21, 2019 - 09:11 PM
No. 16 Kentucky Earns Key Road Win at No. 13 South Carolina
COLUMBIA, S.C. – Rhyne Howard and Taylor Murray each scored 17 points as the 16th-ranked Kentucky women's basketball team topped No. 13 South Carolina 65-57 on Thursday night at Colonial Life Arena. With the win, the Wildcats snapped a nine-game overall losing streak to the Gamecocks, and a six-game losing skid in Columbia.
Howard, the seven-time SEC Freshman of the Week this season, added four rebounds and three steals, while Murray tied a season high with eight rebounds, adding five assists and four steals in the win, Kentucky's fifth in a row.
Kentucky (22-5, 9-4 SEC) got 12 points from senior Maci Morris, including 10 big points in the second half.
Despite a height disadvantage, Kentucky grabbed as many rebounds, 34, as South Carolina. The Cats forced 21 Gamecock turnovers, including 14 UK steals, and turned those into 19 points. The Gamecocks scored 16 points off 16 Kentucky turnovers.
As they did in the first meeting between the teams this season, Kentucky jumped out to an early lead. After the Gamecocks scored the first basket of the game, the Cats scored seven in a row to take a five-point lead. South Carolina would score four in a row to cut the lead to one, but Kentucky answered with four in a row of its own to lead 11-6. The Cats would lead 13-11 after one period.
South Carolina tied the score twice early in the second period before Kentucky mounted an 11-2 run, including the last eight in a row by Howard, to lead 26-17. The Gamecocks would get within five, 26-21, before Kentucky scored four in a row to lead 30-21. South Carolina got a late three-pointer to cut Kentucky's advantage to 30-24 at the half. Howard led all scorers with 10 points in the first 20 minutes.
In the third quarter, South Carolina mounted a 6-0 run to take a 33-32 lead with 6:34 left in the period. Kentucky answered with a Murray basket to lead 34-33, but South Carolina scored the next three to take a 36-34 edge. The Cats would tie the game at 36-36 and 38-38, but South Carolina would hold a 43-40 lead after three periods. Murray scored six of Kentucky's 10 points in the quarter.
South Carolina had a three-point lead in the fourth quarter, 45-42, when Morris hit her first basket of the game, a step-back three, to tie the score at 45 apiece. Morris would convert an and-one as part of an 8-0 run, giving the Cats a 50-45 lead with 5:49 to play. After South Carolina hit a three to cut the lead to 50-48, Howard scored five in a row and Kentucky held a 55-48 lead with 4:34 remaining.
The Gamecocks battled back, but each time they did, the Cats had an answer. Kentucky built a nine-point lead, 60-51, before South Carolina scored four in a row to cut the lead to five with 2:32 to play. But South Carolina would get no closer as Kentucky hit five out of six from the line down the stretch to preserve the victory.
Kentucky returns to action on Sunday, hosting LSU at Memorial Coliseum. Tipoff is set for 2 p.m. ET and the game can be seen on SEC Network Plus.