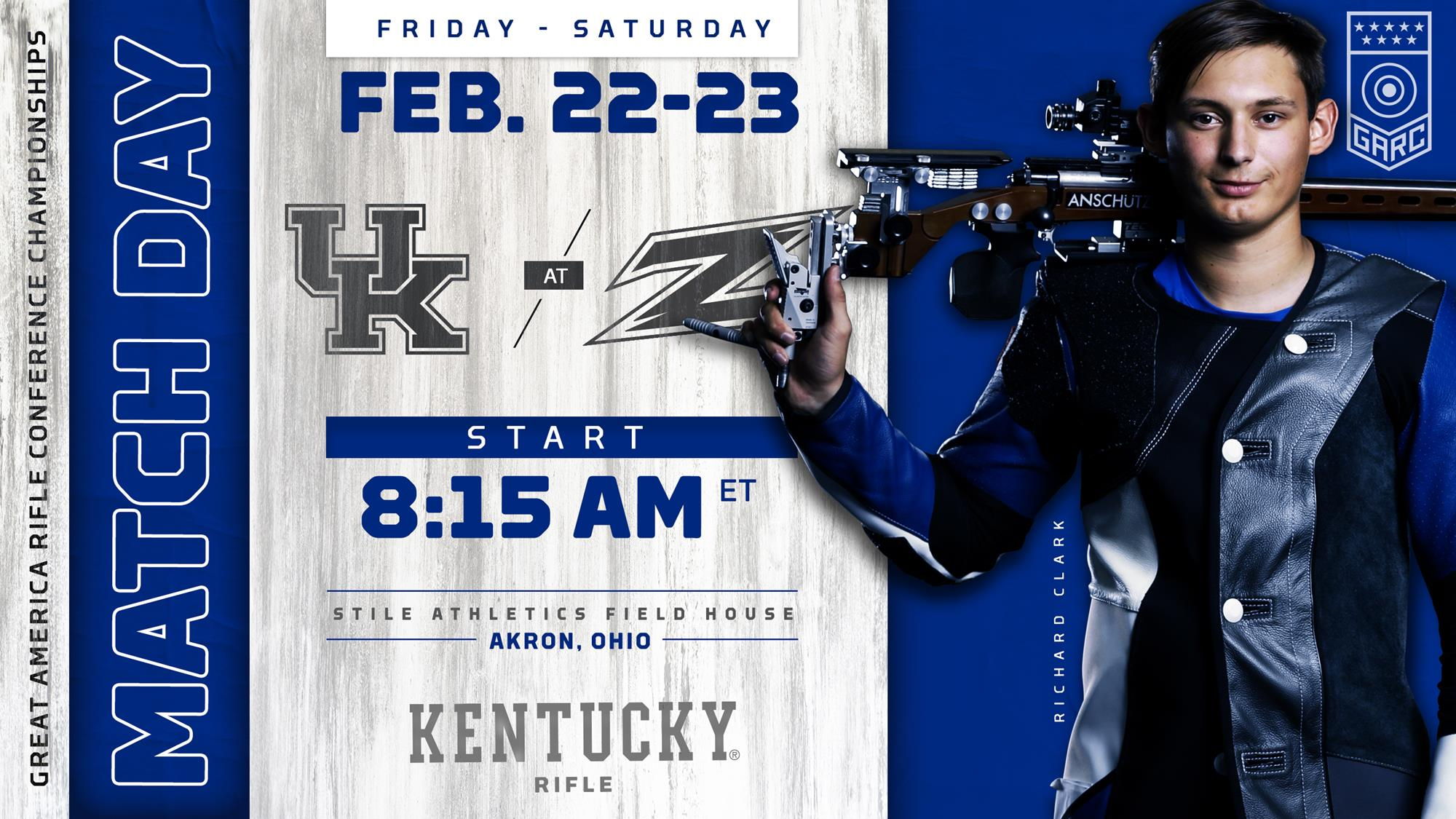 AKRON, Ohio – The Kentucky rifle team will compete at the Great American Rifle Conference Championships, hosted by Akron, this weekend, Feb. 21-22.
 
Nine teams compete inside Stile Athletics Field House with 75 individual shooters competing in the event. This event is free to the public.
 
The GARC is composed of Akron, Army, Kentucky, Memphis, Navy, Nebraska, North Carolina State and West Virginia.
 
UK, West Virginia, Navy and Army are four of the eight teams that qualified for the NCAA Championships, which will be hosted by West Virginia in a fortnight. All nine GARC teams rank among the top 20 nationally.
 
Smallbore competition will take place on Friday, Feb. 22, beginning at 8 a.m., while athletes will participate in air rifle on Saturday, Feb. 23, also starting at 8 a.m.
UK took second to last year's host West Virginia at the GARC Championships. The Wildcats placed third the last time the competition was held inside Stiles Field House in 2017.
 
Kentucky (11-1, 7-1 Great American Rifle Conference) finished second in the GARC regular-season standings.
 
2019 GARC CHAMPIONSHIPS SCHEDULE
Stile Athletics Field House | Akron, Ohio
 
Friday, Feb. 22 – Smallbore
6:30 AM – Doors Open
7:45 AM – Relay 1 (takes range)
10:15 AM – Relay 2
12:45 PM – Relay 3
3:45 PM – Smallbore Finals
 
Saturday, Feb. 23 – Air Rifle
6:30 AM – Doors Open
7:45 – Relay 1
9:45 AM – Relay 2
Noon – Relay 3
2:45 PM – Air Rifle Finals
 
—                                                                                                                                                              —
For the latest on the Kentucky rifle team, follow @UKrifle on Twitter, Instagram and Facebook, as well as on the web at UKathletics.com.