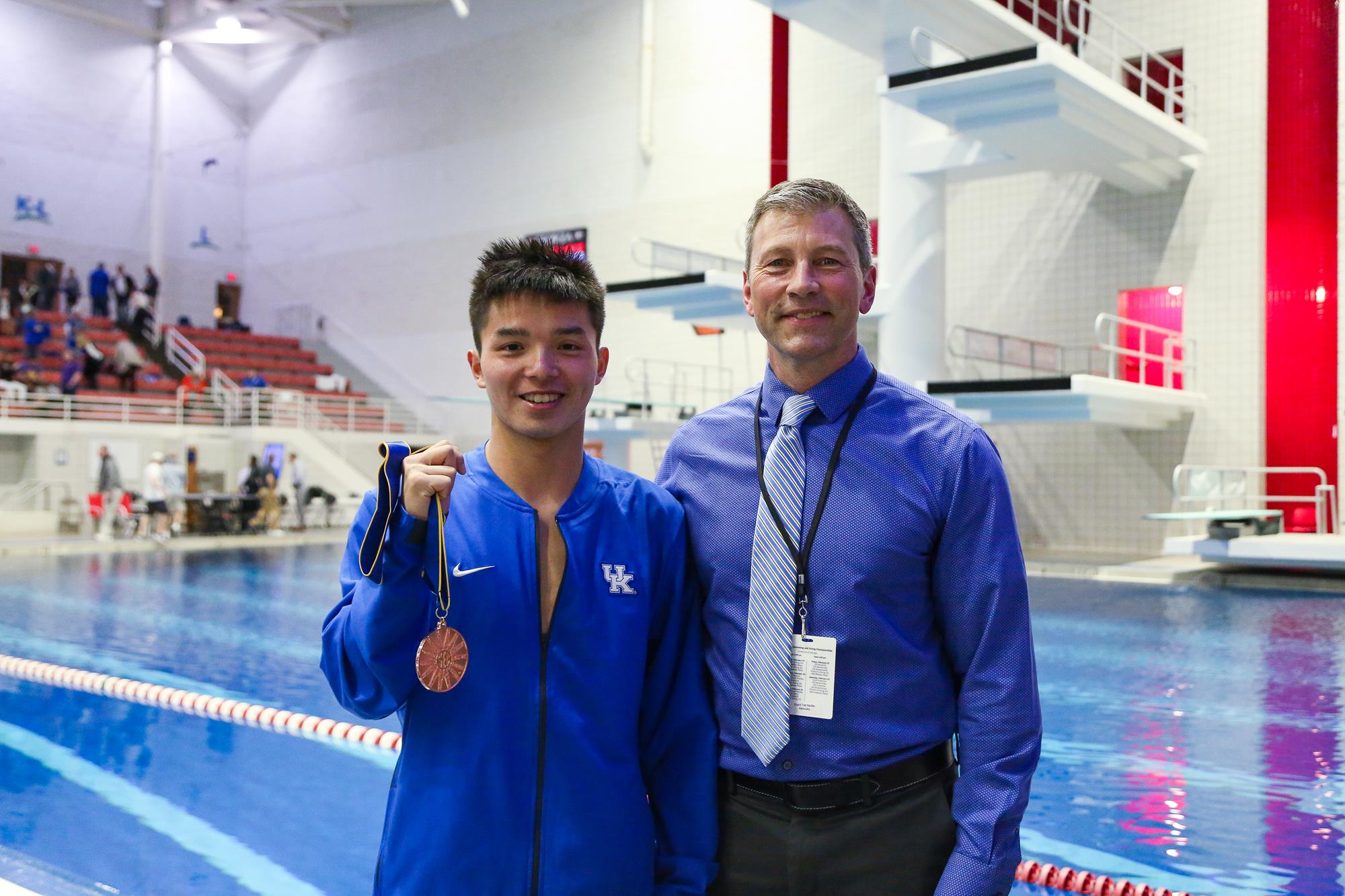 February 21, 2019 - 10:13 PM
Freshman Zhang Earns Bronze in his First Conference Championship Appearance
ATHENS, Ga. – Freshman Danny Zhang ended the night victoriously, recording a career-best 439.50 on the 3-meter springboard to earn a bronze medal in his first Southeastern Conference Championship, Thursday in Athens, Georgia.
 
Zhang, a native of California, recorded a personal-best 439.50 to notch second on UK's all-time performance list in the discipline, which earned a bronze medal. It is the second individual medal earned by a Wildcat this week, after senior Geena Freriks won bronze Wednesday in the 500 freestyle. It's the third overall medal won by Kentucky in the meet, with the addition of the women's school-record 800 freestyle relay that earned third place Tuesday.
 
Senior Seb Masterton joined Zhang in the finals after he posted a 394.45 in the preliminary bout. He followed that up with an even-better 408.55 to finish seventh overall and provide valuable points to the UK men's team.
 
"Both of those guys were great," said head diving coach Ted Hautau. "They were fantastic. First finals, first SECs, I mean he just performed. It was an excellent meet. Seb was tough as nails, too. It was awesome."
 
Senior Paige Kelly had terrific swims in the 400 IM. In her preliminary heat, she posted a 4:13.91 to earn a spot in the "C" final. The time was her career best, but not for long. The senior felt momentum in her finals swim and answered with a new career best, charting an impressive 4:11.01. The Ohio native will put ink to the record book, becoming the fourth fastest Wildcat to swim the 400 IM.
 
Sophomore Lauren Edelman topped the Wildcats in the event, logging a 4:10.31 in the "B" final. It is only .09 shy of her career best, which ranks third in school history.
 
On the men's side, junior Connor Blandford, sophomore Daniel Orcutt and sophomore Nick Smith received spots in the 400 IM. Orcutt and Smith rallied career-best times in the preliminary round, along with freshman Kyle Barker who earned an alternate spot – 3:48.88, 3:49.13 and 3:50.82, respectively.
 
In the finals event, Blandford led the Wildcats with a 3:46.24 that reset his career best and moved up one spot on the all-time performance list to rank second. He now holds the fastest time in the event among current roster members. Orcutt reset his career best once more Thursday, posting a 4:46.55 in the finals that makes him the third fastest Wildcat.
 
Both troops had rewarding swims in the 200 freestyle. For the women, freshman Riley Gaines posted a career best 1:47.14 this morning to earn a "C" final spot, while junior Ali Galyer and Freriks made the "B" final.
 
Gaines dropped nearly two seconds from her preliminary swim to her finals swim, which reset her career best for the second time Thursday. She posted a 1:45.73 to win the "C" final. Freriks won the "B" final by recording a 1:44.84. She holds the school record in the event with a 1:44.26.
 
Three UK men set career bests in the 200 free preliminary. Junior Jason Head led the pack with a 1:35.40 to force a "B" final placement. Junior John Mitchell touched the pad within 1:35.74, and junior Peter Wetzlar saw a 1:35.87 in the event. Mitchell and Wetzlar earned spots in the "C" final.
 
Mitchell and Head improved their career bests for the second time Thursday with their finals swim. Mitchell grabbed the fastest swim on a 1:35.11 mark, while Head posted a 1:35.31.
 
"I thought we performed pretty well, especially tonight," said head coach Lars Jorgensen. "We still have a long way to go."
 
The meet will resume Friday with the 200 butterfly, 100 backstroke, 100 breaststroke and the women's platform. Swimming preliminaries will begin at 10 a.m., diving preliminaries will start at 12:30 p.m., while the swimming and diving finals will commence at 6 p.m.
 
A full schedule of the championship is on Meet Central.
 
Spectators can enjoy two free options to keep up with the meet. Each day, SEC Network Plus will air preliminary and finals events, with the exception of preliminary bouts on Friday and Saturday. The programming is also available on the Watch ESPN app. A complete list of the TV programming schedule is on Meet Central. 
 
Live results is also an available option.
 
This week, swimmers can compete in three individual races and four relays. For the swimming division, only the top 24 swimmers from the preliminary competition will advance to finals, for three heats of eight swimmers. Seed times decide lane assignments for the preliminary bout, while preliminary times decide lane assignments for finals.
 
For the diving division, only the top eight divers will advance to finals.
 
PARKING
Spectator may park in the East Campus Parking Deck, which is located in front of the Ramsey Center. The daily fee to park is $5.00 with in and out privileges.
 
TICKETS
All seats to the championship will be reserved. Tickets can be purchased by calling the UGA Ticket Office at (877) 542-1231. Ticket prices are as follows:
 
All-session pass (good for all sessions each day) $110 (adult) $50 (student)
Preliminary pass (good for one morning session) $10 (adult) $5 (student)
Finals pass (good for one evening session) $15 (adult) $10 (student)
 
CLEAR BAG POLICY
University of Georgia Athletics Association has adopted a clear bag policy for the safety of all in attendance. This will not apply to working with the need for bags and team personnel. Those bags may not be subject to search. All fans will be held to the clear bag policy. A complete list of prohibited items is available at GeorgiaDogs.com.
 
For the latest on the Kentucky swimming and diving program, follow @UKSwimDive on Twitter and on Instagram, on Facebook and on the web at UKathletics.com.