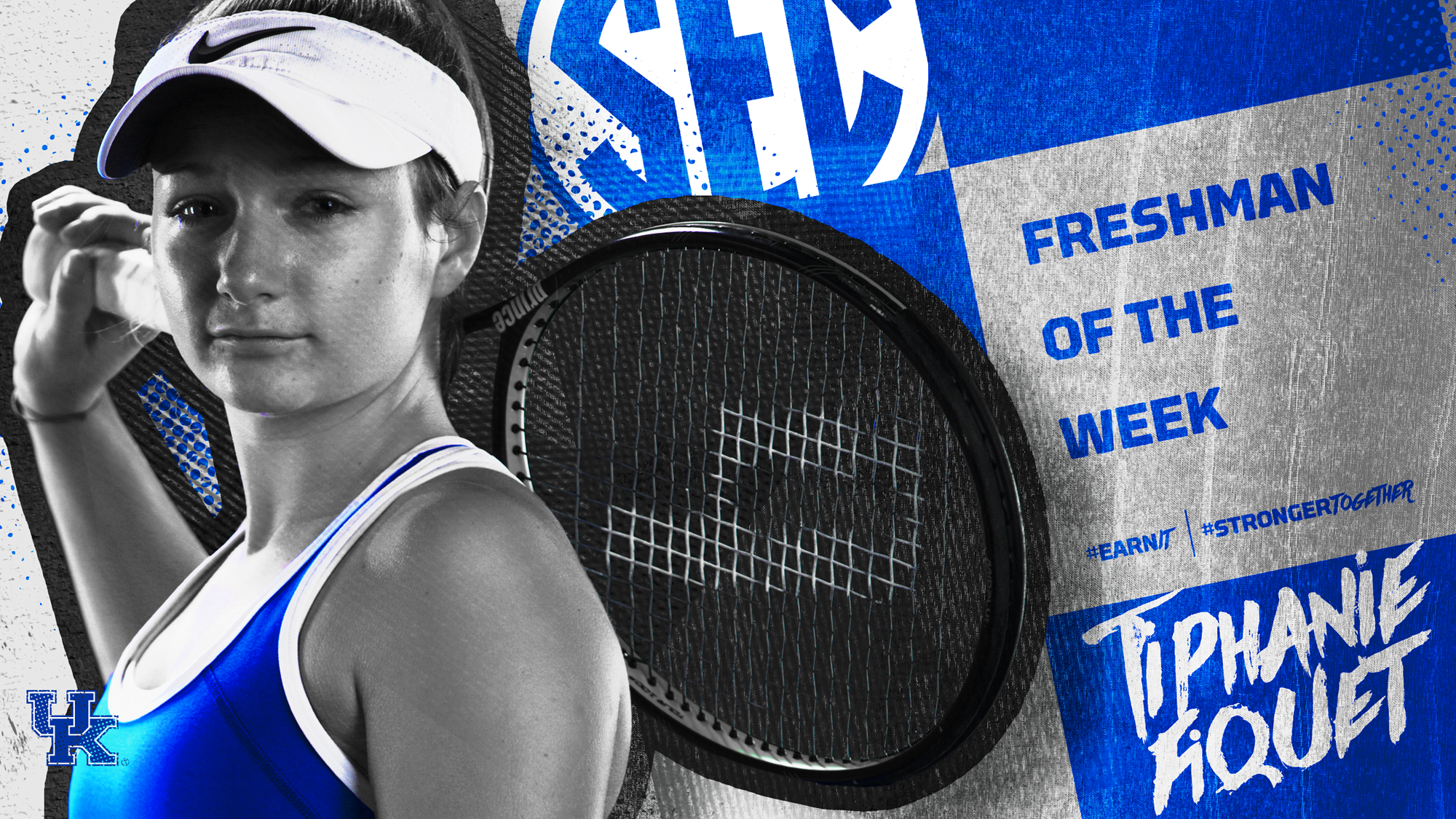 February 20, 2019 - 03:05 PM
Fiquet Named SEC Freshman of the Week for Second Time
LEXINGTON, Ky. – Unbeaten in singles and in doubles this season, freshman Tiphanie Fiquet was named Southeastern Conference Freshman of the Week for the second time, announced by the league Wednesday.
 
It is the first time in four years a Kentucky rookie has won the award twice in one season, last accomplished by Mami Adachi who earned three such honors in 2015.
 
Fiquet remains undefeated in seven singles matches and seven doubles matches. Last weekend, Fiquet won six of six matches going 3-0 in singles and 3-0 in doubles – a schedule that included South Florida on Friday and a doubleheader of Indiana and NKU on Sunday. Her performances helped Kentucky to its 8-1 mark this season, the fifth best among conference teams.
 
Traditionally the fourth player in the Kentucky lineup, Fiquet added another singles win to her resume on court two, defeating Maria Koo of Northern Kentucky on Sunday. The victory means Fiquet 2-0 on court two and 5-0 on court four.
 
In her three singles matches last weekend, Fiquet limited her opponents to three games or less in five of six total sets.
 
Fiquet and junior Lesedi Jacobs are 6-0 in doubles this season on court two, while Fiquet and partner Akvile Paražinskaite are 1-0 on court one. In three doubles matches last weekend, Fiquet and Jacobs limited their opponents to a combined four total points – two or less points per the three sets. In the process, Fiquet has limited her doubles opponents to two or less points per set all season.
 
The Wildcat leads her teammates with her doubles record, and ties junior Diana Tkachenko for the lead with her singles record.
 
In their next dual match, the Kentucky women's tennis team will face Baylor Friday at 6 p.m. and SMU Sunday at noon, for a road swing in Texas. The Wildcats will return home to open conference play with Arkansas on March 1 at the Hilary J. Boone Tennis Center.
For more on Kentucky women's tennis, follow @UKWomensTennis on Twitter and Instagram, Kentucky Women's Tennis on Facebook, or on the web at UKathletics.com.