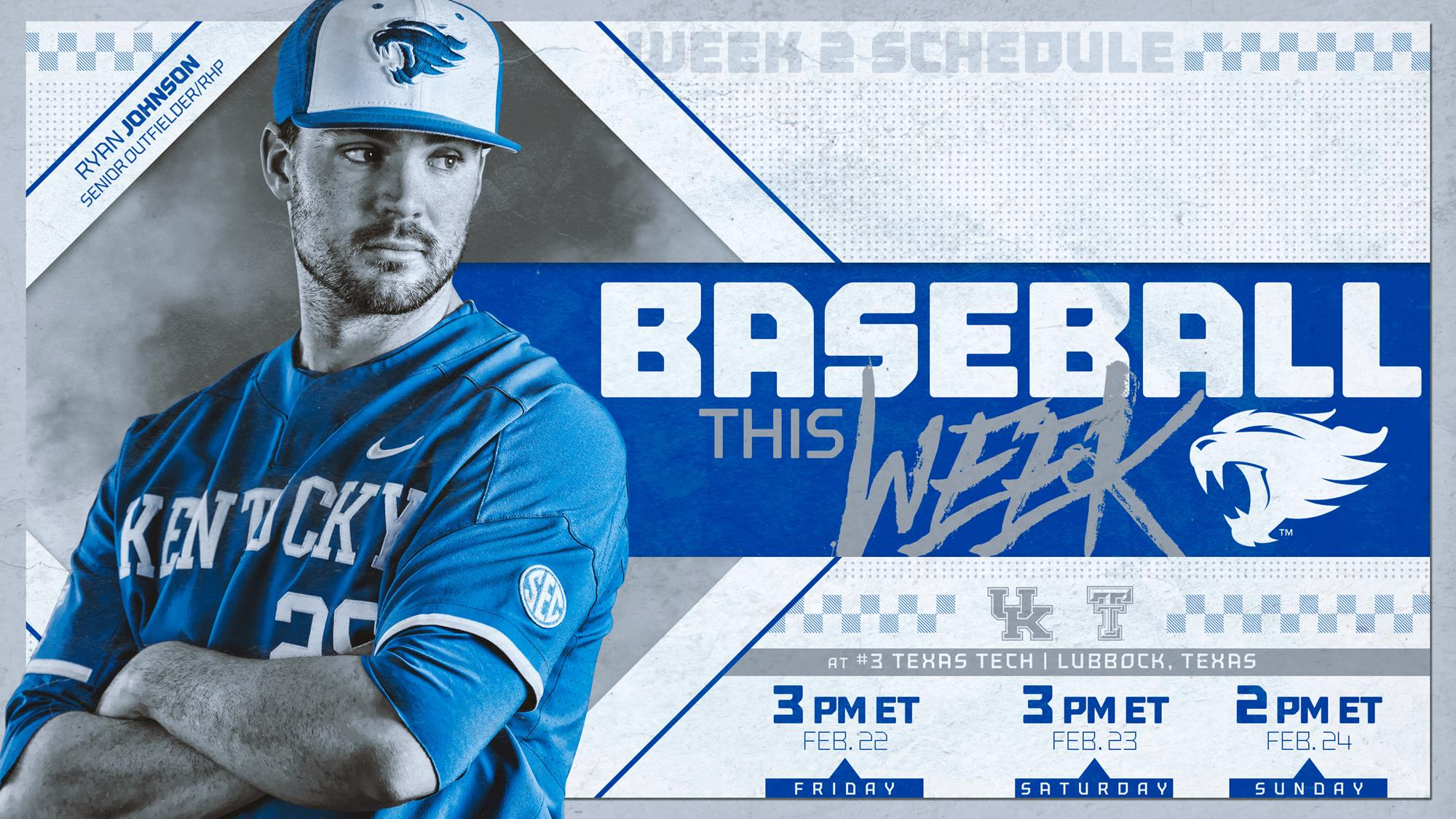 LEXINGTON, Ky. – Coming off its first three-game road sweep since 2017 the Kentucky baseball team hits the road again this weekend, traveling to No. 3 Texas Tech for what promises to be a stiff early test for the young Wildcats.
 
The series opens Friday afternoon in Lubbock and continues both Saturday and Sunday afternoon before the Cats (3-0) return to Lexington for their home opener on Tuesday in the new $49 million Kentucky Proud Park. Game times this weekend are 3 p.m. ET on Friday and 2 p.m. on Saturday and Sunday.
 
The Cats opened the 2019 season with an impressive three-game sweep at Austin Peay, scoring 31 runs despite less-than-ideal conditions due to heavy rain all weekend. The runs were the most for the Cats in a three-game road series in 12 years and provided a glimpse of what the offense may become despite losing seven regular starters to the Major League Baseball Draft. Junior college transfers Dalton Reed (two doubles, two home runs) and Jaren Shelby (seven hits, five runs, five RBI) impressed in their first games in blue, while junior designated hitter T.J. Collett (two home runs, seven RBI) once again flashed his prodigious power in return from injury.
 
On the mound, the Cats' starters were excellent, allowing just six hits and three runs in 13.0 innings while striking out 21 batters. Friday starter Zack Thompson – a preseason All-American and First-Team All-SEC selection – struck out nine and allowed just one hit in 4.0 shutout innings. Freshman left-hander Dillon Marsh allowed just one run on two hits and struck out four without walking a batter in his four-inning collegiate debut on Sunday. Sophomore reliever Carson Coleman was one of just six pitchers in the country to earn two wins on opening weekend, retiring all 11 batters he faced and twice extricating the Cats from dicey situations.
 
The trip to Texas Tech (2-1) is the return engagement from last season when the Red Raiders came to Lexington for a matchup of top six teams. The Cats won the first two games and the series before Tech exited with a win in Sunday's finale. It also will be the third straight season UK has traveled to the Lone Star State, having swept Texas A&M in College Station in 2017 and winning the Shriners Hospitals for Children College Classic in Houston last year after knocking off a pair of ranked teams in a perfect three-win weekend.
Audio of all three games this weekend will air on 98.5 FM in Lexington and be streamed via UKathletics.com. Texas Tech TV will stream video of Friday and Saturday's games. Texas Tech TV is a subscription service on www.TexasTech.com. Fox Sports Southwest Plus will stream Sunday's contest.
 
 
WEEKEND DETAILS
Friday, Feb. 22 at #3 Texas Tech
     3 p.m. ET; Dan Law Field at Rip Griffin Park (Lubbock, Texas)
Saturday, Feb. 23 at #3 Texas Tech
     3 p.m. ET; Dan Law Field at Rip Griffin Park (Lubbock, Texas)
Sunday, Feb. 24 at #3 Texas Tech
     2 p.m. ET; Dan Law Field at Rip Griffin Park (Lubbock, Texas)
 
Radio: UK Sports Network; 98.5 FM Lexington (Dick Gabriel); UKathletics.com
TV/Online: Friday – Texas Tech TV; Saturday – Texas Tech TV; Sunday – Fox Sports Southwest+