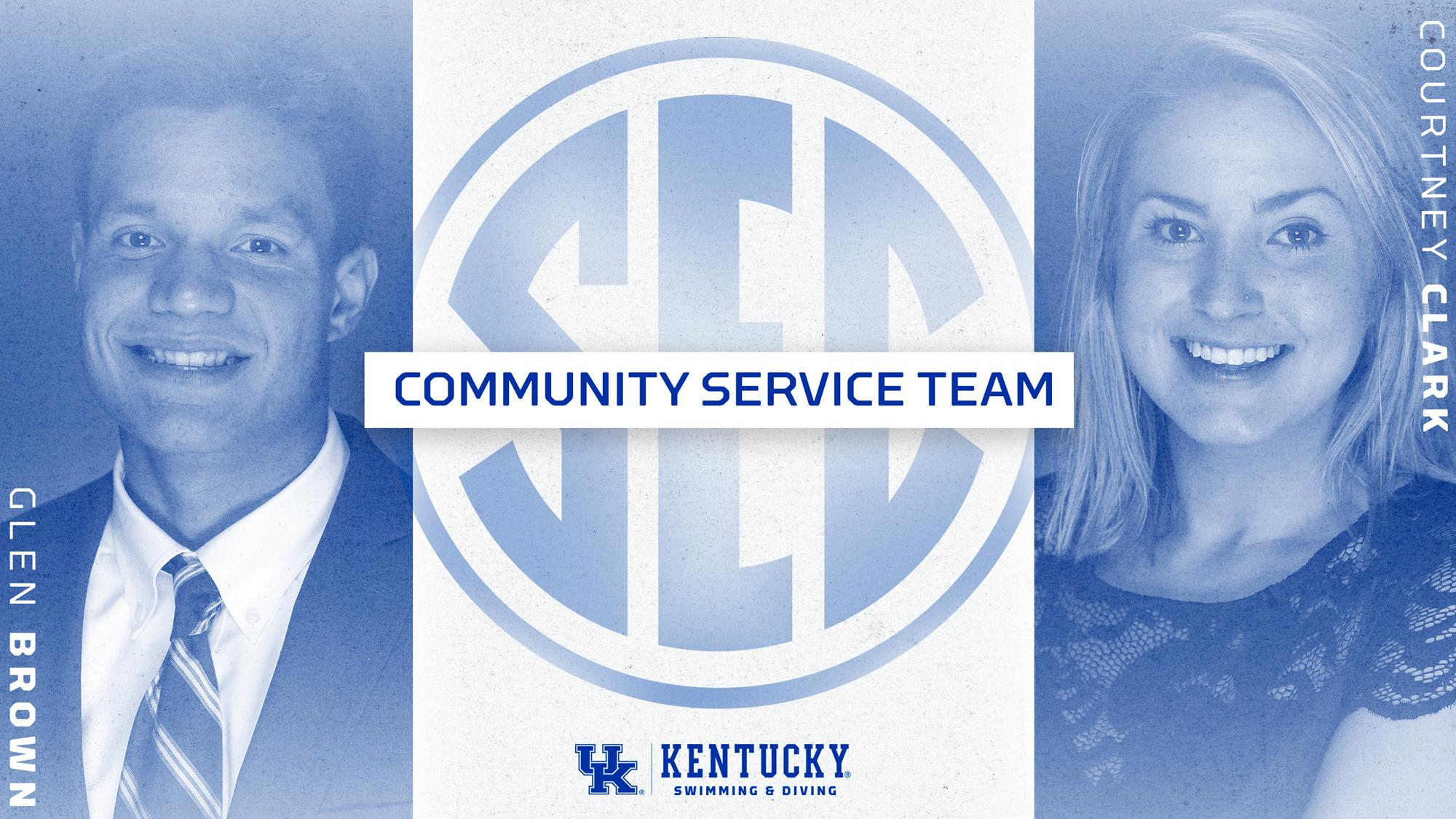 February 19, 2019 - 04:14 PM
Brown, Clark Named to SEC Community Service Team
LEXINGTON, Ky. – Kentucky swimmer Glen Brown and diver Courtney Clark have been named to the 2019 Southeastern Conference Community Service Team, announce by the league Tuesday.
 
Brown has served a host of organizations in the Lexington community in several capacities. Most notably, as the Vice President of Kentucky's Student-Athlete Advisory Committee, in December the junior helped select Special Olympics Kentucky as UK Athletics' Charity of Choice through April 2020. Brown, who will serve as president of the Student-Athletic Advisory Committee as a senior, will play a key role over the next year-and-a-half in helping UK Athletics make maximum impact with Special Olympics Kentucky by creating year-around sports training and athletic competitions for both the children and adults with intellectual disabilities.
 
While Brown will lead his committee through charitable projects that serve other organization, the charity of choice will help foster a deep relationship between UK student-athletes and SOK. Brown, a native of Indiana, assisted in setting up the first event with SOK, a bowling event in Lexington that attracted over 60 UK student-athletes.
 
In addition to Brown's high level of involvement with the Student-Athlete Advisory Committee, he has served regular hours with Habitat for Humanity, Real Read Program, Tri For Sight and the Lexington Breast Cancer Awareness Walk. Brown has tremendous leadership skills, which is evident on the men's swim team. In addition to his key role in the pool, Brown has led his team in several service projects.
 
When the Lexington Habitat for Humanity moved locations, Brown coordinated an event where the team assisted Habitat for Humanity in setting up their new building for their grand opening. Additionally, he took charge in creating a Thanksgiving Day basket for a local family in need. Brown communicated the idea of the basket to his team and led the creation and gathering process.
 
Brown participated in the Southeastern Conference Career Tour Nov. 27-29, 2018 in Atlanta. He was among 28 current and former student athletes from 15 sports in the SEC to take part in the third annual career tour. The mission of the tour is to provide exposure for SEC student-athletes who are seeking career opportunities in various fields. His stops on the tour included several company headquarters, where he had the opportunity to meet and talk with executives.
 
Brown holds a school record in the 200 IM with a 1:44.16 charted in the preliminary round of the 2018 SEC Championships, which granted him a finals lane. He is the only current swimmer on the men's roster to hold an individual program record. In addition, Brown contributed to the record-setting 800-yard freestyle relay team who logged a 6:23.17, also at the 2018 SEC Championships.
 
Clark, a native of Florida, has accumulated an honorable amount of community service hours in her time at Kentucky, posting 168 registered hours in community service projects in less than four years. That doesn't include the development of her own club at Kentucky called UK GIVE, where she leads a group of students in monthly service projects. Clark is a routine volunteer with several organizations, but has also made an impact in communities with one-time contributions.
 
Clark has been serving community dinner at the Maxwell Church close to campus since she arrived at UK in 2014, quickly falling in love with the community that she would call home for four years. That experience led her to go on a service trip to Tanzania in 2017. There she taught English, helped build a school for students, and built chicken coops for a women's co-op.
 
That following summer, in June 2018, Clark became a Marathon Kids volunteer at the Nike Headquarters. Clark's devotion to service was noticed in September 2018 by others when she was selected to attend the University Leadership Summit on behalf of UK Student Organizations to help solve the University's issues regarding mental health and student involvement. In that process, Clark input valuable first-hand information, and also took strong tips back to UK Student Organizations disclosing the benefits of student involvement in relation to mental health. Beyond her regular service, Clark has served at the Ronald McDonald House of the Bluegrass, volunteered at Old Friends Farm and has read to a class at a Lexington elementary school.
 
In March 2018, Clark attended the National Fair Trade Conference in Washington, D.C. with three other University of Kentucky students who made up the Fair Trade Board at UK. The four students, Clark included, were selected to attend the conference on scholarship. Clark spent two days at Georgetown University, discussing and developing ways to advance the University of Kentucky into the largest Fair Trade University in the state.
 
Probably most notable of Clark is the development of her own student organization on campus, UK GIVE. As the founder of this program in 2017, Clark leads members through monthly service projects that benefit the community. Just some of the monthly projects that she has led include; creating holiday cards and donations for Greenhouse 17, serving dinner at Hope Lodge, coordinating and serving dinner at The Food Chain, multiple outdoor and park cleanups, campus tabling events to promote environmental sustainability, and coordinating Lexington Humane Society adoption volunteers.
 
For the latest on the Kentucky swimming and diving program, follow @UKSwimDive on Twitter and on Instagram, on Facebook and on the web at UKathletics.com.