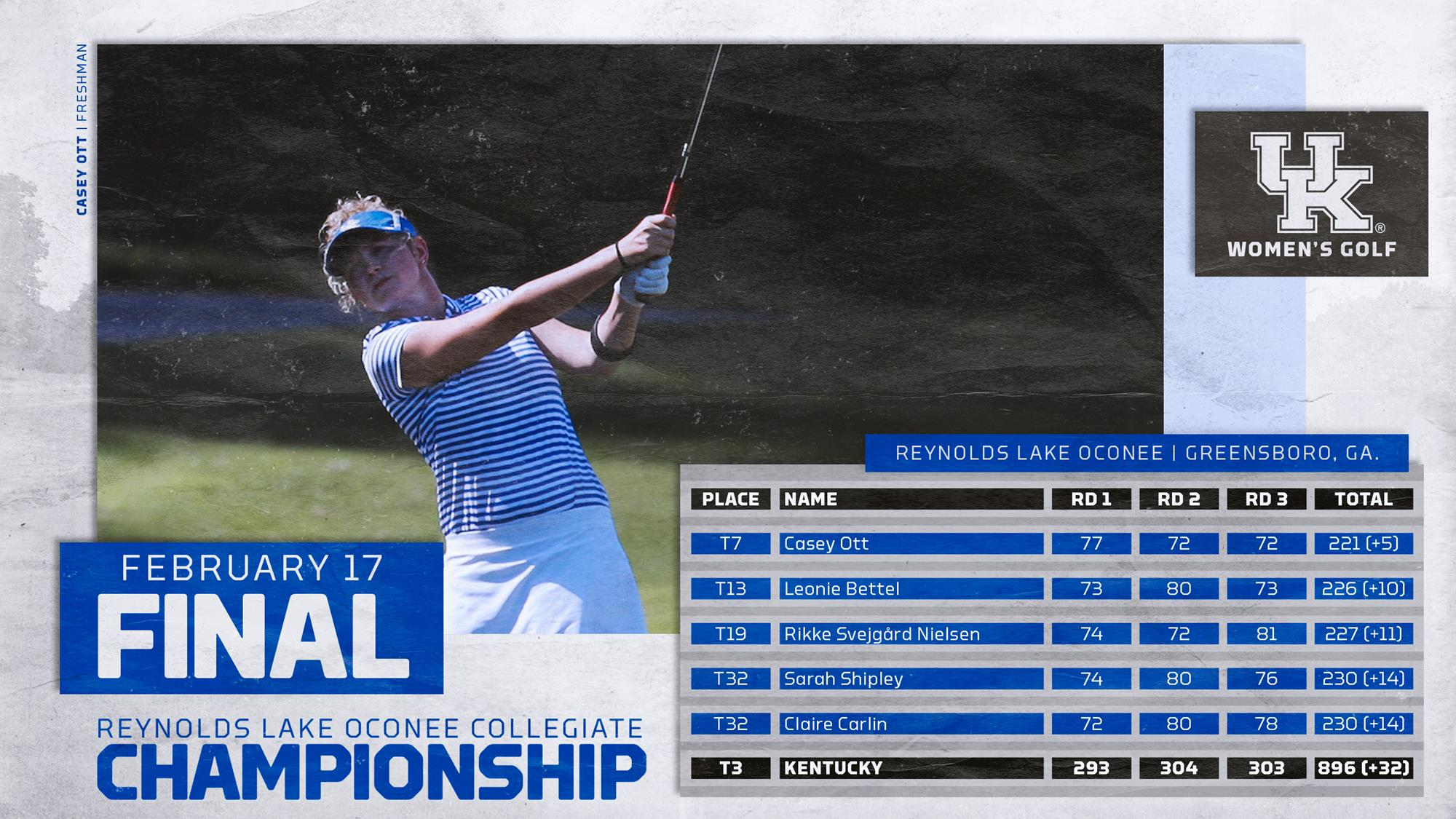 February 17, 2019 - 09:53 PM
Ott, Bettel Lead UK to Top-Three Finish at Reynolds Lake Oconee
GREENSBORO, Ga. – The Kentucky women's golf team posted its second top-three finish of the season and its talented youth continued its rise as three Wildcats – two of them in their years at UK – posted top-20 showings at the Reynolds Lake Oconee Collegiate Championship this weekend.
 
Freshman Casey Ott, riding the momentum of individual medalist honors at last week's Battle of the Bluegrass match vs. Louisville, set a pair of personal bests this weekend to lead UK to a third-place finish at Reynolds Lake Oconee in Greensboro, Georgia.
 
Ott tied for seventh place for her first career top-10 tournament thanks to a 54-hole career-best score of 221 (5-over par), with senior Leonie Bettel and sophomore and first-year Wildcat Rikke Svejgård Nielsen close behind in a tie for 13th and 19th place, respectively.
 
With those three leading the way, UK tied Texas Tech with a 32-over par 896. Vanderbilt, the No. 6 team in the country, lived up to its lofty ranking and captured the team title at 17-over par, 12 shots clear of host Mercer at 29-over par.
 
"It's early in the season, and even though we gave away several shots, there are still a lot of positives to take from this weekend," UK head coach Golda Borst said. "We made a lot more birdies, I thought our decision making was better and we continued to fight all the way through our rounds. Putting and big numbers continues to be our challenge, but we now have five more days to really get back to work and get ready for next week in Long Beach."
 
Kentucky fought its way through wet conditions Sunday and a unique setup for its second-best finish of the season. With three nine-hole courses, the tournament was split up into 27 holes on both Saturday and Sunday with play stopping midway through the second round Saturday.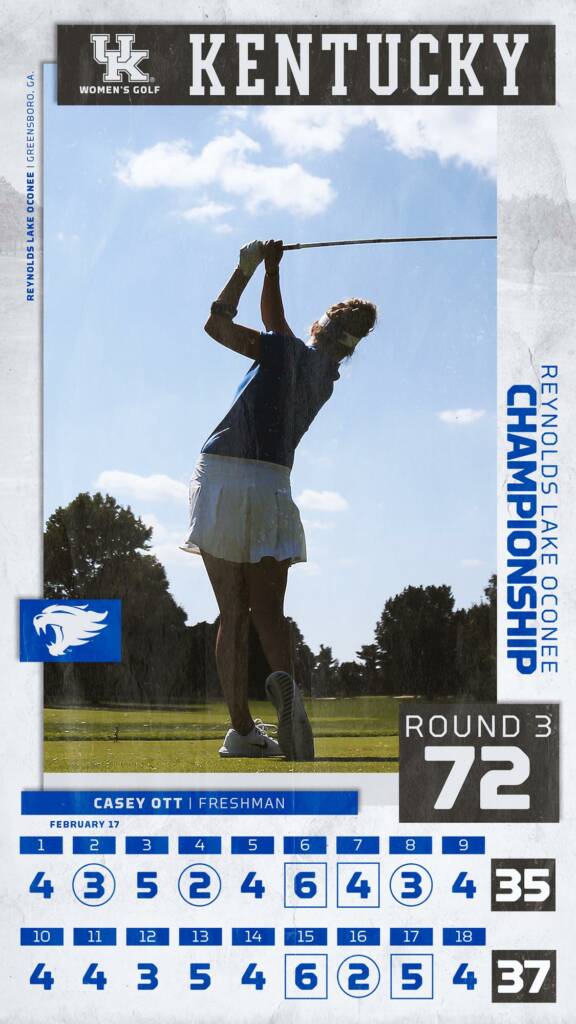 At that point Kentucky was five shots off the lead. The Wildcats appeared to be in contention early in the day with score intermittently reporting across the three courses, but when the second round was complete, UK had shot a 304, its only round over 300 this weekend, and lost ground.
 
The Wildcats came back in the third with a 299 and made things interesting. With scores still being calculated and a long drive back to Lexington, UK held out slim hopes that it might get a call that it had won on its way back, but it wasn't meant to be Sunday.
 
Nonetheless, there were positives to take out of Kentucky's first stroke-play event of the spring, none more so than Ott.
 
After her impressive play vs. Louisville last weekend when she dominated her match 6 & 5 and then won the nine-hole shootout, she kept it going this weekend with rounds of 77-72-72. It was her third and fourth rounds of par or better this season but first since the opening round of the Bettie Lou Evans Invitational at the beginning of October.
 
Ott recorded 10 birdies on the weekend and was Kentucky's best golfer from start to finish. She finished eight shots back of Texas Tech's Sofia Garcia, who was the only player in red numbers at 3-under par.
 
"I'm really proud of Casey for her determination this week," Borst said. "She followed up her win from last weekend with a solid performance over the last two days and she's continuing to grow and mature as a player."
 
Of course, Bettel, a midseason ANNIKA Award candidate and two-time champion in 2018-19, was pretty strong as usual. She posted her fifth top-20 finish in five stroke-play opportunities this season, and had it not been for a second-round 80, she likely would have been among the leaders again.
 
Sandwiching her uncharacteristic 80 in the second round – perhaps a byproduct of a round split up over two days – were a pair of 73s in the first and second round for a total of 226, 10-over par. Her stroke average will definitely rise from the torrid record-setting pace she's on, but she's still on pace for one of the best seasons in Kentucky women's golf history.
 
Svejgård Nielsen was among the leaders after the first two rounds at 2-over par. The winner of the MSU Greenbrier Invitational couldn't sustain her strong play from the first two rounds in the final 18 with an 81 but still managed her third top-20 finish in her first four stroke-play events at UK. She finished at 11-over par, 227.
 
Senior Claire Carlin and junior Sarah Shipley both tied for 32nd with 54-hole totals of 14-over par. Both seemed to have identical weekends with strong first rounds, a pair of 80s in the second and then decent finishes on the final 18 to get to their final scores of 230. Each contributed multiple rounds to the team total.
 
Freshman Ryan Bender, junior Josephine Chang and sophomore Sarah Fite were also in the 105-player field as individuals.
 
Bender had the best showing of the group by tying for 51st at 18-over par (234). Her best 18 was a second-round 75.
 
Chang scored a 240 (24-over par) to tie for 76th and Fite tied for 80th with a 241 (25-over par).
 
Kentucky was one of three Southeastern Conference teams competing for the team championship with the Wildcats finishing ahead of Missouri by 17 strokes.
 
UK's busy start to the spring will continue out west in just over a week. The Wildcats will head to Seal Beach, California, for the Gold Rush Invitational, capping a three-event month to begin the spring.
 
For the latest on the Kentucky women's golf team, follow the team on Twitter, Facebook, and Instagram, as well as on the web at UKathletics.com.