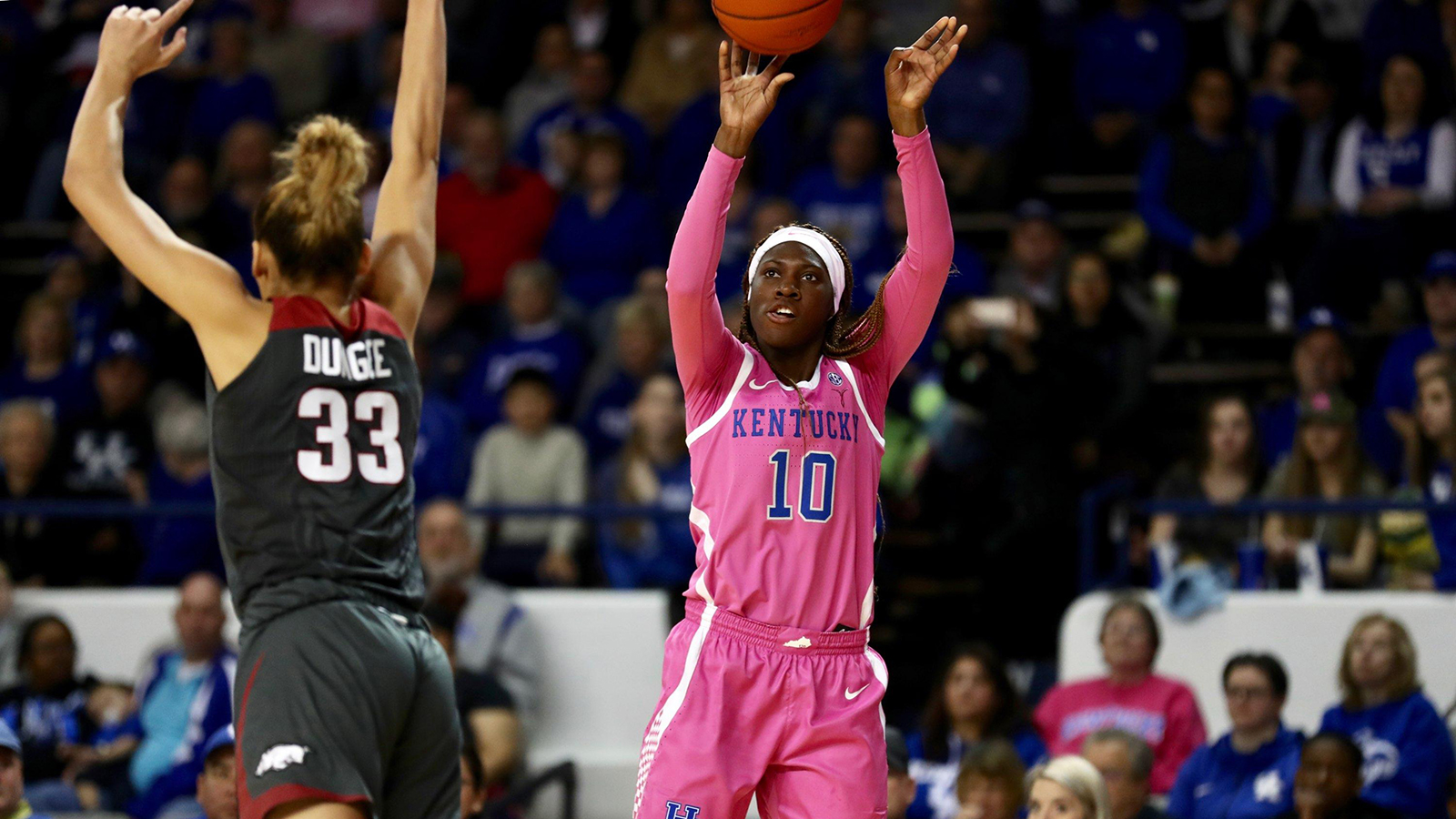 February 17, 2019 - 05:12 PM
Howard's Clutch Finish Her Latest Highlight
Rhyne Howard was calmer than she had any right to be.
 
The true freshman had the ball in a tie game, the outcome of a late-season matchup squarely on her shoulders as she sized up an Arkansas defender.
 
No wonder she was so calm, because there was never a doubt she would hit the shot.
 
"I just have a lot of confidence in my play," Howard said. "I just try to not let anything affect me."
 
No one besides Howard touched the ball on Kentucky's final possession after Arkansas blew up a play originally designed for Maci Morris, but Howard was indeed unaffected. Using a pair of crossovers – the second to escape an oncoming double team – and a perfectly timed step back, Howard buried a jumper from a few feet inside the arc with 1.3 seconds left to give UK the lead.
 
It ain't magic, folks.

It's just Rhyne Howard. ????? pic.twitter.com/kmJM2gwHfL

— Kentucky WBB (@KentuckyWBB) February 17, 2019
"Arkansas really played it great on Maci, really jammed the handoff so she couldn't make the handoff," Matthew Mitchell said. "A lot of times a player might panic there and give it up, so she kept her poise."
 
Howard would make the lead stand up on the ensuing Razorback possession. Arkansas (16-10, 5-7 SEC) didn't even get up a potential game-tying or game-winning shot because she zoomed into the passing lane to steal and seal a 61-59 victory for the No. 17/18 Wildcats (21-5, 8-4 SEC).
 
"The play of the game is not the basket," Arkansas head coach Mike Neighbors said. "The play of the game—did you all see how far she came to steal that ball? She came from nowhere. … Chelsea (Dungee) was open and she made a tremendous play to steal that ball."
 
Howard was the difference-maker in the final seconds as well as the best player on the floor for most of the afternoon. In addition to her 18 points, she had 14 rebounds, four assists and three steals – leading UK in all four categories. Her rebounding – seven on offense and seven on defense – was particularly impactful, with three coming in the final 98 seconds as Mitchell deployed a small lineup with Howard at the five.
 
"It's just a complete performance and obviously it would have been hard today without her," Mitchell said. "She's a great teammate, teammates love her, coaches love her, she loves everybody else and so it's really awesome having her here and she's making a great contribution."
 
Even opposing coaches, as much as she torments them, are in on the love.
 
"She just plays at such a calming pace," Neighbors said. "She'd be the kid I'd pick up in a pickup game. I really would. I think she's just a tough matchup for every player in this league and I think she's mature beyond her classification. She's confident."
 
All those traits add up to one of the greatest freshman seasons in school history and likely a bevy of postseason honors for the 6-foot-2 native of Cleveland, Tennessee. Now averaging 16.8 points and 6.9 rebounds, Howard is a strong candidate to break the record she tied last week of six SEC Freshman of the Week honors.
 
"For a pickup game or a regular game or any other game that you want to play, I'd pick her," Mitchell said. "She's extremely gifted and showed great poise for a freshman right there. Didn't panic, didn't force it, stayed patient 'til the end, had the guts to take the last shot."