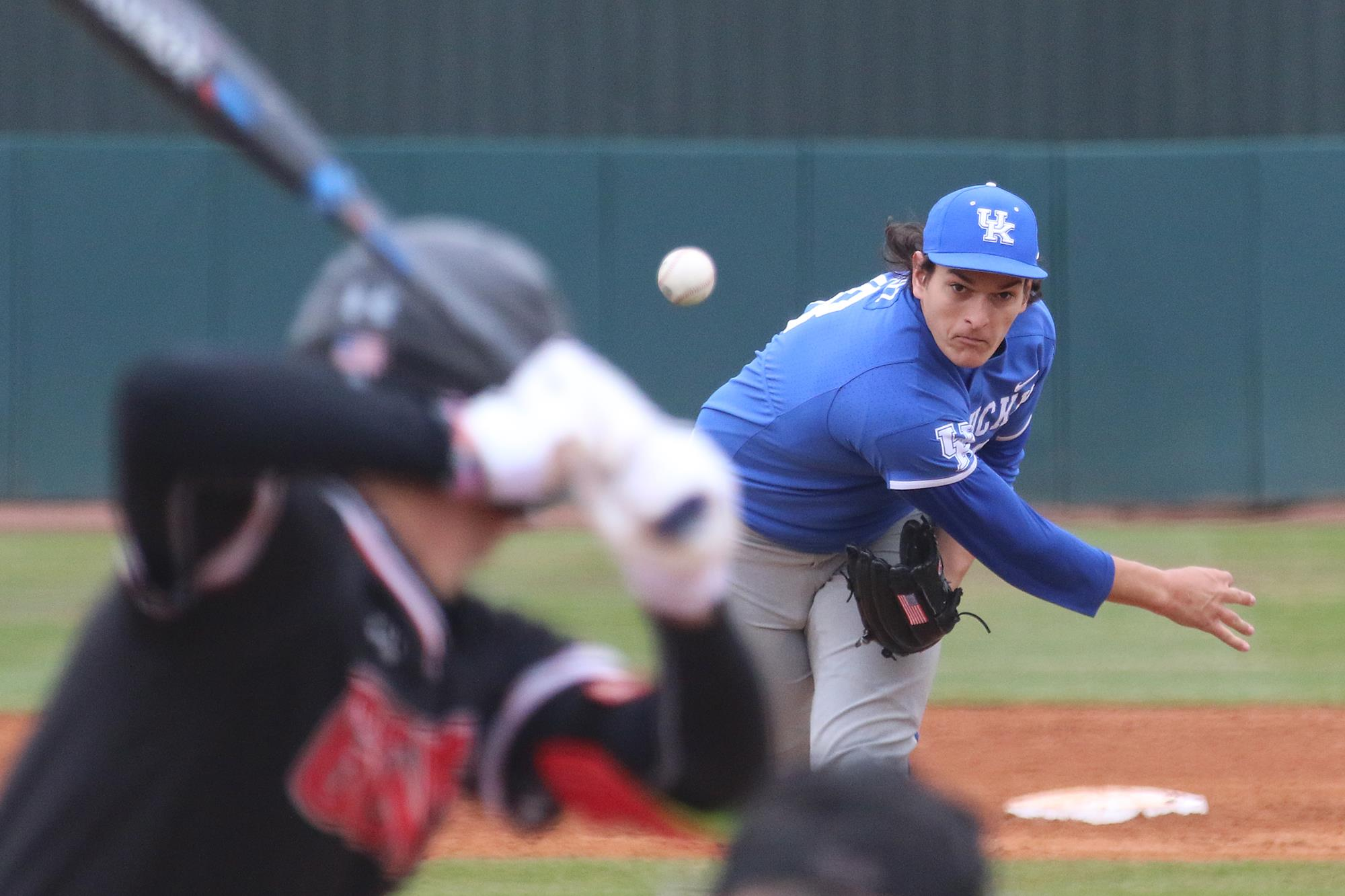 2019 KENTUCKY BASEBALL WEEK ONE IN REVIEW
 
OVERALL RECORD: 3-0 (0-0 SEC)
WEEK RECORD: 3-0
 
LAST WEEK
Feb. 15 – W, 8-4, at Austin Peay
Feb. 16 – W, 12-5, at Austin Peay
Feb. 17 – W, 11-1, at Austin Peay
 
THIS WEEK
Feb. 22 – at No. 3 Texas Tech (7:30 p.m. ET; Lubbock, Texas; Texas Tech TV)
Feb. 23 – at No. 3 Texas Tech (3 p.m.; Lubbock, Texas; Fox Sports Southwest+)
Feb. 24 – at No. 3 Texas Tech (2 p.m.; Lubbock, Texas; Texas Tech TV)
 
TEAM NOTES
NOTES
The three-game sweep was UK's first on the road in a three-game series vs. one opponent since accomplishing the feat at No. 13 Texas A&M in March 2017 to open Southeastern Conference play.
Kentucky has scored in 67 consecutive games and 143 of the past 144 dating to the 2016 season. The lone shutout came in a seven-inning game. The current streak is the eighth-longest in school history.
The Cats had 17 extra-base hits in the series.

17 of 34 hits have gone for extra bases (11 doubles, six home runs).
UK's starting pitchers were nearly untouchable on the weekend, giving up just six hits and three runs in 13.0 innings of work. They struck out 21 and walked just five.
The Cats stole eight bases in the series, including six in Saturday's game. They were only caught twice on the base paths, both pickoffs at first base.
 
 
 
SEC PLAYER OF THE WEEK CANDIDATE
Jaren Shelby (Jr., OF)
Hit .500 with two doubles, a home run, five runs scored, five RBI and a stolen base.
Had seven hits in his first weekend at the Division I level.
Had a 1.420 OPS while drawing two walks.
Threw out a runner from right field as he attempted to score from second base. The play ended a rally from Austin Peay with Sunday's game still in doubt.
Had multiple hits in all three games and two multi-RBI games.
Drove in a run and scored a run in all three games.
 
SEC PITCHER OF THE WEEK CANDIDATE
Carson Coleman (So., RHP)
Coleman earned two wins out of the bullpen on opening weekend.

Coleman is the only pitcher in the SEC to have two wins already.

He was perfect in 3.2 combined innings, striking out six batters.
In Friday's win, he entered the game in the seventh inning with the Cats trailing 4-2 after yielding a go-ahead triple. Coleman stranded a runner at third with a strikeout and then recorded two shutdown innings as the Cats rallied to win.
In Sunday's win, he entered in the fifth inning with the Cats trailing 1-0 and runners on second and third with two outs. He recorded a strikeout to end the threat and the Cats got a go-ahead home run in the sixth, followed by a shutdown inning from Coleman.
  
 
PLAYER NOTES
Junior 1B/DH T.J. Collett

Hit .467 with a double and two home runs.
Scored four runs and drove in seven.
Had multiple hits in all three games.
Currently owns an 11-game reached base streak and six-game hitting streak.

Junior 1B Dalton Reed

Had five hits on the weekend, including two doubles and two home runs.
Homered on the first pitch of his UK career.
Hit a game-winning three-run home run on Sunday.
Scored three runs and drove in four.

Junior LHP Zack Thompson

Pitched 4.0 innings in Friday's opener, allowing just one hit and no runs. He struck out nine, just one shy of his career high.
Thompson now has struck out 11.95 hitters per nine innings of work for his career.
Sophomore RHP Jimmy Ramsey

On Saturday, earned the win after pitching 5.0 innings in his second career start.
Struck out eight hitters, one shy of his career-high.

Freshman LHP Dillon Marsh

Pitched 4.0 innings, giving up two hits and one run. He struck out four and walked none.
It was Marsh's collegiate debut.