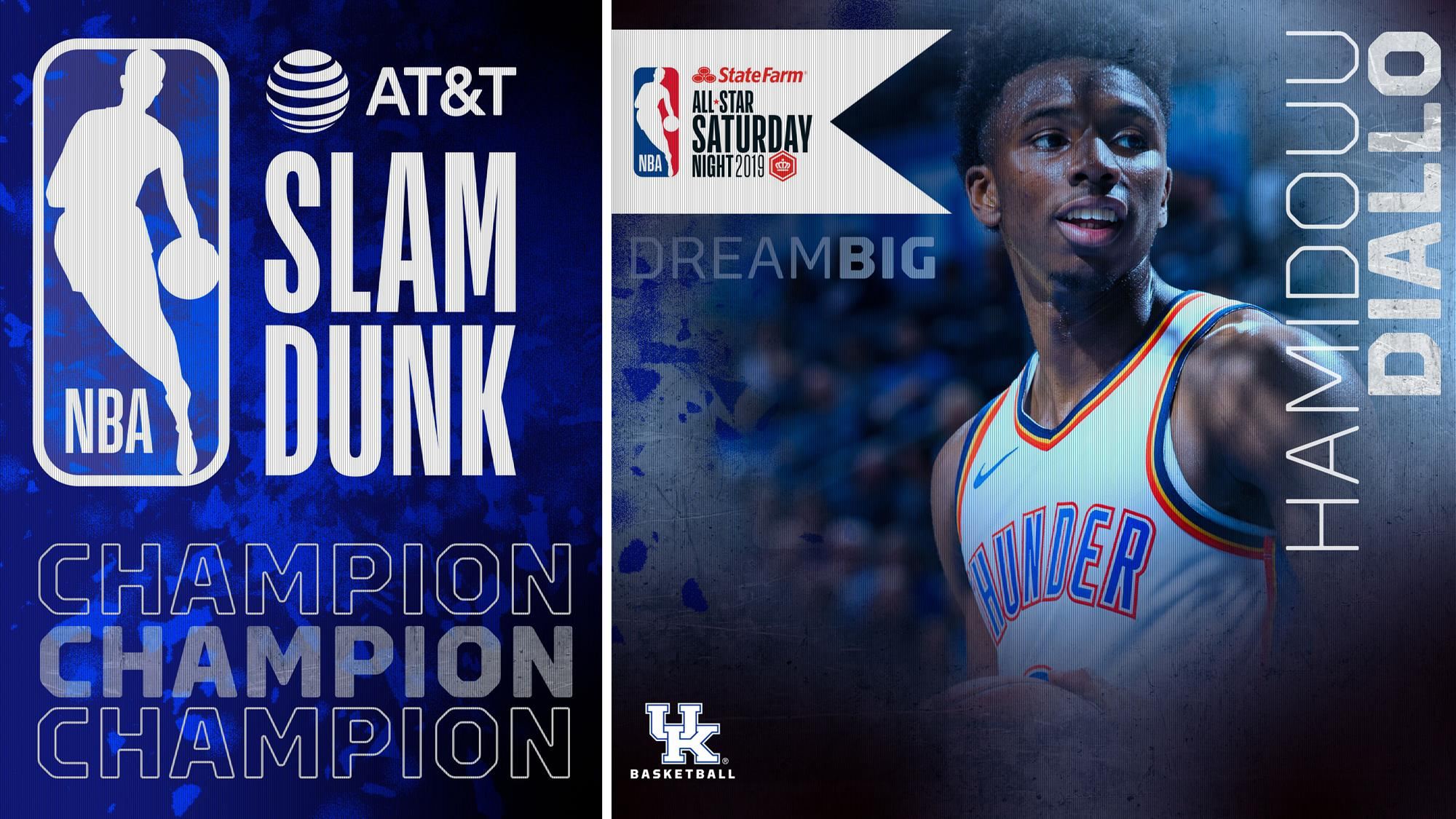 February 17, 2019 - 09:44 AM
Hami Time! Diallo Wins 2019 NBA Slam Dunk Contest
CHARLOTTE – While the No. 5 Kentucky Wildcats took down No. 1 Tennessee on Saturday inside of Rupp Arena, an NBA Wildcat was putting on another spectacular performance in Charlotte.
 
Oklahoma City Thunder rookie Hamidou Diallo became the third Wildcat to win the NBA ATT Slam Dunk Contest on Saturday night. Diallo's win highlighted what has become an annual showing of former Cats decorating NBA All-Star Weekend Saturday Night.
 
Diallo displayed a flash of showmanship on what became his most talked-about dunk of the night. He called Hall of Famer and the original "Superman" Shaquille O'Neal out of the crowd to take part in his flush. Diallo cleared the 7-footer and then stuck his elbow in the rim in a nod to former Dunk Contest winner Vince Carter. He then snatched open his jersey to reveal a Superman shirt underneath. The dunk earned a perfect 50 rating from the judges.
 
"The atmosphere was great and I came out here and gave the crowd what they were looking for," Diallo said after his win.
 
He nailed his final two dunks in a competition with New York's Dennis Smith Jr. to take home the win. He snatched a ball off the head of rapper Quavo and concluded with a two-handed slam. During his opening dunk, he showcased his hops as well. He caught the ball off the bounce and slammed it in with his right hand while reaching eye-level with the rim.
 
Diallo is the third UK player to take home top honors in the Dunk Contest. Kenny "Sky" Walker claimed the crown in 1989 and John Wall captured the title in 2014.
 
The Queens, New York, native was not the only Wildcat in action on Saturday. Devin Booker (2015) participated in the Mtn Dew 3-Point Contest and De'Aaron Fox (2017) was part of the field in the Taco Bells Skills Challenge.
 
Sunday's All-Star Game, will feature former UK stars Anthony Davis and Karl-Anthony Towns, on TNT at 8 p.m. ET.
 
Kevin Knox (2018), Shai Gilgeous-Alexander (2018) and Fox got the weekend started on Friday in the Mtn Dew Ice Rising Stars Game. Each former Wildcat put up solid numbers in the game featuring the league's top first and second-year players. Fox was one of five starters for Team USA and had a game-high 16 assists and five steals. Knox scored 11 points as USA won 161-144. Gilgeous-Alexander boasted 15 points, six assists, five boards and a trio of steals for Team World.
  
Diallo, who was selected 45th overall in the 2018 NBA Draft by the Brooklyn Nets (and then traded eventually to the Oklahoma City Thunder), was one of four participants who competed for the crown of the NBA's best dunker on Saturday. Diallo put together a highlight reel of dunks during his one on-court season with the Wildcats. A 6-5, athletic guard who packs a punch with his slams in addition to his 44.5-inch vertical, Diallo is enjoying a solid rookie season with the Oklahoma City Thunder.
 
The second-round pick not only earned a roster spot with the Thunder, he's played in 43 games with three starts and is averaging 11.9 minutes per game for the 33-18 Thunder. He's tallying 4.4 points and 2.2 rebounds per game while shooting 46.3 percent from the field.
 
Diallo averaged 10.0 points and 3.6 rebounds per game while starting in all 37 games during his redshirt freshman season with Kentucky. He scored in double figures in 16 games, topping the 20-point plateau three times, including a 22-point game in UK's second-round NCAA Tournament win over Buffalo.
 
For the latest on the Kentucky men's basketball team, follow @KentuckyMBB on Twitter, Facebook, and Instagram, and on the web at UKathletics.com. 
Hoops ??still buzzing about Hami the Dunk Champ ??#NBAAllStar Saturday Night @hamidoudiallo pic.twitter.com/VdrbOTIulT

— OKC THUNDER (@okcthunder) February 17, 2019