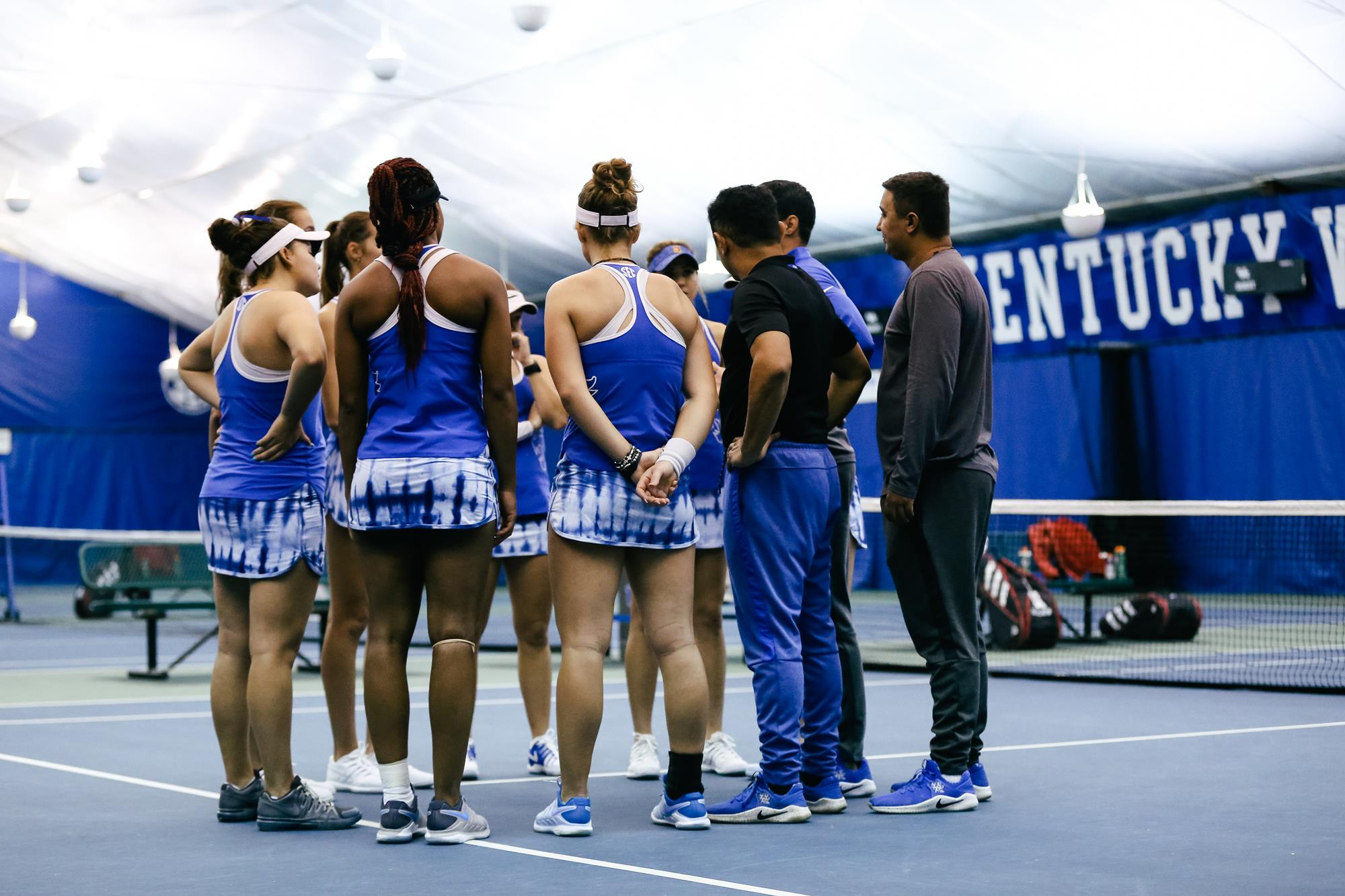 February 17, 2019 - 07:14 PM
Kentucky Women's Tennis Remains Unbeaten in Seven Home Matches
LEXINGTON, Ky. – Kentucky took full advantage of its home doubleheader Sunday, collecting straight wins over Indiana and NKU at the Hilary J. Boone Tennis Center to improve its unbeaten home record to 7-0.
 
No. 23 Kentucky took control of the eight-hour day early, defeating Indiana with a perfect 7-0 decision. The win put Kentucky on a pedestal in the programs' all-time meetings, edging ahead of Indiana with a 21-20 all-time mark.
 
After Wildcat-duo Anastasia Tkachenko and Alexis Merrill defeated Hoosiers' Somer Henry and Michelle McKamey in doubles on court four with a 6-0 outcome, Kentucky felt pressure on court one. The senior pair in Justina Mikulskyte and Akvile Paražinskaite dropped their doubles match to Indiana's Madison Appel and Jelly Bozovic on a 3-6 finish.
 
Court two would decide who claimed the doubles point, and in a matter of seconds the faithful pair in Lesedi Jacobs and Tiphanie Fiquet defeated Caitlin Bernard and Natalie Whalen with a 6-2 mark.
 
One point ahead of the Hoosiers, Kentucky hardly felt pressure in the singles column. UK won each of its six singles matches, crafting a 7-0 victory over Indiana to kickoff the day.
 
Just a few hours later, the women's tennis team found themselves in the winner's circle again after crafting a 5-1 finish over Northern Kentucky. While NKU is only 85 miles north of Lexington, the Wildcats and the Norse have only met eight times in program history.
 
Kentucky swept NKU in the doubles competition on courts one and two to clinch the doubles point and grab an early lead. It was freshman Fiquet and junior Jacobs who claimed the first doubles win. The pair is undefeated in doubles this season, boasting a 6-0 mark. Two of those wins came over Indiana and NKU.
 
The Wildcats rallied all but one singles match against the Norse, after sophomore Alexis Merrill battled on court four. Merrill, a Virginia native, brought it to the wire forcing a tiebreak. The Norse's Elizabeth Rozin pulled ahead in the end with a 6-4, 3-6, 1-0 (9) final score.
 
Notably, freshman Fiquet remains undefeated in her singles and doubles matches this season. With two doubles wins and two singles wins Sunday, the rookie is 7-0 in each discipline.
 
Sunday marked the last doubleheader on the schedule for the program. The Wildcats are only two dual matches away from entering conference play. In their next outing, UK will make a road swing in Texas, facing Baylor Friday, Feb. 22 and TCU Sunday, Feb 24. Those matches come before Kentucky hosts Arkansas March 1 for the conference-opener.
For more on Kentucky women's tennis, follow @UKWomensTennis on Twitter and Instagram, Kentucky Women's Tennis on Facebook, or on the web at UKathletics.com.