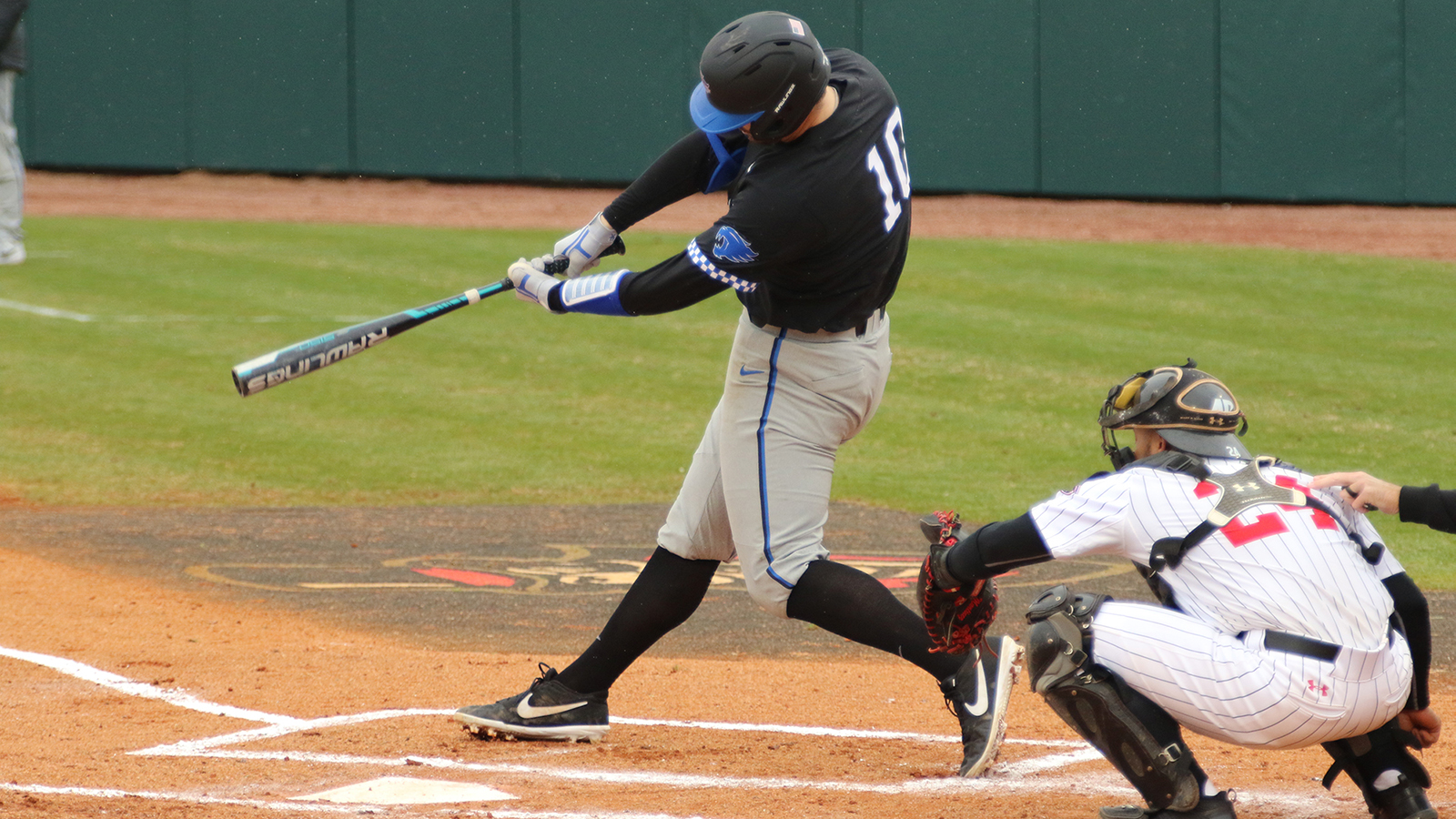 CLARKSVILLE, Tenn. – Dalton Reed sparked the Kentucky offense with a three-run home run in the sixth inning as the Wildcats' scored an 11-1 victory over Austin Peay on Sunday at Raymond C. Hand Park. The season-opening sweep is the first in a three-game road series since the Cats pulled off the feat at Texas A&M in March 2017.
 
The Cats (3-0) scored 31 runs on the weekend despite cold, wet conditions not suited for high-scoring games. The team had 17 extra-base hits and feasted on the Governors' bullpen throughout the three games. Reed, a junior college transfer from Roff, Oklahoma, flashed his immense raw power with two home runs and two doubles on the weekend, none bigger than his towering blast over the right-centerfield wall on Sunday that proved to be the game-winning hit.
 
Junior outfielder Jaren Shelby continued his impressive introduction to Division I baseball, pounding out three hits with a pair of runs driven in. He also showed off his arm in right field on defense, throwing out a runner attempting to score from second base on a single. Shelby finished the weekend with seven hits, including two doubles and a home run, and five RBI.
 
Freshman left-hander Dillon Marsh impressed in his collegiate debut, giving up just one run and striking out four in four innings of work. Redshirt sophomore righty Carson Coleman earned his second win of the weekend in relief, extricating the Cats from a jam in the fifth inning while trailing 1-0 and posting 1.1 scoreless innings.
 
The Cats head to Texas Tech, a consensus top-five team entering the season, next weekend for a three-game series that opens Friday night.
 
 
SCORING
Bottom 2nd – Parker Phillips doubled to LCF and scored on Garrett Spain's single to LF. Austin Peay 1, UK 0.
 
Top 6th – Breydon Daniel walked to lead off the inning and moved to third on T.J. Collett's two-out single to RF. Dalton Reed homered to RCF, scoring Daniel and Collett. UK 3, Austin Peay 1.
 
Top 7th – Alex Rodriguez and Austin Schultz walked to start the inning. Daniel laid down a sacrifice bunt to move the runners up and also reached on throwing error on the play. Cam Hill hit into a double play, scoring Rodriguez and moving Schultz to third. Jaren Shelby doubled down the LF line, scoring Schultz. UK 5, Austin Peay 1.
 
Top 8th – Ryan Shinn reached on an error to open the inning. Coltyn Kessler singled to RF with Shinn moving to third and Kessler to second on the throw to third. Rodriguez was intentionally walked to load the bases. Daniel was hit by a pitch, Shinn scored. Hill singled up the middle, scoring Kessler and Rodriguez. Shelby lined a single off the glove of the SS, scoring Daniel from second. Collett singled to RF, scoring Hill from second and moving Shelby to third. Shelby scored on a balk. UK 11, Austin Peay 1.
 
 
NOTES
Kentucky has scored in 67 consecutive games and 143 of the past 144 dating to the 2016 season. The lone shutout came in a seven-inning game. The current streak is the eighth-longest in school history.
The Cats had four extra-base hits in the game: three doubles and a home run.

Through three games, 17 of 34 hits have gone for extra bases (11 doubles, six home runs).
Freshmen RHP Cole Ayers, RHP Alex Degen, RHP Ben Jordan, LHP Dillon Marsh and RHP Hunter Rigsby made their collegiate debuts. Junior C Tanner Holen also made his debut.
Junior 1B Dalton Reed went 1-for-5 with a three-run home run.

The home run was Reed's second of the season and fourth extra-base hit.

Junior 1B/DH T.J. Collett went 3-for-5 a run, an RBI and a double.
Collett has an 11-game reached base streak and six-game hit streak.
It was the third multi-hit game of the season and 13th career for him.
Junior OF Jaren Shelby went 3-for-5 with a run, two RBI and a double.

He has three multi-hit games.

Sophomore RHP Carson Coleman earned his second win of the weekend.

Coleman struck out two in 1.1 innings and did not allow a hit or run in 3.2 innings this weekend.

Freshman LHP Dillon Marsh pitched 4.0 innings, giving up two hits and one run. He struck out four and walked none.

It was Marsh's collegiate debut.
 
ON DECK
The Cats head to top-five Texas Tech next weekend. First pitch on Friday is set for 7:30 p.m. ET and will air on 98.5 FM Lexington radio and UKathletics.com.