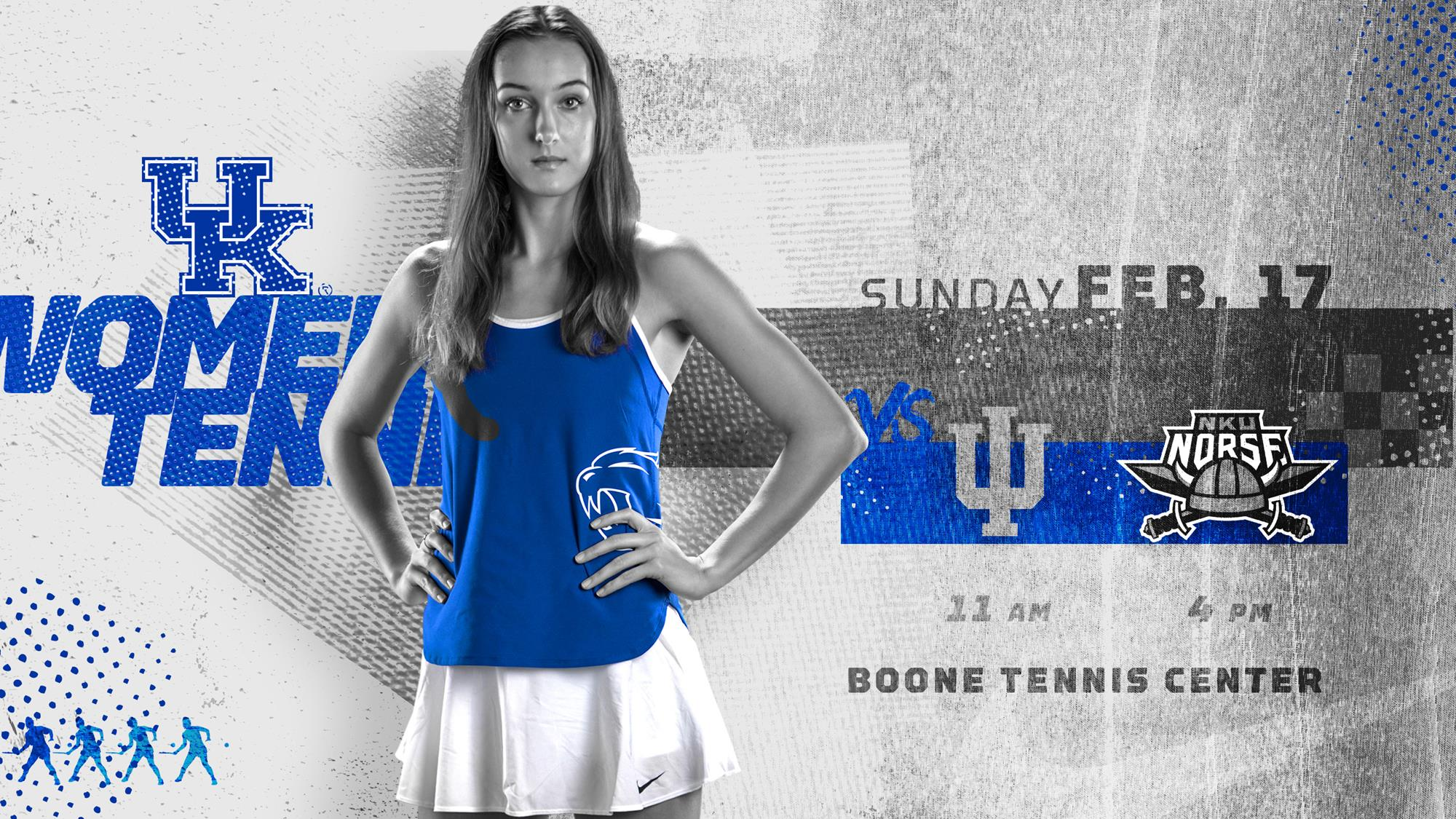 February 16, 2019 - 11:34 AM
Kentucky Hopes to Improve Flawless Home Record in Doubleheader Sunday
LEXINGTON, Ky. – Unbeaten in five home matches this season, No. 23 Kentucky will look to improve its nonconference record at the Hilary J. Boone Tennis Center Sunday in a doubleheader featuring Indiana and NKU.
 
The first serve belongs to Kentucky and Indiana and is slated for 11 a.m. Only one team will sit atop the all-time winning mark at the end of the match, as the programs are tied with 20 wins apiece in their all-time meetings.
 
Kentucky and Northern Kentucky will follow, with a 4 p.m. first serve. The Norse will travel just 85 miles south to meet the Wildcats for only their eighth all-time matchup, while Kentucky is undefeated in seven meetings.
 
 Live scoring for Sunday can be followed at sidearmstats.com/ukentucky/tennis/xlive.htm.
 
The UK program has put together a 6-1 record in the young season, while forming an undefeated mark in five matches at home – Marshall, Kennesaw State, Miami (OH), WKU and South Florida.
 
On Friday, the Kentucky women's tennis team swept the Bulls on a 7-0 decision. It was the fifth time this season the Wildcats have formed a perfect outcome over opponents.
 
Senior Justina Mikulskyte glimmered in her singles matchup. The upperclassman has consistently played the No. 1 court this season and is unbeaten in four finished matches. On Friday, she proved her rank when she upset the 36th-best singles player in the nation. Mikulskyte, who is ranked No. 94 in the ITA singles rankings, dropped the first set to No. 36 Ana Roman Dominguez, but made a comeback in the second and third sets to steal the victory from South Florida's No. 1 singles player.
 
Tiphanie Fiquet of Nice, France, is having a stellar rookie season. The freshman is unbeaten in five singles matches and five doubles matches this season. Her fifth win in each discipline was reported Friday over South Florida when she was the first Wildcat to finish her singles match, notching a 6-2, 6-3 finish on court four.
 
Indiana is 6-3 this season, falling 2-5 at Tennessee Friday. NKU will bring a 2-3 record to Lexington Sunday, after crafting a 5-2 win over Saint Francis Feb. 9.
 
Fans who wish to attend Sunday can enjoy free parking in any of the three E-lots adjacent to the tennis courts on the University of Kentucky campus one hour prior to the start of the matches. Parking structure No. 7 is also a near option for spectators at no cost.
For more on Kentucky women's tennis, follow @UKWomensTennis on Twitter and Instagram, Kentucky Women's Tennis on Facebook, or on the web at UKathletics.com.