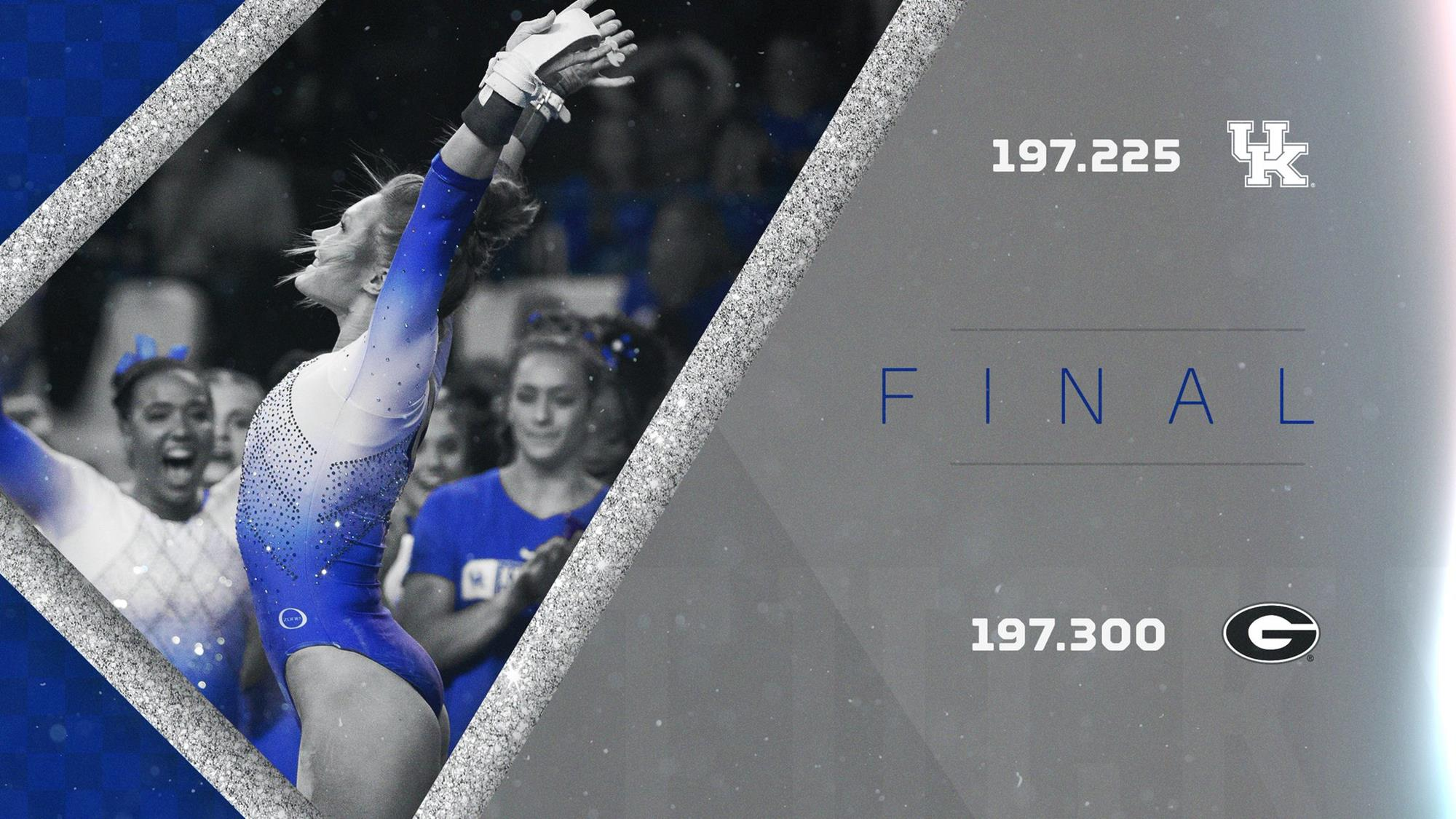 February 16, 2019 - 12:57 AM
Cats Notch Record Score for Second Straight Week
ATHENS, Ga. – After scoring over 197.000 for just the fifth time in school history during last Friday's victory over No. 5 LSU, No. 13 Kentucky surpassed last week's feat with the program's second-best all-time performance in a 197.300-197.225 loss at No. 7 Georgia Friday night at Stegeman Coliseum.
 
"Taking a loss always stings, and this one certainly does," said head coach Tim Garrison. "Looking beyond that, we put four strong rotations together and came away with the second-highest score in program history."
 
The Wildcats launched Friday's historic outing with the best bars performance in school history by way of a 49.475 total. Mollie Korth (9.950), Alex Hyland (9.925), and Alaina Kwan (9.875) each set career highs in the process, while Sidney Dukes (9.850) established a new season high.
 
Next, Kentucky carried momentum into the season's best vault score with a 49.250. Hyland tied a career-high 9.925, following Kwan tying a career high of her own with a 9.875 consensus.
 
When the Cats took the floor, Hyland and Dukes led the way with 9.875 apiece. On beam, Dukes (9.950) and senior Katie Stuart (9.875) each tied their respective career highs.
 
Dukes was named beam victor, matching Hyland's win on vault and Korth's split victory on bars. Dukes' all-around total of 39.450 was her best mark of the season, though it was Hyland's season-high score of 39.550 that earned her the title of all-around champion.
 
"We had many solid performances, and I'm optimistic about the direction we are heading," Garrison said. "We are still working towards our best team, and I feel confident we can get there."
 
UK will return to Memorial Coliseum next week, hosting Alabama in the Cats' last Southeastern Conference matchup at home this season. Kentucky takes on the Crimson Tide next Friday at 7 p.m. ET.
 
For the latest on the Kentucky gymnastics team, follow @UKGymnastics on Twitter, Facebook, and Instagram, as well as on the web at UKAthletics.com.