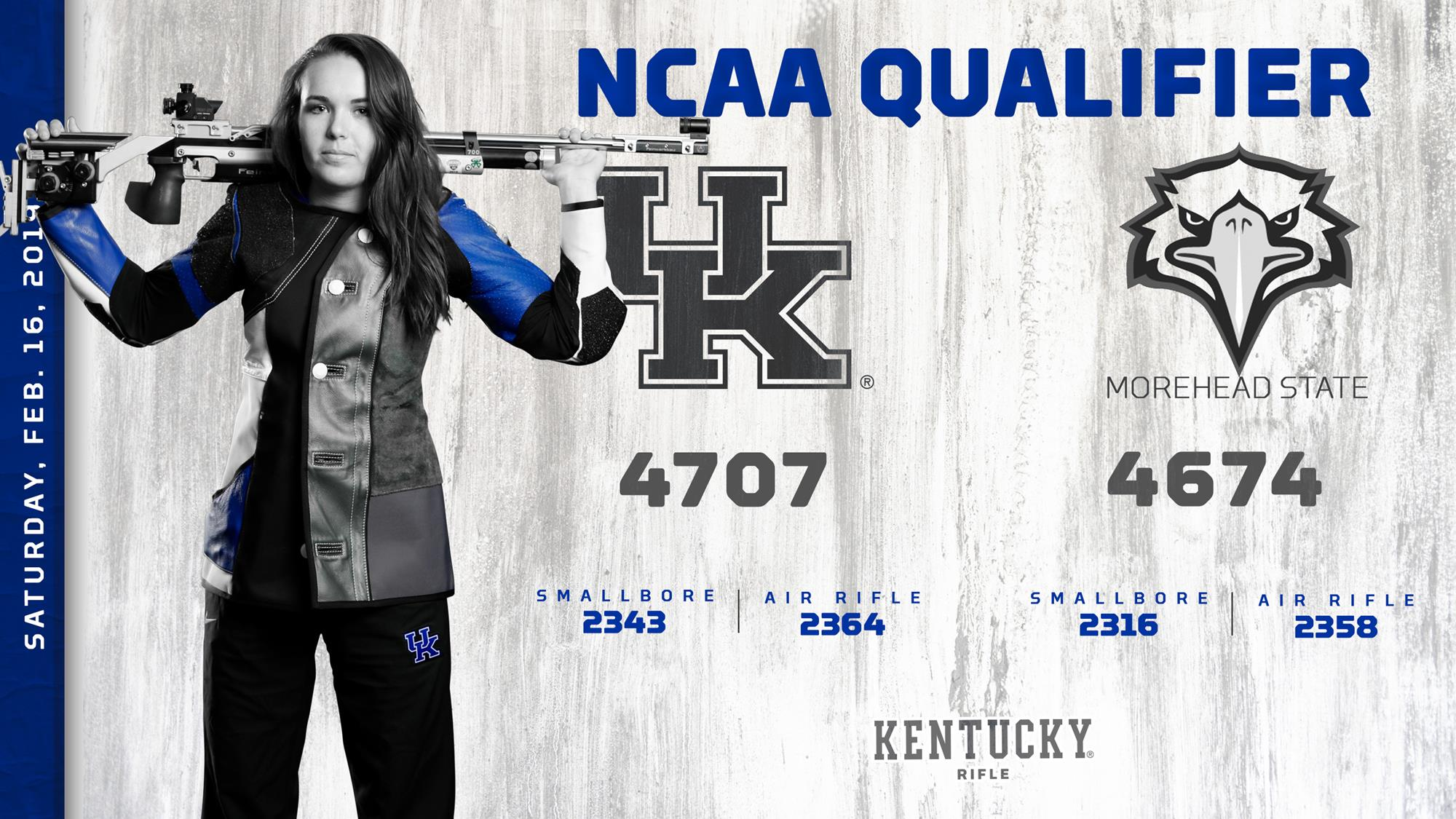 LEXINGTON, Ky. – The Kentucky rifle team turned in a 4707 – its third best score of the season – at its NCAA Qualifying match on Saturday inside the Buell Armory/Barker Hall range.
 
Morehead State, which was also shooting alongside on Saturday – posted a 4674.
 
UK celebrated the last home match for its seniors – Hanna Carr, Morgan Duerr, Carmen Fry, Cathryn Papasodora and Jason Spaude.
 
"I'm very happy for our seniors to go out in their last home match with a good performance," UK head coach Harry Mullins said. "It was nice to see the performance the team gave in smallbore. They have worked hard on that all week.
 
"Our air rifle was down a little from where we wanted to be but I feel that we have the talent and drive to change that. Now we have to wait for the selection process and see where we end up."
 
Saturday's scores were the last factor determining the field for the 2019 NCAA Rifle Championships, which will take place in Morgantown, West Virginia, March 8-10. The official field will be announced early next week.
 
Each team's three score aggregate average – the score based on each team's highest three regular season scores fired at three different locations – was added to the NCAA qualifier performance they recorded on Saturday. The teams with the eight highest combined scores will qualify for the NCAA Championship.
UK's three-score average was 4704.33, and added to UK's score on Saturday gave UK a NCAA qualifying score aggregate of 9411.33.
 
Cathryn Papasodora had the top aggregate score of the match – 1179, a season best. 
 
Will Shaner returned to the UK squad and fired an aggregate 1178. Hailee Sigmon was third in the aggregate standings (1177) and Richard Clark turned in an aggregate 1176.
"The team should be pleased with how they performed today," Mullins said. "Now we have to work toward trending in that direction on a more consistent basis."
 
Smallbore report
UK' 2343 in smallbore was its best score in that discipline this season by a seven-point margin. 
 
Papasodora led UK in the opening discipline posting a season-best 588, matched by Sigmon who's smallbore total was her second best of the season and best since mid-October.
 
Shaner posted a 584, and senior Hanna Carr produced a 583.
 
Richard Clark's (non-squad in smallbore) 586 was one off his season best.
 
Air rifle report
UK fired 2364 in air rifle, led by Shaner's 594.
 
Papasodora (591) and Clark (590) were the other Wildcats at or over the 590 threshold.
 
Sigmon fired a 589 to round out UK's counted squad scores, while Ruby Gomes posted a 587.
 
Notes
Kentucky (11-1, 7-1 Great American Rifle Conference) finished second in the GARC regular-season standings, dropping their first match of the season last weekend.
 
The GARC Championships will be Feb 22-24, and the NCAA Championships will occur two weeks later.
 
—                                                                                                                                                             —
For the latest on the Kentucky rifle team, follow @UKrifle on Twitter, Instagram and Facebook, as well as on the web at UKathletics.com.