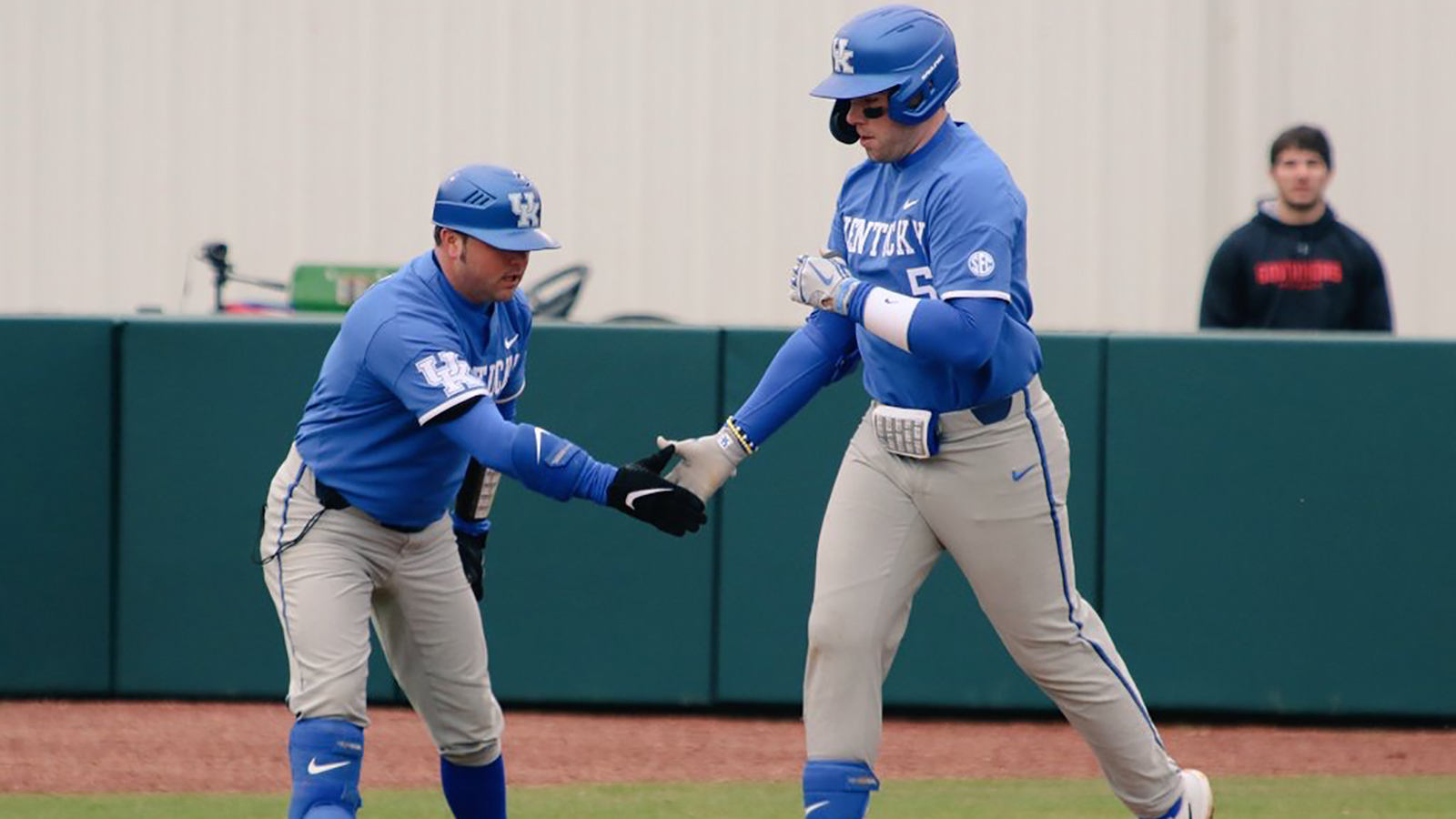 CLARKSVILLE, Tenn. – T.J. Collett homered for the second time in as many games and Jimmy Ramsey pitched five strong innings in just his second career start as Kentucky battered Austin Peay, 12-5, on Saturday afternoon at Raymond C. Hand Park.
 
With a win on Sunday, the Wildcats (2-0) can earn their first three-game series sweep on the road since March 2017 when they pulled off the feat at No. 13 Texas A&M.
 
The Cats took control early with a six-run third inning highlighted by Collett's second blast of the young season, a two-run bullet just inside the right-field pole. In two games, the junior first baseman has six RBI and three runs scored as the No. 4 hitter.
 
Ramsey, who led the team in appearances as a freshman last season, was terrific on the mound, yielding just three hits and two runs in five innings of work. He struck out eight – one shy of his career high – and walked only two as he pounded the strike zone and kept Austin Peay hitters off balance. The sophomore's only previous start was at Vanderbilt in the final regular season series last season.
 
The offensive barrage was a group effort again, as nine players recorded a hit, including multi-hit games by Cam Hill, Jaren Shelby and Collett. The Cats stole six bases and had five doubles, including two by senior outfielder Ryan Shinn, who set a new career-high with three hits.
 
Senior infielder Alex Rodriguez, who was celebrating his birthday, reached base four times, scored three runs, walked twice and stole a pair of bases.
 
SCORING
Top 3rd – Alex Rodriguez walked and advanced to second on Zeke Lewis' sacrifice bunt. Breydon Daniel singled through the left side on a hit-and-run, scoring Rodriguez. Cam Hill doubled to LF, scoring Daniel and moving to third on throw home. Hill scored on Jaren Shelby's infield single. T.J. Collett homered to RF, scoring Shelby. Dalton Reed doubled to LCF, moved to third on Ryan Shinn's groundout and scored on a passed ball. UK 6, Austin Peay 0.
 
Bottom 4th – Malcolm Tipler drew a leadoff walk and scored on Garrett Spain's double to RF. UK 6, Austin Peay 1.
 
Bottom 5th – Andrew Flaherty homered to LF. UK 6, Austin Peay 2.
 
Top 6th – Shinn singled to LF. Rodriguez walked. Both runners moved up on a balk. Lewis grounded out to 1B, scoring Shinn. UK 7, Austin Peay 2.
 
Bottom 6th – Parker Phillips and Spain reached on errors. Phillips advanced to third on a fly ball out and scored on Aaron Campbell's pinch hit, two-out, infield single. UK 7, Austin Peay 3.
 
Top 7th – Shelby doubled off the LF wall, stole third and scored on Collett's single to RF. Reed was intentionally walked. Shinn doubled inside the 1B bag, scoring Collett. UK 9, Austin Peay 3.
 
Top 8th – Rodriguez singled to RF, stole second, moved to third on a groundout and scored on a wild pitch. UK 10, Austin Peay 3.
 
Bottom 8th – Tipler chopped a double over the third baseman's head. Spain blooped a single into LCF. John McDonald reached on a swinging bunt to load the bases. Campbell singled to RF, scoring Tipler and Spain. UK 10, Austin Peay 5.
 
Top 9th – Marshall Gei singled up the middle. Rodriguez was hit by a pitch. Austin Schultz reached on an infield single, Gei scored. Rodriguez and Schultz pulled off double steal with Rodriguez scoring on a throwing error by the catcher. UK 12, Austin Peay 5.
 
 
NOTES
Kentucky has scored in 66 consecutive games and 142 of the past 143 dating to the 2016 season. The lone shutout came in a seven-inning game. The current streak is the eighth-longest in school history.
The Cats had six extra-base hits in the game: five doubles and a home run.

Through two games, 13 of 25 hits have gone for extra bases (eight doubles, five home runs).
Freshmen Orlando Adams Jr. (C/OF), Braxton Cottongame (LHP), Rook Ellington (OF) and Austin Schultz (INF) made their collegiate debuts.
Junior 1B/DH T.J. Collett went 2-for-5 with two runs, three RBI and a home run.

o   He hit the 13th home run of this career.

o   Collett has a 10-game reached base streak and five-game hit streak.

o   It was the second multi-hit game of the season and 12th career for him.

o   He has two multi-RBI games this season and 14 in his career.
Sophomore OF Cam Hill went 2-for-5 with a run, RBI, double and steal.

Hill has had multiple hits in both games.
He now has three steals on the season.

Junior OF Jaren Shelby went 2-for-5 with two runs, an RBI, double and steal.

He has two multi-hit games.

Senior OF Ryan Shinn went 3-for-4 with a run, an RBI and two doubles.

The three hits are a career high.

Senior INF Alex Rodriguez reached base four times with a pair of walks, a hit and a hit by pitch. He tied a career high with three runs and set one with two stolen bases.
Sophomore RHP Jimmy Ramsey pitched 5.0 innings, giving up three hits, two runs, two walks and striking out eight.

It was the second start of Ramsey's career.
The eight strikeouts were one shy of his career high.
 
ON DECK
The Cats will go for the road sweep on Sunday afternoon when freshman lefty Dillon Marsh takes the mound. First pitch is set for 2 p.m. ET and will air on 98.5 FM Lexington radio and UKathletics.com. There is no television or online streaming.