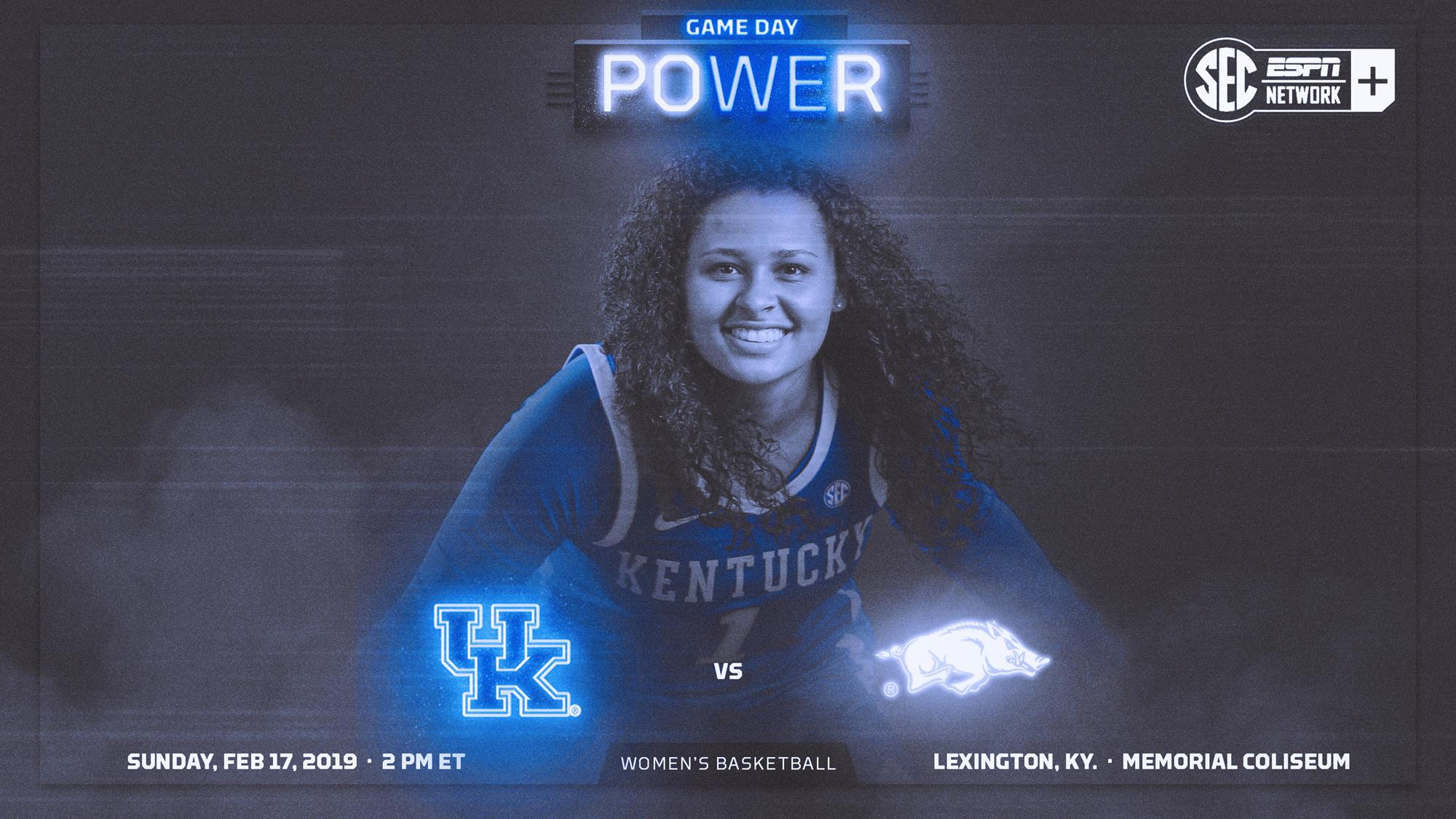 February 15, 2019 - 12:33 PM
No. 17 Kentucky Hosts Arkansas Sunday for #Play4Kay Pink Game
LEXINGTON, Ky. – Looking to continue its three-game Southeastern Conference winning streak, the No. 17 University of Kentucky women's basketball team will play host to Arkansas on Sunday at 2 p.m. ET inside Memorial Coliseum. The game will be UK's annual #Play4Kay Pink Game to help raise awareness and support cancer research.
 
Sunday is also Family Day at Memorial Coliseum with face painting and balloon animals available for young fans while hot dogs will be just $1 at concession stands. Single-game tickets are $10 (all ages) in reserved seating areas, while general admission tickets are $8 for adults and $5 for children (ages 6-18) and seniors (age 65+). Young fans are encouraged to take advantage of the Kid Zone pregame with games, poster making stations, coloring stations and more. Junior guard Sabrina Haines is scheduled to sign autographs on the concourse following the game.
 
The game will be televised on the SEC Network+ with Jeff Piecoro and Christi Thomas on the call. The action can also be seen through WatchESPN on computers, smartphones or tablets. Darren Headrick will have the call on the UK Sports Network on 630 AM in Lexington. Live stats and free live audio will be available online at UKathletics.com.
 
Spectator parking is located in all E-lots surrounding Memorial Coliseum and are off control 3 hours prior to tip. Additionally, the South Limestone Garage (PS#5) and the Rose Street Garage (PS#2) are available 2 hours prior to tip. With the Gatton Student Center lot and expansion of North Craft lot there are 238 additional parking spots for spectators this season around Memorial Coliseum. The Bill Gatton Student Center is available as a pay-to-park option. Availability is based on the Gatton Student Center Event Schedule.
 
The Lexington Parking Authority Transit Center Parking Garage, located between High Street and Vine Street is available for parking after 5 p.m. during the week and all day on the weekends. Additionally, a free shuttle service will pick up in the High Street lot beginning 2 hours prior to tip. UK Athletics Event Staff will be at the Transit Center Garage Entrance to assist with directing patrons to the correct shuttle pick-up location.
 
Parking is prohibited in any R (Residential) lots. Vehicles parking in R lots without a proper permit, along yellow curbs, grass spaces, or other non-specified and unapproved areas may be subject to ticket and/or tow. Disabled spectator parking is available with a valid, state issues disabled hangtag in the E lot North of the Craft Center. These spaces are available on a first-come, first-served basis until full.
 
Shuttles are available beginning 2 hours prior to tip off and pick up and drop off near the South Limestone Garage (PS#5) and near the Transit Center Parking Garage and High Street Lot. Shuttles will start back up after halftime to return guests to their parking areas, the shuttle will discontinue service 1-hour post-game.
 
Doors to Memorial Coliseum open 1.5 hours before tip and UK Athletics encourages women's basketball fans to arrive early to ease traffic and parking congestion around the Coliseum. For more information on parking around Memorial Coliseum and other game-day questions visit UKathletics.com.
 
Kentucky (20-5, 7-4 SEC) is on a three-game SEC winning streak and currently sits fifth in the league. The winning streak started with a 62-51 victory over Florida at Rupp Arena on Feb. 3 before a 78-68 road win at Auburn on Feb. 7. The Wildcats, who have been off for nearly a week, last played on Feb. 11 at Alabama, earning a 68-53 win.
 
Freshman guard Rhyne Howard led Kentucky in its last two games, scoring 19 points against Auburn before 23 points at Alabama. For her efforts, the rookie earned her sixth SEC Freshman of the Week honor. Howard leads Kentucky in scoring averaging 16.8 points per game with a team-high 6.6 rebounds per game. The native of Cleveland, Tenn., also has 61 assists and 53 steals this season. Senior guard Maci Morris is second on the team averaging 16.2 points per game with a team-best 62 3s while fellow senior Taylor Murray is averaging 12.4 points per game and leads UK with 90 assists and 81 steals.
 
Arkansas enters the weekend with a 16-9 record, including a 5-6 mark in conference play. The Razorbacks are 8-5 at home, 7-3 on the road and 1-1 in neutral-site games. After a four-game winning streak in the league against VU, Tennessee, Alabama and UF, the Razorbacks have lost four straight falling at home to UGA, SC and Auburn before a road loss at LSU.
 
As a team, Arkansas is averaging 73.0 points per game this season while allowing opponents 68 points per game. The Razorbacks are hitting 38.6 percent from the field and 30.5 percent from 3. Arkansas has a +6.3 turnover margin and -5.8 rebounding margin. Chelsea Dungee is the leading scorer for Arkansas averaging 18.9 points per game with 4.2 rebounds per game. Dungee has hit 42 3-pointers for 32.1 percent this season from long range. Malica Monk is averaging 13.8 points per game with 80 assists and 36 steals. Alexis Tolefree has hit a team-best 50 3s and is averaging 9.7 points per game.
 
Kentucky leads the all-time series in games played against Arkansas 23-13 and have won nine straight meetings in the series. Arkansas' last win was Jan. 6, 2011 in Fayetteville.
The Wildcats hold a 14-3 mark in games played in Lexington and have not lost to Arkansas at home since a 70-60 setback on Feb. 13, 2003.
 
For more information on the Kentucky women's basketball team, visit UKathletics.com or follow @KentuckyWBB on Twitter, Instagram and Snapchat, or Kentucky Women's Basketball on Facebook.
 
UK ATHLETICS COMMUNICATIONS AND PUBLIC RELATIONS
KENTUCKY WBB PRE-ARKANSAS NEWS CONFERENCE
FRIDAY, FEBRUARY 15, 2019
MEMORIAL COLISEUM – LEXINGTON, KY.

Head Coach Matthew Mitchell
Opening statement…
"Tough game ahead of us Sunday against Arkansas, who is a really dynamic team and really hard to guard. They are an explosive offensive team and can be really disruptive on defense. This time of year everybody is trying to win games and trying to improve position and make sure it is a successful season so this is a very important game for our team. We had a good week to try to rest a little bit and round back into some form of health and had a good session yesterday. Two more practice days to get ready for a very good Arkansas team."
 
On preparing for a team like Arkansas that shoots a lot of 3s …
"You have to certainly pay attention to that and you have to be well prepared for what they do. They pose a lot of challenges in the game and the 3-point shot is a big weapon for them. We have made about the same amount – both teams have made about the same amount – they just take so many, it is a big part of their offense and you have to pay attention. They also have some very good players that can put the ball on the floor. They are very versatile and you cannot just focus in on one thing. You have to pay attention to their ability to make 3s for sure."
 
On one or two things he is really trying to focus his team on …
"There are not going to be a lot of wholesale changes this time of year. We have rounded into who we are and we just have to be the best version of that. I think what will indicate that is if we can play with tremendous energy and effort vs. each opponent and then the focus to try to attack those opponents to the best of our abilities so we can win. I think it would be great to be able to shoot the ball well. That is not something you can always bank on, but we have worked really hard at shooting. But to come out each night and really with a great energy and effort and focus on the details that are necessary to take care of that opponent, that is what we are looking for. We have been a team all year that has beaten a variety of opponents in a variety of ways. I think the consistent thing for us when we are at our best is that energy and that effort and that is what I would love to see us to bring every night down the stretch here."
 
On getting energy and effort through in practice …
"Well, what has been so great about our team is we were able to talk to them and it is rarely an energy or effort problem for us. We have had a couple of games where we kind of missed the mark from that standpoint and against good teams in the SEC you are gonna lose those games. But generally for us our players since June have been able to come in with good attitudes and I think it speaks to their character and how much they want to win and their competitiveness. I would not be honest with you if i said it wasn't a challenge for these players, they have to bring it in practice and games. So what we try to do this time of year is keep it shorter and keep it focused in on what is necessary to prepare but we have been so fortunate to have a great group that has worked so hard this year and their energy and their effort has been very consistent."
 
On talking about NCAA Tournament …
"I think we learned a lot from last year. We had had such a great run then we had a young and inexperienced team and then we had veterans who have never experienced anything but the NCAA Tournament I made some assumptions last year that were incorrect and we didn't have a good grasp last year on what needed to happen. As a coach, sometimes you are trying not to put any undo pressure on them and say this is a must-win game and we have to win and that was my thought process if we could just take care of business it would be alright. But we found out last year that we didn't have a good understanding of what needed to happen. So this year before the season started I tried to just break it down for them and historically if you win six games in conference a couple of teams have gotten in but not very many and seven wins you are improving but eight wins pretty much everybody has gotten in. So we just kind of broke it down historically and 14 or 15 wins will get you in the hunt for the championship and only a few teams have gone 16-0. So we did try to have that education before the conference started and they are really smart people and great people and so I think they are clear as to what is going on. I think it is a little early right now to start talking about seeds. We need to win more games so we can make sure we are in. But we have a lot to play for along those lines and I find the easiest way – and it is boring to talk about – but the easiest way is to put everything you can into Sunday and things will take care of itself. We are certainly in a better spot than we were last year but we are not in any spot where we can start thinking about those things down the road. We are going to really try to focus in on beating Arkansas on Sunday and to do that we have to work really hard today."
 
On the Bell County event for Maci Morris …
"It was a fantastic event and she was very appreciative of everybody that came out. She and I talked about it yesterday and it was a really special time for her. I think Maci is a really special person and the University's connection to the mountains, especially the basketball programs here is really unique. Anytime that I drove over there to recruit her or watch her play, there was a UK flag on everybody's house and it is a really special place. I know that everyone is really proud of her and what she has done. She has come here and turned into one of the best players in the SEC and she is on the list for one of the best players in the country. She has had a remarkable impact on our program and is a true competitor. She wants to win but I think all of that is heighted by the love she has for Kentucky and the love she has for putting on that uniform. People love her all over the state but really where she is from, I thought it was really important to connect Maci to the people that have supported her and who are so proud of her. It was a great event and appreciate all the hard work of everyone who pulled that together and we certainly appreciate the support and love shown to Maci and our entire basketball program. That is what we wanted Maci to go over and make sure she expressed was how appreciative we are of the support we get. We are asking and wanting a really big crowd to come out and honor these seniors as it comes down the stretch."
 
On his expectations when he recruiting Maci …
"Listen, I always had a lot of confidence in her that she would be a really good player. You just rarely know how they are going to turn out. You have to come here and spend some time with them before you can make those kind of predictions. A recruiting service can say you are a certain number in the country but that doesn't always translate into what is actually becoming. You have to factor in how hard is the player going to work and how tough she is and how resilient is she. Maci has just really improved in every facet. She has embraced development and improvement and has worked hard and we can create the environment but we can't do the work. You have to give her all the credit in the world for getting here and working herself into this position. I was so happy when she decided to come here and had a lot of confidence that she would have a great career here but there is never anything guaranteed. But I hope everyone that comes here reaches their potential and I think Maci has done that and then some."
 
On Rhyne Howard's development …
"She is getting better. She has started to gain more confidence in taking the ball to the basket. She has been such a fantastic perimeter shooter and passer and rebounder and was not as confrontable getting to the basket and in the last few games and yesterday in practice she has made a tremendous move. That is going to be important because she needs to have the complete game and ability to score midrange, 3 and getting the ball to the basket. So she is improving. I think her defense is improving and I think the experience helps so much and I think she realizes how hard she has to play to really make the full impact that she can make. Very excited about her improvement.