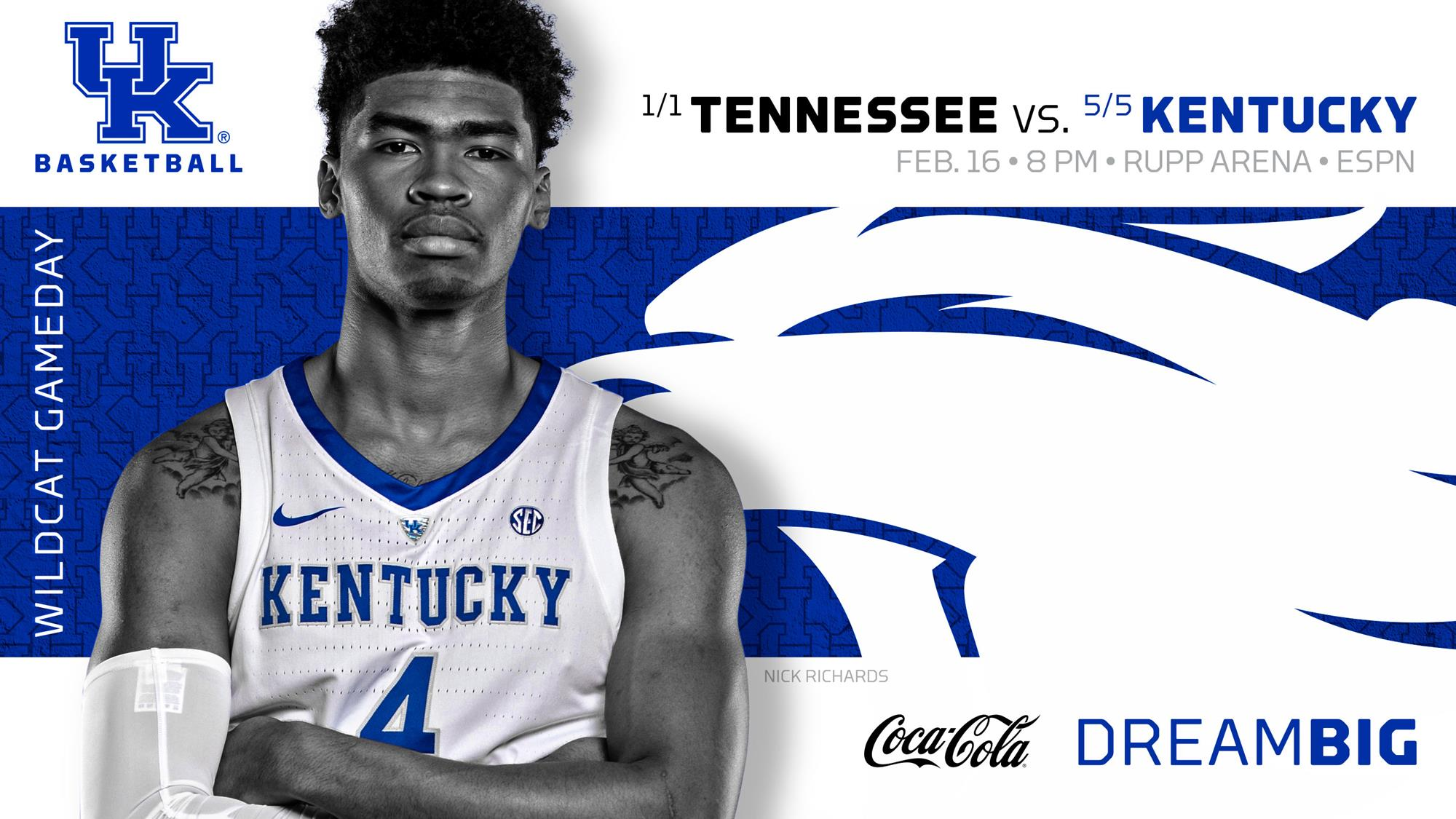 February 15, 2019 - 08:04 PM
Top-Five Battle with Tennessee to Speak Volumes about Cats
The eyes of the college basketball world are on Kentucky no matter. Come Saturday at 8 p.m., those eyes will be unswervingly focused on the Wildcats.
 
Top-ranked Tennessee is coming to Rupp Arena to face No. 5/5 UK in one of the most anticipated games of the season.
 
"That's what we're here for," Johnson said. "We came to Kentucky to play big games and I think everybody's prepared, everybody's been in the gym working, learned from our last game and I think we come and do what we do I think we'll be fine."
 
By no means will the Volunteers make it easy though.
 
Tennessee (23-1, 11-0 SEC) is on a 19-game winning streak, landing them at the top of both polls for the last four weeks entering a trip to face the Cats (20-4, 9-2 SEC). The Volunteers are a veteran squad, with their top six players in terms of scoring and minutes played averages all juniors and seniors, and 20 of their 23 wins this season have come by double digits.
 
"That's why they create good shots for each other," Calipari said. "That's why they don't beat themselves. That's why they're physically tough. They're good. I mean, they're the No. 1 team in the country for a reason, and they're the No. 1 team in the country that's on a big-time winning streak."
 
Kentucky vs. Tennessee

Sat., Feb. 16 – 8 p.m. ET
Rupp Arena
Lexington, Ky.
Game Notes: UK | UT
UK Athletics App Digital Guide

Coverage

TV: ESPN
Radio: UK Sports Network
Watch
Listen
Live Stats

UK
2018-19 Stats
UT
20-4
Record
23-1
9-2
Conference Record
11-0
78.4
PPG
85.4
65.5
Opp PPG
67.5
.475
FG%
.515
.407
Opp FG%
.391
39.0
RPG
38.1
.353
3PT FG%
.368
.354
Opp 3PT FG%
.333
.746
FT%
.767
14.2
APG
20.0
6.6
SPG
5.9
4.9
BPG
5.9

The headliners for the Vols are national player of the year candidate Grant Williams (19.4 ppg, 7.4 rpg) and senior Admiral Schofield (16.7 ppg, 6.4 rpg). As good as they might be, Calipari knows Tennessee is about as far as can be from being just a two-man team.
 
"They've got a deep team, and their guard play, the way they shoot and the things that they do – they're not winning with one guy or two guys, they're winning because of how they're playing," Calipari said. "The biggest thing is, because they lead the country in assists – their assist-to-turnover ratio – they're not going to beat themselves. They're going to create great opportunities and they shoot the ball well. You better play a good game. That's what I tell you. You better play good."
 
The Vols are second nationally in adjusted offensive efficiency according to kenpom.com, scoring 85.4 points per game (seventh nationally), dishing 19.9 assists per game (second nationally) and shooting 51.6 percent from the field (second nationally). Jordan Bone capably runs the offense from his point guard spot, unafraid to challenge opponents in the open court when opportunities present themselves.
 
In other words, the Cats will need to be on top of their game to avoid their first two-game losing streak of the season.
 
UK is a few days removed from the end of its own 10-game winning streak, with a last-second tip-in by LSU sending the Cats to a heartbreaking 73-71 defeat. The play has been the subject of much conversation this week, but players were quick divert attention away from it postgame, instead choosing to focus on the things they did that caused the game to come down to the final possession.
 
"Just that we shouldn't have been put in that position towards the end," Johnson said. "I think that we definitely—when we went over film, we definitely had a lot of plays that wasn't so good that led to their run. It was just a lot of mental lapses."
 
Coach Cal is taking an even longer view than that. Those mental lapses that doomed UK against LSU very well could have done the same against both Florida and Mississippi State. If they recur Saturday evening, they almost certainly will against Tennessee.
 
"It was a game that you play like we did in the second half against them and against Mississippi State, I saw it coming," Calipari said. "I talked about it at the Florida game, and I think you almost have to get knocked in the mouth and take a loss. I texted them probably two hours after the game and basically said it's tough losing, but we needed this because people were moving in the wrong direction and not listening to what we were saying."
 
Defense is where Calipari is focused, particularly considering the fact that UK has allowed 1.06 and 1.12 points per possession in its last two games, respectively.
 
"Most of it is mental and most of it becomes what I had talked about nine days ago, eight days ago," Calipari said. "There becomes an arrogance when you're winning and we kind of got away from what makes us good, including individual players. Hopefully that's a great lesson going into this game."
 
Coach Cal is trying to impart that lesson to PJ Washington, even after Washington topped 20 points for the sixth time in his last seven games. Though his offense continues be outstanding, Washington has failed to reach double figures in rebounding in his last three games after doing do in each of the three before that.
 
"Last couple of games his rebound attempts have gone down," Calipari said. "Rebound attempts, which means your rebounds have to go down. If you're not attempting to rebound, you're not going to get the ball. It's like one of those little things. Those have gone down, and I'm telling him, you have to get those attempts back up. Doesn't mean you have to get every ball, but you have to attempt to go get every ball."
 
The way Washington and Kentucky respond, clearly, will determine the outcome of a game UK needs in order to remain in the thick of the race for the SEC regular-season title. More importantly, the way they respond will say a lot about what the next six weeks will hold for them.
 
"This is one where were going to learn about ourselves as a group, especially after getting beat," Calipari said. "We got beat. Don't let the other sideshow stuff get to you; they beat us. If it went to overtime, they probably would have beaten us in overtime. So how do we respond? It will say a lot about who we are."
LSU Snaps UK's Four-Game Winning Streak Against AP Ranked Foes
 
PJ Washington scored 20 points and grabbed nine rebounds, but fifth-ranked Kentucky was upset by No. 19/21 LSU 73-71 on Tuesday night at Rupp Arena. LSU's Kavell Bigby-Williams tipped in a Skylar Mays missed shot at the buzzer to break a 71-71 tie and to give the Tigers their first win at Rupp Arena since 2009.
Keldon Johnson scored 16 points and Tyler Herro added 12 as Kentucky lost at home for the first time this season and for the first time since Feb. 6 of last season when Tennessee topped the Cats 61-59.
Kentucky (20-4, 9-2 Southeastern Conference ) hit 25 of its 60 (41.7 percent) field goals, while LSU connected on 24 of its 56 shots (42.9 percent). The Cats were 5 of 19 (26.3 percent) from behind the arc, while the Tigers were 6 of 21 (28.6 percent) from 3-point range. Kentucky made 16 of 23 from the line, while LSU converted 19 of its 22 chances at the line.
LSU (20-4, 10-1) had four players in double figures, led by Tremont Waters, who scored 15 points and dished out five assists. Naz Reid had 12 points and seven rebounds for the Tigers.
The game was tight early, with each team holding small leads. The game was tied 4-4 and 12-12 before Kentucky pulled ahead, using a 9-4 run to take a 21-16 lead. The Cats would eventually stretch the lead to seven, 29-22, on a 3-pointer by Reid Travis with 8:02 left in the half.
LSU, however, had an answer, scoring the next eight points, taking a 30-29 lead with 4:46 to go in the half. Kentucky would close the half on an 11-2 run to close the half, taking a 40-32 lead into the break.
In the second half, Kentucky had extended the lead to nine on two occasions, the last coming at 48-39. That's when LSU started its comeback. The Tigers scored six in a row as part of a 9-1 run that cut UK's lead to 49-48 with 12:32 to play.
The Cats would keep a small lead until Waters hit a pair of free throws with 9:17 to play, tying the game at 54 apiece.
Kentucky took the lead back, 56-54, but LSU scored the next six points to take a 60-56 lead with 6:40 to play. The Cats tied the game at 62 apiece before LSU went on a 7-2 run to take a 69-64 lead with 2:14 to play.
The Cats scored the next five points, all by Washington, to tie the game again, this time at 69-69 with 1:12 to play.
Waters missed a jumper on LSU's next possession, giving Kentucky a chance to take the lead. Herro then missed a 3-pointer, but Travis grabbed the rebound for the Cats. However, while Travis was trying to pass out of traffic, Waters stepped into the passing lane and stole the ball. As he advanced past halfcourt, he was fouled by Herro.
With 20 seconds left, Waters calmly drained both free throws to give the Tigers a 71-69 lead. But on the ensuing possession, Kentucky's Johnson was fouled and, like Waters, he made both free throws to tie the game at 71-71 with six seconds remaining. That set the stage for Bigby-Williams' heroics.
• The loss ended a 10-game winning streak – the longest since the 2016-17 season – including a nine-game SEC win streak
• Kentucky still leads the series 89-27 with the loss ending a three-game winning streak vs. the Tigers. UK leads 45-6 in games played in Lexington
• Kentucky won the rebounding 39-32 and points in the paint 34-30. UK is now 18-2 this season when winning/tying the rebounding and 17-3 when prevailing in the paint
• UK is 4-2 vs. Associated Press Top 25 foes this season
• The loss ended Kentucky's 17-game winning streak in Rupp Arena, including 14 in a row this season
• Washington scored a game-high 20 points. He's topped 20 points in six of his last seven games and has nine straight double-figure efforts
• Travis had nine points and nine rebounds
Cats-Vols Top-Five Showdown Marks First in Series History
Saturday will mark the 226th all-time meeting between border-state rivals, Kentucky and Tennessee. UK has played the Volunteers more than any other opponent in school history and owns a 154-71 all-time record against the Volunteers, including a 92-17 mark in Lexington.
This matchup will mark the 20th meeting between the two teams when both are ranked inside of the Associated Press Top 25. However, the top-five showdown in Rupp will mark the first top-five meeting in the series' history.
Kentucky leads the series 11-8 when the two teams are both ranked and owns a 9-1 record against the Volunteers in top-25 matchups in Rupp. The first loss in the series at home was last season's 61-59 win by the Volunteers.
Nationally, Saturday's matchup will be the fifth meeting between two top-five ranked teams at the time of the game this season. Kentucky's season-opening game against Duke also signified a top-five matchup. Tennessee was a part of one other one as well during its early-season matchup with Kansas.
Of course, Tennessee boasts the No. 1 ranking. UK is 6-15 all-time against teams ranked No. 1, including 1-2 with John Calipari at the helm.
UK has played a No. 1 Volunteer team once before with the Vols winning 63-60 in Knoxville, Tennessee, on March 2, 2008. Kentucky's last win vs. a No. 1 ranked team came in the 2011 NCAA East Regional Finals when, led by Brandon Knight's heroics, Kentucky took down Ohio State 62-60.
Calipari is 4-4 all-time over his career vs. the AP top-ranked team in the country.