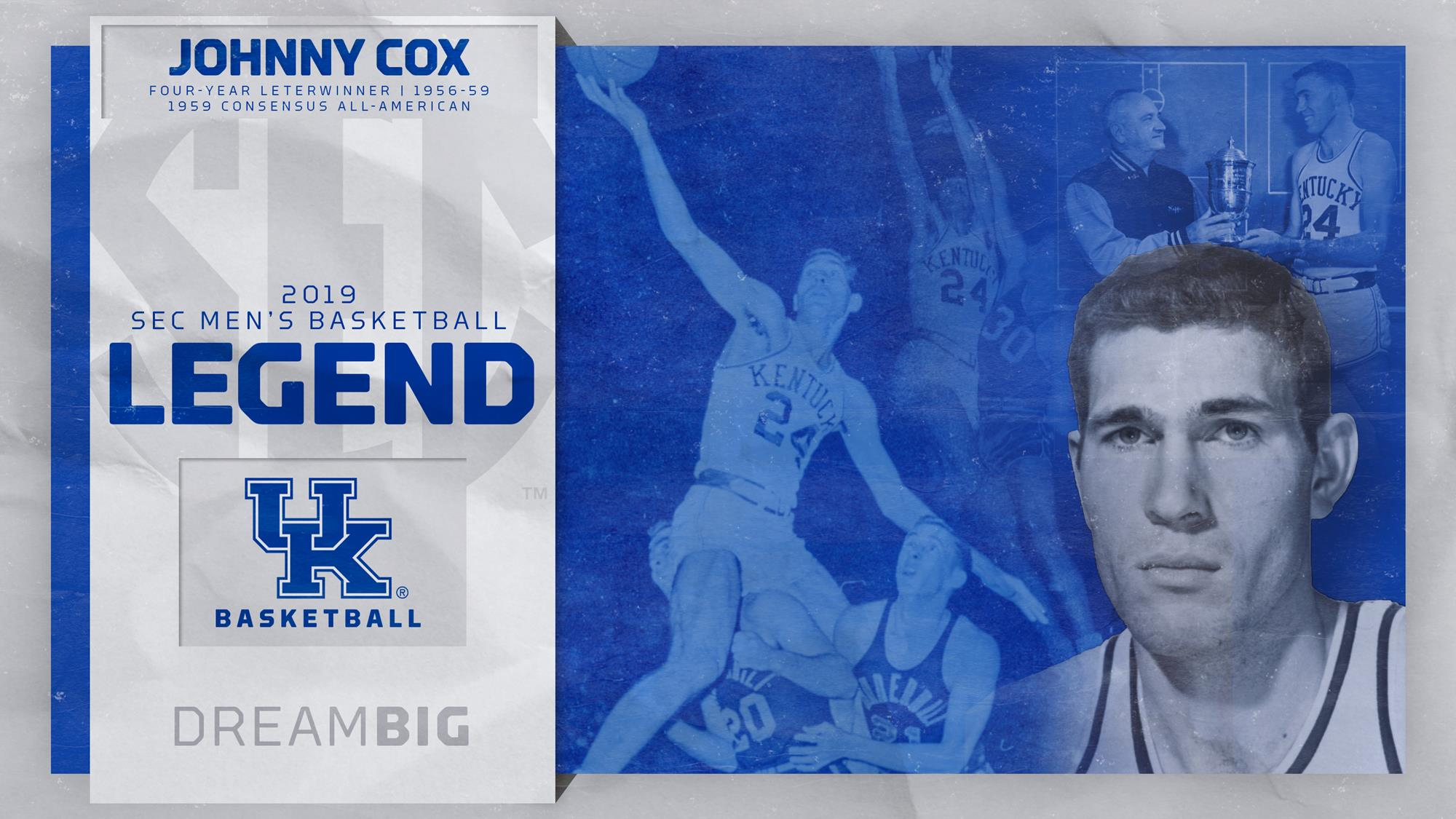 February 15, 2019 - 11:20 AM
Johnny Cox Tabbed 2019 SEC Legend
BIRMINGHAM, Ala. – Former Kentucky men's basketball All-American and national champion Johnny Cox will represent the Wildcats as a member of the 2019 Southeastern Conference Legends at the SEC Tournament in Nashville, Tennessee.
 
Past greats from all 14 SEC member institutions will be honored at the league tournament March 13-17 at Bridgestone Arena. Cox will be honored at halftime of UK's first game of the tournament.
 
Cox helped lead UK to the 1958 national championship, its fourth in school history. He averaged a double-double with 14.9 points and 12.6 rebounds per game for the 23-6 national title team. He also guided the Cats to the SEC Championship in 1958 and 1959.
 
A native of Hazard, Kentucky, Cox was an NCAA Consensus First Team All-America selection during the 1959 season and he was a three-time All-SEC performer. He also made the All-NCAA Tournament Final Four Team during the '58 title run.
 
For his career, Cox averaged 17.4 points per game and 12.0 rebounds over three seasons. He averaged double-figures in points per game and rebounds per game during each of his three seasons. At the conclusion of his career, he was fourth on UK's all-time scoring list with 1,425 career points. He is one of just four players in program history to register more than 1,000 points and rebounds in a career.
 
Cox was selected in the fourth round of the 1959 NBA Draft by the New York Knicks. He eventually played one season in the NBA as a member of the Chicago Zephyrs. He averaged 7.8 points per game in 73 games before joining the American Basketball League.
 
His No. 24 jersey hangs in the rafters of Rupp Arena as one of Kentucky's retired jerseys and he was among the inaugural class for the UK Athletics Hall of Fame.
 
2019 Allstate® SEC Basketball Legends
ALABAMA – Erwin Dudley; 2000-03
ARKANSAS – Corey Beck; 1992-95
AUBURN – Mike Mitchell; 1975-78
FLORIDA – Livingston Chatman; 1987-91
GEORGIA – Jumaine Jones; 1997-99
KENTUCKY – Johnny Cox; 1957-59
LSU – Wayde Sims; 2016-18
OLE MISS – Justin Reed; 2001-04
MISSISSIPPI STATE – Lawrence Roberts; 2003-05
MISSOURI – Melvin Booker; 1991-94
SOUTH CAROLINA – Carlos Powell; 2001-05
TENNESSEE – Mike Jackson; 1973-77
TEXAS A&M – Antoine Wright; 2002-05
VANDERBILT – Derrick Byars; 2005-07
 
Kentucky returns to action with a home contest vs. top-ranked Tennessee on Saturday. Game time is set for 8 p.m. ET and will air live on ESPN.
 
For the latest on the Kentucky men's basketball team, follow @KentuckyMBB on Twitter, Facebook, and Instagram, and on the web at UKathletics.com.