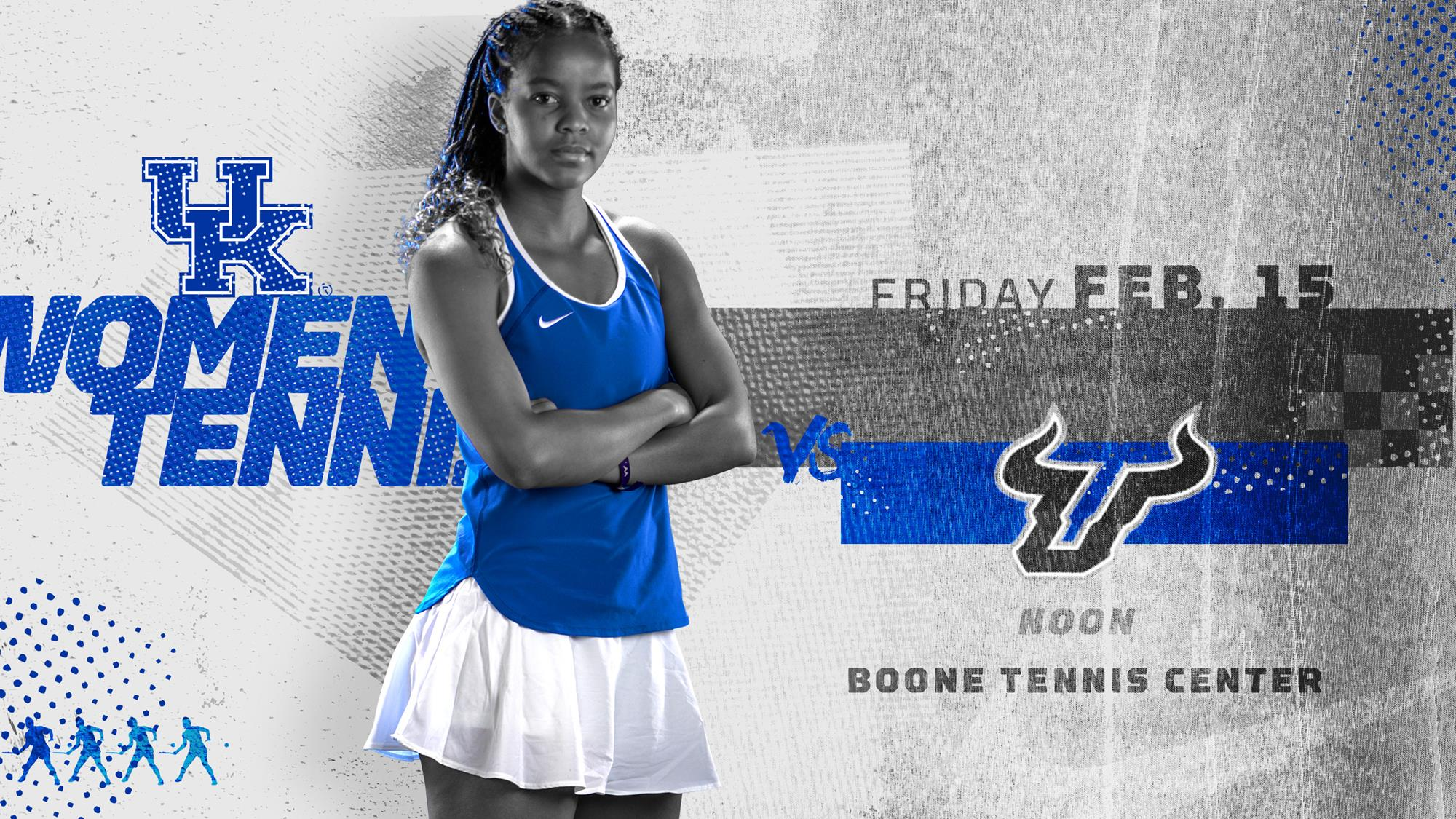 February 14, 2019 - 03:46 PM
No. 23 Kentucky Resumes Nonconference Schedule with South Florida
LEXINGTON, Ky. – After an 18-day gap in the schedule, the Kentucky women's tennis program will reconvene its nonconference agenda with South Florida, Friday at noon in the Hilary J. Boone Tennis Center. It will end a 10-year hiatus between the programs.
 
Kentucky is 5-1 after forming its best start to the season since 2014-15. It began with a four-match homestretch Jan. 16 and Jan. 18 when the Wildcats put together straight wins over Marshall, Kennesaw State, Miami (OH) and Western Kentucky, only giving up one singles match in the stretch.
 
The successful start ignited momentum ahead of the ITA Kick-Off Weekend, defeating Southeastern Conference foe Auburn on a clean 4-0 decision, which generated a 5-0 run to start the season. The following day, Kentucky fell to Ohio State in the Championship Match, 4-1.
 
While Kentucky went 1-1 in the ITA Kick-Off Weekend, freshman Tiphanie Fiquet formed a perfect record to earn SEC Freshman of the Week. Fiquet of Nice, France, is unbeaten in singles and doubles this season, collecting four victories apiece. Fiquet has limited her singles opponents to three or less games in their favor in six of her eight sets contested. In her first court-two placement, she forced an impressive 6-1, 6-0 outcome over Western Kentucky.
 
The freshman also compiled a 6-3, 6-2 victory in her first conference matchup of the season, which helped the program advance to the ITA Kick-Off Weekend Championship Match after sweeping Auburn.
 
Senior Justina Mikulskyte has also put together a notable start, which granted her a spot in the Top 125 National Singles poll. No. 94 Mikulskyte is undefeated in three singles matches this season, all on court one. In Kentucky's only loss, the senior was the only Wildcat to win a singles match over Ohio State, which kept the Buckeyes from a clean sweep in their victory.
 
Mikulskyte has limited her opponents to three or less games per set in all but one of her singles sets this season. A native of Lithuania, she's also racked up some valuable doubles wins, including a 7-5 victory over the 14th-best duo in the nation in Sophia Graver and Taylor Russeo of Auburn. She accomplished that feat on court one with partner Akvile Paražinskaite.
 
The Wildcats have not seen competition in 18 days since falling to the Buckeyes Jan. 27. It has been 10 years since Kentucky and South Florida have met, while UK holds the all-time winning mark, 5-1. South Florida is 4-3 this season, including a 1-1 record on the road. The Bulls are on a two-match win streak with straight victories at home against Middle Tennessee and North Florida, only dropping one of 14 matches in the two duals.
 
Fans who wish to attend can enjoy free parking in any of the three E-lots adjacent to the tennis courts on the University of Kentucky campus one hour prior to the start of the matches. Parking structure No. 7 is also a near option for spectators, but for a $2 an hour fee prior to 3 p.m.
 
Live scoring for Friday can be followed at sidearmstats.com/ukentucky/tennis/xlive.htm.
For more on Kentucky women's tennis, follow @UKWomensTennis on Twitter and Instagram, Kentucky Women's Tennis on Facebook, or on the web at UKathletics.com.