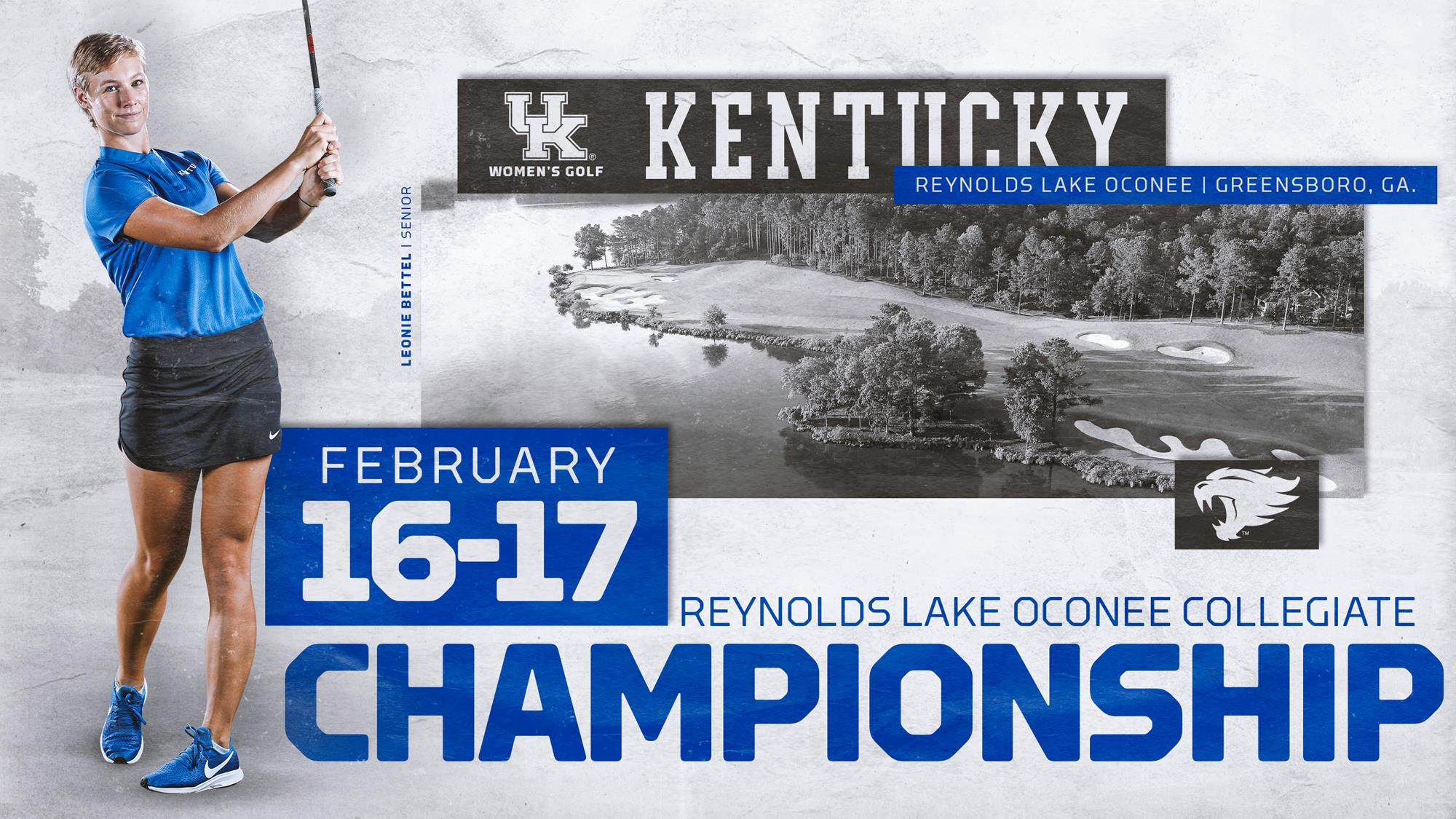 February 14, 2019 - 05:58 PM
UK Women's Golf Heads to Georgia for First Stroke-Play Event of Spring
GREENSBORO, Ga. – After opening the spring season last weekend with a match vs. Louisville, the Kentucky women's golf team will play in its first stroke-play event of the spring Saturday and Sunday at the Reynolds Lake Oconee Collegiate Championship.
 
All eight Wildcats will be in action in a unique tournament format in Greensboro, Georgia. The tournament will include the usual collegiate setup of 54 holes over three rounds, but how those three rounds will be split up is the twist.
 
Reynolds Lake Oconee features three nine-hole courses, so the tournament's three rounds will be spread out among the three courses over two days.
 
The field will play each nine-hole course once on Saturday for a total of 27 holes and then pick up midway through the second round Sunday and finish up the three-round tournament with another 27 holes.
 
Play will begin each day at 9 a.m. across all three courses, but the rotation from course to course will go from Ridge, to Bluff and then to Cove. For those players who start on Bluff, they'll go to Cove, and for those who start on Cove, they'll move to Ridge for their second nine.
 
Live scoring will be available both days at GolfStat.com.
 
"It's a quick turnaround for us this week and we are right back on the road for our next tournament," UK head coach Golda Borst said. "This event should be an interesting one as we will play three different sets of nine holes each day. I thought we had a good warmup weekend in Birmingham (Alabama) and it helped each player assess where they are with their games. We saw some good competitive golf and I know the team is fired up to play again so soon to get some revenge on the course."
 
UK is coming off a tough 4-1 match-play loss to Louisville last week in the Battle of the Bluegrass, but there were a lot of positives to take away from the beginning of the spring season. The Wildcats actually split the total matches 4-4 with the then-28th-ranked Cardinals thanks to a 3-0 sweep in the individual-results-only matches.
 
Included in those three individual matches was a dominating 6 & 5 victory by freshman Casey Ott, who then took that momentum and won the Battle of the Bluegrass individual medalist honors in the nine-hole shootout after match play. Although Ott's 2-under-par 34 in the shootout won't officially count towards NCAA scores, her weekend was enough to earn her the final spot in the team lineup this weekend.
 
She'll be joined by senior Leonie Bettel, junior Sarah Shipley, sophomore Rikke Svejgård Nielsen and senior Claire Carlin. Junior Josephine Chang, sophomore Sarah Fite and freshman Ryan Bender will compete as individuals in the 17-team, 106-player field (Auburn and Clemson are playing individuals only).
 
"The lineup will look a touch different as we are putting one of our freshmen, Casey Ott, in," Borst said. "She stepped up this past weekend and played some very solid golf, so I look forward to seeing what this team will do over the next few days."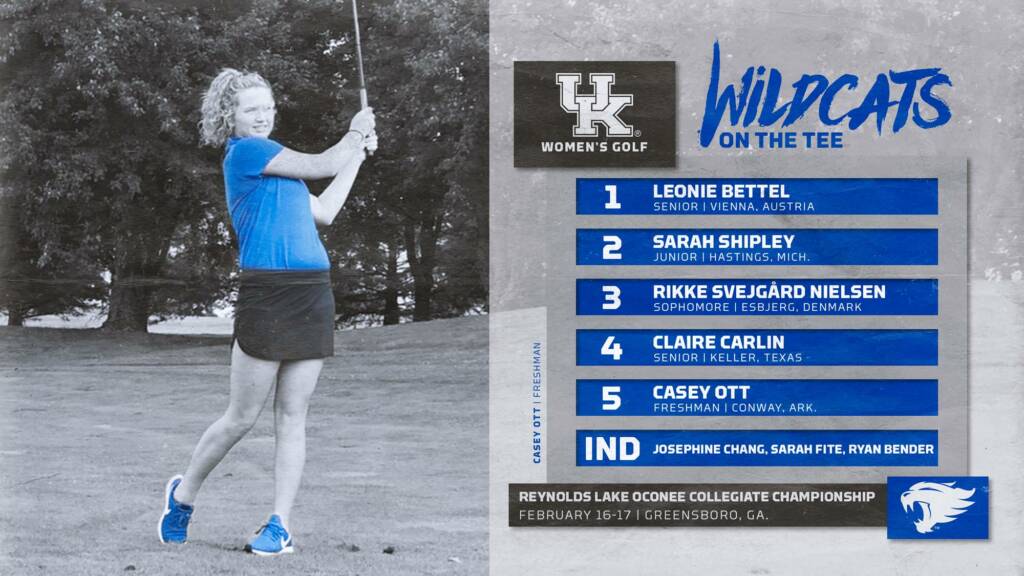 Two other Southeastern Conference teams, Vanderbilt and Missouri, are in the field. Vanderbilt is currently ranked No. 6 in the country. Mercer will serve as the host this weekend.   
 
Kentucky will be seeking its second team title of the season after winning the Bettie Lou Evans Invitational in the fall, UK's first team title since the fall of 2013. UK also won three individual titles, headlined by Bettel, who will lead the Wildcats into Greensboro.
 
Bettel averaged 70.6 strokes per round in the fall. The single-season school record for stroke average is 73.42, set by Isabelle Johansson in 2016-17. She's currently ranked No. 20 in the country in GolfStat's player rankings and is a midseason watch list candidate for the ANNIKA Award, presented annually to the national player of the year.
 
In the fall, Bettel became the first UK player to win two tournaments in a season since Lauri Berles in 1995-96 when she won the Mercedes-Benz Collegiate Championship and Bettie Lou back-back-back.
 
Shipley is in the lineup after earning the Wildcats' lone point in match play last weekend. She won 1 up to improve to 4-0 in match play in her collegiate career. She's looking to repeat last year's spring season when she led the Wildcats in stroke average.
 
Svejgård Nielsen joined Bettel in winning medalist honors in the fall. In her first collegiate tournament, she won the MSU Greenbrier Invitational in dominating fashion.
 
Carlin, UK's team captain, is making her fifth appearance in six events this season. The aforementioned Ott rounds out the team lineup.
 
Chang has looked more like her freshman self this season but suffered a heartbreaking 1 up loss on the 19th hole in match play last weekend. Fite won her match in dominating fashion, 4 &3, while Bender won hers 1 up on the first playoff hole.
 
All three nine-hole courses will play as par 36, meaning each 18-hole round will be a par 72. The yardages are nearly identical on all three courses with the Ridge playing at 3,051 yards, Bluff at 3,060 and Cove at 3,058.
 
The trademark of the course is its dramatic elevation changes from tee to fairway, as well as on approach shots — some as much as 60 feet. The Ridge, Bluff and Cove nines are named for the type of terrain they feature. No two holes are alike in these three unique playing opportunities, but all share a consistency in feel for the way they feature the natural undulating contours of the region, making it a total 27-hole experience.
 
For the latest on the Kentucky women's golf team, follow the team on Twitter, Facebook, and Instagram, as well as on the web at UKathletics.com.