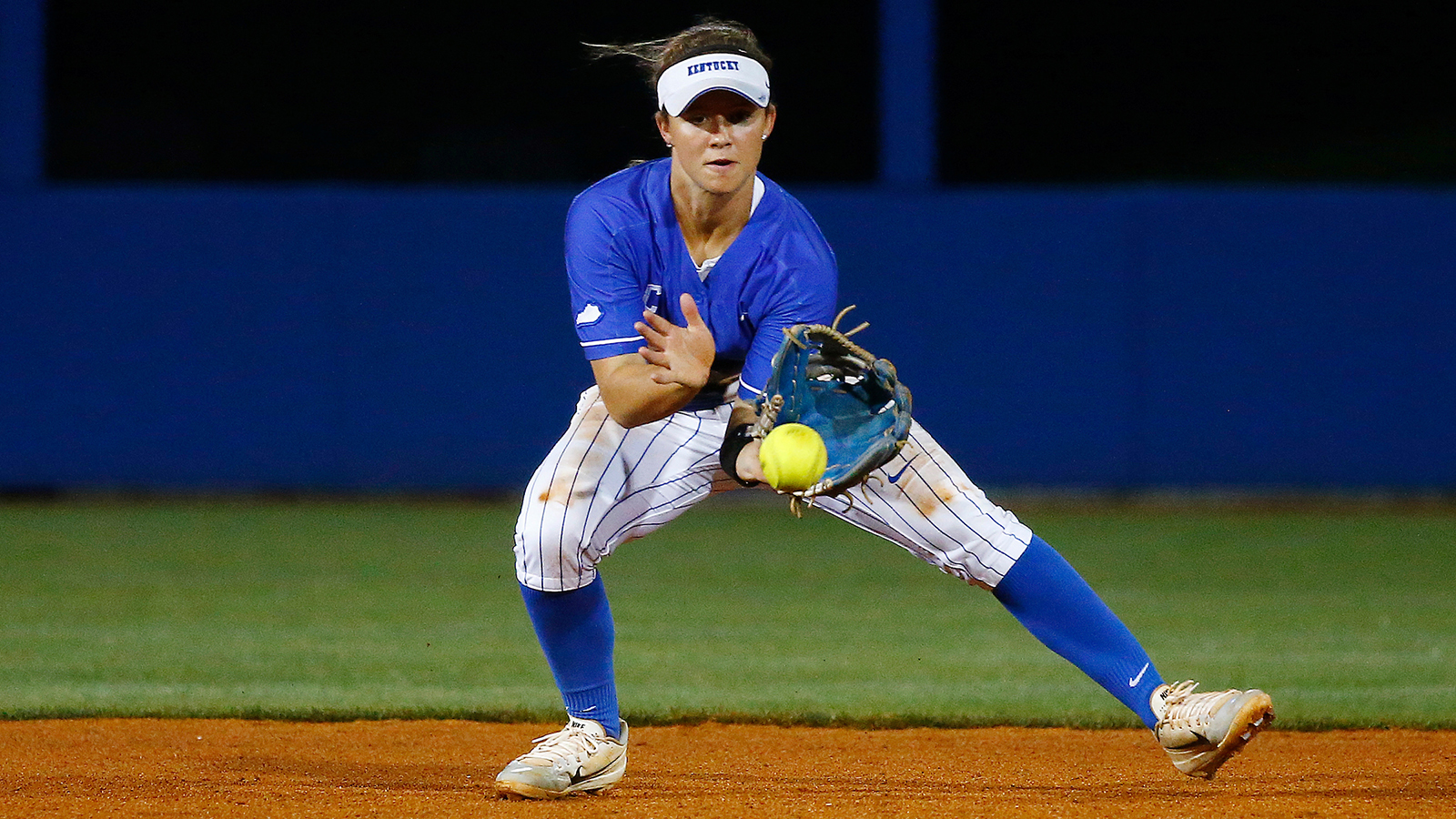 February 13, 2019 - 11:36 AM
UK Softball's Reed Ready to Leave Lasting Legacy
Having a player that's an all-conference performer and a candidate for national player of the year is something that any coach, in any sport would love to have. Or, a player that's a leader on and off the field, one who serves as president of the Student-Athlete Advisory Council. Or maybe a student-athlete that has a perfect 4.0 grade point average and who will start dental school in the fall.
Kentucky softball head coach Rachel Lawson is lucky enough to have all of those, all wrapped up in one special player – senior shortstop Katie Reed.
From the time she stepped on campus, Reed has been a starter for the UK softball team. As a freshman, she played second base before moving to shortstop for her sophomore year, a season in which she was named to the NFCA All-American team, becoming just the third player in Kentucky softball history to earn that honor.
Lawson is proud of Reed not only as a player, but also as a person.
"Katie is a great softball player and a great representative of the University of Kentucky," Lawson said. "Obviously, she has great skills on offense and defense on the field, but she's a committed student and takes all of those responsibilities very seriously. She is an exciting player to watch and plays the game with respect and gives everything she has to all aspects of Kentucky Softball." 
Reed is ready for another big season for the Big Blue. Last year, she hit .352 with a career-high six home runs and a career-best 32 runs batted in. She stole 14 bases in 18 attempts and was named second-team All-SEC.
Reed has high hopes for this year's Cats, and she knows what the team needs to do to reach those goals.
"I think we need to be consistent all year," Reed said. "I think we have great defense, great pitching and I think we have an awesome offense. I think if we keep the team goals most important and play for each other, I think we'll be good to go."
While the expectations are high for the Cats, Reed says the team is not feeling any external pressure.
"I would say it's a good pressure, but I don't really feel, right now, that there's much pressure," Reed said. "We have that expectation of us. We've been working hard and training hard, so I think we're prepared for the season."
Now a senior, Reed will be taking on an even bigger leadership role in 2019. Reed says her leadership style includes both leading by example and being vocal, when needed.
"It's a combination of the two," Reed said. "I'm not like a super-loud vocal leader. I would say I definitely lead by example. I like talking to people one on one. If I see someone needing help, reaching out to them. Just getting the team involved. I don't talk very often, but I think that when I do speak, that most people listen to what I have to say."
Reed hopes that she and fellow seniors Abbey Cheek, Kelsee Henson, Sarah Rainwater and Jenny Schaper will be remembered in a positive light once their final season is over.
"As a class, a lot of us have started since freshman year, so it's been a journey for us," Reed said. "I think our legacy is that we respect the game, play the game the right way and work hard. As a class, we're not the most talented, the biggest or the strongest, but we work well together. We play for the team. We play Kentucky softball. I think that our class is a great representation of what Kentucky softball is and what that means. I hope that's what people remember us as."
Reed and her fellow seniors also hope to be remembered as the class that led Kentucky back to the Women's College World Series.