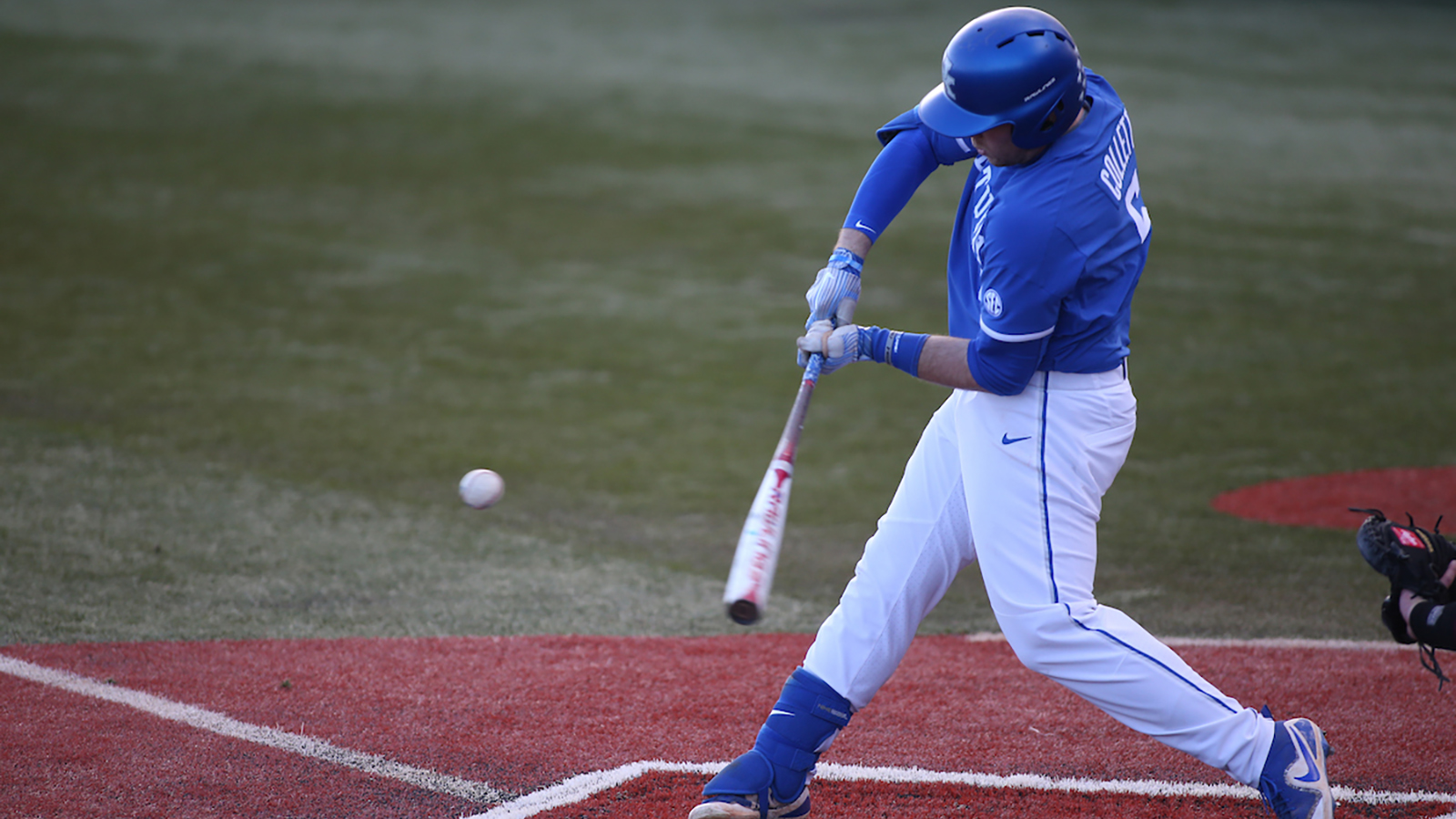 February 13, 2019 - 03:42 PM
Healthy Collett Ready to Lead Baseball Cats in 2019
It's evident in his new stance and approach at the plate. Or maybe it's the new walkup song or all of the work he has put in this offseason. But one thing is for sure – T.J. Collett is back and better than ever.
 
In his first year with the Wildcats, Collett showed significant power with a grand slam in his second career at-bat, a pinch-hit appearance against Ole Miss. But Collett was only able to appear in 20 games because of some ongoing rehab with his knee.
 
In his sophomore season, Collett hit .304 with 27 runs but a season-ending hip injury again kept him from finishing out the year on a high note. 
 
Collett refused to let the injuries get him down, even with the hype and expectations constantly surrounding him. He made it his goal to support the team no matter what and would not let a devastating injury take away his opportunities to lead in the dugout and off the field.
 
"Consistency. Not riding the big highs too high, not riding the lows too low," Collett said. "Just trying to stay right in the middle."
 
Nobody questioned Collett's power but keeping him healthy was the biggest issue.
 
"The main thing is just getting comfortable again and doing my thing," Collett said.
 
Collett has taken on an entirely new batting stance heading into his junior season. When he came in as a freshman, Collett had a very wide stance and was too committed to pitches. As he developed in the program, that stance narrowed and Collett improved his timing. The Terre Haute, Indiana, native has now added a toe tap for the final touch, an addition that he and assistant coach Todd Guilliams think will be the perfect formula.
 
Kentucky head coach Nick Mingione considers Collett a key on this roster, which has only two returning starters. This is an almost entirely new UK team, but one that has the same goal – to do things that have never been done before.
 
"I feel super confident coming into the season," Collett said. "It's just like I have no worries in the world, I am just excited to get started."
 
Collett figures to be one of the biggest sluggers on the team this year. He found his stride last year after he had a hit in 21 of his first 25 games and homered in four straight games in February.
 
Collett's power has been recognized nationally as he has already been named the Preseason First-Team All-SEC designated hitter.
 
On and off the field, his teammates and the coaching staff love having him in the program. They all speak to his servant's heart and love for the team. Earlier this year he was voted by his teammates to be one of four team captions.
 
"I called my parents and told them it was the most proud I have ever been of myself," Collett said. "Being selected by a group where we are all working towards a common goal and then having them trust you, look to you as one of the guys to lead them is just really really special."
 
Collett and the Cats kickoff the season this Friday as they travel to Austin Peay for a three-game series in Clarksville. The junior is hoping that his new approach, and his health, provide the basis for a big 2019.