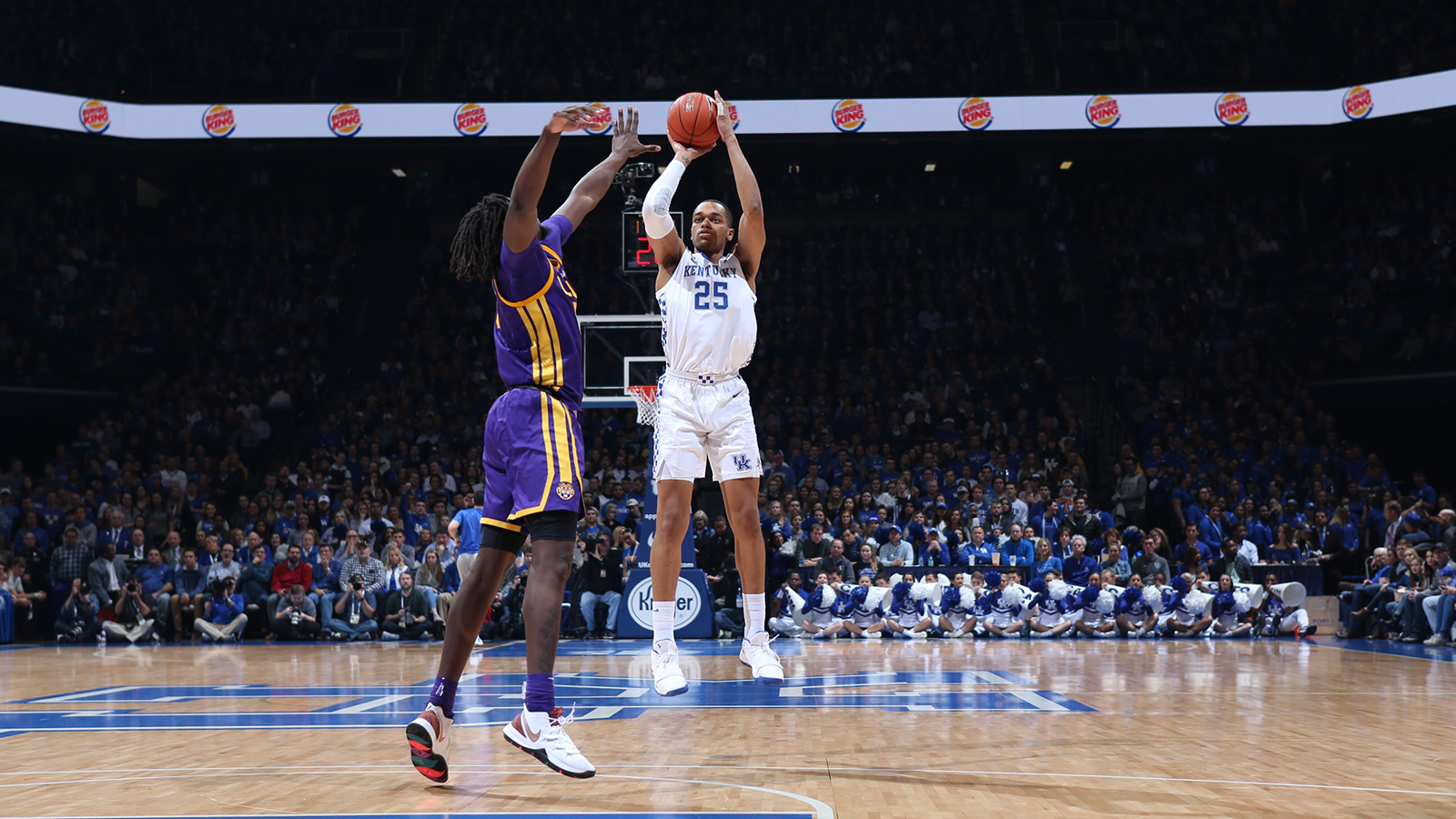 February 12, 2019 - 09:52 PM
No. 5 Cats Fall to No. 19 LSU, 73-71
LEXINGTON, Ky. – PJ Washington scored 20 points and grabbed nine rebounds, but fifth-ranked Kentucky was upset by No. 19 LSU 73-71 on Tuesday night at Rupp Arena. LSU's Kavell Bigby-Williams tipped in a Skylar Mays missed shot at the buzzer to break a 71-71 tie and to give the Tigers their first win at Rupp Arena since 2009.
Keldon Johnson scored 16 points and Tyler Herro added 12 as Kentucky lost at home for the first time this season and for the first time since Feb. 6 of last season when Tennessee topped the Cats 61-59.
Kentucky (20-4, 9-2 SEC) hit 25 of its 60 (41.7 percent) field goals, while LSU connected on 24 of its 56 shots (42.9 percent). The Cats were five of 19 (26.3 percent) from behind the arc, while the Tigers were six of 21 (28.6 percent) from three-point range. Kentucky made 16 of 23 from the line, while LSU converted 19 of its 22 chances at the line.
LSU (20-4, 10-1) had four players in double figures, led by Tremont Waters, who scored 15 points and dished out five assists. Naz Reid had 12 points and seven rebounds for the Tigers.
The game was tight early, with each team holding small leads. The game was tied 4-4 and 12-12 before Kentucky pulled ahead, using a 9-4 run to take a 21-16 lead. The Cats would eventually stretch the lead to seven, 29-22, on a three-pointer by Reid Travis with 8:02 left in the half.
LSU, however, had an answer, scoring the next eight points, taking a 30-29 lead with 4:46 to go in the half. Kentucky would close the half on an 11-2 run to close the half, taking a 40-32 lead into the break.
In the second half, Kentucky had extended the lead to nine on two occasions, the last coming at 48-39. That's when LSU started its comeback. The Tigers scored six in a row as part of a 9-1 run that cut UK's lead to 49-48 with 12:32 to play.
The Cats would keep a small lead until Waters hit a pair of free throws with 9:17 to play, tying the game at 54 apiece.
Kentucky took the lead back, 56-54, but LSU scored the next six points to take a 60-56 lead with 6:40 to play. The Cats tied the game at 62 apiece before LSU went on a 7-2 run to take a 69-64 lead with 2:14 to play.
The Cats scored the next five points, all by Washington, to tie the game again, this time at 69-69 with 1:12 to play.
Waters missed a jumper on LSU's next possession, giving Kentucky a chance to take the lead. Herro then missed a three-pointer, but Travis grabbed the rebound for the Cats. However, while Travis was trying to pass out of traffic, Waters stepped into the passing lane and stole the ball. As he advanced past halfcourt, he was fouled by Herro.
With 20 seconds left, Waters calmly drained both free throws to give the Tigers a 71-69 lead. But on the ensuing possession, Kentucky's Johnson was fouled and, like Waters, he made both free throws to tie the game at 71-71 with six seconds remaining. That set the stage for Bigby-Williams' heroics.
Kentucky returns to action on Saturday, facing top-ranked Tennessee at Rupp Arena. Tipoff is set for 8 p.m. ET and the game can be seen on ESPN>