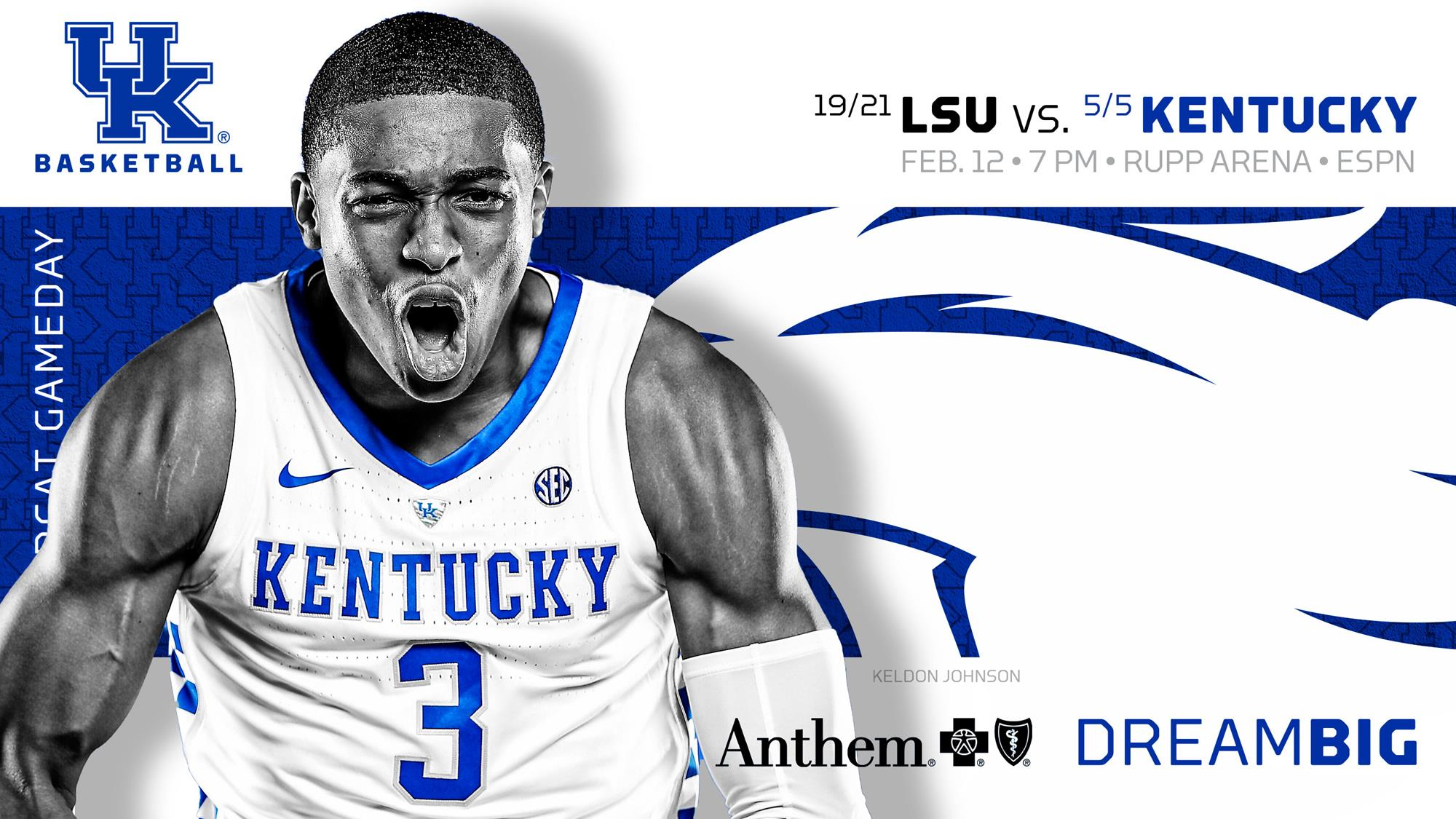 February 11, 2019 - 05:00 PM
UK Tipping Off Toughest Stretch to Date against LSU
John Calipari is thankful his team has faced challenging stretches.
 
He's thankful because facing the likes of North Carolina and Louisville back to back in late December and Auburn, Mississippi State and Kansas in quick succession in January helped prepare Kentucky for what he believes is the Wildcats' most difficult week to date.
 
LSU and Tennessee are headed to Rupp Arena this week.
 
"The next two, you have games that are Elite Eight games, Final Four games," Calipari said. "That is where we are playing now. Let's see where we are."
 
The eyes of the college basketball world might be looking ahead slightly to that game against the top-ranked Volunteers this weekend, but Coach Cal's are focused intently on the task at hand: the Tigers.
 
"It is starting with this team that comes in and everyone is looking by this game and talking about that next one," Calipari said. "I am not. I haven't looked at one tape of Tennessee. Not one. I haven't thought about them. I don't know what they run."
 
Kentucky vs. LSU

Tue., Feb. 12 – 7 p.m. ET
Rupp Arena
Lexington, Ky.
Game Notes: UK | LSU
UK Athletics App Digital Guide

Coverage

TV: ESPN
Radio: UK Sports Network
Watch
Listen
Live Stats

UK
2018-19 Stats
LSU
20-3
Record
19-4
9-1
Conference Record
9-1
78.7
PPG
83.3
65.2
Opp PPG
73.4
.477
FG%
.471
.406
Opp FG%
.441
39.0
RPG
38.4
.357
3PT FG%
.327
.357
Opp 3PT FG%
.345
.748
FT%
.761
14.2
APG
13.9
6.7
SPG
9.8
5.0
BPG
4.6

The time will come for that, but not until after No. 5/5 Kentucky (20-3, 9-1 Southeastern Conference) hosts No. 19/21 LSU (19-4, 9-1 SEC) Tuesday at 7 p.m. in a matchup of teams tied for second place in league play. The Tigers, winners of 12 of their last 13 games, will have UK's undivided attention.
 
"From what I see, they're really good," Immanuel Quickley said. "Great guard play, real versatile, real good on the interior as well. So we've just got to come out and do what we do."
 
Quickley and the UK guards will have a challenge on their hands against LSU's Tremont Waters. The sophomore point guard spurned a chance to turn pro after a standout freshman season and is now averaging 15.7 points, 6.1 assists (third in the SEC) and 3.0 steals (leads the SEC).
 
"Tremont does an unbelievable job at stealing balls on defense and creating havoc that way, and then offensively he really sees the court and can score," Calipari said. "So he's terrific that way."
 
Waters leads a balanced team with seven players averaging 7.0 or more points per game. The Tigers score an average of 83.3 points per game, deploying a fast pace that should make for an entertaining game in Rupp Arena.
 
"Let me tell you what will be interesting in this game: This will be a team that will go at you at certain guys and try to beat people on the dribble," Calipari said. "This is going to be a challenge. We are talking about one guy but they'll pick and choose. They do a lot of that.
 
The Tigers are aggressive on both ends, forcing 16.3 turnovers per game behind the pesky Waters and rebounding 37.3 percent of their own misses (ninth nationally) behind impressive athletes Naz Reid, Emmitt Williams and Kavell Bigby-Williams. LSU is also nearly impossible to put away, staging four double-digit comebacks in its last five outings and losing only once.
 
"They're not afraid," Calipari said. "Neither are we. We play the same. We've been down. We've been down 12-2, 16-4, I mean, looking at each other. If I remember Georgia it was dunk, dunk, dunk, dunk. What in the world? I mean, so we're both kind of the same. That's why it should be an exciting game."
 
For as well as LSU is playing, Kentucky has matched the Tigers win for win. In fact, the two teams' seasons parallel one another closely. The Tigers sat at 7-3 entering a game on Dec. 15, fresh off a tough loss to Houston. The Cats were 7-2 that same day having lose in overtime to Seton Hall. Nearly two months later, they've lost twice in 27 tries between them.
 
"This is going to be a hard one," Calipari said. "Believe me, a hard game. A hard game for us to win. I don't care if it is in Rupp Arena or I-95. This is a hard game to win because of how they play. But, if we can give them a full 40, then it should be a good game."  
 
Coach Cal might spend more time this week first praising LSU and later Tennessee, but he – like his team – will also carry a hard-earned, though quiet, confidence into a week that will go a long way toward deciding the SEC's regular-season championship.
 
"If we had played these two teams a month ago, it probably would have been ugly," Calipari said. "Now we've got a chance that we're coming together ourselves."
Washington Leads No. 5 Cats Past Bulldogs in Starkville
STARKVILLE, Miss. – Kentucky coach John Calipari said he took a few moments following Saturday's game to praise his team for winning its 10th straight game thanks to some gritty plays in a difficult road environment.
Then the compliments ended. It was time for the truth.
"If you want me to tell you everything's all good, it isn't," Calipari said. "I went right down to each guy. Not mean, screaming or cussing. I wasn't. But you're here because you want me to keep it real. Well, this is real."
And the truth is that No. 5/5 Kentucky was fortunate to escape Humphrey Coliseum with a 71-67 victory over Mississippi State. The Wildcats let an 18-point lead early in the second half dwindle to just one possession with 1:18 remaining before a defensive stop in the final seconds sealed the win.
PJ Washington scored 23 points, Keldon Johnson added 13 and Tyler Herro had 12, including a crucial 3-pointer with three minutes left. Kentucky (20-3, 9-1 Southeastern Conference) hasn't lost since its conference opener against Alabama on Jan. 5.
The Wildcats looked like they might cruise to the win after Washington hit a 3-pointer early in the second half to give them a 49-31 lead. But Mississippi State responded with a huge run to pull within 51-50 on a pair of free throws by Quinndary Weatherspoon with 8:41 left.
Washington and Ashton Hagans hit back-to-back layups to squash the Bulldogs' momentum. Mississippi State kept fighting and Weatherspoon made a free throw to cut Kentucky's advantage to 70-67 with 1:18 left.
But MSU came up empty on its final possession when Quinndary Weatherspoon lost possession and Johnson came up with the loose ball.
"Once they made that run, we just had to come together even more, stay focused and stay together," Johnson said.
Washington scored at least 20 points for the fifth time in six games. The 6-foot-8 sophomore shot 9 of 13 from the field.
Mississippi State (16-7, 4-6) led 17-15 midway through the first half, but Herro nailed a contested 3-pointer to give Kentucky the lead. The Wildcats never trailed again, outscoring the Bulldogs 25-8 over the rest of the first half for a 40-25 halftime advantage.
• Kentucky's 10-game winning streak is its longest since winning 14 in a row late in the 2016-17 season
• It's the 19th in Calipari's career his teams have put together a winning streak of 10 or more, including seven at UK
• The Wildcats are limiting opponents to 58.9 points per game and 37.9 percent from the field during the winning streak
• UK leads the series with MSU 97-20 and has won 13 in a row vs. the Bulldogs, Kentucky's longest current winning streak vs. an SEC opponent
• Kentucky has won nine consecutive SEC games, its longest streak since sweeping the 18-game league schedule in 2014-15
• UK has won five straight road games, the longest road streak since sweeping the 10-game schedule in 2014-15
• The Wildcats are now 239-40 vs. Associated Press Top 25 unranked competition under Calipari
• Kentucky improved to 253-5 under Calipari when leading by at least 10 points at any point in the game
• UK was strong around the basket, leading the rebounding 35-28 and points in the paint 34-24. The Wildcats are 17-1 this season when winning or tying the rebounding and 17-2 when prevailing in the paint
• Washington now has a team-high seven 20-point games this season
• Reid Travis just missed out on a double-double with eight points and a game-high nine rebounds
• Hagans tied his career high with nine assists (previously set at home vs. MSU) and now has 17 straight games with at least three dimes
Wildcats Eye Top Seed
If the season ended Feb. 9, Kentucky would be a No. 2 seed in the NCAA Tournament. At least that's what the Division I Men's Basketball Committee unveiled during the bracket reveal of the top 16 teams on Feb. 9.
UK was ranked the No. 5 overall team and a No. 2 seed alongside Michigan, North Carolina and Michigan State, in that order. The No. 1 seeds, in order of rank, were Duke, Tennessee, Virginia and Gonzaga.
Kentucky definitely has a shot at a No. 1 seed with plenty of opportunities ahead to strengthen its résumé, including two games vs. Tennessee, plus a strong profile to this point. UK checks in at No. 5 in the Feb. 11 NET rankings with a 7-2 record vs. quadrant one teams, including four of those victories away from home.