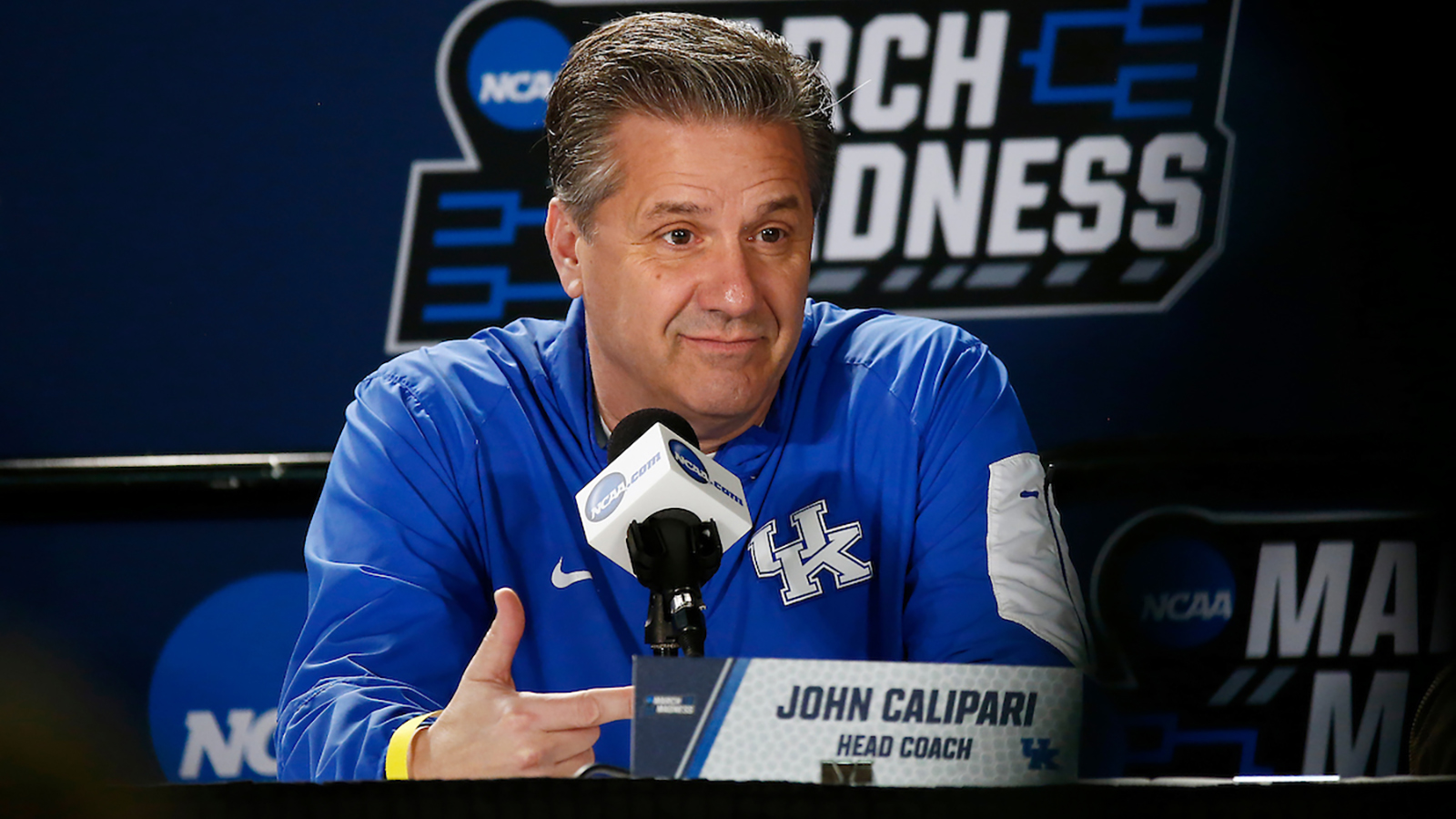 February 11, 2019 - 11:33 AM
Kentucky Basketball Previews LSU
UK ATHLETICS COMMUNICATIONS AND PUBLIC RELATIONS
MEN'S BASKETBALL
LSU at UK PREGAME MEDIA
FEB. 11, 2019
JOE CRAFT CENTER – LEXINGTON, KY.
 
Head Coach John Calipari
 
On the matchup between LSU's Tremont Waters and Kentucky's Ashton Hagans …
"They're two really good players, but different. Tremont does an unbelievable job at stealing balls on defense and creating havoc that way, and then offensively he really sees the court and can score. So he's terrific that way. Our guy is, you know – speed that game up, put pressure on the ball. I'm not sure how much he'll guard Tremont. We might do some different stuff, but they may go head-to-head some."
 
On some of Hagans' troubles early in the game the last few games …
"Well, teams are coming at him now. They're figuring out who he is. I think I can remember John Wall walking into my office and saying, 'I'm not having fun.' 'Yeah, no kidding. They're guarding you with a broken line. They're not guarding you. They're running back into, under the basket, to make you shoot and it's no fun now.' They're doing things to him. They're playing pick-and-rolls different ways. They're doing things to him to – leaving him some, putting him in spots where maybe he's a little uncomfortable. That just comes with experience. He'll be fine."
 
On what his advice is to Hagans …
"Drive it some. Shoot it some. He's so physical and so long, he can create havoc himself both on the defensive and offensive end. I'm happy with what he's doing."
 
On Hagans not making the Bob Cousy Award watch list …
"I wasn't either when I was in college and I was so upset about that. [Laugther.} It bothered me for about three years."
 
On if Waters reminds him of Tyler Ulis …
"Yeah, he does. Controls the game the same way. He coaches on the floor. Yeah, he does a lot of that stuff."
 
On Naz Reid and the kind of matchup problem he poses …
"He's big. He's big. He'll shoot 3s. Plays a little bit like a guard. He's really good. They're whole team – look, this team, their guard play, their toughness, their size. They've got two bigs that come off the bench and are their leading offensive rebounders. So what happens when those two come in they shoot it and those two just fly and go get it. They've got wings that a couple are scorers and a couple are high-flyers. I mean, this is a good team. This stretch for us – you know, we've had a couple of these where we've had tough games. (This is) by far the toughest stretch and starting with this team that is a top – they're top-15 (team) they say but they're better than that. This is a top-10 team. In the last five games they've been down 10 points four times and they came back and won three of those. They were down 10 points, 14 points with 2:20 to go and came back and won. They were down 16, 18 to Arkansas and lost on a shot that didn't go in. They win different ways. They beat Auburn on out-of-bounds plays. Can you imagine? They scored like five or six times on out-of-bounds plays. That's unusual, but that's what they did. That's how they – that was the difference in that game."
 
On what messages LSU's resiliency says to Kentucky …
"They're not afraid. Neither are we. We play the same. We've been down. We've been down 12-2, 16-4, I mean, looking at each other. If I remember Georgia it was dunk, dunk, dunk, dunk. What in the world? I mean, so we're both kind of the same. That's why it should be an exciting game."
 
On what went wrong during Mississippi State's 18-2 run …
"Well, if you're inexperienced you'll think one or two plays really doesn't matter. So, you won't be focused. You won't make the easy play. You'll grab a ball with one hand. You'll do something that is like, 'Why would you do that?' 'Well, we were up 14.' Then you look around and you're up 10. And then all of the sudden that momentum is there. Then they make a shot and then you get fouled. Uh-oh. And you missed two. And all of the sudden it's anybody's ball game. It started with those two plays that you acted like didn't matter. A team like Tennessee, a veteran team, a Virginia, team's that are older, they don't – they understand that those plays really matter. When you're young like us, you go and show them the tape. 'What were you thinking?' 'I wasn't.' 'Very good answer.' "
 
On defensive and mental stops …
"That and rebounding. But, you keep them at bay with what you are doing offensively. They score. You score. They score and you score. OK. You are still up 18. But, if you break down three or four times and you score and you are turning it over for no reason or you are taking a quick bad shot when we are up 18, that is when stuff turns."
 
On if shot selection is different when they're up big or the other team is making a run …
"I hope not. You are trying to get fouled. You are trying to make sure that you can get a good look that you can rebound." 
 
On how different this team is with a "locked in" Keldon Johnson …
"It is not just one guy. I can go right down the line where we have slippage, including guys coming off the bench being more and more confident defensively. Now, you expand leads. You walk in and you're like, man, if that guy walks in and defends and plays that way and blocks shots and does it, you can leave him in the game."
 
On improving defensively …
"Let me tell you what will be interesting in this game: This will be a team that will go at you at certain guys and try to beat people on the dribble. This is going to be a challenge. We are talking about one guy but they'll pick and choose. They do a lot of that. A lot of times they are doing that trying to get you to collapse a little bit, shoot the ball off the backboard so you can rebound it, dunk it, tip it in. This is a challenge of the game. This is going to be a hard one. Believe me, a hard game. A hard game for us to win. I don't care if it is in Rupp Arena or I-95. This is a hard game to win because of how they play. But, if we can give them a full 40, then it should be a good game."
 
On the February and March schedule …
"The next two, you have games that are Elite Eight games, Final Four games. That is where we are playing now. Let's see where we are. The good news is, whether Tuesday or Saturday, there will be more games. You are not like, 'Well, your season ended.' This is us to learn. Are we where we all think we are? Let's see because we have to play the game."
 
On playing Kansas and Auburn preparing Kentucky for the upcoming schedule …
"It did but this is going to be a harder set of games. North Carolina and Louisville, this will be a harder set of games. It is starting with this team that comes in and everyone is looking by this game and talking about that next one. I am not. I haven't looked at one tape of Tennessee. Not one. I haven't thought about them. I don't know what they run. Well, I do know because they have the same team so they are probably running the same stuff. But, I haven't done anything. My focus is let's see how we are playing against this type of team, this kind of length. Those two teams are different.
 
On if it's a good thing that it sets up that way …
"Well, let me say this: If we had played these two teams a month ago, [pause] it probably would have been ugly. Now we've got a chance that we're coming together ourselves."
 
On if he looks at it from an SEC standings standpoint even though there are still a lot of games left to be played …
"I'm seeing seven, eight teams having their opportunity, but you're looking at three teams who lost their best player, or one of their best players, in our league. Where would this league be if those three were here? And those are three NBA-level players. So, you know, the league is as strong as it's been. Veteran teams, terrific coaches, you know, great talent."
 
On what his message his to his team when Mississippi State made an 18-2 run …
"On the road. I told them at halftime they're going to make a couple of runs. 'They'll make two runs. How do you play?' And that I've done this 30 years, that's what you expect. And the other thing is, you say, 'How do they do it?' They have nothing to lose. So now all of a sudden, all the shots they couldn't make, they make them. They had nothing to lose. Let's try to do this. And then you just hope, keep pushing back, keep pushing back, keep pushing back. As this thing winds down it will get tougher. Again, I've done it 35 years. Started when I was 20, by the way."
 
On how turning 60 plays on his mind …
"I've had maybe 50 messages that said it's only a number. So I guess it's only a number, I don't know. I'm fine. I feel better. I feel better. I feel good. I've been blessed. Healthy. Somewhat great eating habits. [Laughter.]"
 
On challenging PJ Washington being challenged …
"I'm just not letting any of these guys (revert back). It's not just him. I'm not letting any of these guys back up. I talked to them yesterday. I gave them a book to read. I had them read the one chapter. The one chapter I wanted them to read was only about five pages, and it talked about flattery. Flattery is like poison, and if you drink it you're going to die. Flattery is about ego. 'You're good, you're good.' The way you create your confidence is you work your butt off, and over a period of time you start building yourself up, and then you stay amazed. Like, 'I can't believe I'm doing all this.' "
 
On Steve Alford being in the building and if he's talking to the team today …
"No. He's here. He's in our (staff) meetings. He and I have been friends for a long time, so he said he wanted to come in for a couple days. So he's here today. I don't think he's staying for the game, but he'll watch us practice. He'll be at the radio show tonight. I've known him for 30 years so. He's a great guy. Terrific coach."
 
UK ATHLETICS COMMUNICATIONS AND PUBLIC RELATIONS
MEN'S BASKETBALL
UK vs. LSU PREGAME MEDIA
FEB. 11, 2019
JOE CRAFT CENTER – LEXINGTON, KY.
Kentucky Players
#14, Tyler Herro, Fr., G
On his big 3 late against Mississippi State …
"I think PJ (Washington) lost the ball. My defender helped. I just went and got it, took one dribble and shot it. I knew the shot-clock was going down, so I just tried to make a play and made the shot."
 
On the areas they can improve …
"Really just everywhere. Just playing the whole game, full 40 minutes. I thought we played good the first half against Mississippi State, but just making that the whole game and I think we would have won by more than we did."
 
On the importance of this week …
"It's a big week for us. Not trying to look ahead, so tomorrow's obviously the biggest game right now. Just go into that game with as much focus as we've had all year, hopefully get that W and focus in for Tennessee."
 
On who he knows from LSU's team …
"I know three of them. Naz Reid, Emmitt (Williams) and Ja'vonte (Smart)."
 
On Calipari challenging Washington …
"He just said he doesn't want him to revert back to how he was last year, I guess – which I thought he was still a pretty good player last year. But yeah, he just wants the best for PJ. He's just going to continue to get on him and hopefully PJ keeps producing how he's been."
 
On how much the previous stretch against three straight ranked opponents prepared them for this …
"That little stretch we had was a good test for us. I think the next stretch we have will be another test for us of just being focused and bringing it every day in practice and continuing to get better."
 
On what they learned from that previous stretch …
"We can obviously compete with anybody. We gotta be focused and bring it every game."
 
On Ashton Hagans getting excited to play a point guard like LSU's Tremont Waters …
"He takes that personally, so he'll be able to go out there and compete tomorrow. Like I said, Ashton's one of the best point guards in the country. I think he'll go out there and make it happen."
 
On how good UK can be when Keldon Johnson is playing his best …
"Obviously, Keldon's Keldon. When he's locked in like that, he just takes our team to another level. We just need him to be focused the whole game, but that's the same for all of us."
 
On the difference when Johnson isn't playing his best …
"I think you can tell when he's being not really focused or not with it and when he brings it you see what he can do. When he's locked in defensively, he takes our defense to a whole 'nother level. When he's making plays offensively, he does the same thing."
 
#5, Immanuel Quickley, Fr. G
On if LSU's success this season is a surprise …
"No, we know how good LSU is. We've just got to come out each and every game, play hard, play together, play smart and I like our chances.
On how good LSU is …
"From what I see, they're really good. Great guard play, real versatile, real good on the interior as well. So we've just got to come out and do what we do."
On if Tremont Waters is the player who makes LSU go …
"This is my first year, so I haven't played against him. But from what I understand, he's what makes them go, as a point guard. He facilitates their offense, gets them going. From what I understand, he's played really good all year long."
On how he and Ashton Hagans feel about facing a challenge like Waters …
"I think we've been doing good all year long, but it's not just me and Ashton. It's everybody on defense, talking, communicating, help the helper, stuff like that."
On what the team can learn from nearly losing a big lead on Saturday …
"Yeah, that's actually the second time, it happened against Auburn, too. We're just still trying to work on that. I think we're getting better closing games and stuff like that. Really, just making smarter plays down the stretch, locking up on defense, things like that."
On how big of a challenge it is to pull out a win against a team that has made several comebacks …
"It's tough, that just shows the resiliency of that team. For them to be able to fight back, I think they were down 10 or 14 with two minutes left. For them to do that, that shows how tough they are. We just have to come out and be the tougher team, especially down the stretch."
On how much the team has improved from two or three months ago …
"I think we're a lot better, as far as chemistry, on and off the floor, we've gotten a lot closer. Also, on the floor, our defense is starting to come together. That's been the biggest thing. I think our offense will come as we continue to get closer to each other. But our defense has been clicking and that's what's given us a lot of success."