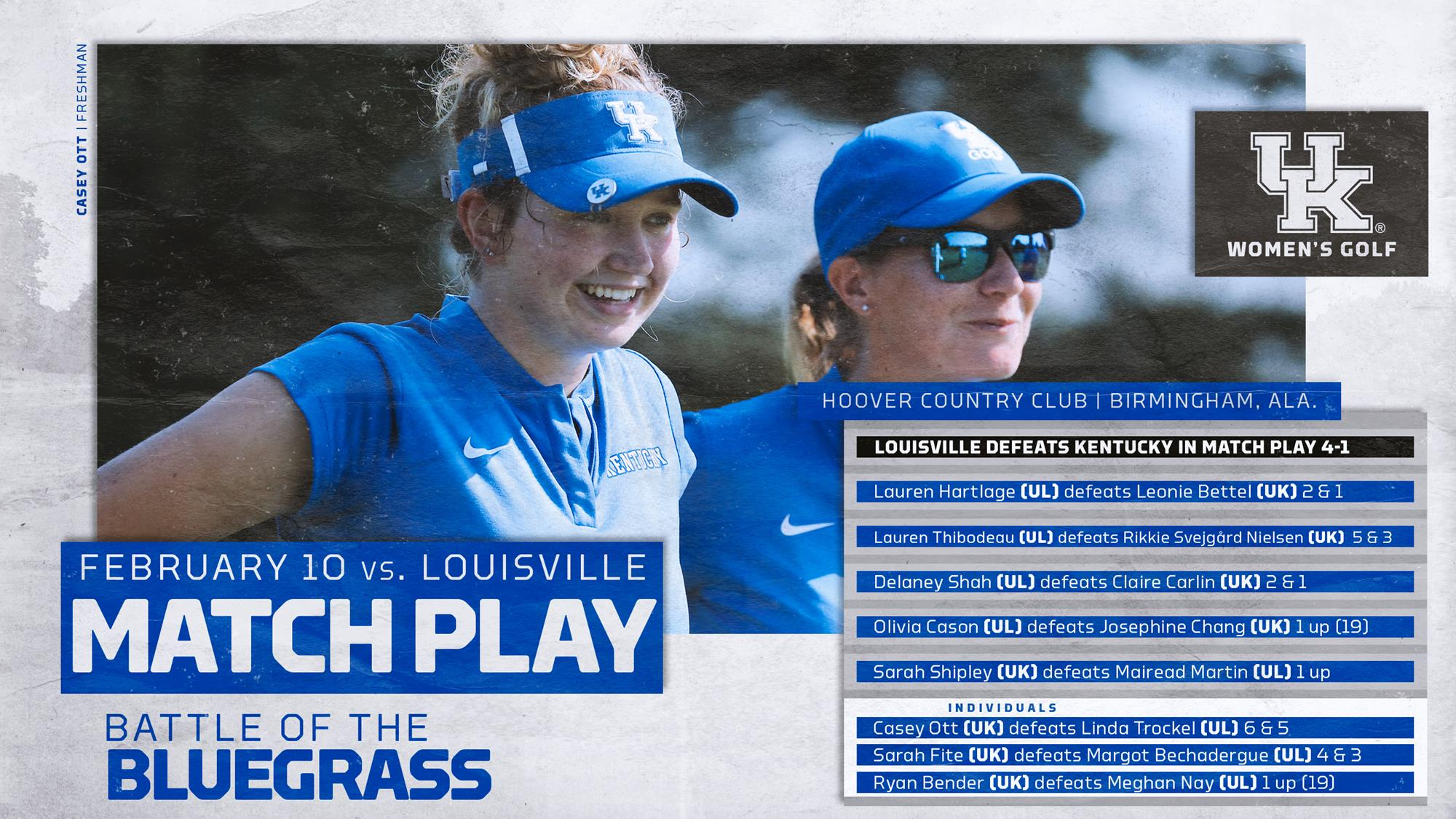 February 10, 2019 - 06:01 PM
Ott Wins Battle of Bluegrass Individual Medalist Honors
BIRMINGHAM, Ala. – Freshman Casey Ott salvaged a tough match-play loss to Louisville for the Kentucky women's golf team by winning individual medalist honors Sunday in the annual Battle of the Bluegrass.
 
The first-year Wildcat from Conway, Arkansas, fired a 2-under-par 34 in the nine-hole shootout, one clear of Kentucky senior Claire Carlin and junior Sarah Shipley, to bring the individual medalist honors back to Lexington for a third straight year. The individual scores will not count towards official NCAA scores.
 
Ott won the shootout following match play, which Kentucky lost 4-1. The Wildcats were neck-and-neck with the 28th-ranked Cardinals for much of the afternoon at the Hoover Country Club in Birmingham, Alabama, but faltered in a couple of matches down the stretch.
 
UK split the eight matches overall 4-4 with the individual-only matches included.
 
Shipley won the Wildcats' lone team point with a 1 up victory over Mairead Martin. Kentucky swept the three individual-only matches 3-0 with Ott defeating Linda Trockel 6 & 5, sophomore Sarah Fite winning 4 & 3, and freshman Ryan Bender closing out Meghan Nay 1 up on the 19th hole.
 
Lauren Hartlage defeated UK's top player and ANNIKA Award candidate Leonie Bettel 2 &1, Lauren Thibodeau beat sophomore Rikke Svejgård Nielsen 5 &3, Delaney Shah topped Carlin 2 &1, and Olivia Cason squeaked by junior Josephine Chang 1 up on the 19th hole for Louisville's four points.
 
"Even though we had a disappointing loss today, I saw some good stuff from our team," UK head coach Golda Borst said. "This was a good prep tournament to get ready for next week at Mercer and it was nice to see some lower scores in the nine-hole portion of today. We look forward to getting right back on the road and competing again next week."
 
Shipley's victory improved her collegiate match-play record to 4-0. She won a pair of matches her freshman season to win the individual bracket in the East & West Match Play Challenge.
 
It was the first career match-play events for Bender, Fite, Ott and Svejgård Nielsen. Match play is now a part of the final rounds for the Southeastern Conference Championship and NCAA Championships so Sunday will serve as important experience for the Wildcats.
 
In addition to Ott (34), Carlin (35) and Shipley (35), Bettel and Chang fired 37s in the nine-hole individual shootout, Svejgård Nielsen carded a 38, Fite shot a 39 and Bender posted a 44.
Ott, a two-time Arkansas Golfer of the Year (2015 and 2016) in high school and the 2017 Arkansas Class 7A state champion, is off to a strong start to her Kentucky career. She's appeared in all five events for UK and posted two 18-hole rounds of par or better in the fall, plus Sunday's individual medalist honors and her match-play victory.
 
Sunday's match vs. Louisville begins a busy spring for the Wildcats, who will play in five more events over the next two months before the postseason begins with the SEC Championship – which will be down the road from Sunday's match in Birmingham.
In the meantime, Kentucky will get right back into action. The Wildcats will play in the Reynolds Lake Oconee Collegiate Championship on Saturday and Sunday in Greensboro, Georgia.
 
UK, ranked No. 66 in the latest GolfStat rankings, has high hopes of returning to NCAA regionals for the seventh time in Borst's nine seasons. Despite a tough ending in the fall at the Trinity Forest Invitational, the fall was a successful one with a team championship at the Bettie Lou Evans Invitational – Kentucky's first since 2013 – and three individual titles, including two from Bettel.
 
For the latest on the Kentucky women's golf team, follow the team on Twitter, Facebook, and Instagram, as well as on the web at UKathletics.com.