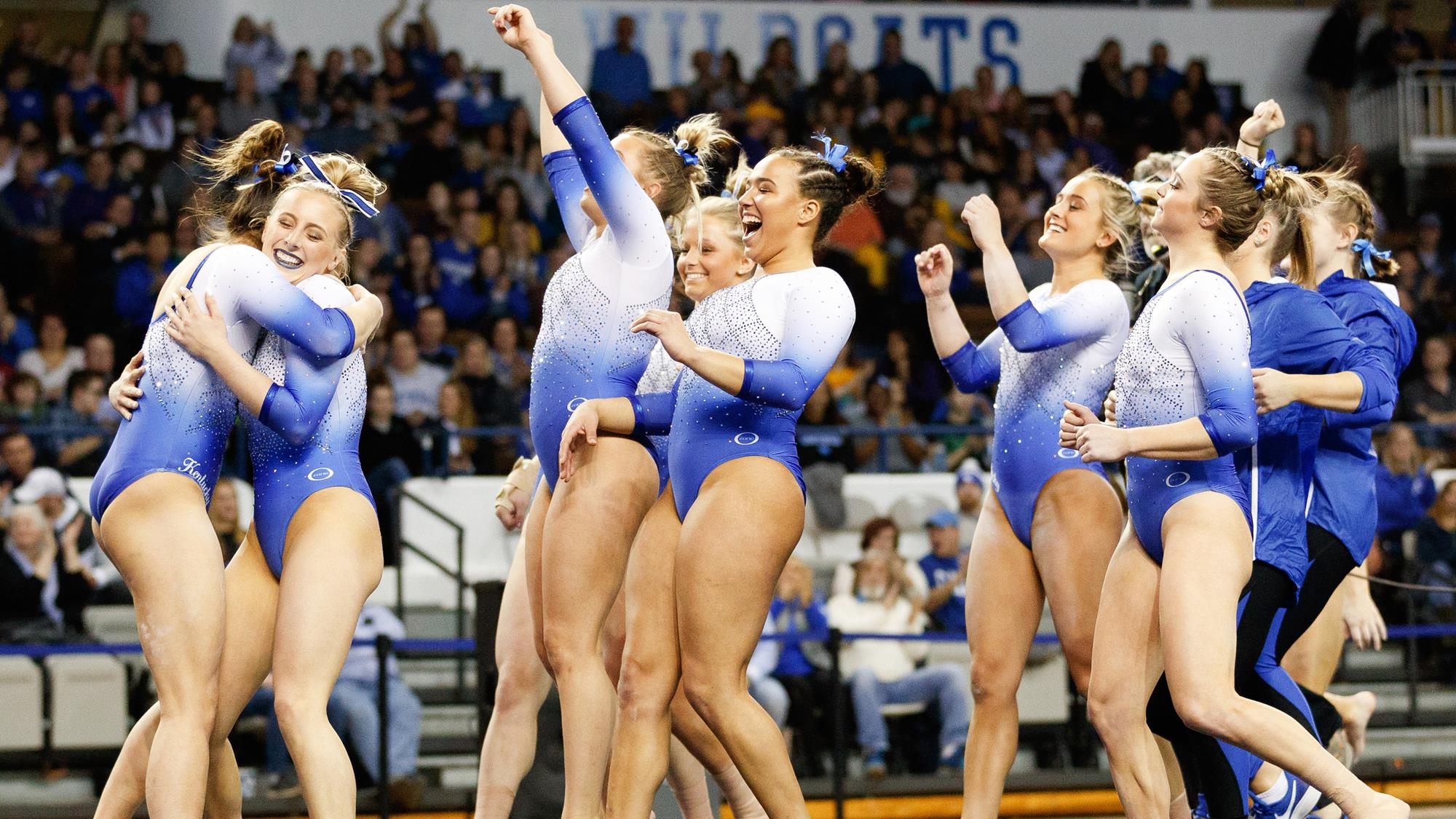 February 9, 2019 - 01:50 AM
Cats Upset No. 5 LSU in Historic Night at Memorial Coliseum
LEXINGTON, Ky. – Behind season-high outputs on three events, No. 17 Kentucky (4-4, 2-2 Southeastern Conference) upended No. 5 LSU (3-3, 1-3 SEC) 197.150-196.025 for the second-highest team score in program history.
 
"Great night, an amazing night," said head coach Tim Garrison. "To be able to put four events together, perform like we did, and come out with a 197-plus score, that's huge. Then, to beat an SEC opponent that is a very tough, top-five opponent, to beat them, it's a special night. It's a special night for the kids, and I think it's one of those nights that will help us moving forward."
 
Kentucky tallied 49.200 or better on each event for only the second time in school history, tying for the second-best UK beam tally (49.425) and the fifth-best UK bars score (49.300). Three different Wildcats earned individual victories, led by two from junior Mollie Korth.
 
Korth tied a season-high on vault, scoring a meet-best 9.925. With a season-high on bars (9.875) and a career-high on beam (9.900), the two-time All-American was named the night's all-around champion at a season-high sum of 39.600.
 
Sidney Dukes anchored Kentucky's historic balance beam performance, garnering the best score of the night with a season-high 9.925. Dukes complemented the win by tying a season-high 9.825 on vault and compiling the best all-around meet (39.400) of her senior campaign.
 
Alex Hyland was the only other Cat to participate as an all-around competitor, totaling a season-high 39.525. Tying a career-high 9.900 was good enough to be named bars victor, though her 9.900 floor routine tied a career benchmark, as well. Hyland also tied a season-high with a 9.875 consensus on vault.
 
Junior Hailey Poland made her season debut by tying a career-high on beam (9.875) and scoring 9.750 on floor. Freshman Josie Angeny logged a season-high 9.875 on beam, and junior Alaina Kwan set a new career-high on bars (9.850).
 
After a two-week home stand, Kentucky will hit the road next week for a contest with No. 6 Georgia (4-3, 2-2 SEC). The Wildcats will face the Bulldogs at 7 p.m. ET, televised live on the SEC Network.
For the latest on the Kentucky gymnastics team, follow @UKGymnastics on Twitter, Facebook, and Instagram, as well as on the web at UKAthletics.com.