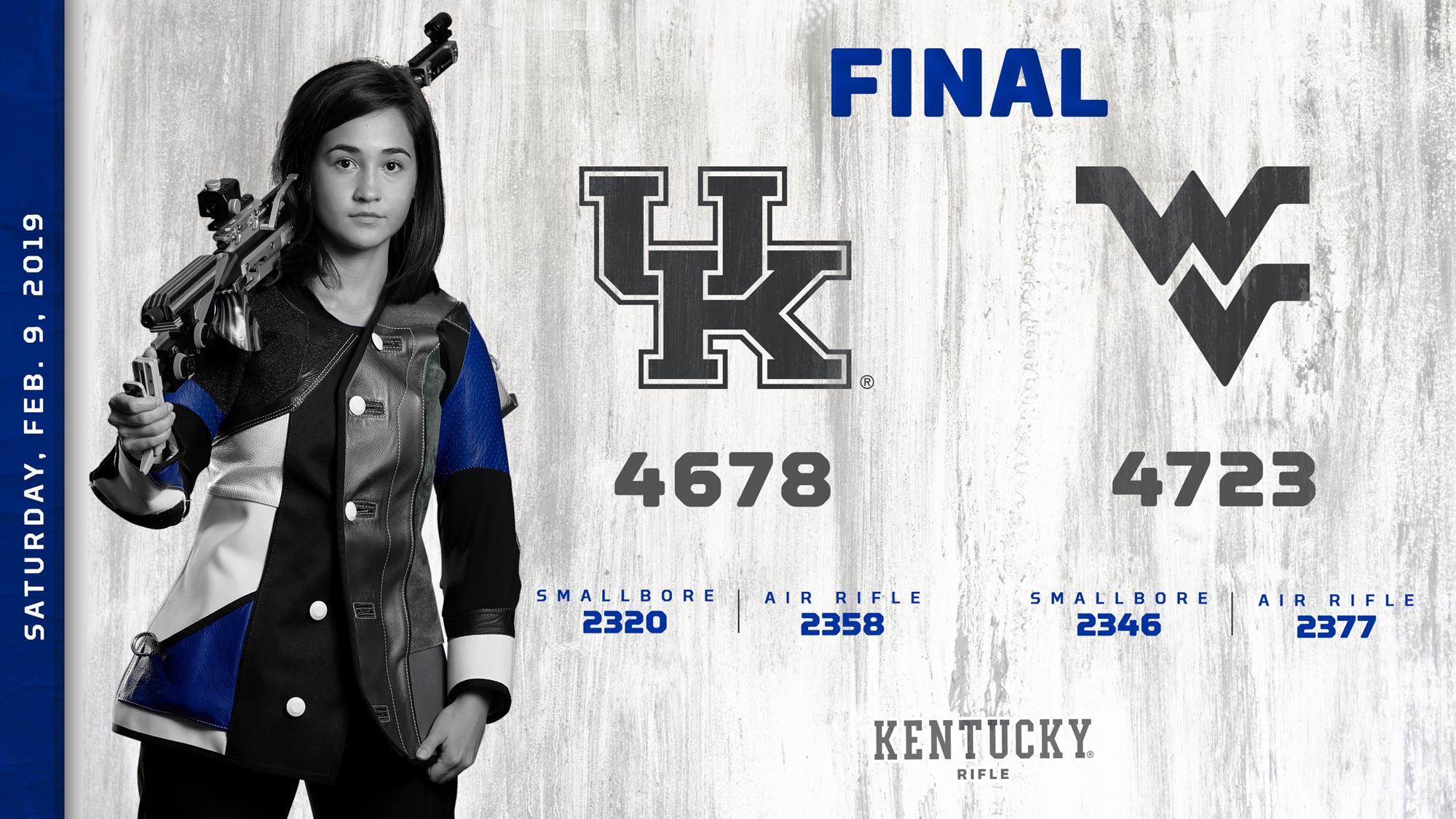 LEXINGTON, Ky. – Fourth-ranked Kentucky dropped its first match of the season, 4723-4678 to No. 2 West Virginia University on Saturday inside the Barker Hall UK rifle range.
 
As both teams entered Saturday's regular season-concluding match undefeated, WVU claimed the Great American Rifle Conference title.
 
Kentucky dropped to 11-1 (7-1 GARC), while WVU improved to 13-0 (8-0) GARC.
The Mountaineers claimed the GARC regular-season title for the sixth year in a row. UK last won the conference regular season title in 2013, ending a run of three straight titles.
WVU's score was the best any team has fired in Division I this season by four, and improved on their previous season best by 11.
 
"We shot some good scores and it was great to see Hanna (Carr) and (Cathryn) Papasodora shoot the smallbore (scores) they did," UK head coach Harry Mullins said. "Unfortunately, we fell short of the number that we were looking for. I think we've worked real hard the last two, three weeks getting to this point and we stumbled a little bit, but I think this is a team that has the resolve to bounce back for next weekend.
 
"The good and bad part is we have a lot of youth on this team and when you get into these bigger matches sometimes youth lacks a little bit of the experience and can't make the adjustments needed to be able to hit the numbers. Moving forward we've learned a lot and hopefully we get back into the number range we were looking for."
 
Senior Cathryn Papasodora was Kentucky's top aggregate individual with a score of 1174, tied for fourth best of the match overall.
 
Hanna Carr UK's No. 2 in the aggregate standings with 1172 (seventh overall), and Hailee Sigmon was 10th overall (third on UK) firing an aggregate score of 1168.
 
Smallbore report
West Virginia opened up a 2346- 2320 lead after smallbore.
Carr had UK's top score 587, third in the individual smallbore standings. The 587 was the senior's best smallbore score of the year by a point, followed closely by Papasodora with 584.
Sigmon fired a 575, while Richard Clarke and Jason Spaude rounded out UK's squad with a a pair of 574s.
 
Air rifle report
The Mountaineers outscored UK 2377-2358 in air rifle.
 
Hailee Sigmon led the Wildcats putting up a 593 that was fifth best in the overall AR standings.
Papasodora and freshman Richard Clark shot 590 as well.
 
Carr turned in a 585, while freshman Ruby Gomes shot 579.
 
Notes
UK and West Virginia have combined to win seven of the last eight team NCAA Championships, with UK bookending that span with titles in 2011 and 2018. WVU won five-straight between 2013-2017 (TCU won in 2012).
 
The Wildcats will face No. 16 Morehead State University next weekend, Feb. 16-17 to start of post-season competition.
 
The Great American Rifle Conference Championships will be Feb 22-24, and the NCAA Championships will be March 8-10.
 
Freshman Will Shaner, UK's aggregate average leader this season (1178.4), missed the match as he's been dealing with a seasonal illness that's been going around the UK campus and throughout the UK team the past few weeks.
 
—                                                                                                                                                              —
For the latest on the Kentucky rifle team, follow @UKrifle on Twitter, Instagram and Facebook, as well as on the web at UKathletics.com.