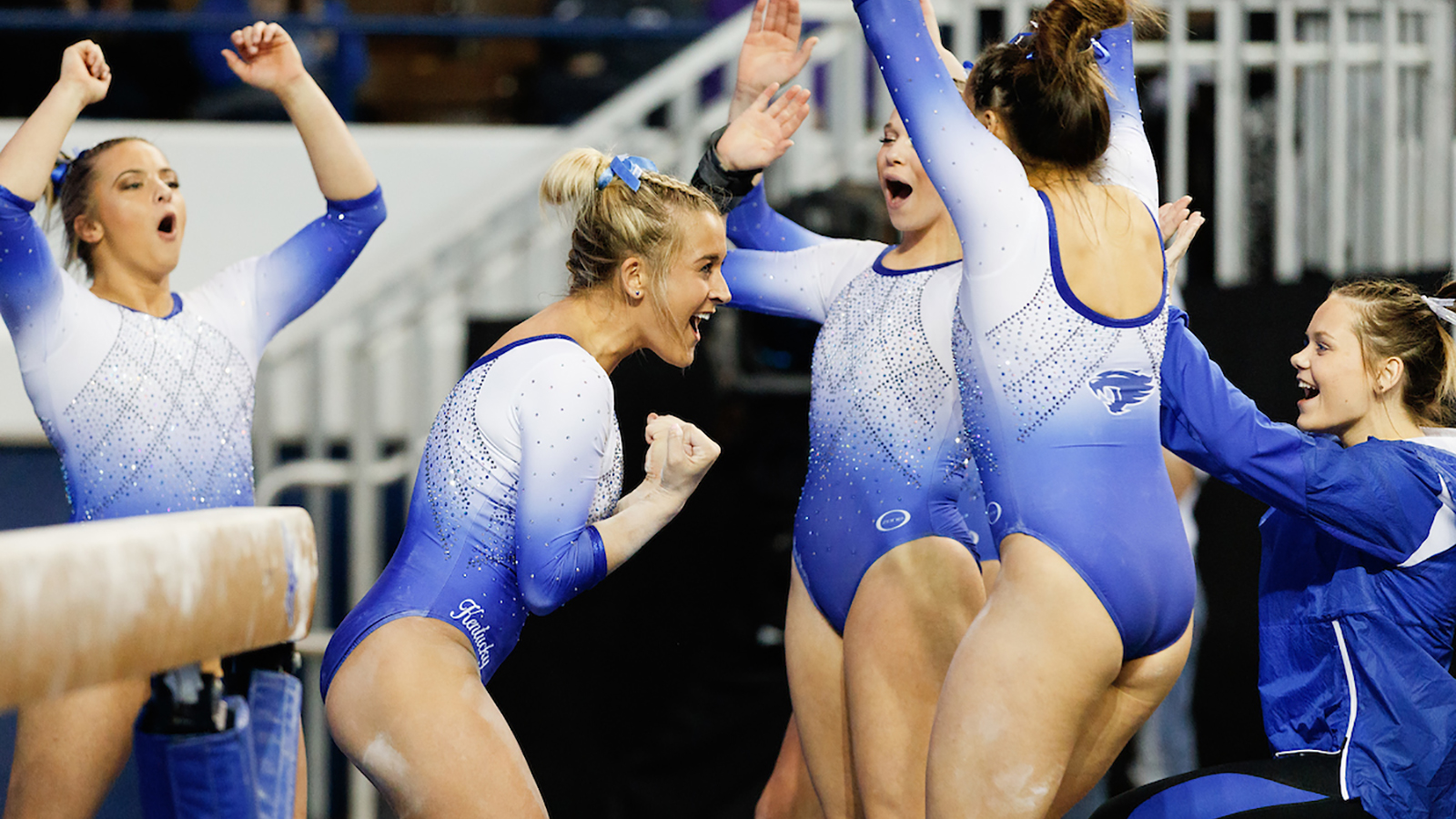 February 9, 2019 - 12:49 AM
Kentucky Gymnastics Notches Special Performance on Friday
After last week's meet against Auburn, Kentucky gymnastics head coach Tim Garrison said that once his team got healthy and nailed down its lineup, the Cats could be really good.
Garrison's team gave everyone a glimpse of exactly what that looks like in Friday's meet against No. 5 LSU. The Cats set team season highs on the vault (49.200), bars (49.300), beam (49.425) on their way to a season-high team score of 197.150 and an upset of the fifth-ranked Tigers. The 197.150 is the second-highest score in school history.
Garrison was thrilled with his team's performance on Friday.
"Great night, an amazing night," Garrison said. "To be able to put four events together, perform like we did and come out with a 197-plus score, that's huge. Then, to beat an SEC opponent that is a very tough, top-five opponent, to beat them it's a special night. It's a special night for the kids and I think it's one of those nights that will help us moving forward."
Kentucky beat LSU for just the fifth time in 87 tries in the history of the program. And the Wildcats did it in style, putting together just the fifth 197-plus score in school history, and the best performance since a school record 197.475 two years ago against Alabama.
Garrison knew that the patience showed by his team and his coaching staff would pay off.
"We've been talking a long time, all season long, preseason, early season, about being patient and just waiting, our time is coming," Garrison said. "We're going to be able to get people in the lineups, hit the routines we need to hit, be able to score what we need to score, and it feels like it's turning that corner. We have the team to be able to do it, it's a matter of performing at the right time and they did that tonight."
Senior Alex Hyland knows, like her head coach, that having the right lineups is essential for this team.
"It's really important," Hyland said. "Obviously, it all fell together tonight and that's what we need going into the postseason. We need to have those lineups and know that we trust the people in front of us and we trust everybody on the team to hit their routines and that's exactly what we did."
Hyland, who was runner up to teammate Mollie Korth in the all-around, was excited that her team performed so well on Friday.
"It is amazing, it's exactly what we've been working for since the beginning of preseason and our first meet," Hyland said. "It's just exactly what we wanted to happen tonight."
Hyland also thought the team fed off each other's energy and momentum in Friday's victory.
"That definitely does help," Hyland said. "We're taught in the gym to, if we do have a fall, we need to bounce back and get the momentum back. Today, it was so easy to feed of everybody's momentum. We just, as a whole, did so well tonight and I'm so proud of everybody."
Junior Hailey Poland, who made her first appearance of the season, thinks the Cats are very confident at this point in the season.
"I think it really showed, the last few weeks, we've been trying to figure out our groove and just really get the team settled and our lineup is really strong," Poland said. "I think our confidence is so strong and, it's a home meet, and we just really needed a great performance and I think tonight was the night to do that. And, against a really good team and it's always fun to get 197, so I think the team really came together this week."
Kentucky is getting healthy and setting its lineups, which could make this team a threat when the postseason comes around.