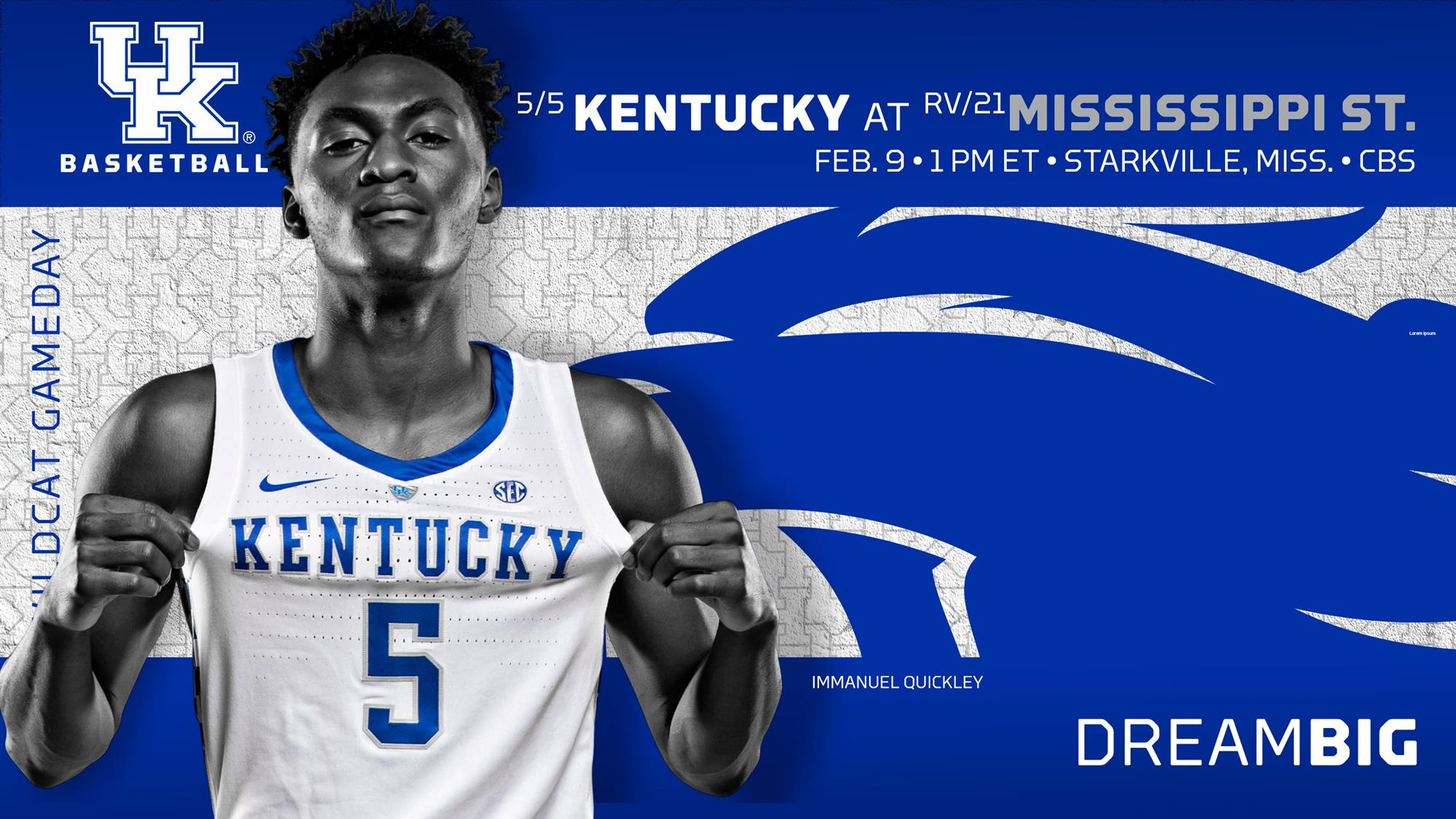 February 8, 2019 - 04:25 PM
UK Takes Improved Defense to Mississippi State for Rematch
Navigating the grind that is regular-season play in the Southeastern Conference, it's inevitable for games to become somewhat of a blur.
 
Ashton Hagans has good reason to remember Kentucky's first matchup with Mississippi State though.
 
"I think that's when we started stepping up a lot more on defense," Hagans said. "We started coming together as a team, realizing what we needed to do and getting better at stopping the 3. That's when we were getting that all together, just coming along and getting better from there."
 
Hagans' memory serves him well, because the game against the Bulldogs began the Wildcats' best stretch of defense to date.
 
Over the last five games, UK has allowed an average of just 54.4 points per game and 0.81 points per possession. No team from among Mississippi State, Kansas, Vanderbilt, Florida and South Carolina has shot better than 40 percent from either inside or outside the arc and twice UK has held opponents to their fewest points per possession of the season. And if it had not been for a late 3-point barrage by Kansas, it would have been three times.
 
"The guys are taking a personal challenge on individually not being the guy that breaks us down," assistant coach Tony Barbee said. "When it becomes that important to you individually to protect each other collectively then we become pretty good, especially with the pieces that we have, the length, the size, the physicality and size, the quickness on the perimeter. And then when you've got a couple of pit bulls at the top of your defense in Ashton and Immanuel (Quickley), it makes it really hard for the other team."
 
Over the two-a-half weeks leading up to a rematch with the No. RV/21 Bulldogs (16-6, 4-5 SEC), No. 5/5 UK (19-3, 8-1 SEC) has moved up nine spots to eighth nationally in adjusted defensive efficiency according to kenpom.com. That's a far cry from a couple months ago when John Calipari described his defense as one of the worst he's ever coached.
 
Kentucky at Mississippi State

Sat., Feb. 9 – 1 p.m. ET
Humphrey Coliseum
Starkville, Miss.
Game Notes: UK | MSU
UK Athletics App Digital Guide

Coverage

TV: CBS
Radio: UK Sports Network
Watch
Listen
Live Stats

UK
2018-19 Stats
MSU
19-3
Record
16-6
8-1
Conference Record
4-5
79.0
PPG
79.0
65.1
Opp PPG
71.3
.477
FG%
.474
.405
Opp FG%
.441
39.2
RPG
36.5
.355
3PT FG%
.370
.354
Opp 3PT FG%
.350
.753
FT%
.723
14.2
APG
15.3
6.9
SPG
8.0
5.1
BPG
5.1

"It was 100 percent true," Barbee said. "We were bad through the first seven, eight, nine games of the year. It was just the young guys getting a feel for it at this level and us collectively trusting each other defensively."
 
That trust was born out of one simple fact.
 
"We just noticed that we hate losing," Nick Richards said. "Everybody on this team just loves winning, so we just gotta do whatever it takes to win. We just figured out that defense is one of the most important things that we gotta do."
 
That proved to be true, as UK hasn't done much losing lately. The Cats will take a nine-game winning streak to Starkville, Mississippi, where the Bulldogs will look to avenge that earlier defeat Saturday at 1 p.m. They are certainly capable.
 
"They're physical," Barbee said. "They're as big and as physical as any team in the league, and then you've got the experience in the backcourt with (Lamar) Peters and the Weatherspoon brothers (Quinndary and Nick). They have all of the dynamics to be a fantastic team, and you see Reggie Perry kind of growing up before your eyes the way he's playing the last five games or so. It's really made them a potent team."
 
Motivated, too. Not only will the Bulldogs have a previous defeat to UK on their minds, they also will be thinking about an overtime home loss to LSU suffered this week.
 
"They're going to come out with a chip on their shoulder," Hagans said. "They lost at home (Wednesday). So, they're going to come out ready to fight. So, we've just got to be prepared and stay focused."
 
UK's coaching staff expects no issues on that front.
 
"Practices are so competitive that you can't expect a letdown in the games," Barbee said. "These guys have been practicing, going after each other, competing against each other, they're having fun together, and so, it doesn't matter the opponent on the floor, they're going to come to play every night."
Wildcats Extend Winning Streak to Nine Games
Kentucky used a stellar defense to maintain its roll and throw South Carolina off kilter.
PJ Washington scored 20 points as UK routed South Carolina 76-48 Tuesday night for its ninth consecutive victory.
The Wildcats (19-3, 8-1 Southeastern Conference) shot just 41 percent but held the Gamecocks to just 27.6 percent in the second half and  35.8 percent overall. It was the seventh time in eight games they've held an opponent to less than 40 percent. Kentucky outscored South Carolina 17-4 over the final 5:14 to lead 39-28 at the break and stretched its advantage to 29 with 3:23 remaining.
Washington fell short of his fourth consecutive double-double but posted his fourth 20-point game in the past five. He also had five rebounds and two steals.
"Defense is a big part of why we're winning," Washington said. "We're stopping teams and forcing them to get out of their game plans, and it's great to stop teams like that."
Tyler Herro and Reid Travis each added 11 points for the Wildcats, but freshman forward EJ Montgomery might have been the happiest contributor after the kind of performance coach John Calipari suggested was possible.
Montgomery came off the bench to post career highs of 11 points and 13 rebounds, his first career double-double. Kentucky dominated South Carolina 50-27 on the glass and forced 19 turnovers leading to 26 points.
"I just kept my head up, stayed focused and kept working," said Montgomery, who had an assist, block and a steal in 20 minutes. "I knew my time was coming, and I guess today was the day."
Added Calipari, "This was a game for him to prove it against a really physical team."
The Wildcats stayed within a game of the conference lead in the process and improved to 28-2 at home against the Gamecocks (11-11, 6-3).
• Kentucky's nine-game winning streak is its longest since winning 14 in a row late in the 2016-17 season
• The Wildcats are limiting opponents to 58.0 points per game and 37.3 percent from the field during the winning streak
• UK leads the series 52-12 and 28-2 in Lexington
• South Carolina scored 48 points. UK is a perfect 71-0 under Calipari when keeping the opponent to 55 points or less, including 7-0 this season
• Kentucky has held each of its last six opponents to 63 points or less, the first time that's happened since an eight-game stretch from Jan. 13-Feb. 7, 2015
• The Gamecocks shot only 35.8 percent from the field. UK is 175-15 under Calipari when keeping the opponent at 40 percent or less, including 10-0 this season. UK has held seven of its last eight opponents to 40 percent or less
• UK is now 238-40 vs. unranked competition under Calipari
• Kentucky improved to 252-5 under Calipari when leading by at least 10 points at any point in the game
• UK outrebounded South Carolina 50-27 and improved to 16-1 when outrebounding its opponent. The plus-23 margin is UK's largest of the season in SEC play and third-largest of the season.
• The Wildcats improved to 9-0 on the season with at least seven thefts after picking up 11 steals
• Kentucky has won 16 straight, including all 13 this season in Rupp Arena
• Washington has scored 20 or more in a team-high six games this season and he's hit double-figures in seven straight
• Reid Travis neared a double-double with 11 points and nine rebounds to go along with a season-high three steals
S-E-C! S-E-C! S-E-C!
 
Kentucky has the unquestionable reputation as the league's gold standard. Since the SEC's inception in 1932-33, the Wildcats have been the most dominant team in the league, recording a 990-279 mark (.780) in regular-season conference play. Only two other teams have won more than 700 regular-season SEC games (Alabama and Tennessee), and no other team has a better winning percentage.
• Kentucky has averaged 11.6 wins and only 3.3 losses per season in 85 seasons in the SEC
• UK has won 48 SEC titles and 31 SEC Tournament championships
• The Wildcats have won 16 of the last 26 SEC Tournament titles
• Kentucky has won at least a share of five of the last nine SEC regular-season championships under head coach John Calipari
• UK has played in the championship game of the SEC Tournament in eight of Calipari's nine seasons, winning the tournament six times, including each of the last four
• Eight teams made the 2018 NCAA Tournament field, the second most of any league in the country and a new conference record. The league went 8-8
• Three teams from the SEC rank in the Feb. 2 Associated Press Top 25 with two more receiving votes. Two weeks ago, the SEC had six teams in the AP Top 25, the most since the league had six on Jan. 21, 2003
• Eight SEC schools rank in the top 50 of the NCAA's Feb. 5 NET rankings
• The SEC's .747 winning percentage entering league play was its second-best winning percentage in the last 10 years, behind only last season's .763 mark
Calipari Approaching Major Victory Milestones
With a 294-67 record as Kentucky's head coach since 2009-10, John Calipari in his 10th season is on the verge of two major milestones.
Up first is win No. 297, which would tie him with Joe B. Hall for the second-most wins in program history. He's also within six wins of No. 300 as Kentucky's head coach.
Having coached 361 games to date with the Wildcats, he's within striking distance of becoming one of the five fastest coaches to 300 wins at one program in NCAA history. Bill Self at Kansas won his 300th game in the fastest time span of 358 games. Adolph Rupp owns the mark at Kentucky. He achieved win No. 300 in just 366 career games.