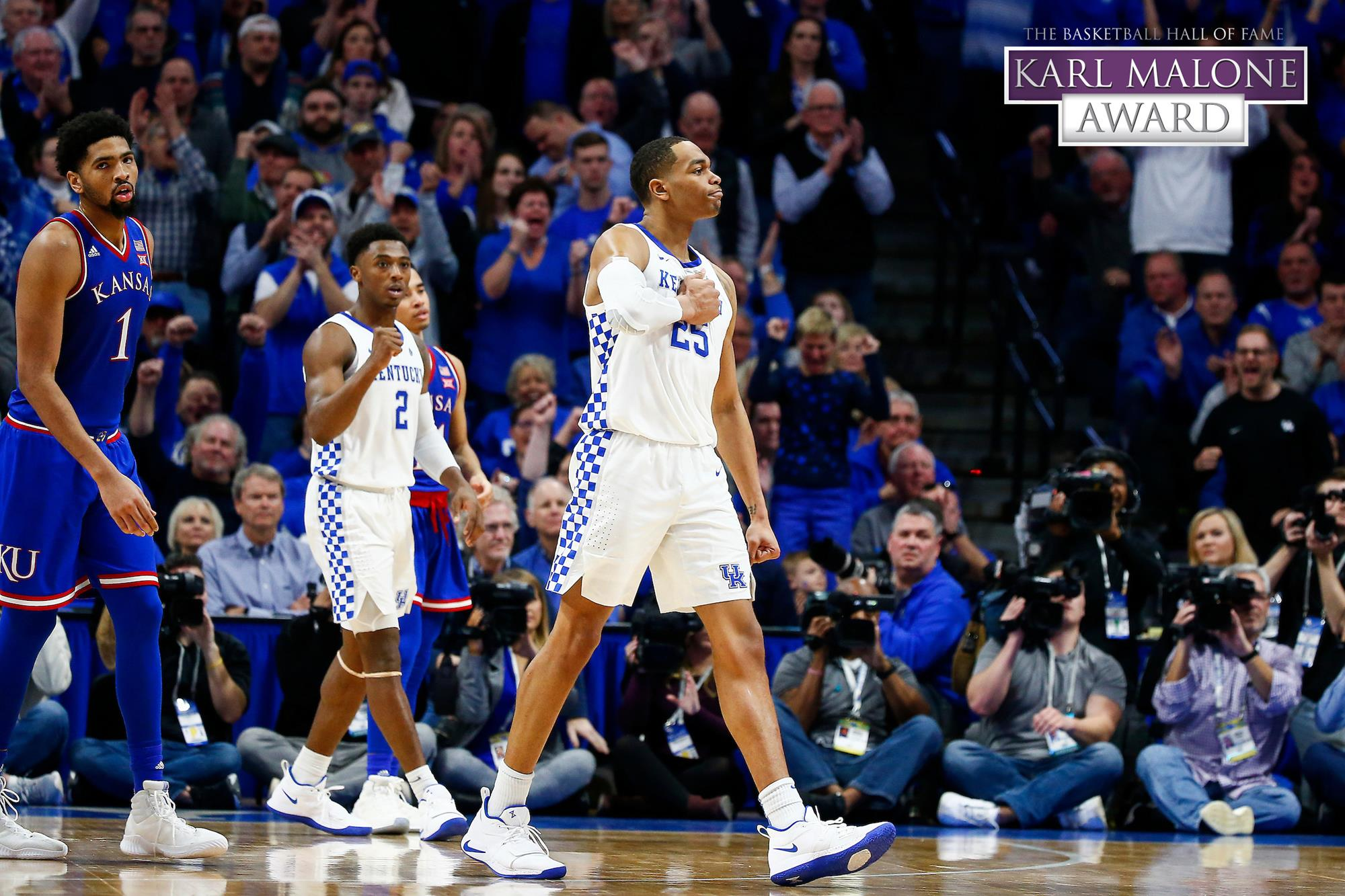 February 7, 2019 - 01:08 PM
Washington Among 10 Candidates for Karl Malone Award
SPRINGFIELD, Mass. – Kentucky men's basketball sophomore forward PJ Washington has been named to the Naismith Memorial Basketball Hall of Fame Watch List for the 2019 Karl Malone Award honoring the nation's best power forward. Washington is one of 10 midseason candidates.
 
Named after Naismith Memorial Basketball Hall of Famer Karl Malone, a 14-time NBA All Star and 11-time All-NBA First Team player, this year's award will be presented at the ESPN College Basketball Awards Show in April. Washington is looking to become the first Wildcat to win the award since its inception in 2015.
 
Previous winners of the Karl Malone Power Forward of the Year Award include Deandre Ayton, Arizona (2018); Johnathan Motley, Baylor (2017); Georges Niang, Iowa State (2016); and Montrezl Harrell, Louisville (2015).
 
Including Washington, the Southeastern Conference is also represented by Tennessee's Grant Williams among the 10 candidates.
 
Washington has shown flashes of dominance and has turned into one of Kentucky's most consistent leaders.
 
In New York vs. Seton Hall, Washington scored a career-high 29 points to go along with 12 rebounds, a career-high-tying four blocks and four assists. Washington ignited the Wildcats early, was Kentucky's go-to player late in the game with 16 of the Wildcats' final 33 points in regulation and overtime, and was clutch at the free-throw line, making a career-best 12 of 13 from the charity stripe.
 
Then vs. No. 9/10 North Carolina, Washington put his full arsenal of skills on display with a memorable all-around performance. He posted 11 points, 10 rebounds and a career-high eight assists, just missing out on the fourth triple-double in school history. He settled for his team-leading fourth double-double of the season in just 11 games.
 
In a big win over No. 22/22 Mississippi State, Washington had a game-high 21 points, which included making a trio of 3s. He also added six boards and a career-high-tying four rejections. He followed that up with 20 points and 13 rebounds vs. No. 9/10 Kansas marking the first back-to-back 20-point scoring efforts of his career.
 
Washington's dominating stretch continued with an impressive 26-point, 12-rebound, three-steal, two-assist game on the road at Vanderbilt, followed by 15 points and 12 rebounds in a starring comeback role at Florida. He became the first UK player to post consecutive 20-10 games (vs. Kansas and at Vanderbilt) since Julius Randle had three straight in November 2013 and he's the first player with three straight double-doubles since Randle did it in March 2014.
 
Over the last five games, Washington is averaging 20.4 points, 9.6 rebounds, 1.4 blocks, 1.2 assists and 1.2 steals per game. He's shooting 48.7 percent from the floor and 47.1 percent from long range, making eight 3s. Furthermore, he's connecting on 76.9 percent of his foul shots with an average of 5.2 trips a game.
 
All told, Washington is averaging 13.8 points on the season and a team-best 8.3 rebounds while shooting 50.2 percent from the floor. He's also posting 1.8 assists and 1.1 blocks per game and leads the team with seven double-doubles.
 
A year after hitting just five 3s in 37 games at a 23.8-percent rate, he's already drained 19 this season in just 22 games and is making them at a 41.3-percent clip.
 
Earlier this season, Washington had an equally impressive three-game stretch vs. North Dakota, VMI and Winthrop in which he averaged 21.0 points, 12.0 rebounds and 2.7 assists. Included in that stretch was a 25-point game that featured a career-best four 3-pointers, back-to-back double-doubles and a career-high 18-rebound game against VMI.  
 
Five finalists will be revealed in March with the winner being announced during the annual ESPN College Basketball Awards show on April 12.
 
Kentucky returns to action with a road contest at Mississippi State on Saturday. The game is set to air live on CBS with a tip time of 1 p.m. ET.
 
For the latest on the Kentucky men's basketball team, follow @KentuckyMBB on Twitter, Facebook, and Instagram, and on the web at UKathletics.com.