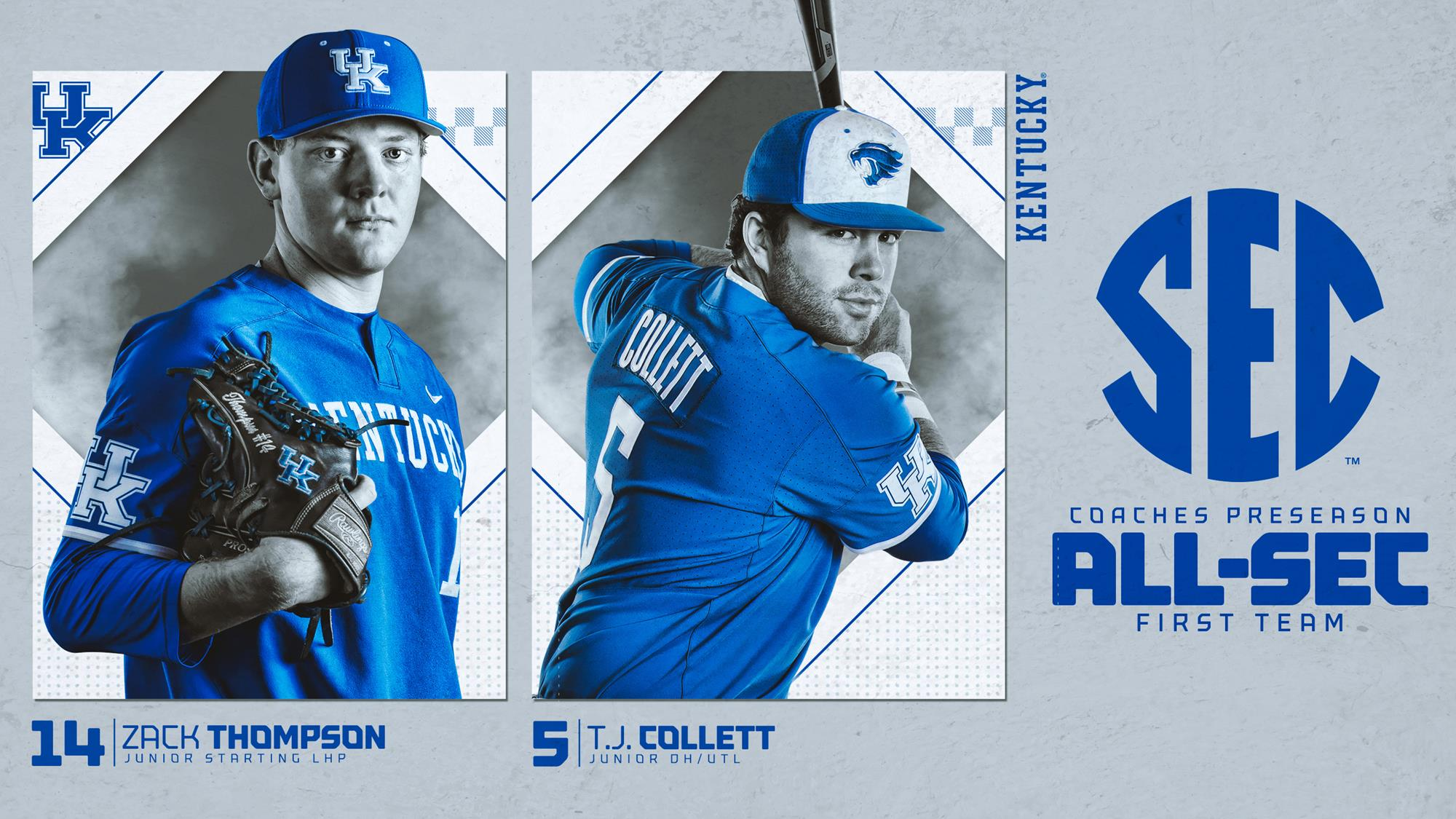 LEXINGTON, Ky. – Kentucky juniors T.J. Collett and Zack Thompson have been named to the 2019 Coaches Preseason All-Southeastern Conference First Team, the league announced on Thursday. The vote by the league's coaches honored Collett as the top designated hitter/utility player and Thompson as one of two starting pitchers.
 
Thompson also was named to USA Baseball's Golden Spikes Award watch list on Thursday. The award is given to the top amateur baseball player in the country.
Thompson, a 6-foot-3, 225-pounder from Selma, Indiana, is considered one of the top prospects for this summer's MLB Draft and is expected to fill UK's coveted Friday night starter role held by former Southeastern Conference Pitcher of the Year Sean Hjelle the past two seasons. He was recently named Preseason First-Team All-America by Baseball America, which is voted on by Major League Baseball scouting directors. The southpaw is 10-4 with a 3.88 earned run average and 138 strikeouts in 106.2 innings over his first two seasons. He has appeared in 29 games with 20 starts during that time.
 
Long praised for his talent, Thompson lived up to his reputation last summer while with the USA Baseball Collegiate National Team, which went 12-3 overall in three series against Chinese Taipei, Japan and Cuba. Thompson went 1-0 and did not allow a run in 8.2 innings while appearing in one game against each country. He yielded just three hits and struck out seven, earning the win in the series-clinching game of the 7th annual USA-Cuba International Friendship Series.
 
Thompson's pristine summer with USA Baseball came on the heels of a sophomore season where he missed two months due to injury, yet still flummoxed hitters when healthy. He made nine appearances with seven starts, posting a 2-1 record in 31.0 inning and allowed just 24 hits while striking out 42, good for a 12.19 K/9 innings rate. Opponents hit just .212 and had only five extra-base hits against him.
 
As a freshman in 2017, he pitched in 20 games, starting 13, and went 8-3 with a 3.45 ERA in 75.2 innings. He gave up just 50 hits and struck out 96, earning First-Team Freshman All-America honors from Perfect Game/Rawlings. His performance ranks second on UK single-season list for hits allowed per nine innings with just 5.95, and he enters the 2019 season second on the school's career list in the same category.
 
Thompson ranks among Division I-A's active leaders in both hits allowed per nine innings (6.24) and strikeouts per nine innings (11.64), both of which are currently the second-best career marks among active SEC pitchers. His 138 career strikeouts in just two seasons leaves him needing just 62 to become the 14th UK pitcher to reach 200 and 77 shy of moving into the school's all-time top 10. He currently ranks second on the program's all-time hits allowed per nine innings chart.
 
Collett, a junior from Terre Haute, Indiana, is considered one of college baseball's elite power threats. Although his sophomore season was cut short by injury, he hit .304 with 10 home runs and 34 RBI in just 125 at bats, good for a .576 slugging percentage and impressive .989 OPS. He had a 13-game hitting streak, reached base in 17 straight games and had a stretch where he became the first Wildcats player to homer in four straight games since All-American Sawyer Carroll in 2008.
 
Collett was named one of Collegiate Baseball's National Player of the Week honorees on Feb. 26, 2018 after his home run binge and followed up the award by homering in three straight games, which included two in Minute Maid Park, the home park of MLB's Houston Astros. His shot in a win over Louisiana sailed into the upper deck.
 
The Wildcats open their season at Austin Peay on Friday, Feb. 15.