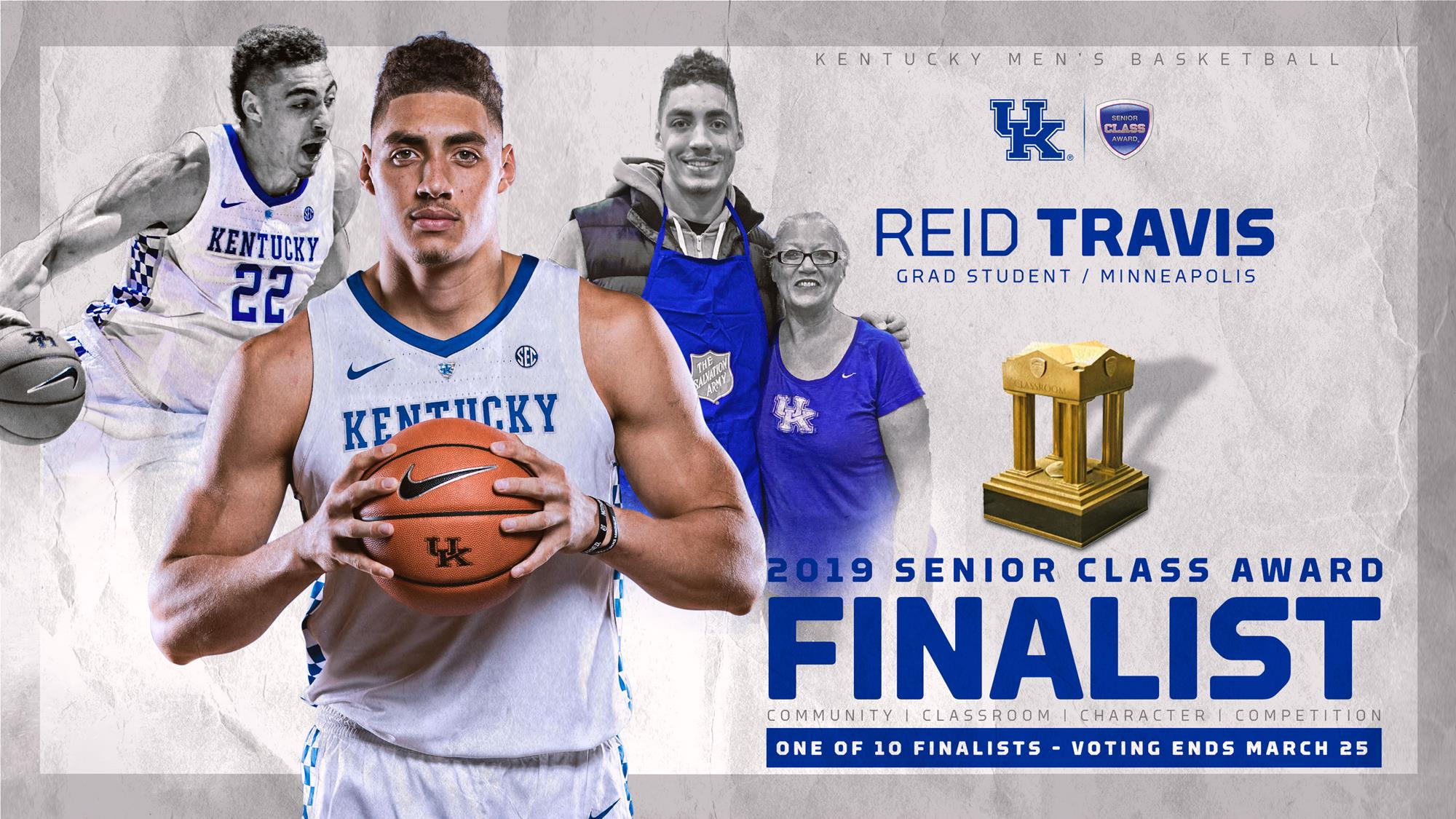 February 6, 2019 - 03:44 PM
Reid Travis Named a Finalist for the Senior CLASS Award
LEXINGTON, Ky. – Kentucky men's basketball forward Reid Travis was named a finalist for the Senior CLASS Award the organization announced on Tuesday. Honoring student-athletes who excel both on and off the court, the candidates must be classified as an NCAA Division I senior and have notable achievements in four areas of excellence in community, classroom, character and competition to be eligible for the award.
 
An acronym for Celebrating Loyalty and Achievement for Staying in School, the Senior CLASS Award focuses on the total student-athlete and encourages students to use their platform in athletics to make a positive impact as leaders in their communities.
 
Travis is one of 10 finalists and is officially on the ballot for a nationwide vote from fans, coaches and media. Fans are encouraged to submit votes online at the Senior CLASS Award website through March 25. Fan votes will combine with those of the media and Division I head coaches to determine the winner. The Senior CLASS Award recipient will be unveiled during the 2019 NCAA Men's Final Four.
 
Travis graduated from Stanford University in June with a degree in science, technology and society before transferring to Kentucky as a graduate student this summer. He completed one semester in UK's master's program in health promotion with an emphasis in sport leadership. Travis is intrigued by career aspirations in technology entrepreneurship after his time in Silicon Valley.
 
While at Stanford, he served the Ronald McDonald house once a month, interacting with families and serving dinner. The Cardinal became close with one particular patient, Ty from Lake Tahoe, and the squad adopted him as a member of their team. Ty spent time at practices and games while getting treatment at Stanford. Additionally, Travis has been a mainstay as a volunteer alongside his mom, Jacqueline, at their hometown church in Minneapolis. He's assisted her with setups and the organization of various meals and mass preparation.
 
While at Kentucky, he helps oversee the execution of UK's God's Pantry initiative as a part of his "Good Deeds" project. He is a part of the organization of stuffing bagged lunches and deliveries to local elementary schools. The entire team participated in Samaritan's Feet in the Bahamas, worked with the Salvation Army at Thanksgiving and served families at Christmastime.
 
A Minneapolis native, Travis was a three-year captain for the Cardinal and has proved to be one of Kentucky's vocal leaders for the Wildcats this season. Travis endured a redshirt season after suffering a left leg injury that halted his sophomore season. He overcame the injury to generate his two most productive campaigns during his junior and senior seasons at Stanford.
 
On the court, he is a two-time first-team All-Pac 12 selection. He was named to the National Association of Basketball Coaches All-District First Team and the U.S. Basketball Writers Association All-District team a season ago. Travis capped his career with the Cardinal having become one of just three players in program history to amass at least 1,400 career points and 700 rebounds in fewer than 100 games played. He ranked third in the Pac-12 in both scoring (19.5 points per game) and rebounding (8.7 rebounds per game) while scoring in double-figures in all but one game.
 
This season, Travis is averaging 11.9 points and 6.9 rebounds per game for the 19-3 Wildcats. He's connecting on 52.7 percent of his field goals – the best mark on the team of players with 50 or more shot attempts – and 72.5 percent of his free throws, a career-high mark. He's blocked 16 shots already this season, which nearly tops his previous three seasons combined.
 
Travis has been at his best against the best. He's averaging 16.4 points and 9.0 rebounds per game in Kentucky's five games vs. Associated Press Top 25 opponents.
 
Travis joins Clayton Custer (Loyola-Chicago), Mike Daum (South Dakota State), Jon Elmore (Marshall), Ethan Happ (Wisconsin), Luke Maye (North Carolina), Drew McDonald (Northern Kentucky), Josh Perkins (Gonzaga), Dylan Windler (Belmont) and Justin Wright-Foreman (Hofstra) as finalists for the award.
 
The Wildcats return to action on Saturday at 1 p.m. ET at Mississippi State. The game will air live on CBS.
 
For the latest on the Kentucky men's basketball team, follow @KentuckyMBB on Twitter, Facebook, Instagram and on Snapchat, and on the web at UKathletics.com.