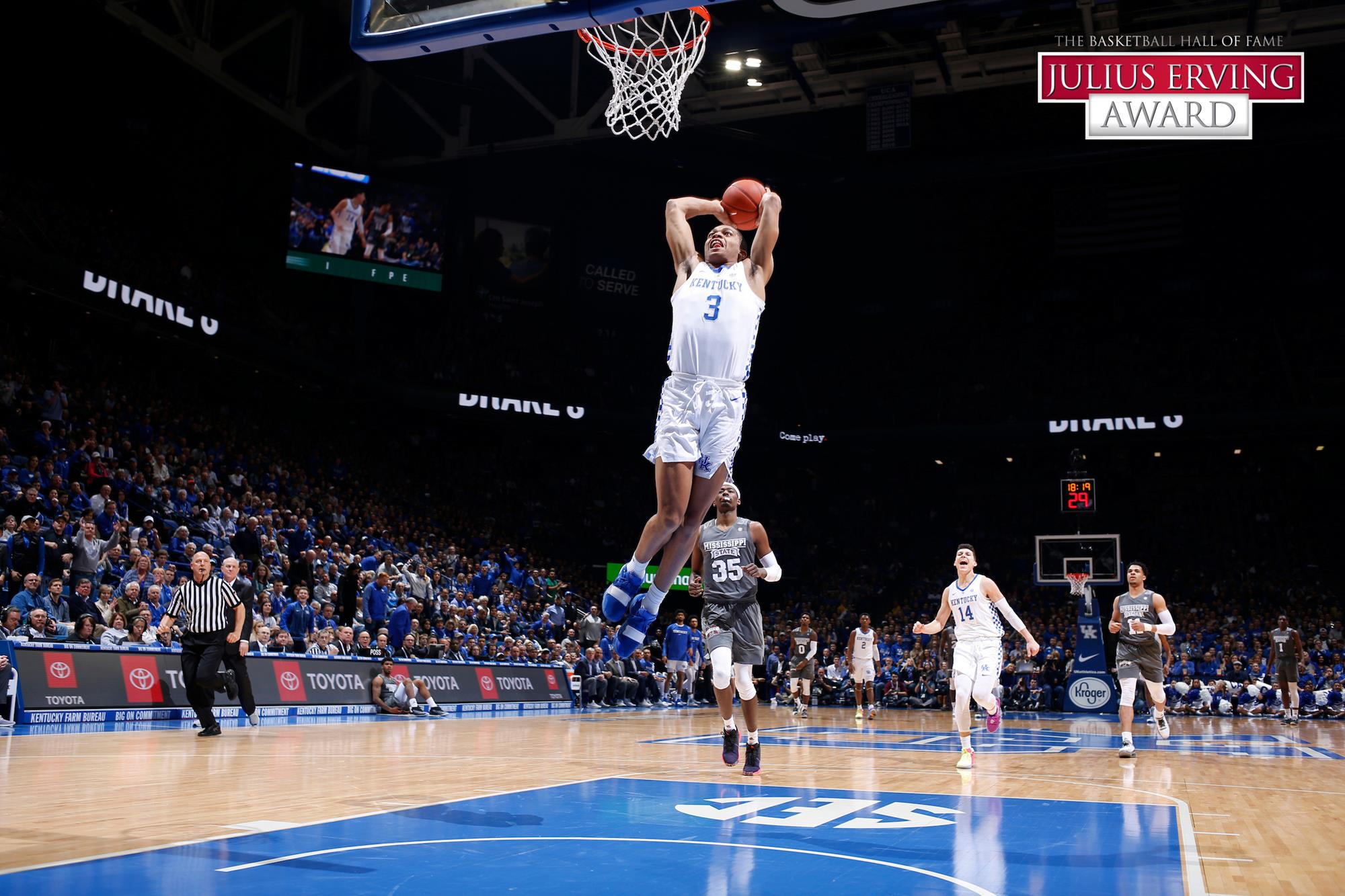 February 6, 2019 - 01:00 PM
Johnson Tabbed Julius Erving Award Finalist as Top Small Forward
SPRINGFIELD, Mass. – Kentucky men's basketball leading scorer Keldon Johnson is one of 10 finalists for the 2019 Julius Erving Award, presented annually to the nation's top small forward by the Naismith Memorial Basketball Hall of Fame.
 
Named after Naismith Memorial Basketball Hall of Famer Julius Erving, a three-time world champion (one NBA title, two ABA titles) and four-time MVP (one NBA MVP, three ABA MVPs) this year's award will be presented at the ESPN College Basketball Awards Show in April. Johnson is looking to become the first Wildcat to win the award since its inception in 2015.
 
Previous winners of the award include Mikal Bridges, Villanova (2018); Josh Hart, Villanova (2017); Denzel Valentine, Michigan State (2016); and Stanley Johnson, Arizona (2015).
 
Johnson is the only freshman among the midseason finalists and one of two Southeastern Conference players, along with Tennessee's Admiral Schofield.  
 
The 6-foot-6 freshman from South Hill, Virginia, is leading the Wildcats in scoring with 14.0 points per game. He's been Kentucky's most consistent scorer this season with a team-high-tying five games with 20 or more points and a team-high-tying 17 games in double figures.
 
Johnson is making 48.6 percent of his shots and 40.8 percent from behind the arc. He's made 31 3-pointers, behind only Tyler Herro's 36, and is also pulling down 5.2 rebounds per game, the third-best mark on the team.
 
As of Feb. 6, Johnson is the only freshman in the country averaging at least 14.0 points per game, shooting at least 48 percent from the field, at least 40 percent from 3-point range and made at least 30 3s.
 
Johnson has been particularly good in Kentucky's biggest games this season. He's averaging 17.6 points per game on 56.4-percent shooting and 50.0 percent from behind the arc, in addition to 5.0 rebounds per game in UK's five matchups with Associated Press Top 25 foes.
 
He scored 21 vs. No. 9/10 North Carolina and 20 at No. 14/12 Auburn. He was 7 for 11 from the floor in both games. Against No. 9/10 Kansas, Johnson posted a double-double with 15 points and 10 rebounds in UK's third victory in three games over an AP Top 25 opponent.
 
Five finalists will be revealed in March with the winner being announced during the annual ESPN College Basketball Awards show on April 12.
 
Kentucky returns to action with a road contest at Mississippi State on Saturday. The game is set to air live on CBS with a tip time of 1 p.m. ET.
 
For the latest on the Kentucky men's basketball team, follow @KentuckyMBB on Twitter, Facebook, and Instagram, and on the web at UKathletics.com.