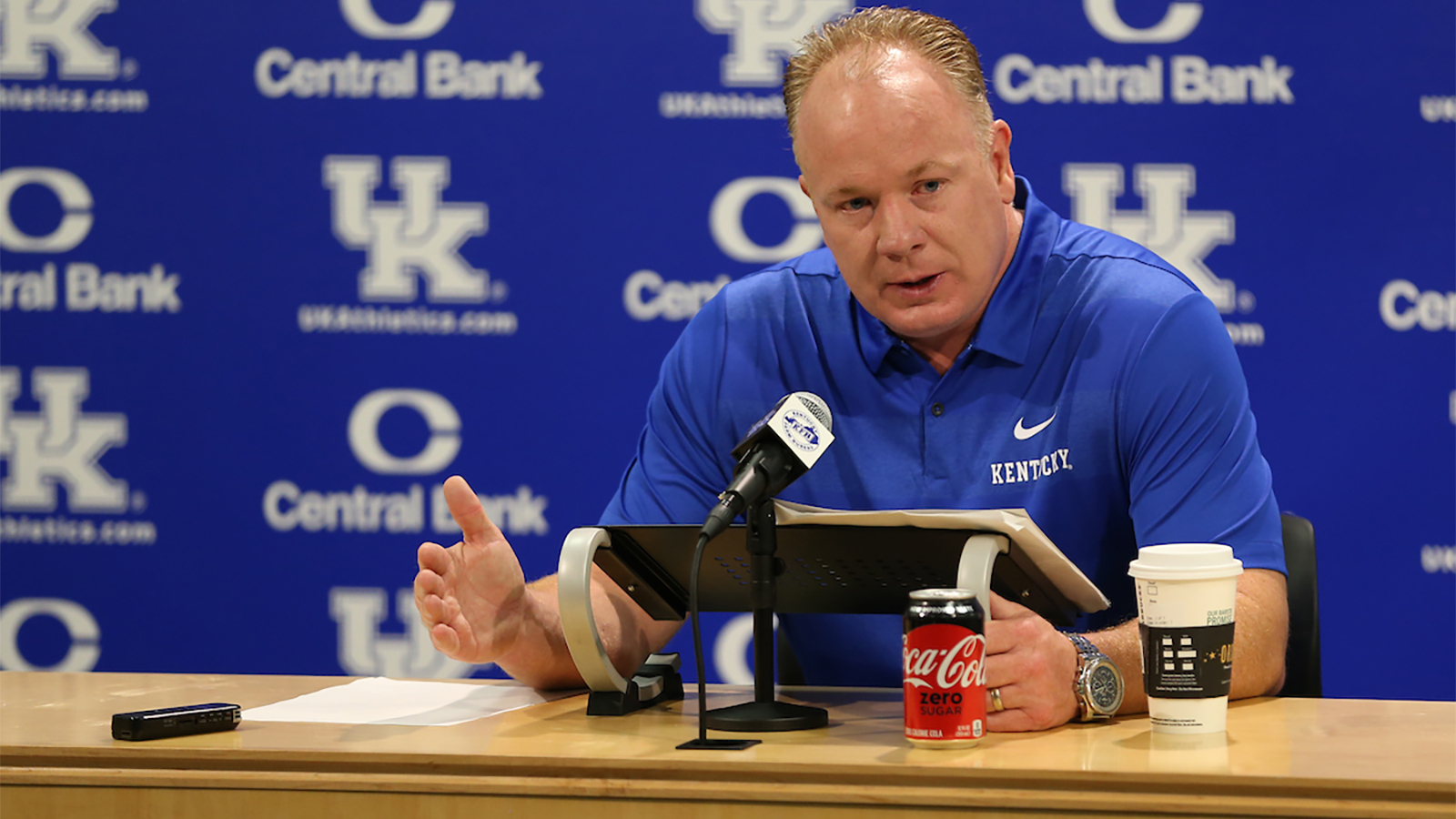 University of Kentucky Football Media Conference
Wednesday, February 6 2019
Mark Stoops
MARK STOOPS: Pleased to announce the addition of MJ (Devonshire), cornerback out of Aliquippa, Pennsylvania. Really good player, has great size, great speed, very versatile player who can play offense. He can play defense. We needed him. We needed to add another athlete to the class, and really pleased to announce MJ joining us. He's got — like I said, he's got really good size. He's all of six foot now, getting thicker, getting heavy. Very good basketball player, very good athlete, and pleased to announce him to our class.
At that point, that'll be it. That puts us near our mark of 85 on scholarship. To be good, we didn't really over-sign this year, which is really critical. Next year we're going into the year without any attrition, which I do anticipate some attrition. Everybody is getting that in this day and age, which can be helpful, quite honestly, at times. But going into the year, we only have nine seniors going into next year. So, coming off the best season we've had in a long time. Next year will be the smallest class that I've signed. So there's just no way around that. I do anticipate some attrition and hopefully we'll get a few scholarships back somewhere along the line. But it's going to be a year where we have great momentum but we have to be very selective heading into this next class in '20.
Q. Both MJ and the corners you signed in December, how much do you need those guys to play right away?
MARK STOOPS: Yeah, it was very important. We know what we lost in the secondary. I feel confident with the guys we have on campus, but we needed depth. We needed numbers. We needed some athletes, and I feel good about the guys we've signed.
Q. Of the guys you redshirted and didn't play last year, which of those guys do you think will stand out?
MARK STOOPS: I'm going to hold off on that just to wait. They've got to prove a lot, and we've got to keep those guys hungry and motivated and push them. I will say this: I think immediately coming back from the bowl game and getting into our routine with our players here and starting the season, it was obviously something for me looking — I look at and I see the value, I see the guys that we lost and the experience and the leadership, so I was concerned about that. And again, with myself and our staff being intentional about getting started with that and our staff has done a great job with our assessments and evaluating our players and the expectations that we have going into the winter and into the spring, and it's been — I've been pleased. I see the turn in our program. I see the response from the players that we have on campus earlier than expected.
They know what our expectations are. They know what the coaches demand. That's what our standards are, and they've elevated those things already in the winter, so that's a good sign.
Q. What are some of the positions for next year's class that just numbers-wise you know you're going to have to add?
MARK STOOPS: Yeah, next year — obviously some offensive linemen and some wideouts. Obviously we'll need them. I feel you're always looking to add in every area. You can't go too many years without trying to get somebody at each position. It'll be interesting to see what we can get next year. I anticipate in the neighborhood of 15, which will be low for us, maybe 16, 17, again, depending on attrition and what happens with some guys.
You know, you've always got to reload at offensive line and the skill with the wide receivers and defensive backs. You've always got to keep on plugging along there. But I anticipate a bit of every spot.
Q. You mentioned MJ's versatility. Is he a guy if you are thin on receivers you could try on the other side?
MARK STOOPS: You could. He could play there. He would be good. But we recruited him as a corner.
Q. Obviously you guys had junior day a couple weeks ago. What kind of impact do you see from that class already from the Citrus Bowl and especially —
MARK STOOPS: Yeah, I feel very good about where we're at. You know, as we — as our expectations increase, so does the level of the talent of the guys that we're going after, and that doesn't necessarily always mean that it's by how many stars they have. It's by the quality of what we think they could do and how they could help us. Obviously we want to continue to elevate the talent and get the right guys here in place, and we feel like we can be more selective now and get the right guys that fit what we're trying to do.
Q. You say that guys on campus, the response has been good and earlier than expected. What's the response you've gotten since the Citrus Bowl when you've been out recruiting or just out and about? Has it changed any since this season?
MARK STOOPS: Yeah, without a doubt. I'd say nationally it has without a doubt. I think as you go through the different states and all the places where I've been, you can just read between the lines and see the places where we recruit. You go out there nationally, and I think people always had a great belief in what we were doing and how we were going about it, but you see it now take it to another level. So it's been very, very helpful and very appreciative of the positive response that we've gotten out there.
Q. Why do you feel that way, where before you felt like people could see what you were doing and appreciated it? How did you realize that?
MARK STOOPS: How do we measure it now, the increase?
Q. No, you said before you felt like people appreciated what you were doing but now it's at a new level.
MARK STOOPS: I think just overall — again, maybe people I don't know as well and different coaches and certain people you know and have a history with and certain areas I've been in for a long time and they know me, and even if I don't know somebody personally, they know what I'm all about just from the places I've been.
I think now it's just, again, to a higher level. People realize and can see the documented success, and they know we're just trying to continue to take it to another level.
Q. You talked about how difficult it was to change the culture. Do you think the culture has changed, and how difficult is it to maintain that change?
MARK STOOPS: It's always difficult to maintain any amount of success that you've had. If you look at it, there's a reason, and one of the things I am proud about of our players and our coaches is that we've never taken a step back, and nobody else can say that at the Division I level. There's no team that hasn't gone back in the last six years except us.
So that's not easy to do. We all know how difficult it'll be to take it to another level, but that's our plan. That's what we're trying to do, to take it to another level. Nobody goes backwards. You look at this league, you look at the coaching, you look at the recruiting, and you just take a look around, and it can overwhelm you if you let it, and that's why we don't. That's why we worry about ourselves and what we're doing in there and how we're working in our building and attacking each and every day like I mentioned the first day I was on campus, and that's what we're going to continue to do.
Q. Is your approach to this off-season different because you're now sort of managing prosperity? You've had success; do you have to work to keep guys with a chip on their shoulder?
MARK STOOPS: That's not in my plan. Our plan is to continue to do the same things we've always done and be as demanding as we always are. We always keep guys in check. That's one of the reasons why we're pretty thorough in spending a lot of time in our assessments, in our evaluations and sit down with players and explain to them in detail what we expect of them and the things that they're doing well and the areas that they need to improve. It's very interesting because you see kids with — it's just human nature to have blind spots. They may think one thing of themselves but their peers think something else and their coaches think something else, so it's our job to point that out. Again, that's not to pick on them, that's to make sure that they're very aware of blind spots that they have within themselves, and I'm no different, coaches are no different. We're constantly going to be hard on ourselves and critical and evaluate ourselves and make sure we're doing things the best way we can. It's full steam ahead, foot on the gas.
Q. Normal roster attrition in college football these days, has the transfer portal changed the way you have to approach the off-season, just with not only guys that might come in but your own players —
MARK STOOPS: I think you have to be aware of that to some extent. That's why it's also good for a change to maybe have one or two scholarships out there and just see — number one, for us we don't want to take somebody that we don't feel can help take us to another level, and number two, we have a small class next year, and then the third thing would be transfer options, not that I'm actively out there seeking it, but it's certainly going to happen both ways.
Q. The off-season training, obviously you want to get bigger, faster, stronger in the weight room, but is there anything that the average Joe might not know that the players have to do to improve their game on the field?
MARK STOOPS: Well, I think just the area that I just mentioned, I think just mentally, making sure that they're very aware of themselves and the way we see them as coaches, the way their peers see them, and the way they see themselves. And taking a good hard look at everything that they're doing to make sure that they're getting to be the very best that they can.
That's much different than the sign-up sheet on a coach's door saying come in every five minutes or have 10-minute slots and just quickly meet with somebody face to face instead of thoroughly digging in to what they're doing. I think those assessments are things that we go into great — we spend a great amount of time on, and it's very important, and it was, again, something that we started them really the day we got back from the bowl game and got back to work. I forget what day it was, but certainly we had a couple days off, but whenever we got back in the office there, that next Monday. I think that's important for our players to be very critical of themselves.
We're very specific with individual development plans. It's one thing to write something down, but it's another thing to be very thorough and help them, so if they'd say, well, I need to improve my GPA, well, on our individual development plan we try to get very detailed, how are you going to do this? I need to gain more weight. Well, it's easy to say that. We try to be very specific on how they're going to do that and make sure they're counting their calories or getting their meals or meeting with our nutritionists and things of that nature, same thing with our strength and conditioning, technical skills, everything. So we try to be very detailed with that.
Q. Experiment a little bit in terms of another position change. Do you anticipate some movement, change of position —
MARK STOOPS: I'm sure. Nothing that jumps out at me right off the top of my head here, but I'm sure we'll experiment a little bit and get into the off-season and see how that goes. We'll see. I would imagine some, some looks (at other positions).
Q. This group that's going out now, how difficult is it going to be to develop the same kind of —
MARK STOOPS: It's always a challenge, but as I sat here last year and went over this, nobody was talking about those guys. I'm not calling out everybody individually. I don't know. I don't read everybody's stuff. But that's what people talk about now. They're like, well, what about this, what about — none of you talked about it a year ago, right? I mean, am I wrong? I mean, that's — are you surprised — people ask me, are you surprised with the national prediction? No, because there was nothing different a year ago. Now everybody is talking about these 16 guys. A year ago nobody talked about those 16 guys. True? So we'll see who the next guys are going to be.
Q. How much of a say did you have in the Super Bowl video that aired?
MARK STOOPS: Our marketing people do a great job. I really don't have time to get involved with that, but they always have done a nice job and always honored to be a part of it and just do my little piece. That's just a little voice-over I have to do, so it's pretty easy for me.
Q. What did you think of Kash (Daniel)?
MARK STOOPS: I thought he did good. I would like to see them get some live action out of the locker room sometimes. He could be even a little more authentic (laughter).
Q. You kept your entire coaching staff intact this off-season. How big is that?
MARK STOOPS: It's really big. You know, it's — quite honestly, that doesn't end. I just fielded a call from a head coach in the NFL 15 minutes ago. It's not quite over. I hope we keep everybody intact, but I've had much more NFL interest than I've had in the past.
Q. After the Senior Bowl it seemed like Lonnie Johnson has really taken a big jump with the scouts in the mock draft. Are you surprised by that?
MARK STOOPS: Not surprised. I was very happy with those guys that went down to the Senior Bowl, spent a day with those guys just supporting them and helping them in any way I could, just being there for them. But I heard great things when I was down there. The NFL executives and coaches and people that are there really like our players, not just the three that were there at the Senior Bowl but all of our guys, and they're all helping themselves. They're working extremely hard. They've done good off the field. They're putting themselves in a position to be looked at. Very proud of those guys.
But Lonnie is a guy that I talked about all year to people and scouts and NFL talent that's come through about him and his upside. (Lonnie) only being here for two years, the talent that he has, he's got a high ceiling and he's going to continue to improve, and he's a very, very good player right now, and he has a lot more upside.
Q. What's your role in that process? Do you get calls from NFL teams? How does that —
MARK STOOPS: Yeah, we do. Vince (Marrow) is our NFL liaison who helps them throughout the year, just give them the information about our players and the background and spending time with those guys as we're practicing or getting ready to practice. Vince will set them up and does some of that.
But we all will field calls on those guys, myself and position coaches, different guys. A lot of it is up to them. A lot of times it's very general information. They know I'm going to be very positive about our players because that's how I feel, but they have to make sure they fit their system and everything.
One thing that I'm very proud of with our players here that are leaving now, there's no skeletons in the closet. They're all very, very positive people, great people. They work exceptionally hard. They've done very good on and off the field. It's up to them. It's up to the players now, and they're all working and doing the right thing.
Q. Is this NFL Draft important for recruiting going forward, to have some guys go early?
MARK STOOPS: I don't think it hurts. I definitely don't think it hurts, that's for sure. I would imagine since the NFL cut from the number of rounds, I would assume this would be a record for us as far as number of guys taken in one draft. So that certainly doesn't hurt.
I have to give a little shout-out to the main guys. I think you've got to give a lot of credit to our strength and conditioning coaches with Corey Edmond and Mark Hill, Deonte Mack and those guys, they do a really good job, work extremely hard in that weight room, and really are kind of unsung guys. They never get much attention for anything, but they work around the clock. Those guys are in control of that room. They're the head coach of that room, and we have great leadership down there, and they do a really good job.
Q. It's not often that you say goodbye to arguably the greatest running back in the history of the school, but I thought AJ (Rose) took a step forward last year, you had two talented freshmen who showed. When you're out there selling the program or communicating with people, has the image of Kentucky become of a power running football? I know you want to be balanced, but —
MARK STOOPS: Yeah, I don't think there's any doubt. It is what it is. When you look at us on film and you're a running back, you have to like what you see because of the success that we have. I mean, we're physical and we run the ball. Certainly we're searching for that balance that we want.
Q. What do you say to that prospective recruit who says to you, Coach Stoops, you're a rock star. How do I know that you're going to be here at the University of Kentucky for the next four years?
MARK STOOPS: Well, thank you for saying that. I haven't had to answer that. (Laughter.)
I'm getting the other side of that most of the time. I really don't have to answer that. I'm quite — very happy with where I'm at, and the university has been very fair to me, and I appreciate what they've done. So I'm just worried about grinding out another year, making sure they don't run me off.
Q. Talking about your strength and conditioning coaches, how much can you use or do you that Josh came back last year with very specific goals for his off-season of what he wanted to accomplish and then it I'm sure helped lead to what he was able to do during the season?
MARK STOOPS: Well, I think that's very helpful, and it also — not just in there, but with those IDPs, those individual development plans that I was talking about with the coaches, and Coach (Brad) White and what he's done. I actually just looked at his from two years ago, where he was heading in in January heading into his junior year, and then you look at now. It's really helpful. It's amazing what he's done, and it's amazing his own perception of himself, his peers, the perception of his peers and of the coaches.
That's kind of the poster child for that kind of development. It doesn't happen all the time, but certainly our players can learn from that and recruits can learn from that, and coaches can learn from that because we've been very specific with him, and he's been very intentional about improving in any and all weakness that he has. He certainly has taken that to heart.
Q. Talk about your wide receiver options other than Lynn (Bowden). Obviously we know what Lynn can do.
MARK STOOPS: Well, it's going to be a big year for those guys, obviously, the development and the winter and spring and what we do this summer, it's going to be important. We need guys like Josh (Ali) and Isaiah (Epps), they have to step up, Ahmad (Wagner). We've got to get a lot out of those guys. Obviously we know what Lynn can do, and I expect continued growth from him, and he's working really hard and doing a great job this off-season. So we need some help with those outside receivers for sure.
Q. Have you talked with Gunnar Hoak? What is his future here? Do you expect him to practice? Will he be here?
MARK STOOPS: Yeah, I do. That's the meetings that we've had and that he's worried about getting better and working hard and having a great winter and having a great spring.
Q. Coach Eddie Gran said right after the game in Orlando, he said that he'll be throwing the ball down the field a lot more this year and taking some shots, that he has to. What's your thought about that?
MARK STOOPS: I think that's well-documented if you hear me speak in here at any time that we're looking for that balance. We're searching for that balance. We've pushed the ball down the field. We've missed on some things. You know, you look at it, whether it be a drop, an overthrow, a good defensive play, whatever it is. We've had some opportunities.
We need to continue to work on those things and get — and improve. But we have forced the ball down the field, and we've got to convert on some of those. So we have to work extremely hard to get better in certain areas. And offensively if you ask any one of our guys, our coaches or our players or anybody, we're constantly trying to get better, and one way for us to improve is to get better in the pass game and get better vertically.
I don't think that's any secret. You know, we've talked about that quite a bit.
Q. Hypothetically as far as Bowden is concerned, he had to learn how to be a receiver when he got here. What's the development in terms of what stage of development is he in in terms of knowing how to be a receiver?
MARK STOOPS: He's getting better every day. He's an exceptional player. We saw that this past season. You could probably mention just a couple games in particular; if you don't have him, you probably don't win. So he's a guy that changes the outcome of games and changes the digits on the scoreboard. But he's also a guy that would be first to admit that that's a normal progression to try to get better and to improve in all areas, and he's working very hard in the weight room, but he's also — we're throwing, they're throwing earlier and harder than they've been earlier. They're out there right now on their own throwing the ball around and trying to improve, and that's a good sign. So he has to step up in a leadership role, as well, in that receiving corps. But no, I'd say he's on a very good progression because Lynn is a bright kid. He's very smart. He can pick up a lot of things. That doesn't mean he's perfect in his technique, but he's very bright, and he could play all positions, and not all the guys can do that and put it together. He can do that very easily. So that's good.
Q. How is Landon Young —
MARK STOOPS: Yeah, Landon is doing really good. I sat down with him yesterday, and he's got another test coming up to check the strength in there, and he's almost full go, fully released. Obviously there's no reason for us to force anything with him. We have plenty of time. But he's done very well, and you can see the change in him and his upper body strength. That's one positive to that, that he had the year off so he could really spend some time in the weight room and get stronger.
Q. When it comes to the year one to year two move, when it comes to Terry Wilson, now that he's got so much more experience, what are you hoping to see and expecting to see in him?
MARK STOOPS: Yeah, just growth in all areas, decision making, accuracy, converting on some of the opportunities that we have down the field. We weren't far off on a lot, and we need to improve on some of those, and we will, and he will.
Q. It seemed like at the end of the season Josh (Paschal) used the opportunity to use his story to raise awareness (about melanoma). What does that say about him?
MARK STOOPS: Well, he looked at that right away (after the diagnosis). That's just who he is. He just has such a strong faith, and it's well documented, my feelings for him and all of our players and coaches, the respect that we all have for Josh, and I'm sure you all do, as well. It's hard to be around him and not respect him and the way he lives and the way he goes about his business. It does not surprise me. He wanted that from the beginning, if this happened to him as I mentioned before, he's very matter of fact, he's going to believe that he's going to get better and improve and beat this, and he's going to do what the doctors and everybody tell him to do, and then he's also going to try to help people.  Once again, it's really no surprise, and just appreciate him.
Q. How much do you put on your current group of guys to help the signees coming in? If I'm not mistaken, I think it was Kash around the bowl game last year says, of course they respect what the coaches say to them and helping them grow, but there's something different when your own teammate is criticizing you, as well. What's going to be their role to get those guys —
MARK STOOPS: Yeah, without a doubt. You've heard me say it, and it's no different this year. When you become player-led, you take another jump. And so coaches are always going to lead and talk and preach and coach and all those things. But when that comes from within, you take another step. You grow.Obviously that's earned, not given, and the players that have earned that like Kash will be immediate leaders, but we need others to emerge.
Q. What's the status of Zy'Aire Hughes?
MARK STOOPS: He's still removed at this point from the football team until he gets his legal matters cleared up.
Q. This is kind of a little off the wall, off the subject, but I don't know if you got to watch much of the Super Bowl, but as a defensive guy, a guy with a defensive —
MARK STOOPS: I thought it was a great game. (Laughter.)
Q. Talk about Bill Belichick and what he's been able to do in an era of a (salary) cap and parity and all that, especially as a defensive coach, how do you look at that?
MARK STOOPS: You have to look at what he's done and have to have great respect for him, the consistency that he's had. Like you said, with all the different moving parts, and to be able to win that many different ways, and people question his team — he comes out and wins and proves people wrong all the time.
As a coach, you're constantly trying to learn and evolve and get better and constantly looking at different ways, but what they've done, yeah, it's — you've got to have great respect for him and for their team, their organization.
But yeah, if I say that I enjoyed that game, they're going to say, see, I told you Stoops didn't want to score points. (Laughter.) I do respect the way both teams played defense.
Q. What Julian Edelman did in that game, would you take that and use that as an example of what needs to be done?
MARK STOOPS: Sure, you do, and also really — you also have to respect the winner of that game, too, because they're going to win by any means necessary, and ultimately nobody is going to criticize them for not scoring enough points. They're Super Bowl champs, and that's all that you worry about is the bottom line. That takes a team to do that, an organization and a team that buys in, and they're all happy for each other, I can promise you that. And that's what we try to do sometimes, and that's what I talk about and preach. I don't really care how we win, just win. If you have to out-score somebody, so be it. If it's a low-score game, you don't ever look at that and apologize for winning a game however means necessary.
I think it's real important. There's a lot of lessons. But yeah, you look at a player, Edelman and I believe he was a walk-on, I know he was a quarterback, an undrafted free agent and becomes Super Bowl MVP, it doesn't surprise me that he was the MVP now after he proves himself after all those years.
But you look at the successful players we've had as walk-ons, most recently with David Bouvier and of course Charles (Walker) and many others, very good players.