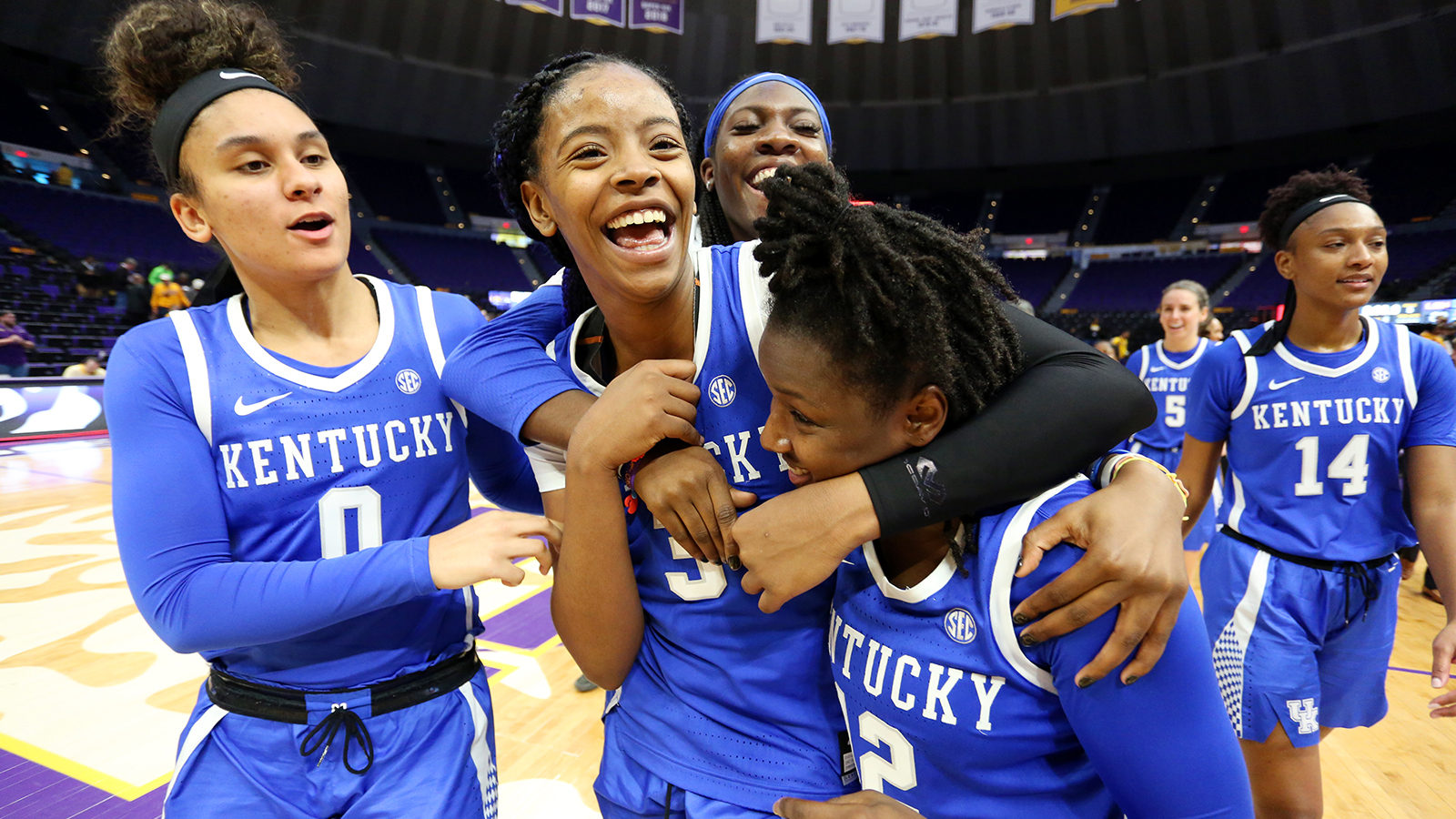 February 6, 2019 - 03:56 PM
Cats Look for Another Big Effort on the Road in the SEC
The Kentucky women's basketball team has been very competitive on the road this season. With the exception of a loss at Mississippi State, Kentucky's other games on an opponent's home court this year have all been decided by five points or less.
The Wildcats have been able to pull out a couple of key SEC road victories so far in 2019, especially considering the circumstances surrounding those wins. Kentucky beat Tennessee in Knoxville 73-71 on Jan. 10 despite losing its top three scorers for the final four minutes of the game. Rhyne Howard and Maci Morris fouled out, while Taylor Murray left the contest with an injured knee, but the Cats still pulled out a win in Knoxville for just the fourth time in school history.
A week later, at LSU, Kentucky was without both Howard and Murray, due to injury, but Morris scored 20 points and KeKe McKinney hit a go-ahead three-pointer with 20 seconds left to lift the Cats to victory.
Kentucky goes on the road again on Thursday, visiting Auburn for a 7 p.m. ET start. UK head coach Matthew Mitchell knows that every game on the road this season has been close, but he sees something in his team that puts the Cats over the top.
"No matter who we are playing it seems like it is always a game," Mitchell said. "The players have not demonstrated much give up and quit in them. Even this past Thursday night (against South Carolina), we just lacked energy for such a large majority of the game, but then found some way to muster up enough to make a run to at least make it interesting at the end."
It hasn't been only in league play that the Cats have been tough on the road. In December, Kentucky faced Louisville, which is now ranked second in the country, at the KFC Yum! Center and found itself trailing by double figures in the second half. But the Cats clawed back, ultimately running out of time and losing by just five.
Overall this season, Kentucky is 18-5 and 5-4 in SEC play. The Cats are 2-2 on the road in league play, but UK lost by just two at Texas A&M on Jan. 27, a game that could have gone either way. In fact, Kentucky had a chance to tie the game at the line late, but was unable to convert.
Now, the Cats visit the Plains to take on Auburn, a team that is also 5-4 in the conference. UK and Auburn are tied with Missouri and Arkansas for fourth place in the SEC standings heading into Thursday's game. Mitchell knows that the Tigers will present another test for his team.
"I respect so much of Auburn and the way they play," Mitchell said. "They're always well-coached. What I really respect about them is that you know the intensity that they will bring and the challenge that they will present to you each game. We've had very tough games with them. The last three down there were decided by five or six points. It's been really tough to try and go on the road and earn a victory from Auburn."
If the trends of this season continue, Kentucky and Auburn figure to be in a tight game on Thursday. Mitchell and the Wildcats hope that the experience of playing in similar games already this season could be the factor that earns UK another tough road victory.