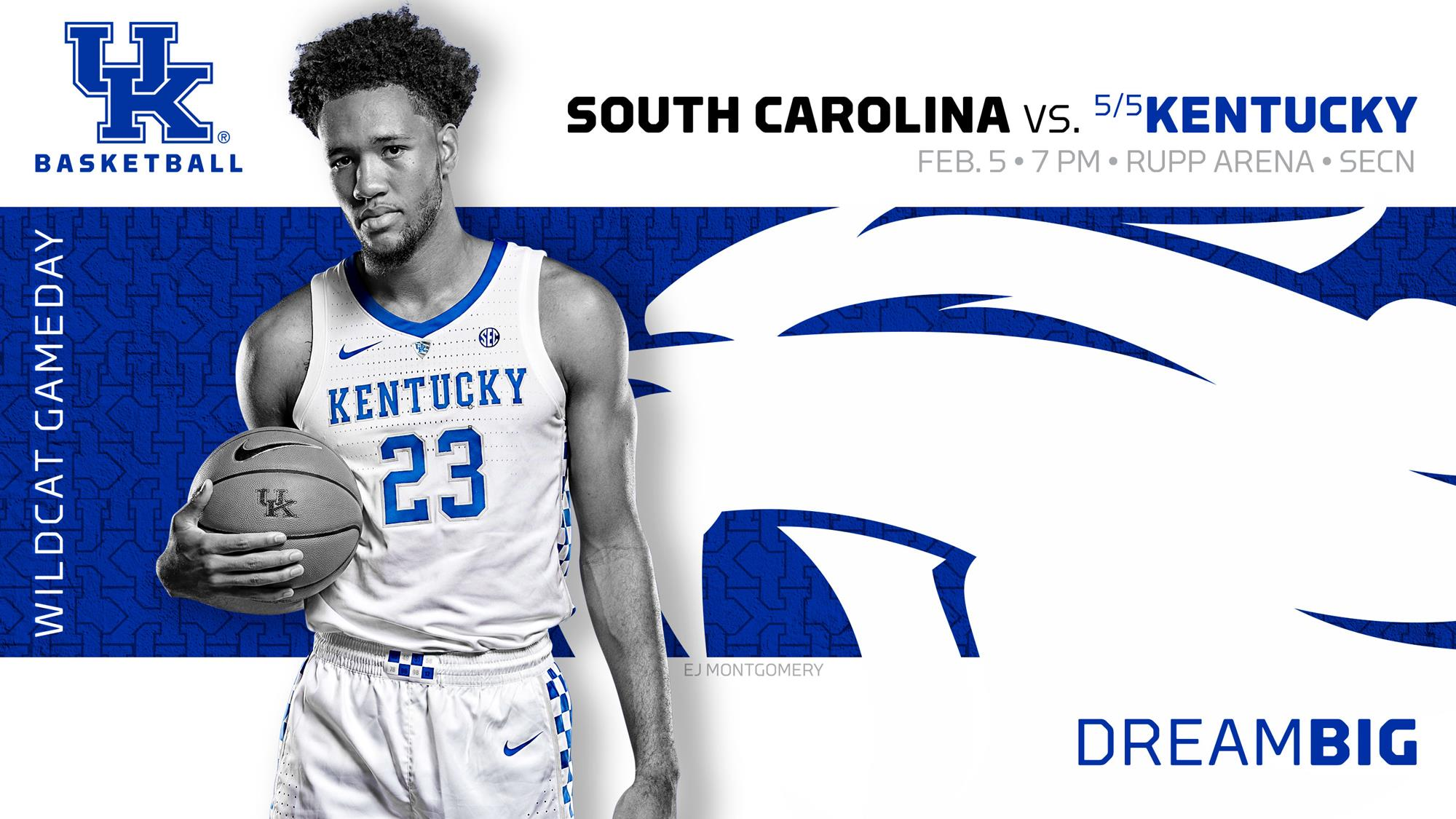 February 4, 2019 - 04:12 PM
Confident Washington Leading UK in Play, Voice
Kentucky was out of sorts and down double digits. The Wildcats' seven-game winning streak was very much in peril.
 
In that moment, PJ Washington's inner monologue likely wasn't much different from the thousands of UK fans watching at home.
 
"I felt like we were starting to just play selfish again," Washington said. "I didn't really like that."
 
While fans were limited to expressing their displeasure to their televisions and anyone watching with them, Washington was able to voice his own in a team huddle. He did not hesitate to do so.
 
"I just said we gotta play together," Washington said. "That's what got us here and that's what's going to get us past the hump. We just gotta come out these last seven minutes, I think it was, and just play together and play hard. If we play defense, they can't beat us. That's the biggest thing."
 
He was proven right, as UK locked down on defense and locked in on offense to complete a double-digit comeback with a 34-12 game-ending run. Washington had 15 points and 12 rebounds in the win – his third straight double-double – and is averaging 20.5 points per game over his last four outings in addition to providing that kind of leadership.
 
"Coach (John Calipari) has talked about his energy and just the passion that he has had for the game," Reid Travis said. "It's just been great. It's just propelling other guys. If he's playing at that high of a level, everyone's got to lift their game and play with the same energy. It's been great for us to have him play that well."
 
With how consistently well Washington has played over the last two weeks, the narrative surrounding him is that some kind of light has finally come on. That's not how assistant coach Joel Justus sees it though. Instead, he sees Washington reaping the rewards of a new approach he has brought throughout his return for his sophomore season
 
Kentucky vs. South Carolina

Tue., Feb. 5 – 7 p.m. ET
Rupp Arena
Lexington, Ky.
Game Notes: UK | SC
UK Athletics App Digital Guide

Coverage

TV: SEC Network
Radio: UK Sports Network
Watch
Listen
Live Stats

UK
2018-19 Stats
SC
18-3
Record
11-10
7-1
Conference Record
6-2
79.2
PPG
75.2
65.9
Opp PPG
74.0
.481
FG%
.432
.407
Opp FG%
.421
38.7
RPG
36.8
.357
3PT FG%
.328
.357
Opp 3PT FG%
.354
.752
FT%
.708
14.4
APG
12.8
6.7
SPG
6.1
5.3
BPG
4.7

"When we were practicing for the Bahamas, when we had summer practices, PJ was the guy that oftentimes was one of the first guys out to practice," Justus said. "Just like games, I think you see guys become that catalyst that Cal has been longing for. I think with PJ you saw it in practice with his mindset. I think you've seen it when we do conditioning and he's routinely the guy that's finishing first or second or near the top of every competitive drill that we're doing."
 
With a full season of that kind of work under his belt, Washington is confident in his own game. With that has come the kind of confidence it takes to lead.
 
"It just comes with work and just the work you put in, you gotta be confident in it," Washington said. "I'm really confident in the work I put in and I'm just happy that I got a group of guys that are working as hard as me."
 
With Washington helping set the tone, UK is playing at a high level. The Cats, thanks to their recent hot stretch, have made a return to the top five of both polls for the first time since the preseason.
 
 
"He's been tremendous in huddles both at timeouts and what we've seen on the floor," Justus said. "You've got to have that when you've got so many young guys and you have only a couple guys that have game experience, road experience, conference play experience. You're happy for him that he feels comfortable enough to really step up and be that guy."
 
After beating Florida Saturday, Washington now boasts victories over all but one of UK's 13 fellow members of the SEC, the lone exception being South Carolina. As luck would have it, No. 5/5 Kentucky (18-3, 7-1 SEC) hosts the Gamecocks (11-10, 6-2 SEC) Tuesday at 7 p.m.
 
"I guess last year, we were up 16 I think at South Carolina and ended up losing," Washington said. "That one didn't really end too well. I just want to come out and redeem ourselves from last year and just try to get a W."
 
UK's largest lead was in fact only 14, but the shot at redemption remains. South Carolina is still led by forward Chris Silva, who had 27 points and eight rebounds last year at UK and is averaging 14.1 points and 7.0 rebounds as a senior.
 
"He presents a major challenge for us," Justus said. "He's very physical, gets fouled a ton, has a great, I think, sense of, No. 1, creating and drawing fouls. He's a little bit like an Ashton Hagans in that he just kind of pops up, blocks a shot, gets a steal, you knock him over and it's a charge. He's just a pest really on defense, very similar to what people are describing Ashton as being."
 
Silva has helped South Carolina overcome a 4-7 start to win six of eight games thus far in SEC play, putting the Gamecocks in sole possession of fourth place a mere game behind Kentucky.
 
"Frank (Martin) has South Carolina playing so well right now," Calipari said. "They do what they do defensively. They're disruptive. They play physical. They rebound with five guys. But, he's also got them playing fast. So now you've got a team that can stop you from scoring and disrupt your offense, yet they're making 3s."
 
When UK faced such a challenge a season ago, it likely would have caught Washington off guard. Now there's not a thing he's not ready for.
 
"I didn't know what to expect at that point," Washington said. "Now I definitely do. I know what every team's going to throw at us. I know pretty much every team really well. I feel like I'm in a good spot to lead these guys."
Wildcats Rally from 11-Point Second-Half Hole for Win over Gators
GAINESVILLE, Fla. – PJ Washington didn't have to say anything to his Kentucky teammates. They all knew the situation: trailing by 11 points on the road with 13 minutes to play. They all knew what had to happen: lock down on defense or lose for the first time in a month.
Washington simply set the tone for everyone else to follow.
Washington finished with 15 points and 12 rebounds, Tyler Herro knocked down a dagger 3-pointer with about 3 minutes remaining, and the No. 7/6 Wildcats rallied from an 11-point second-half hole to beat Florida 65-54 on Saturday.
Kentucky (18-3, 7-1 Southeastern Conference) won its eighth consecutive game and ended a two-game skid against the Gators (12-9, 4-4).
"There's nothing really to say," Keldon Johnson said. "We know that we have to come together. You're down 11 on the road. We just have to come together and have each other's back and definitely just locked down on defense. We just had to dig down deep, come out and get it done. We didn't want to lose."
Kentucky used a 14-0 run during a five-minute span late in the second half to turn the game around. Herro came up big in the spurt, scoring five points and finding Johnson in the corner for a 3.
Herro's clutch shot from behind the arc made it 55-48 and sent Florida fans scrambling for the exits. Herro finished with 19 points and six boards.
But it was the Wildcats' defense that deserved more of the credit, with Washington leading the way.
Kentucky started switching on every ball screen, preventing Florida from getting to the lane and forcing tough, long-range shots. The Gators  made 9 of 33 shots in the second half, including just 1 of 9 from 3-point range, and scored a measly dozen points in the final 13:53.
Herro made 6 of 8 shots, including 3 of 4 from 3-point range, and kept the Wildcats afloat during a cold-shooting first half with 10 points on 4-of-4 shooting. Washington was 6 of 13 from the floor. Although he fell short of his third straight 20-point, 10-rebound performance, he ended up with his seventh double-double and his third in a row. He's the first Wildcat to post three straight double-doubles since Julius Randle's four straight in March 2014.
"He's built his own confidence," Kentucky coach John Calipari said. "He's taking control of games. He's coaching players on the court. I've been waiting a year and a half for this."
• Kentucky's eight-game winning streak is its longest since winning 14 in a row late in the 2016-17 season
• The Wildcats are limiting opponents to 59.2 points per game and 37.5 percent from the field during the winning streak
• UK leads the series 101-40 and 36-20 in Gainesville, Florida
• Florida scored 54 points. UK is a perfect 70-0 under Calipari when keeping the opponent to 55 points or less, including 6-0 this season
• The Gators shot only 34.9 percent from the field. UK is 174-15 under Calipari when keeping the opponent at 40 percent or less, including 9-0 this season. UK has held six of its last seven opponents to 40 percent or less
• UK is now 237-40 vs. unranked competition under Calipari
• Kentucky improved to 251-5 under Calipari when leading by at least 10 points at any point in the game
• The victory marked the Wildcats' fourth victory this season when trailing by double digits
• Kentucky outrebounded Florida 46-34 and improved to 15-1 when outrebounding its opponent
• Washington is averaging 20.5 points, 10.8 rebounds, 1.8 blocks, 1.3 assists and 1.0 steals per game over the last four games
• Herro knocked down three 3-pointers, the seventh time this season he's done that, all resulting in wins
• Herro extended his free-throw streak to 28 consecutive made
• Keldon Johnson added 10 points and eight rebounds
Wildcats in the Middle of a Tough Stretch
 
Already tasked with playing one of the toughest schedules in the country, Kentucky recently completed a three-game buzzsaw vs. No. 14/12 Auburn on the road and No. 22/22 Mississippi State and No. 9/10 Kansas at home.
It marked the first time since the 2015 NCAA Tournament UK faced three consecutive foes ranked inside the Associated Press Top 25 and the first time in the regular season since the final three games of the 2005-06 regular season.
UK's reward for getting through this particular three-game stretch? Back-to-back road games at Vanderbilt (Jan. 29) and Florida (Feb. 2). Kentucky answered the call in both.
Kentucky's eight-game winning streak continues to look more and more impressive as its schedule is shaping up to be one of the toughest in the country.
UK has already faced the likes of Duke (Nov. 6) in Indianapolis in the State Farm Champions Classic, Seton Hall (Dec. 8) in Madison Square Garden in the Citi Hoops Classic, Utah (Dec. 15) in Rupp Arena, North Carolina (Dec. 22) in Chicago in the CBS Sports Classic and concluded December with a road game at Louisville (Dec. 29).
Five of UK's nonconference opponents played in the NCAA Tournament last season. According to a survey among NCAA schools, that's tied for the third most in the country.
And that's just the nonconference slate.
The Southeastern Conference featured eight teams in the NCAA Tournament a season ago and UK will play three of those teams twice. The league appears to be every bit as good as last season with three teams ranked in the Associated Press Top 25 this week and two more receiving votes. Two weeks ago, six teams were in the AP Top 25 for the first time since Jan. 21, 2003.
Looking at Kentucky's remaining schedule, of the 10 remaining regular-season games, five are against opponents currently ranked or receiving votes in the AP Top 25. Of the five that are not ranked, two are on the road, so it won't get any easier for UK.
As the poll stands right now, Kentucky's 2018-19 scheduled features seven games vs. opponents in the AP Top 25.