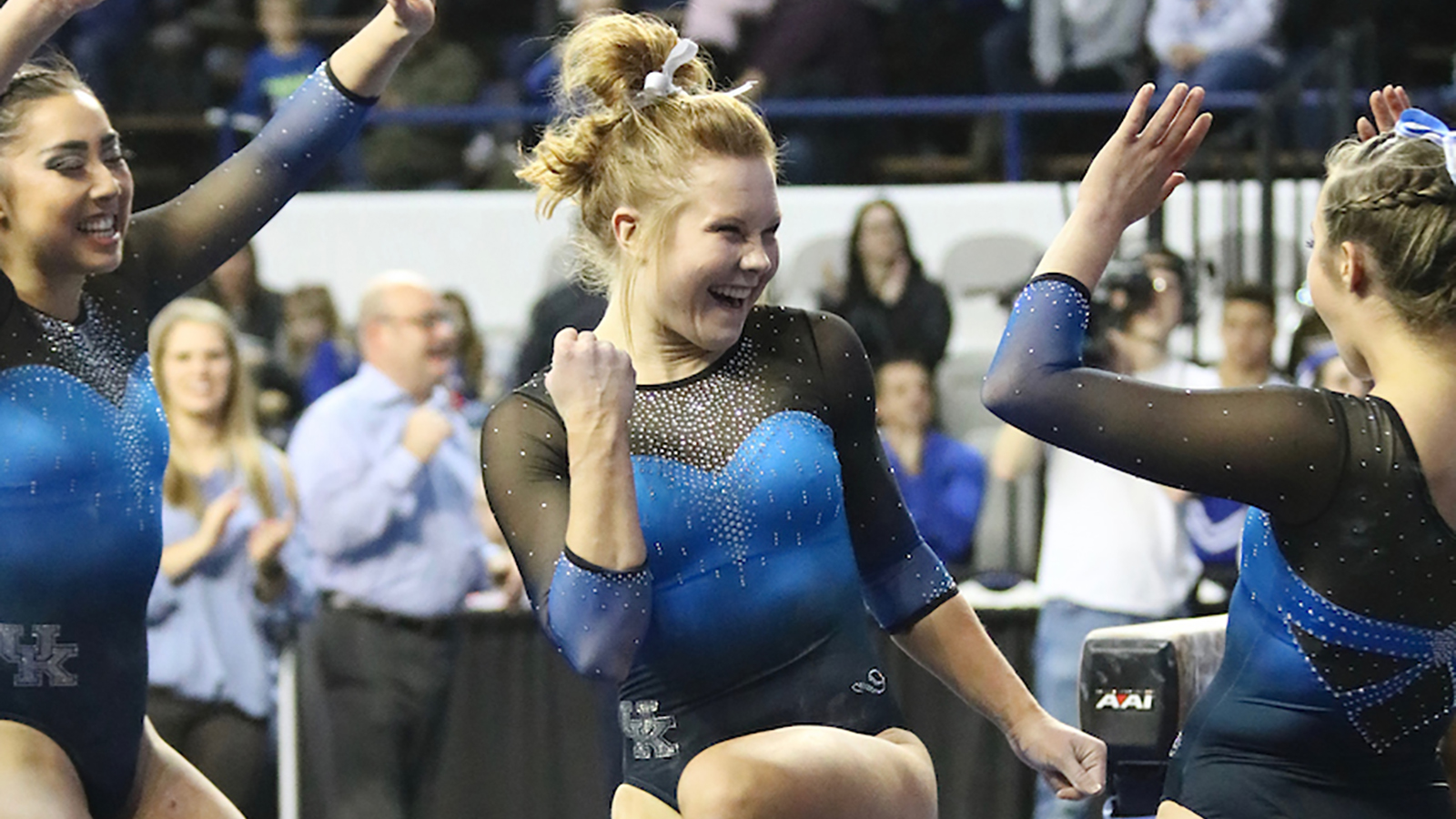 February 1, 2019 - 11:50 PM
UK Gymnastics Team Still a Work in Progress
The Kentucky gymnastics team had a solid performance on Friday night against Auburn at Memorial Coliseum. While the Wildcats came up just short against the Tigers, UK head coach Tim Garrison was pleased with his team's performance.
"Effort was tremendous," Garrison said. "We ran into a really solid Auburn team. We gave a few too many things away and they came out with a win tonight. We're a really good team, we're being really patient, working our way through some lineups and getting some people back healthy. I feel good about where we are at this point."
Kentucky came up just short, despite registering a 196.000 in the meet. Auburn posted a 196.125 to claim the victory.
Garrison's team is still dealing with injuries to a number of key performers from last season. Once those athletes are healthy, the UK head coach thinks it could be a turning point for his team.
"It could make a tremendous difference," Garrison said. "There's some people that were in our lineups last year that are still working their way back. The consistency of their training and consistency of their routines. They're getting really close. And there are several of them. And that could make a tremendous difference. Like I told the team after the meet, we're performing well. We're hanging in there and doing a pretty nice job, but we're nowhere near a finished product."
Kentucky struggled during their rotation on the beam on Friday, and it seemed as though Auburn would cruise to an easy win. But the Wildcats had a floor rotation ahead of them, and they made the most of it. Kentucky posted a 49.150 on the floor, including a 9.95 from Sidney Dukes and a 9.9 from Alex Hyland. Garrison was impressed with how his team bounced back.
"They're just a resilient team," Garrison said. "We've had situations like that in other events this year where we've had to come back and individuals have had to come back from their own performances that maybe were not as solid on an event and perform on the next event. They've done that, collectively, and we did it again tonight."
Dukes agreed that this team is still trying to find the right combinations.
"As a team, I think we are working toward getting our lineup set," Dukes said. "That's a very big deal in gymnastics. You have to have people you can count on in every lineup. And I think that's what we're working on at this point."
Garrison knows that his team is not where it needs to be, but that they can certainly get there.
"They're just a tough team and they know we're still a work in progress at this point," the UK head coach said. "We have to be really patient. We're in a good spot, we're close. We're in a good spot for now. Work in progress, moving forward, I feel good about where we are."
Once the Wildcats get healthy and set their lineups, this could once again be a team that competes for a spot in the national championships.