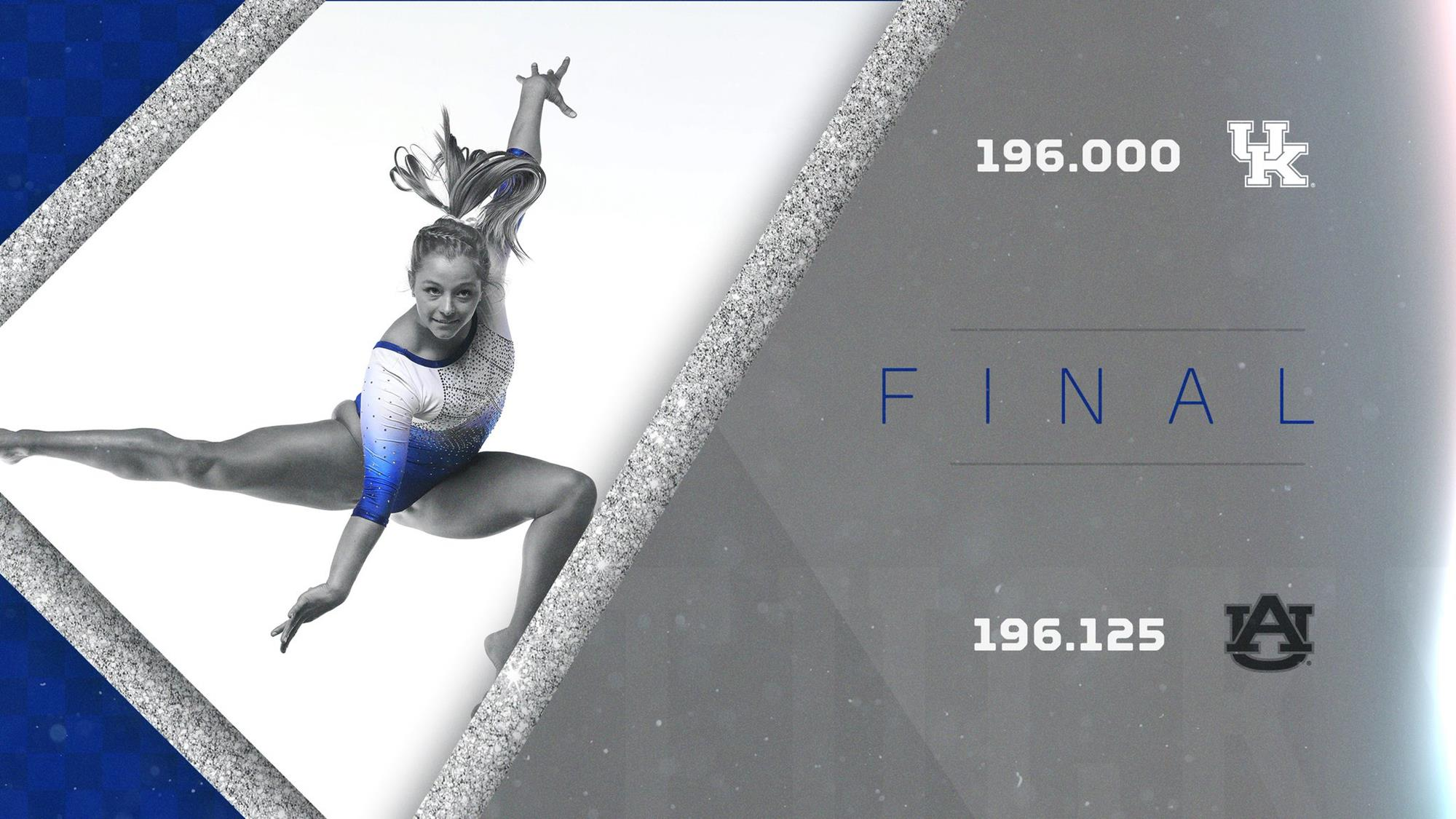 February 1, 2019 - 11:05 PM
Cats Reach 196-Point Threshold for Second Straight Week
LEXINGTON, Ky. – No. 17 Kentucky made its season debut at Memorial Coliseum with a second consecutive 196-point performance, falling to No. 11 Auburn by a 196.125-196.000 final on Friday.
 
"Effort was tremendous," said head coach Tim Garrison. "Overall, I'm pleased with our performance. We ran into a really solid Auburn team. We gave a few too many things away, and they came out with a win tonight. We're a really good team, being patient and working our way through some lineups and getting some people back healthy. I feel good about where we are at this point."
 
The Wildcats opened the competition with their best event of the night, scoring 49.175 on vault. Alaina Kwan (9.800), Alex Hyland (9.875), and Mollie Korth (9.925) each set new season-highs, securing Korth a 14th career win on the event.
 
Freshman Cally Nixon once again led the Cats on bars with a 9.875 showing, while Sidney Dukes turned in a new season-high of 9.825. Sophomore Madison Averett made her collegiate debut with a 9.550 score on balance beam, as senior Katie Stuart set a new beam season-high of 9.825 that matched the outputs of Dukes and Hyland on the event.
 
Kentucky's floor rotation provided the night's only triumph over the Tigers, totaling 49.150. Hyland and Dukes each secured marks of 9.900, tying both seniors' season-highs. Dukes' team-best all-around tally of 39.325 was also her best of 2019.
 
Kentucky returns to action on Friday, Feb. 8 for a home tilt with No. 5 LSU. The meet is scheduled for 8:30 p.m. ET, televised live on the SEC Network.
 
For the latest on the Kentucky gymnastics team, follow @UKGymnastics on Twitter, Facebook, and Instagram, as well as on the web at UKAthletics.com.