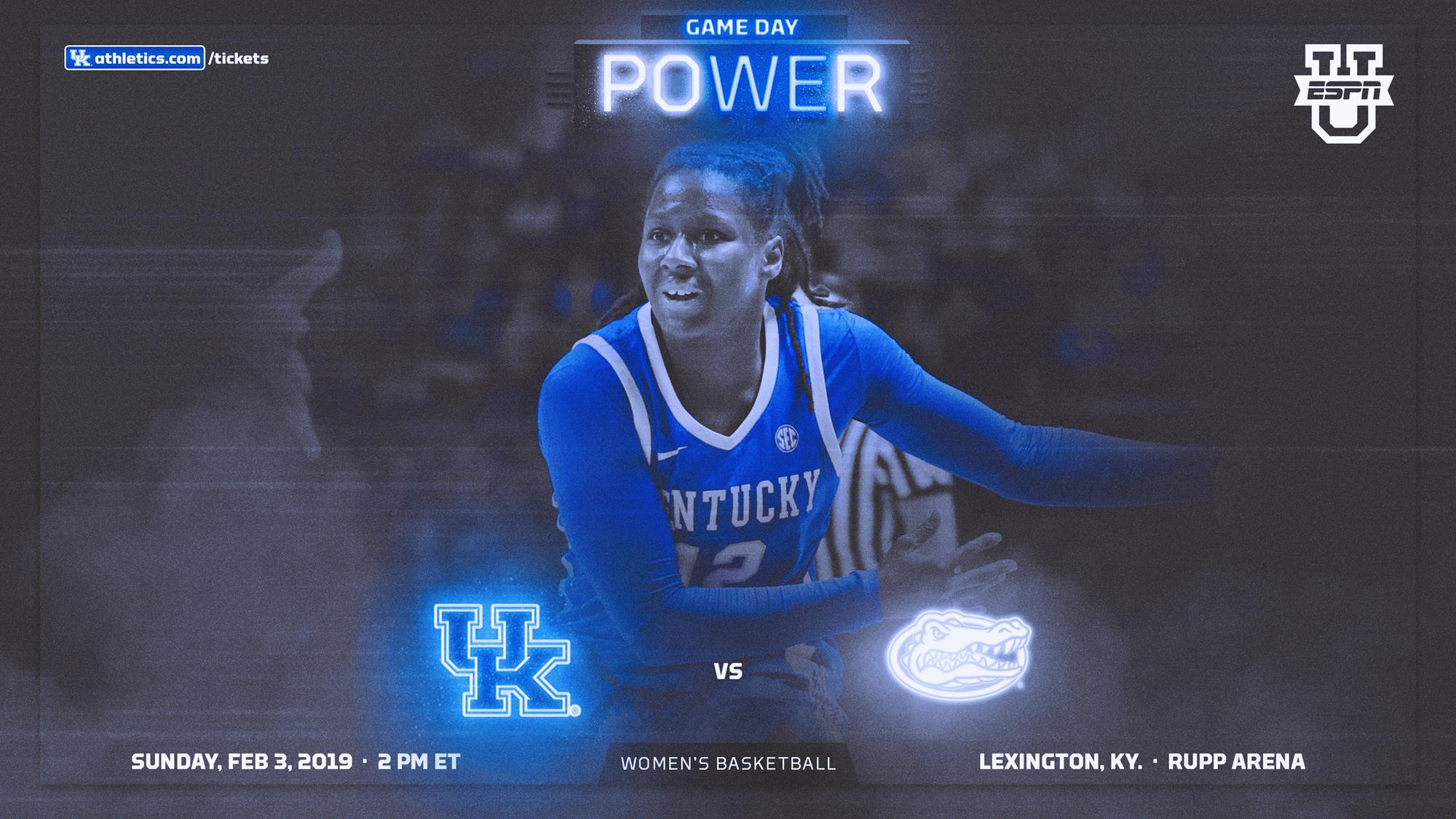 February 1, 2019 - 04:27 PM
No. 19 Kentucky Ends Home Stretch vs. Florida at Rupp Arena
LEXINGTON, Ky. – Looking to get back to its winning ways after back-to-back close losses to top-25 ranked teams, the No. 19 University of Kentucky women's basketball team plays its second and final game of the season inside historic Rupp Arena on Sunday at 2 p.m. ET vs. Florida.
 
The game will be televised live on the ESPNU with Roy Philpott and Brooke Weisbrod on the call. The action can also be seen through WatchESPN on computers, smartphones or tablets. Darren Headrick will have the call on the UK Sports Network on 630 WLAP in Lexington. Live stats and free live audio will be available online at UKathletics.com.   
 
Single-game tickets are $10 (all ages) in reserved seating areas, while general admission tickets are $8 for adults and $5 for children (ages 6-18) and seniors (age 65+). Free pom-poms will be available for fans as they enter Rupp Arena. Redshirt junior guard Amanda Paschal is scheduled to sign autographs on the concourse following the game
 
The Wildcats are 26-18 all-time in Rupp Arena but have lost five of their last six games played in the arena. UK went 0-3 last season but defeated Atlantic Coast Conference foe Virginia in Rupp Arena earlier this season, 63-51. UK has played at least one game in Rupp Arena since the 2011-12 season.
 
Kentucky (17-5, 4-4 Southeastern Conference) is coming off back-to-back losses for the first time this season. Both setbacks came to top-25 teams, falling at Texas A&M and in Memorial Coliseum to No. 16 South Carolina. Senior guard Maci Morris scored 22 against the Aggies and 21 against the Gamecocks to lead the Wildcats, while freshman guard Rhyne Howard had 16 against USC and 21 against TAMU. Kentucky lost both games by a combined six points.
 
Morris leads Kentucky in scoring this season at 16.8 points per game and has hit a team-high 56 3-pointers. Howard is second on the team at 16.4 points per game and has 53 assists and 46 steals. Senior guard Taylor Murray, who scored 16 points with five assists against South Carolina, leads the team with 80 assists and 71 steals this season adding 12.5 points per game.
 
Florida enters the weekend with a 5-16 record, including a 1-7 mark in league play. The Gators are 0-9 away from home this season and have lost four straight games. Sunday's game is the final of a two-game road swing for the Gators, who played at Tennessee on Thursday and lost, 67-50. UF's lone league win this season so far came at home vs. Missouri.
 
The Gators are shooting 36.5 percent from the field this season, including a 29.8 mark from long range. The Gators make 7.7 3-pointers per game and have attempted 544 treys on the year. Florida averages 60.6 points per game, has a -1.6 turnover margin and an even rebounding margin with 37.2 boards per game.
 
Redshirt senior guard Funda Nakkasoglu leads the team with 16.9 points per game, hitting a team-best 58 3-pointers. Junior guard Delicia Washington is averaging 10.4 points per game with 7.6 rebounds per game and 52 assists, while redshirt junior forward Zada Williams is earning 8.5 points and 5.0 rebounds per game. Sophomore guard Kiara Smith leads the team with 65 assists and 27 steals averaging 7.3 points per game.
 
Kentucky leads the all-time series in games played against Florida, 30-25, including a 15-10 mark in games played in Lexington. The Wildcats have won three straight games against the Gators in the series, including five of the last six games. Florida's last win in Lexington came on Jan. 5, 2014 when it defeated UK, 83-73.
 
For more information on the Kentucky women's basketball team, visit UKathletics.com or follow @KentuckyWBB on Twitter, Instagram and Snapchat, or Kentucky Women's Basketball on Facebook.
 
Rupp Arena Game Day Information
There is ongoing construction at Rupp Arena that will affect parking and entry. Fans are highly encouraged to review changes closely and arrive early to future games. Fans can review and monitor all game-day changes at www.UKathletics.com/GameDay.
Among the changes that will affect fans is to the Manchester parking lot. Construction along the back of Rupp Arena, near the Jefferson Street bridge, will eliminate a majority of parking in the Manchester Street lot. This will cause a number of spaces in the High Street lot and the Langley Garage to now be utilized for game-day operations.
Due to reduced parking in the High Street lots, fans are encouraged to use alternative game-day parking options. UK Athletics will continue to work diligently with Rupp Arena and Lexington parking officials to maximize the parking areas that are available on game day.
The Transit Center Parking Garage (150 E. Vine St.), the Helix Parking Garage (15-160 W. Main St.) and Courthouse Garage (105 Barr St.) have been made available for the 2018-19 season in addition to the Victorian Square Parking Garage (350 W. Short St.) from prior seasons. Other Lexington parking garages will be an option for fans.
Effective Oct. 1, Rupp Arena is now a tobacco-free facility. Designated smoking areas outside of the arena will no longer exist as those areas will be affected by the ongoing construction. Patrons who wish to use tobacco products will be asked to do so off of the Rupp Arena grounds.
To ensure fan safety, previous game-day operation changes will remain in effect, including the continued use of walkthrough metal detectors. UK and Rupp Arena will continue to implement a bag policy that requires that bags do not exceed 12 inches by 6 inches x 12 inches. Prohibited bags include, but are not limited to backpacks or any bag larger than the permissible size. An exception will be made for medically necessary items after proper inspection at a gate designated for this purpose.
UK Athletics and Rupp Arena are encouraging patrons to travel light for quicker entry. Express lanes for guests with no bags will be provided to assist in expediting the security process.