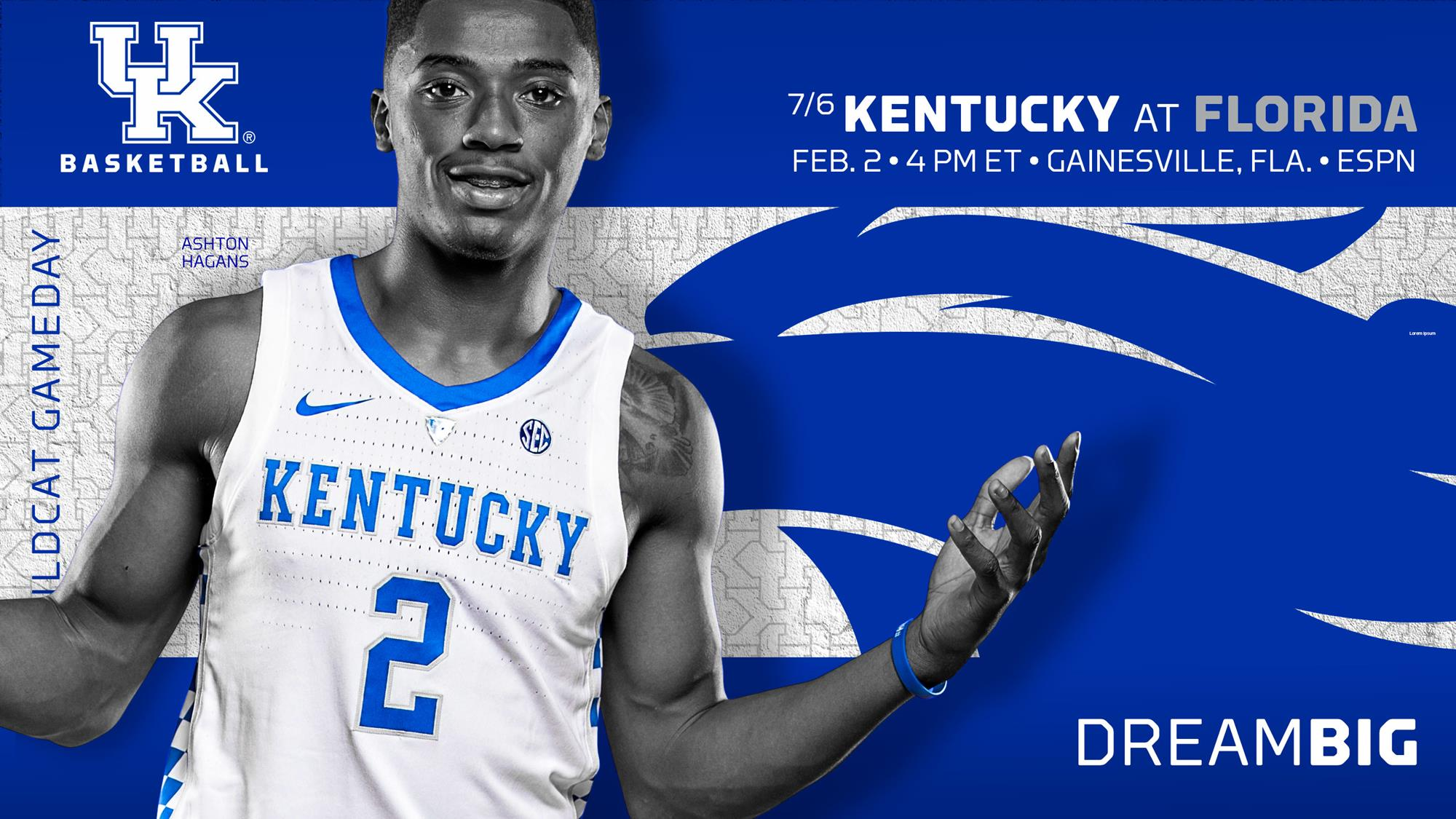 February 1, 2019 - 05:14 PM
Unselfishness Not a Choice for Balanced Kentucky
Kentucky was a well-oiled machine during the first half of a trip to Vanderbilt.
 
The Wildcats stifled the Commodores on defense and overwhelmed them on offense. The result was a 45-15 halftime deficit that drove the ESPN broadcast crew to dig up "Rockin' Little Heartbeat", the remnants of Jimmy Dykes' would-be music career, to kill time in the second half.
 
The interesting thing, however, was two key cogs in the UK machine – Keldon Johnson and Reid Travis – were all but silent, yet it hummed along just fine. Kentucky's first and fourth-leading scorers combined for a scant two rebounds, two assists and two fouls in arguably its best 20 minutes of the season.
 
Does that mean Johnson and Travis are likely to take some kind of step back the rest of the season? Hardly. It's just that these Cats have plenty of weapons with which to do damage.
 
"We were up 30, and Keldon and Reid didn't have a point," John Calipari said. "Are you OK? If we're going to be a good team, you got to be OK. Numbers don't matter here."
 
"This isn't communism" is a favorite refrain of Coach Cal's, but these Cats certainly know how to share the wealth. No. 7/6 UK (17-3, 6-1 Southeastern Conference) has four scorers averaging double figures ahead of a trip to Florida (12-8, 4-3 SEC) Saturday at 4 p.m., and emerging freshman point guard Ashton Hagans isn't among them.
 
Kentucky at Florida

Tue., Feb. 2 – 4 p.m. ET
Exactech Arena (O'Connell Center)
Gainesville, Fla.
Game Notes: UK | UF
UK Athletics App Digital Guide

Coverage

TV: ESPN
Radio: UK Sports Network
Watch
Listen
Live Stats

UK
2018-19 Stats
UF
17-3
Record
12-8
6-1
Conference Record
4-3
79.9
PPG
69.8
66.5
Opp PPG
62.7
.484
FG%
.424
.410
Opp FG%
.411
38.3
RPG
34.3
.362
3PT FG%
.355
.360
Opp 3PT FG%
.317
.749
FT%
.687
14.5
APG
13.7
6.8
SPG
7.8
5.5
BPG
4.4

"It's a huge advantage," Jemarl Baker said. "That's why we're so a good team and we will be a great team in March as well. We're just working hard and if somebody has an off day, we're ready to go. We have other people that can step up."
 
The five players who have emerged as regular starters for UK – Hagans, Tyler Herro, Johnson, PJ Washington and Travis – have all led the team in scoring multiple times this season. And until Washington's back-to-back-to-back 20-point games over the last 10 days, no player had led the squad in scoring in more than two games in a row.
 
"It's a big edge," EJ Montgomery said. "You don't know who to plan for. Anybody can go out and have that big game."
 
Montgomery hasn't had that big game just yet, instead playing a supporting role behind Washington and Travis, but it's a matter of time. When the time comes, it will be on his teammates to do what Montgomery has consistently done for them.
 
"What I keep talking about is if someone really has it going, be happy for him," Calipari said. "There's no other feeling. If we win and you didn't score, be happy."
 
Scoring, after all, isn't the be-all, end-all at Kentucky. Far from it.
 
"It's not about numbers," Calipari said. "It's about how you play here. … That's the effort and intensity and then being a good team, which means defensively you're talking, you're engaged. You know what the game plan is and on offense you're being willing passers. You're making hard cuts. You're setting great screens. You're passing when a guy's open in an area where he can catch and shoot."
 
That concept isn't an easy one to grasp, but Calipari isn't resting until his team, from top to bottom, gets it.
 
"When you're pressed about individual performance it's hard to be what I just said," Calipari said. "When you're so consumed with, 'How am I playing? What am I doing?' We're getting away from it slowly but surely."
 
That's a good thing, because the calendar has now flipped to February, mere weeks away from it really counts. That's also when the Cats will most need to count on one another.
 
"We're going to need each other," Baker said. "When it comes to March, some people might not have a great game. We're going to need each other. We're going to need everybody to play well and we all believe in each other. We're all confident in each other as well."
Washington Leads Cats Past Vanderbilt in Dominating Fashion
Kentucky coach John Calipari insisted he worked harder in the second half, even though his Wildcats led by 30 at halftime and PJ Washington already had a double-double. As good as Washington and the Wildcats look now, Calipari believes much more is possible this season if they keep improving.
Washington finished with 26 points and 12 rebounds as seventh-ranked Kentucky routed Vanderbilt 87-52 Tuesday night for the Wildcats' seventh straight victory.
"I teased them at halftime, told them I was really mad at them because I don't want any of my teams playing this well in January," Calipari said.
Washington had 18 points and 10 rebounds to go along with two steals and two assists by halftime, and he posted his career-best third straight game with at least 20 points.
"I'm just trying to come out aggressive," Washington said. "I feel like if I come out aggressive I play a lot better."
That's why Calipari keeps pushing the sophomore forward.
"I waited a year and half for him to play this way," Calipari said. "I'm not letting him slip back."
Kentucky (17-3, 6-1 Southeastern Conference) also won its sixth consecutive in this series with Calipari perfect so far against Vanderbilt coach Bryce Drew, who sees Washington as possibly the most improved player in the country.
"All compliments to him for turning his game completely around from last year to this year," Drew said.
The Wildcats came to Memorial Gym after their toughest stretch since the 2015 NCAA Tournament and the end of the 2005-06 regular season, during which they beat three straight ranked opponents, capped by a win over No. 9/10 Kansas last weekend. They kicked off a two-game road swing through the SEC in dominating fashion.
Vanderbilt pulled within 12-10 on a 3-pointer by Aaron Nesmith with 13:50 left, and then Kentucky finished the half by outscoring the Commodores 33-5 for a 45-15 halftime lead. The Commodores barely outscored their 14 turnovers, which Kentucky turned into 16 points.
The Wildcats also smothered Vanderbilt in the paint, and the Commodores couldn't knock down anything from outside either.
"When they're shooting the ball that well with their inside presence again, they're going to be really tough to beat by anyone in the country," Drew said.
Nick Richards finished with 14 points, Tyler Herro added 12 points and Keldon Johnson scored 11 for Kentucky.
The Wildcats didn't ease up in the second half, knocking down their first three shots from beyond the arc. Johnson connected 15 seconds into the half for Kentucky's biggest lead of the game at 48-15. Kentucky led by as much as 38 just past the midway point of the half.
The biggest question was whether Vanderbilt could match the 47 points it scored in a loss at Rupp Arena on Jan. 12, and it did that when Ryanknocked down a 3 with 1:08 left. Kentucky answered with a couple big dunks to its fans' delight.
• Kentucky leads the series 147-47 and has now won six straight in the series. That's the longest winning streak by either team since the Wildcats won 18 in a row from 1994 to 2002
• UK improved to 58-29 vs. Vanderbilt in Nashville, Tennessee, and has won its last three in Memorial Gymnasium.
• Kentucky's 35-point victory was its largest vs. Vanderbilt since a 106-44 victory on March 5, 2003. It was UK's biggest victory in Nashville since winning by 39, 120-81, on Feb. 7, 1996.
• It's Kentucky's second-largest margin of victory in Nashville in the series' history
• It was the Wildcats' largest margin of victory in an SEC road game since winning by 38 at South Carolina on Jan. 16, 2007
• UK led 45-15 at halftime. The Wildcats' 30-point halftime lead was its largest at intermission since leading UCLA by 34 (41-7) on Dec. 20, 2014, in the CBS Sports Classic in Chicago
• The victory was UK's largest road win of the Calipari era. The previous mark was 34 at South Carolina in 2012. It tied for Kentucky's fourth biggest margin of victory in SEC play during the Calipari era
• Vanderbilt scored 52 points. UK is a perfect 69-0 under Calipari when keeping the opponent to 55 points or less, including 5-0 this season
• The Commodores shot only 37 percent from the field. UK is 173-15 under Calipari when keeping the opponent at 40 percent or less, including 8-0 this season. UK has held five of its last six opponents to 40 percent or less
• Kentucky dominated in the paint again with a 32-12 points in the paint advantage. UK is now 15-2 this season when scoring more in the lane.
• UK is now 236-40 vs. unranked competition under Calipari
• Kentucky improved to 250-5 (.980) under Calipari when leading by at least 10 points at any point in the game
• UK hit 10 3-pointers, tied for the second most of the season
• Washington has three straight 20-point games for the first time in his career and he's the first player with back-to-back 20-10 games since Julius Randle did it three times Nov. 8-12, 2013
• Richards has blocked nine shots in last 23 minutes played. He scored a season-high 14 points, including 11 in the second half
• Ashton Hagans dished out a game-high eight assists. He's passed out three or more in 14 straight and eight or more in three straight. He's the first UK player to have eight or more in three straight since Tyler Ulis had six such games from Feb. 6-23, 2016
Wildcats in the Middle of a Tough Stretch
 
Already tasked with playing one of the toughest schedules in the country, Kentucky completed a three-game buzzsaw vs. No. 14/12 Auburn on the road and No. 22/22 Mississippi State and No. 9/10 Kansas at home.
It marked the first time since the 2015 NCAA Tournament UK faced three consecutive foes ranked inside the Associated Press Top 25 and the first time in the regular season since the final three games of the 2005-06 regular season.
UK's reward for getting through this particular three-game stretch? Back-to-back road games at Vanderbilt (Jan. 29) and Florida (Feb. 2). Kentucky answered the call with its most dominating effort of the season in an 87-52 thumping of the Commodores on Tuesday.
Kentucky's seven-game winning streak continues to look more and more impressive as its schedule is shaping up to be one of the toughest in the country.
UK has already faced the likes of Duke (Nov. 6) in Indianapolis in the State Farm Champions Classic, Seton Hall (Dec. 8) in Madison Square Garden in the Citi Hoops Classic, Utah (Dec. 15) in Rupp Arena, North Carolina (Dec. 22) in Chicago in the CBS Sports Classic and concluded December with a road game at Louisville (Dec. 29).
Five of UK's nonconference opponents played in the NCAA Tournament last season. According to a survey among NCAA schools, that's tied for the third most in the country.
And that's just the nonconference slate.
The Southeastern Conference featured eight teams in the NCAA Tournament a season ago and UK will play three of those teams twice. The league appears to be every bit as good as last season with four teams ranked in the Associated Press Top 25 this week and two more receiving votes. Last week six teams were in the AP Top 25 for the first time since Jan. 21, 2003.
Looking at Kentucky's remaining schedule, of the 11 remaining regular-season games, four are against opponents currently ranked in the AP Top 25, plus UK has a home game vs. Auburn and a road date at Ole Miss, both of whom are receiving votes. Of the seven that are not ranked, three are on the road, so it won't get any easier for UK.
As the poll stands right now, Kentucky's 2018-19 scheduled features nine games vs. opponents in the AP Top 25.