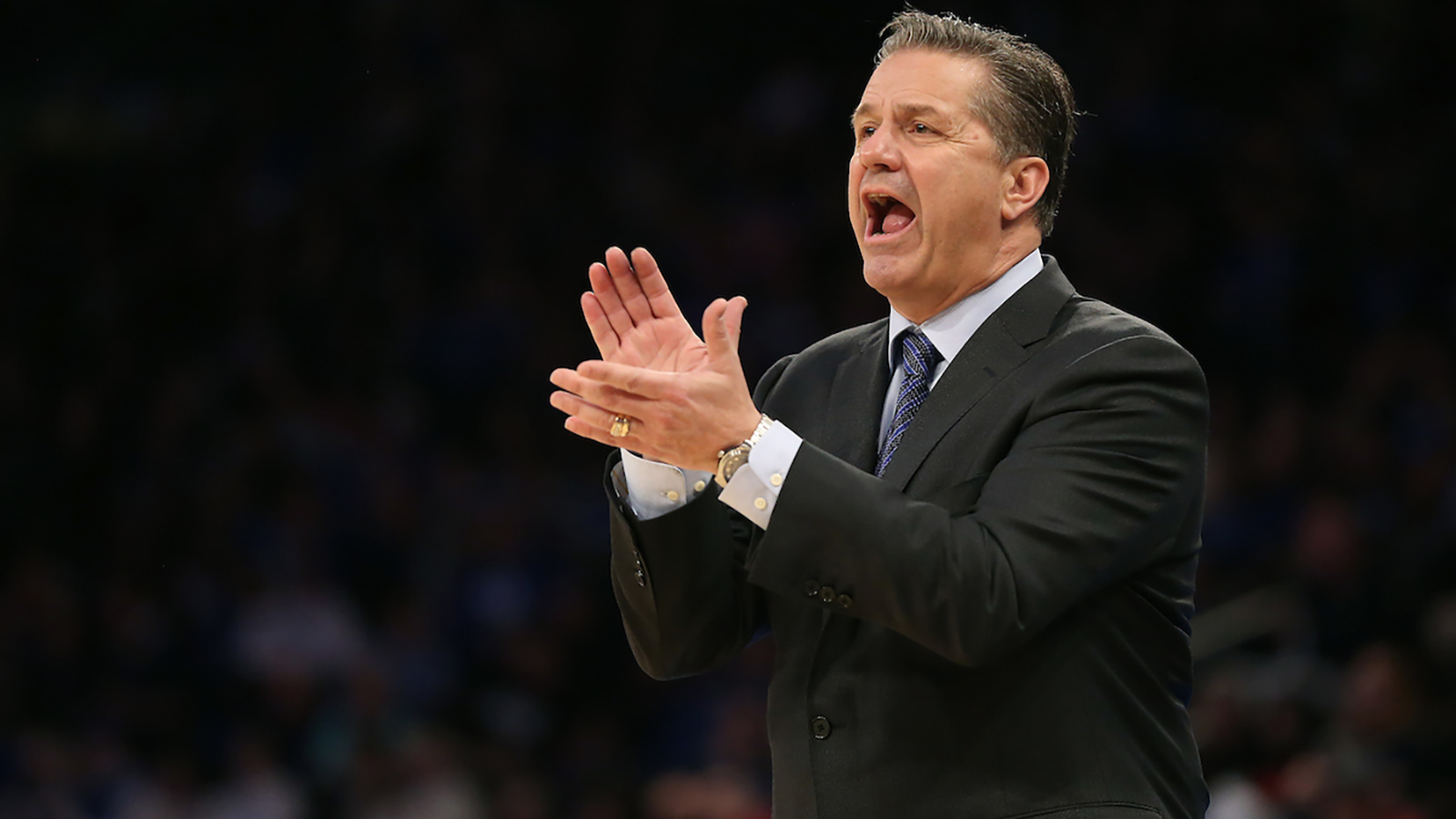 February 1, 2019 - 10:11 AM
Kentucky Basketball Previews Florida
UK ATHLETICS COMMUNICATIONS AND PUBLIC RELATIONS
MEN'S BASKETBALL
UK at FLORIDA PREGAME MEDIA
FEB. 1, 2019
JOE CRAFT CENTER – LEXINGTON, KY.
 
Head Coach John Calipari
 
On the mindset of the team heading to Florida …
"Yesterday they were good in practice. We'll see how they are today. They've been in a good frame of mind. They're really engaging with each other. We're slowing figuring stuff out, but I think they're in good spirits."
 
On how the team is handling the big success from Tuesday night …
"They're getting better. They're building their own confidence. We did some conditioning stuff yesterday and PJ (Washington) and Ashton (Hagans) finished first. Nick (Richards) finished in the top three, four. I think they understand they got to conquer themselves first before you worry about conquering somebody else, and they're pushing themselves. They're doing good."
 
On how to keep a team's edge when having success …
"We're just talking about the big picture of everything we do. That's just kind of how I do this. It isn't game to game. It's how we're trying to get better. We know we're going to go into a madhouse. We've done it. It's been a hard place for us to play. They make shots there. They're shooting the last five games 30 three-point shots a game. They may shoot 35, and if they make 20, it's been a nice little run, now who do we play next. They're shooting, and if they're on fire making them, going to make it hard. They had Tennessee. It was 69-67. As a matter of fact, they had them down as many as seven, eight, nine. It was with a minute and a half, two minutes to go, 69-67 and anybody's ballgame, so they're that good. They play, and they throw a little 1-2-2 out there. They throw a little 1-3-1 out there, throw a little 3-2 zone out there. They'll play."
 
On having multiple offensive threats …
"You're just trying to get each guy to prepare to be that guy, and then you're trying to – again, what I keep talking about is if someone really has it going, be happy for him. There's no other feeling. If we win and you didn't score, be happy. We were up 30, and Keldon (Johnson) and Reid (Travis) didn't have a point. Are you OK? If we're going to be a good team, you got to be OK. Numbers don't matter here. I'll say it again: PJ was 0 for 4 from the 3-point line and everybody went nuts about how he played. Tyler Herro was 2 for 9 and missed every jump shot, made two layups, and everybody talked about how he's playing. You know Ashton's game. It's not about numbers. It's about how you play here. Nick had five blocks in eight minutes. Now, go toughen up and go get some tough rebounds in traffic. Go bang a body instead of chasing the ball with your eyes. That's the effort and intensity and then being a good team, which means defensively you're talking, you're engaged. You know what the game plan is and on offense you're being willing passers. You're making hard cuts. You're setting great screens. You're passing when a guy's open in an area where he can catch and shoot. All of that stuff when you're worried about us you can do that. When you're pressed about individual performance it's hard to be what I just said. When you're so consumed with, 'How am I playing? What am I doing?' We're getting away from it slowly but surely."
 
On the team's ability to stick to the game plan and if the team is improving in that area …
"From the beginning of the year, yes. But we still have some breakdowns. We've got one or two guys that still, they just, when their man doesn't have the ball they then turn off. You just can't be that guy. But we're working on it every day. We're talking about it. We're addressing it. We're showing it on tape. It's not like it's five guys. But I said when we played Georgia, when one guy is not engaged you're not very good. If two of the guys are not engaged they're dunking basketballs to start the game. I don't know if you can remember back two weeks, three weeks where we were. (Down) 16-4, 14-2. Dunk. Dunk. Dunk. Dunk. Dunk. What in the word? Well, you have two guys not engaged. Now you're seeing a different – what do we have different players? Then tell me what's different? Same guys. Trying to get us to stay committed to each other and become that kind of team is big for us."
 
On EJ Montgomery's time being cut because of PJ Washington's play …
"Yeah, it is. And we talked about it. He's getting better and better and more confident. As his legs get stronger, and he can hold his position and all of those things he's ridiculous because his skills are off the chart. But what happens when teams play us? They all say the same thing because we're young: 'Just beat them up, man. You've got to physically go at them.' And it's not just him. They're saying it about all of our guys. You've gotta be able to withstand that. He's getting better at it."
 
On him being an older coach and if he takes any satisfaction out of taking it to some of the younger coaches in the league …
"I'm allowed to say that (that he's old), not you. We've got terrific coaches in this league. Guys are really committed to their teams and committed to the game. (They) have game plans that when you get into the middle of it and you understand what they're trying to do, trying to take away some of our strengths and attack our weaknesses, they're good coaches. Mike (White) is a good coach. Bryce (Drew) is a good coach. I mean, you think about what Bryce is going through right now. They lose their best player who was their centerpiece, who was going to make everyone around you better. He could score the ball, take over games when he needed to, and he's gone. Mike lost his big guy. How about Cuonzo (Martin) when their best player went down? To sustain it when those things happen you know I always say that's what good coaching is. Lose two or three games, let me see how you coach now. When things are going good, you're cheering and all that. I mean when things aren't going well. Let me see you coach now. Let me see you bring a team together when there's panic all around you. So when I see the guys coach in our league, that's part of the deal. You've got good in this league. We've got good players in this league. I don't know if we still do, but we had six teams ranked. I'm trying not to get ahead of our schedule. I don't know who we play after this, but I imagine it's a hard game because every time I turn around it's like, 'What in the world?' "
 
On Florida playing four guards a lot of time and the challenge that presents …
"Well, they're playing – their four-game is 6-5, 6-6. He's like a perimeter guy. But our guys can move at that position and play. And if we need to go small we can. We can put Keldon at four if I think that's what we need to do. But again, I like people to adjust to us more than us adjust to them."
 
On if it's hard to related to 18- and 19-year-olds now that he's older …
"If they know they care you about them and they know you make it about them, I don't think age matters. If you're into your own numbers, wins and everything is about the program, the program, the program and it isn't about them and they know it, it doesn't matter what are; you're not going to connect with those kids or their families. Hopefully these kids feel that we're about them. This is about their success collectively and individually. We try to leave anybody behind. We're coaching every kid like they're a starter. I've probably mellowed. The guys that I coached at UMass and even some of my time early on, I think they look and say I've mellowed. But, you know, you get comfortable with a team and you don't have to be as aggressive. And comfortable means no one's trying to trick anybody. No one's trying to get over (someone). They're not in the gym but they want to blame or create cliques. We don't have that stuff. The stuff we have is a bunch of good kid and I'm having a good time with them. We know we're going into a war. It's a hard game. But none of the games we've played have been easy. So it's good to see them respond in those situations."
 
On the success of Nick Richards vs. Vanderbilt and he expects to see another step forward …
"Yeah. We continue to work on the same things with him, but to play the way we're asking him to play is really hard. Conditioning is probably a big part of it. You try to tell all of these kids, 'When you think you're about done, you've probably got about 40 percent left In the tank. It's usually your mind. You've got to conquer your mind. When Nick is running around and bouncy, you guys know he's as good as anybody in the country and has as big of an impact on the game as any player in the country. When he's not, he's not the same guy. So we're trying to say, how many minutes can you be this guy? If it's only three minutes at a time, then just do it for three minutes. But none of these kids want to take themselves out of the game. PJ, the last game or two games ago took himself out. They don't want to take themselves out. They're just trying to stay on the floor as long as they can so I've got to sub them. I would rather it be, 'Give me a break? Can you get me out? Give me two minutes, Coach. I want to go back?' OK. That's an empowered team. And we're just building towards that right now.
UK ATHLETICS COMMUNICATIONS AND PUBLIC RELATIONS
MEN'S BASKETBALL
UK at FLORIDA PREGAME MEDIA
FEB. 1, 2019
JOE CRAFT CENTER – LEXINGTON, KY.
Kentucky Players
#13, Jemarl Baker Jr., R-Fr., G
On Florida's home court …
"I've heard that it's pretty crazy, but at this point we're kind of used to it being at Louisville, playing at Auburn. We just have to go out there and give it all we got."
 
On whether the focus showed at Vanderbilt is what the team is doing in practice …
"For sure. I've been saying that every day in practice we've just been trying to work hard and get better. As you can see, we're gradually getting there and that's just what we want to continue. We want to keep getting better, we want to keep working hard in practice and by March we should be good."
 
On how to sustain their momentum …
"Just continuing to focus on the game plan the coaches give us and just work hard. Focus and when we get on the court just be ready to play."
 
On the confidence the guards on this team have in each other …
"We're going to need each other. When it comes to March, some people might not have a great game. We're going to need each other. We're going to need everybody to play well and we all believe in each other. We're all confident in each other as well."
 
On the approach to Florida …
"Just basically that we have to go out and play hard and execute the game plan. That's just all we've been stressing and stressing getting better every day."
 
On Florida being a guard-oriented team …
"For sure, but we're ready for it. That's why we work so hard. We just want to get out there. We want to play hard and we want to do what we can to win."
 
On playing so well at Vandy …
"It felt good. We definitely wanted to have a game like that. Coaches have been telling us that we have to just come into games and be ready to play hard no matter who it is and just be ready to play our game. That's what we wanted to do. We stayed focused on our game plan. We stayed focused on the game plan the whole game. We defended really well and that's how we got on a run."
 
On whether one made shot leads to the next …
"For sure, and that's how you get on a roll. But it starts with stops, definitely. Getting out in transition and just having fun out on the court."
 
On why they have improved on defense …
"Just being more focused, continuing to work on defense in practice and getting better every single day. Just focusing on the game plan and what they're telling us to do, because all the time the game plan's right on the money. Just us being focused and playing hard and making sure we execute it."
 
On the value of having so many scorers …
"It's a huge advantage. That's why we're such a good team and we will be a great team in March as well. We're just working hard and if somebody has an off day, we're ready to go. We have other people that can step up."
 
#23, EJ Montgomery, Fr. F
On what kind of roll the team is on right now …
"We're winning, so it's pretty good. We're working hard, going down to prove that we're that team that everyone thought we were in the beginning."
On what everyone thought the team was at the beginning of the season …
"I think everyone was hyped up about this team. I think we're starting to prove that we're that team and we're pretty good."
On what has gone into the team proving just how good they are …
"Just focusing on defense, getting out and practicing every day, practicing hard. Just showing we can do what we can do."
On the biggest improvement in the team's defense …
"Just getting comfortable talking more, having each other's back and trusting each other."
On what kind of edge it is that the team has multiple players who can score …
"It's a big edge. You don't know who to plan for. Anybody can go out and have that big game."
On his game right now …
"Just staying in the process, going out there and do what I can do to help my team win and just keep competing."
On what part of his game he is working on …
"For me, I just have to clear my mind before I step on the floor. That's the main thing I'm trying to do right now. Just go out there and play my game."
On what he has to clear out of his mind …
"I'm just thinking too much about everything in the game, what I have to do. I just have to lose myself in the game and just go out there and have fun."
On how quickly the season has gone by …
"Me and some of the guys were talking about that the other day. Season's going by pretty fast, but we're enjoying it."
On how he relates to John Calipari off the court …
"Cal, he's a cool guy, he tells jokes and he's always hip to the new stuff. Just a good guy."
On what he's looking forward to as he returns to Florida …
"I'm originally from Florida. Just going down to compete and try to get this 'W'."
On if he's looking forward to playing in front of his friends and family …
"I'm looking forward to it. I miss my family. Just going to go out there and compete and have fun."