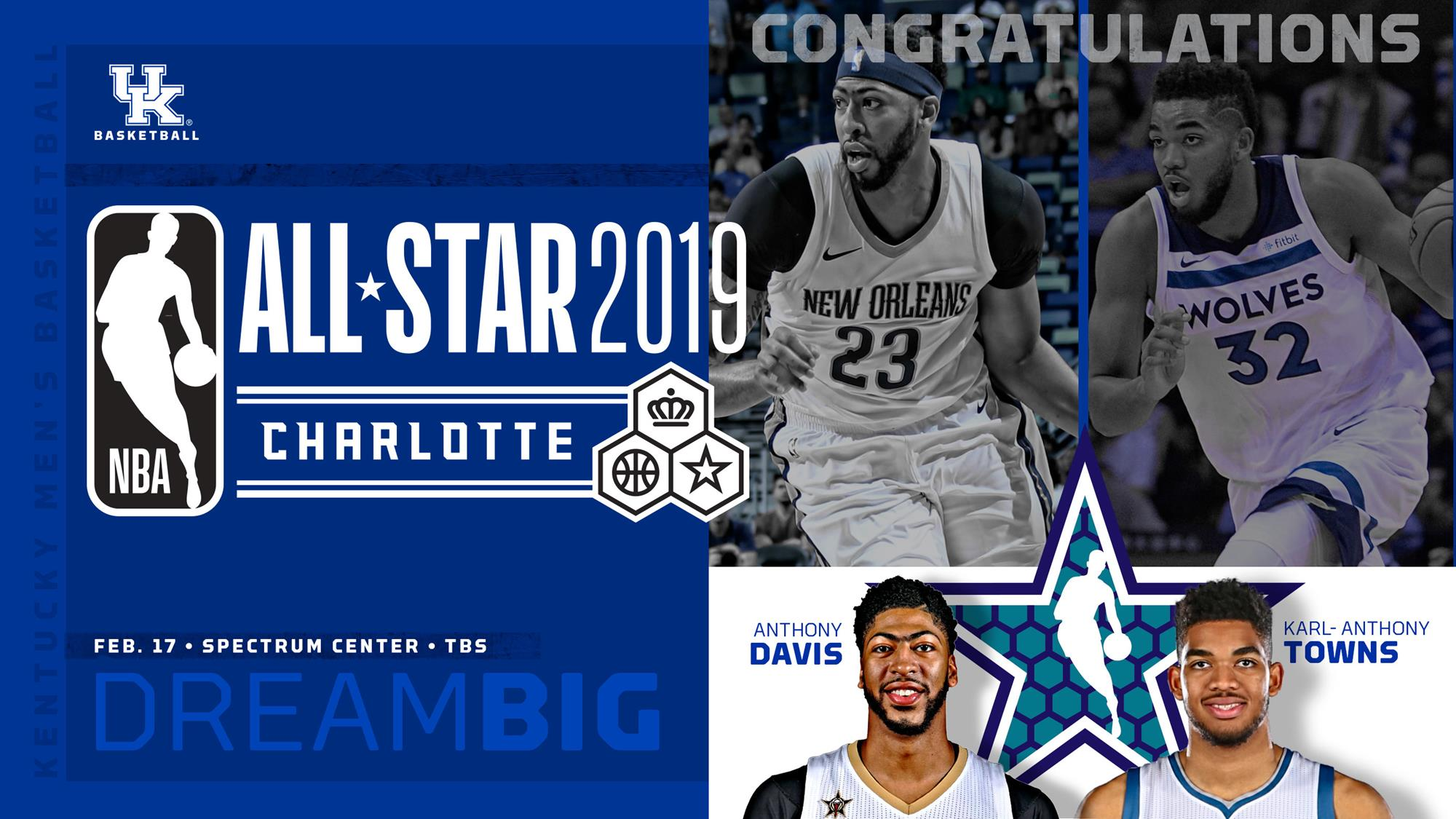 January 31, 2019 - 07:26 PM
Davis and Towns Selected for the NBA All-Star Game as Reserves
LEXINGTON, Ky. – Former Kentucky greats Anthony Davis and Karl-Anthony Towns were selected as NBA Western Conference All-Stars on Thursday. Davis will make his sixth consecutive appearance and Towns is appearing in the game for the second straight year. The NBA All-Star Game is slated for Feb. 17 in Charlotte. Davis and Towns were two of 14 reserves selected by the league's coaches and announced on TNT on Thursday night.
 
Davis' sixth appearance is the most of any Wildcat in program history. For the second straight year, Kentucky will lead the league with former players in the NBA's annual game featuring its top players. UK had four selections a season ago and tied Texas (Kevin Durant, LaMarcus Alridge) with two in 2019.
 
For the second straight year, the All-Star Game will be divvied up by two captains who will choose the rosters from the pool of players voted as starters and reserves. As the All-Star starters who led their respective conferences in fan votes during NBA All-Star voting, LeBron James (Los Angeles Lakers) and Giannis Antetokounmpo (Milwaukee Bucks) will serve as this year's captains. 
 
The complete team rosters will be unveiled on Feb 7.
 
Rosters for the 2019 MTN DEW ICE Rising Stars game, which features some of the league's best first- and second-year players, have already been unveiled and included two players who called Kentucky home for college. De'Aaron Fox (Sacramento Kings) will suit up for the U.S. Team and go against Shai Gilgeous-Alexander (Los Angeles Clippers) on the World Team.
 
That game will be played Feb. 15 at 9 p.m. ET on TNT.
 
Davis is in his seventh season in the NBA and is enjoying another terrific season of what's already been a stellar professional career. Davis is among the league leaders in a number of the major statistical categories.
 
The 6-foot-11 forward ranks second in scoring (29.3 points per game) and blocks (2.56 bpg), third in rebounding (13.3 rpg), eighth in steals (1.71 spg) and ninth in double doubles (32). His player efficiency rating, a strong indicator of a player's overall contributions and value, is at 31.00, the best mark in the league.
 
Davis reached 10,000 career points on Nov. 21, becoming the eighth-youngest player to do so in league history. On Dec. 10, he tallied his 15th career 40-point, 15-rebound effort on Dec. 10. Only Shaquille O'Neal (19) has more over the last 35 years in the NBA. He then registered his 10th 45-point, 15-rebound game on Jan. 14. He's the only player since at least 1983 to have 10 or more according to Basketball Reference.
 
He was voted in as an NBA All-Star starter for the 2015, 2017 and 2018 games. In 2017, he won MVP honors as the game was played in New Orleans. Davis scored an All-Star Game record 52 points in addition to contributing 10 rebounds. He broke Wilt Chamberlain's previous scoring record of 42 points set in 1962.
 
Named the 2012 NCAA Final Four Most Outstanding Player after leading Kentucky to the 2012 national championship, Davis has already put together a long list of accolades in the NBA during his short career. Among his most noteworthy achievements, he's a three-time All-NBA First Team selection (2015, 2017 and 2018) and made the NBA All-Rookie Team in 2013. He was considered the consensus national player of the year – Kentucky's first – in 2012 before being drafted No. 1 overall by the New Orleans Pelicans (formerly the New Orleans Hornets) in 2012.
 
Towns has continued his ascension as one of the league's brightest young stars in year No. 4 in the league. The top overall selection in the 2015 NBA Draft – Calipari's third at Kentucky – Towns has more than lived up to the billing as a franchise player.
 
The 7-foot forward has turned into a double-double machine, ranking six in the league with 33 of them. He ranks 16th in scoring (22.6 points per game), ninth in rebounding (12.1 rpg), ninth in blocks (1.86 bpg) and 23rd in 3-point field-goal percentage (.412). His player efficiency rating is at 24.98, the 11th-best mark in the league.
 
Towns has become the centerpiece of the Timberwolves' franchise after signing a five-year contract extension in the fall. He's already the sixth-leading scorer in franchise history and earlier this season became one of only 14 players in league history to collect 5,000 or more points and 2,500 or more rebounds in his first 250 games.
 
In 2015, Towns was tabbed the NBA Rookie of the Year, the first player in Kentucky's storied history to win the award. He'll be making his second appearance in the All-Star Game and also won the Skills Challenge in 2016.
 
Towns was one of the centerpieces of the historic 2014-15 UK team that flirted with a perfect season. He was an NCAA Consensus Second Team All-American and Southeastern Conference Freshman of the Year.
 
Fox and Gilgeous-Alexander are beginning on what they hope are similarly promising careers.
 
Fox is in his second season with the Kings and has quickly become one of the best young point guards in the game after being selected fifth overall in the 2017 NBA Draft. With elite speed and athleticism, Fox has the upstart Kings in contention for a playoff spot in the ultra-competitive Western Conference.
 
The 6-foot-3 guard is averaging 17.4 points per game and ranks ninth in the league in both assists per game (7.2) and steals per game (1.70). On Nov. 1, he became the youngest player in league history to record 30 or more points, 15 or more assists, and 10 or more rebounds in a game.
 
At Kentucky, Fox guided UK to within a game of the Final Four after a memorable season in Lexington. In earning Associated Press All-American honorable mention honors, Fox scored a freshman NCAA Tournament record 39 points vs. UCLA in the Sweet 16 and recorded the program's first triple-double since Chris Mills in 1988 with a tremendous performance vs. Arizona State.
 
Gilgeous-Alexander wasn't originally tabbed by college basketball analysts to be the guy that filled Fox's shoes the next season and originally came off the bench for UK, but he followed with an equally impressive season. He led UK in assists, steals, free-throw percentage and 3-point field-goal percentage and guided the Wildcats to the SEC Tournament championship and the Sweet 16.
 
The Canadian was selected 11th by the Charlotte Hornets and then traded to the Los Angeles Clippers in the 2018 NBA Draft. Thanks to Gilgeous-Alexander's solid play, the Clippers are in the mix for a playoff spot.
 
Gilgeous-Alexander is averaging 9.9 points and 2.9 assists in a starting role for the Clippers. He recorded a career-high 24 points earlier this month against the Golden State Warriors, and among teams with a record over .500, he leads all rookies in minutes and scoring. 
 
Participants for the Taco Bell Skills Challenge, the Three-Point Contest and the Slam Dunk Contest have not been named yet. Those announcements are expected to be made soon.
 
For the latest on the Kentucky men's basketball team, follow @KentuckyMBB on Twitter, Facebook, and Instagram, and on the web at UKathletics.com.