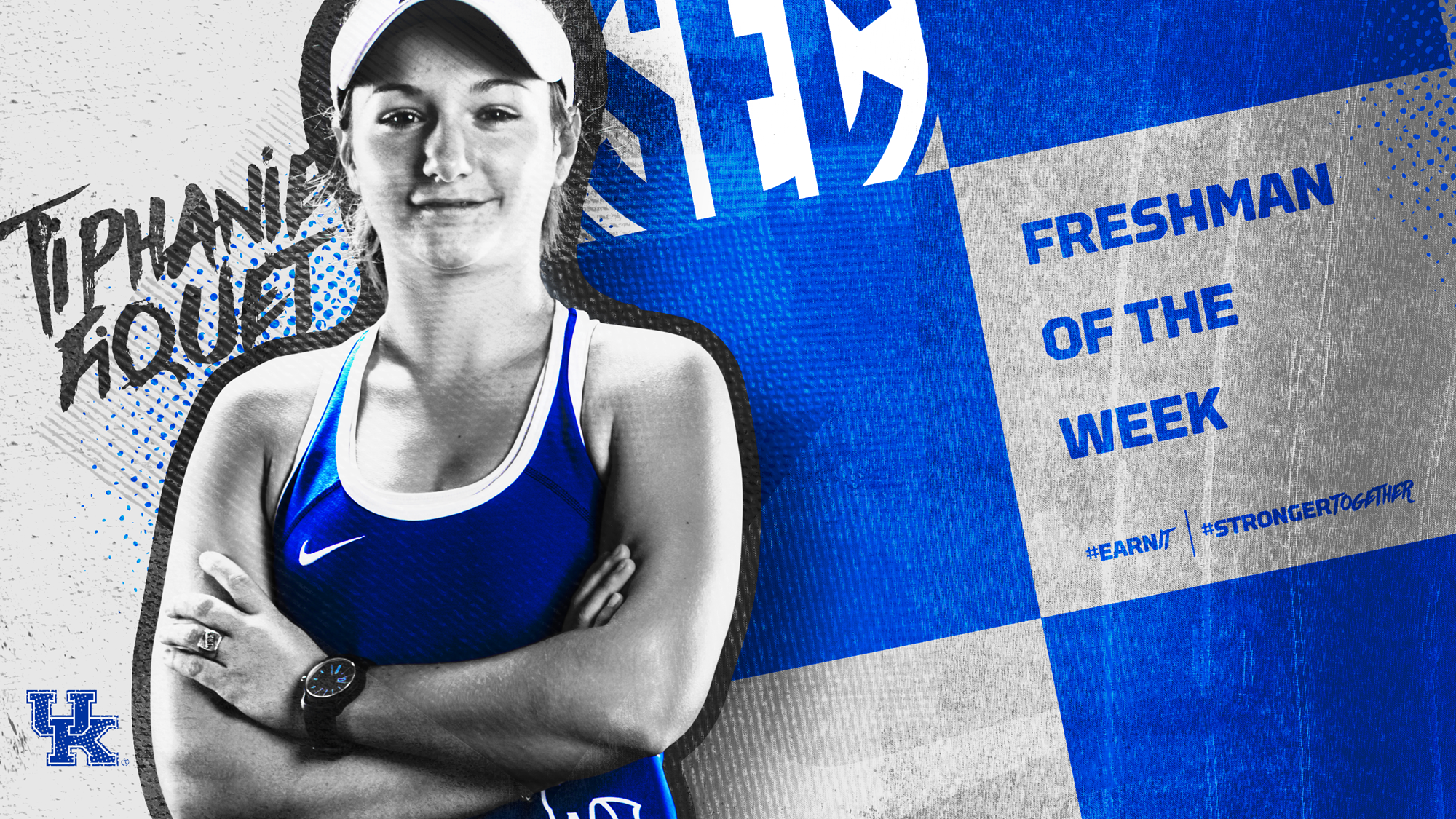 January 30, 2019 - 03:32 PM
Fiquet Named SEC Freshman of the Week
LEXINGTON, Ky. – Freshman Tiphanie Fiquet tabbed the first Southeastern Conference Freshman of the Week honor of the season, announced by the league office Wednesday. It is the first award of its kind earned by a Kentucky women's tennis newcomer since redshirt-junior Akvile Paražinskaite received the accolade Feb. 17, 2016.
 
The freshman of Nice, France, boasts a perfect resume to start the season. In her eight matches, Fiquet is unbeaten in singles and doubles, collecting four victories apiece. Her success in each discipline has largely contributed to the No. 25 Wildcats' 5-1 mark to open the regular season.
 
Her talent was evident from the start. Fiquet became the first Wildcat to finish her doubles and singles matches in the season opener against Marshall, contributing to Kentucky's first two points of the dual, which ended in a Wildcat victory, 6-1.
 
Fiquet has limited her singles opponents to three or less games in their favor in six of her eight sets contested. In her first court two placement, she forced an impressive 6-1, 6-0 outcome over Western Kentucky. The Wildcat also compiled a 6-3, 6-2 victory in her first conference matchup of the season, which helped the program advance to the ITA Kick-Off Weekend Championship Match after defeating Auburn on a clean decision.
 
The newcomer is just as impressive in doubles. Fiquet and her partner, junior Lesedi Jacobs, handled their doubles responsibility in the Championship Match versus Ohio State, becoming the first duo to finish with a swift 6-1 decision. It also was the only doubles victory for Kentucky in the dual.
 
The women's tennis team does not have a scheduled appearance until hosting South Florida, Feb. 15 at noon in the Hilary J. Boone Tennis Center.
For more on Kentucky women's tennis, follow @UKWomensTennis on Twitter and Instagram, Kentucky Women's Tennis on Facebook, or on the web at UKathletics.com.